Weekly Horror News Round-Up March 14: Coronavirus Cancellations, Scream, Into the Dark
Plus, American Horror Story Season 10 is teased, Penny Dreadful: City of Angels gets a full trailer, DOOM Eternal's launch trailer arrives, and more.
By Chris Morse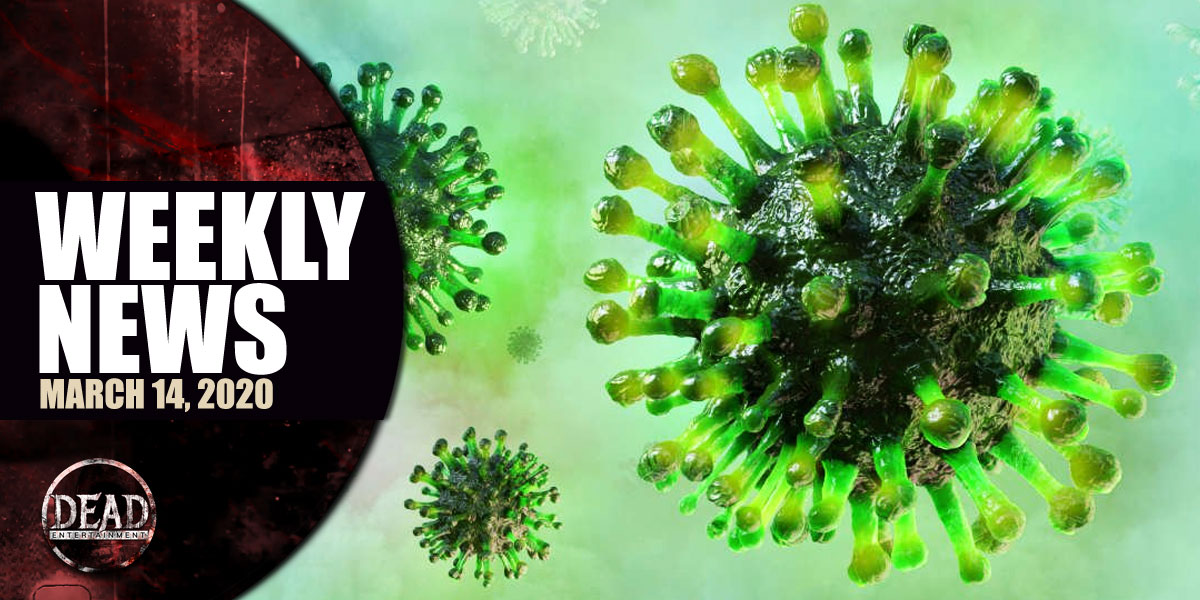 Welcome back to Dead Entertainment's weekly horror news column for this March 14 edition. As usual, this easily-digestible round-up contains the latest news and notes, trailers, upcoming releases, and anything else we found fun or interesting throughout the week in horror. It's been a crazy week for almost everybody, but we are here with the horror news you've been craving to escape the panic.
Coronavirus Cancellations
You can't go very far in the real world (or online for that matter) without stumbling across the latest coronavirus news. Unfortunately, the ongoing pandemic has also hit the horror scene as studios are delaying releases indefinitely in light of precautions placed upon public gatherings, including movie theaters. So far three upcoming films in the genre have been delayed indefinitely, which are A Quiet Place Part II, Antlers, and The New Mutants. In terms of television, Stranger Things, which recently shifted production to New Mexico, has now been halted for at least two weeks (along with other Netflix projects) due to the virus. Expect more in the coming weeks, but these are the previously-imminent titles that have been pulled or pushed back for the foreseeable future. We will, of course, provide updates whenever these releases are rescheduled.
Scream
You might recall our report from last November regarding a new installment of the long-running slasher franchise, Scream, being in the works. Now, it looks as though there is further confirmation about this film moving forward and it's being billed as a sequel with Matt Bettinelli-Olpin and Tyler Gillett (Ready or Not) at the helm. According to Discussing Film, the plot will follow a woman returning to her hometown to find out who has been committing a series of vicious crimes. Whether it follows the previous four films remains unclear for now. Production on the tentatively-titled Scream 5 is aiming to begin this May. No other information is known at this time, but stay tuned for further updates!
Into the Dark
Some social media shenanigans unfolded this week involving actress Felicia Day and the undisputed star of Hulu's Into the Dark horror anthology: Pooka himself. This led to the surprise announcement that Pooka will return in a new feature-length episode titled Pooka Lives! Directed by Alejandro Brugués of Juan of the Dead and Nightmare Cinema notoriety (read our interview with the filmmaker), and based on a script from Ryan Copple, the film follows a group of thirty-something friends who create their own internet story about Pooka for laughs, only for it to go so viral that it actually manifests more murderous versions of the creature. The episode stars Felicia Day, Wil Wheaton, Malcolm Barrett, Rachel Bloom, Jonah Ray, Lyndie Greenwood, and Gavin Stenhouse, and will premiere on April 3, 2020.

[relatedArticle-0]
American Horror Story
We still don't know what the exact theme for Season 10 of American Horror Story will be, but we do know that it will be bringing back series mainstays Sarah Paulson and Evan Peters, all while introducing Macaulay Culkin to the anthology horror fun for the first time. The cast reveal video was set over a look at the ocean and the latest tease from creator Ryan Murphy follows suit. "Things are beginning to wash up on shore," the caption of his latest Instagram post reads in the strongest thematic hint yet. Check out the very first preview image below!
[blockquote-0]
Penny Dreadful: City of Angels
This week also brought us the full trailer for Showtime's upcoming sequel series, Penny Dreadful: City of Angels, which stars Natalie Dormer (Game of Thrones) as the demonic Magda. The new show will kick off on Sunday, April 26th at 10/9c and is set in 1938 Los Angeles, following a detective as he and his family grapple with powerful forces threatening to tear them apart.
DOOM Eternal
The highly-anticipated DOOM Eternal hasn't quite touched down yet, but an official launch trailer was unleashed ahead of the title's release next week. The sequel to 2016's DOOM looks to be a major step in the right direction, and the inclusion of such features like BATTLEMODE will ensure the title has tons of replay value. Grab your guns and "raze hell" when this title drops on March 20, 2020.

[relatedArticle-1]
Scream Factory
Scream Factory announced a brand-new batch of upcoming Blu-ray titles releasing in the coming months. As you might expect with the retailer, each title will come with complimentary new extras and artwork. The announced films include Tales from the Darkside: The Movie, The Hills Run Red, Thirteen Ghosts, Orca: The Killer Whale, and Universal Horror Collection: Volume Five (featuring The Monster and the Girl, Captive Wild Woman, Jungle Woman, and The Jungle Captive). If you're interested in pre-ordering any of these items, head on over to Shout! Factory today.
Clarice
CBS' upcoming sequel spin-off to The Silence of the Lambs, titled Clarice, has found two more leads in Lucca De Oliveira (The Punisher) as Tomas Esquivel and Devyn A. Tyler (Out of Blue) as Ardelia Mapp, reports Deadline. They will be working opposite Rebecca Breeds (The Originals, Three Summers), who was recently chosen for the titular role of Clarice Starling. The series is set one year after the events of the iconic film and novel, and will dive deeper into the untold personal story of the FBI trainee who took down Buffalo Bill. Only a pilot episode is moving forward for now, which will be directed by Maja Vrvilo (Star Trek: Picard), with the show not yet picked up for a full series order, but we'll keep you apprised on all the latest updates.

[relatedArticle-2]
Dracula
Blumhouse Productions is looking to bring Dracula back to the silver screen and attached at the helm is filmmaker Karyn Kusama (Destroyer, The Invitation), who will be directing a script by Matt Manfredi and Phil Hay. According to The Hollywood Reporter, this latest adaptation will be set in present day, but here's hoping this one does a much finer job handling it than Netflix's Dracula (read our review). Given the box office performance and critical success of the recent The Invisible Man, this could be a wise business move by the studio to revitalize other properties while the interest is still very much there. There is no word yet on who is being eyed to play the Transylvanian noblemen Count Dracula, but we'll be sure to keep you posted on all latest about this film as we learn more.
The Brides
If that's not enough to sate your bloodthirst, perhaps ABC's reimagining of Dracula on the small screen might. Earlier this week, actor Goran Višnjić (The Girl with the Dragon Tattoo) was announced to be playing the iconic Count Dracula in a pilot titled The Brides, reports Deadline. The pilot, which has the potential to be a full series, is described as a sexy, contemporary family drama with a trio of powerful leads at its heart–those being Gina Torres (The Matrix series) as Cleo, Katherine Reis (Rise) as Lily, and Erin Richards (Gotham) as Renée. They join previously announced cast members Chris Mason and Sophia Tatum. The series concept is set to learn into some of the horror elements Dracula is known for.
The Last of Us
Last week bought us the big news that Naughty Dog's acclaimed video game, The Last of Us, is heading to HBO with Chernobyl creator Craig Mazin and the studio's very own Neil Druckmann at the helm. Some additional news broke this week that the music for the series may also sound familiar, with the composer from the video game (as well as its upcoming sequel), Gustavo Santaolalla, now on board for the show. This is one project we are very excited about and looking forward to providing more updates on as it moves through early development. In the meantime, The Last of Us Part II will have to hold us over when it releases on May 29, 2020.

[relatedArticle-3]
Dawn of the Dead
We learned last year about Second Sight's plans to restore George A. Romero's Dawn of the Dead and release it on Blu-ray and Ultra HD formats. After the item was previously delayed to allow for further time to complete the product, the UK distributor has finally announced a firm release date: October 26, 2020. This limited edition, region-free release will feature all three versions of the film gloriously remastered for the very first time on these formats. You'll want to bookmark Second Sight for when the product goes up for pre-order later this month on March 27th! Until we have further updates about this product… stay scared!

[blockquote-1][scripttag-0]
The Witcher
A new game set in the world of The Witcher may be going into development soon after CD Projekt Red launches its next title, Cyberpunk 2077, according to ComicBook.com and Eurogamer. Nothing is confirmed just yet, but the studio seems to be sticking with these two core franchises for the time being. We will hopefully learn more about the company's plans by the end of the year.
Mortal Kombat Legends: Scorpion's Revenge
What is Mortal Kombat without the blood-splattering and bone-crunching moments the series is infamously known for? Earlier this week, a brand-new red band trailer was unveiled for the upcoming Mortal Kombat Legends: Scorpion's Revenge animated feature-length film and it looks damn good. You can check out this sweet new trailer above. It is set for digital release next month on April 14th and will be available a couple weeks later on 4K Ultra HD and standard Blu-ray on April 28th. If you're interested in owning a physical copy, you can pre-order your preferred format on Amazon today.

[relatedArticle-4]
Mortal Kombat 11
A brand-new gameplay trailer featuring Spawn in Mortal Kombat 11 arrived earlier this week, ahead of the character's full release on March 24th for Kombat Pack owners (early access begins March 17th). Keith David, who originally voiced the character for Todd McFarlane's Spawn television series, is also back to provide his talents for the game, too! Hell, there's even two new tracks by heavy metal band Trivium to spice up the trailer! You can check out all of these goodies in the embedded video above.
50 States of Fright
Finally, this week gave us an official trailer for the upcoming shortform series, 50 States of Fright, which is executive produced by the Evil Dead franchise's very own Sam Raimi. The show will be launching on the upcoming Quibi platform, which is built around episodes running for 10 minutes or less. The starring side of this includes Taissa Farmiga, Rachel Brosnahan, and Christina Ricci, while notable contributing writers and directors include Sam Raimi, Alejandro Brugués, and A Quiet Place scribes Scott Beck and Bryan Woods. 50 States of Fright will be streaming on the platform sometime in April.
---
This week's round-up includes news contributions from our very own Chris Morse and Jay Gervais. There is always plenty happening in the world of horror, so be sure to drop in next week for our next news round-up and remember to visit throughout the week for original content and other major news discussion as it happens. Stay tuned!