Weekly Horror News Round-Up August 1: Scream, The Witcher, Killroy Was Here
Plus, a few genre Emmy nominations, Jordan Peele takes on a "Sinkhole," Boss Fight Books' Resident Evil gets a release date, and more.
By Chris Morse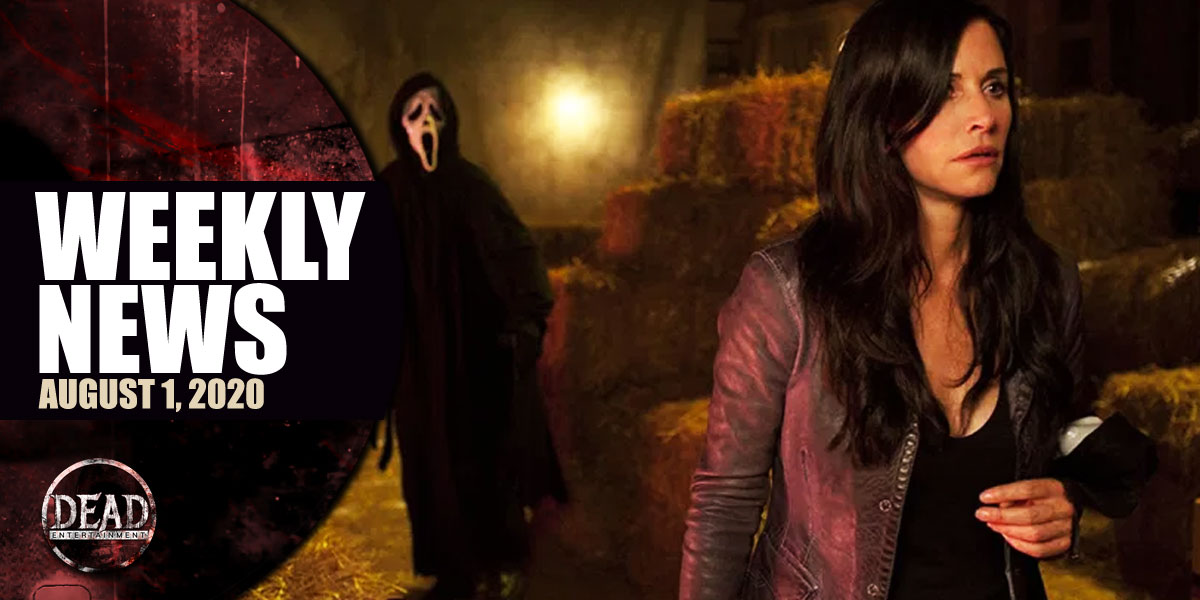 Welcome back to Dead Entertainment's weekly horror news column for this August 1st edition. As usual, this easily-digestible round-up contains the latest news and notes, trailers, upcoming releases, and anything else we found fun or interesting throughout the week in horror. Even on the slower weeks these days, there's always something going on so let's dig in and discover what's new.
Scream
The next movie in the Scream franchise is officially welcoming another familiar face back into the fold with Courteney Cox returning as reporter Gale Weathers. As confirmed by Deadline late in the week, she is joining previously-confirmed stars Neve Campbell and David Arquette, who are also reprising their earlier roles of Sidney Prescott and Dewey Riley, respectively. The film is being co-produced by Spyglass Media Group and Paramount Pictures with James Vanderbilt and Guy Busick of Ready or Not notoriety handling the screenplay. Expect even more details in the months ahead.
The Witcher
Not only is filming on Season 2 of Netflix's The Witcher finally set to resume later this month, its television world is about to get even bigger with the reveal that another spinoff is on the way. Not only will we get an animated film titled The Witcher: Nightmare of the Wolf at some point over the next year or two, we are also getting a prequel of sorts with a 6-episode limited series called The Witcher: Blood Origin. This new effort will be led by Declan de Barra and Lauren Schmidt Hissrich, and is set in an elven world 1,200 years before the events of the main series, following the origins of the very first Witcher and leading up to the conjunction of the spheres itself. Pretty exciting stuff and we can't wait until we can revisit the Continent once again, especially in light of all that's been happening this year.
Killroy Was Here
With all the various news bits coming and going over the past couple of years, it was almost easy to forget that Kevin Smith was working on a horror-comedy anthology movie. Yet here we are with the first official trailer for Killroy Was Here. The concept of the film is based on an American slogan/symbol that appeared all over during World War II, particularly as graffiti. The movie itself explores this idea with various stories in bloody fashion and is directed by Smith, who also co-wrote the script with Andy McElfresh. Starring in the film is Azita Ghanizada, Ryan O'Nan, Harley Quinn Smith, Chris Jericho, Justin Kucsulain, Kathryn Parks, Brendan Ragen, Michael Perez, Cindy De La Cruz, Jason Mewes, and Ralph Garman, with a tentative release penciled in for sometime in 2021.
Emmy Nominations
This year's Academy Awards nominations didn't have too much to say about the world of horror and horror adjacent content, but there were at least a few well-deserved nods that fit under this genre umbrella of ours. Chief among those is Stranger Things with a total of eight Emmy nominations, including Outstanding Drama Series. FX's What We Do in the Shadows television series also scored a number of acknowledgments. The second season of the hit vampire comedy is officially in the running for Outstanding Comedy Series and 5 other categories, including writing with three different episodes holding nominations. And, yes, Jackie Daytona is one of them! Here's hoping we see at least a few wins in these categories later this year.
Sinkhole
How would you like to buy a house with a huge sinkhole in the backyard? What if there was something special about that sinkhole like, say, it fixes and returns anything that falls to its depths? What about a person? These were questions posed by Leyna Krow in her short story of the same name, which will now by adapted to film by Universal with Jordan Peele and Issa Rae jointly producing. It's still very early in the process, but the early workings of this project are indeed slowly going into motion. We'll be sure to have more details down the road whenever we hear more.
Resident Evil
Boss Fight Books' deep-dive take on Resident Evil now officially has a release date, which is August 25th! The book is written by Philip J Reed and is sure to be an excellent investment of time for any longtime fan of the legendary survival horror franchise. It features in-depth analysis, discussion, interview content, nostalgic ramblings, and much more as it seeks to answer the question of how the video game series has had so much staying power over the years. Don't take it from me in this short news blurb, though, you can read my full review of the book right here. Head on over to Boss Fight Books for more information.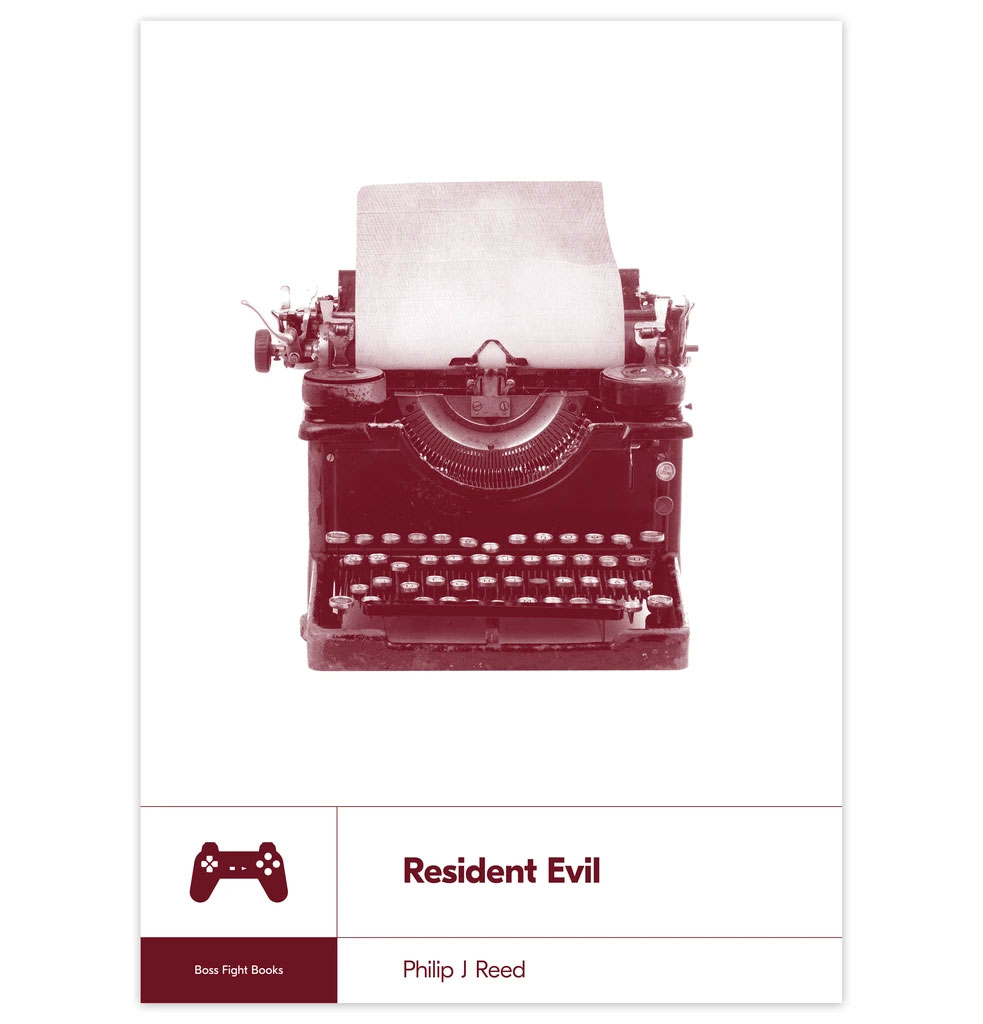 Resident Evil (Continued)
Also on the Resident Evil front, there are some minor updates on the way for Resident Evil 3 (read our review) and Resident Evil Resistance, which were released together as a package deal. For the latter multiplayer spinoff title, paid costume DLC is on the way that will let you dress up any of your favorite survivors as Leon or Claire from Resident Evil 2. In addition, much like that game, Resident Evil 3 will be getting a small paid DLC to open up all unlockable content without having to earn all of the points via grinding and replaying. It's been a pretty standard move for these titles to receive a feature like this a few months after release, and lazier players such as myself will soon be able to take advantage. Check out a preview of the upcoming goodies below. Both DLCs arrive sometime this month.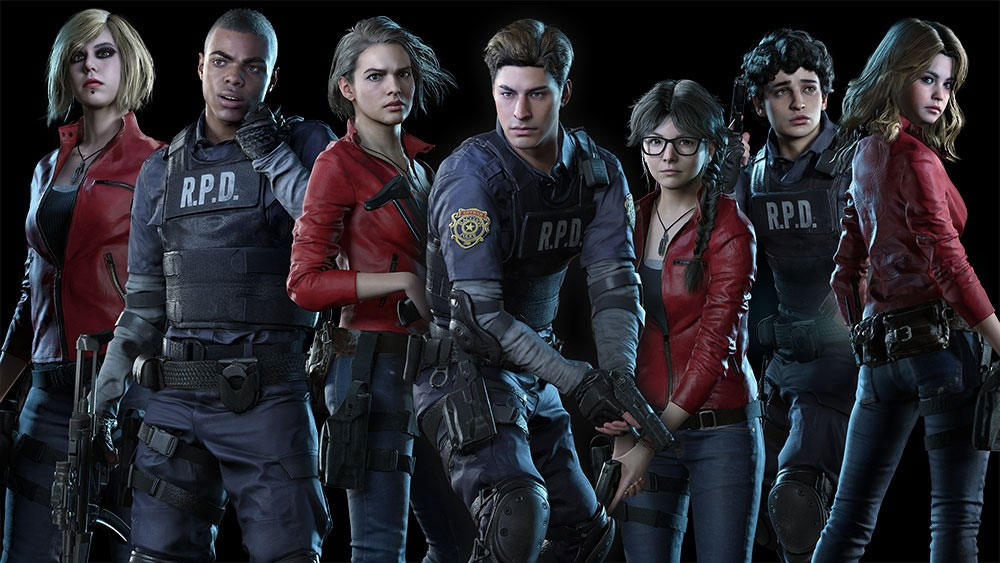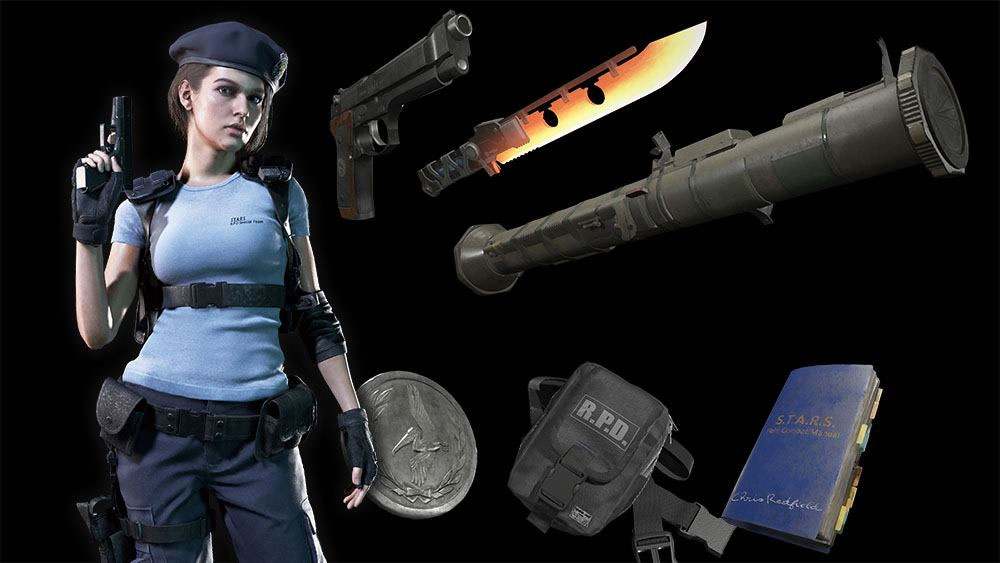 Antebellum
It looks like it finally became apparent that Antebellum, from Get Out and Us producers Ray Mansfield and Sean McKittrick, is going to be another victim of the COVID-19 pandemic. The film was previously delayed from earlier this year to an August 21st retry date, but it has now been taken off the release schedule altogether with an indefinite postponement, thanks to the still-ongoing uncertainty of this year. This mind-bending mystery is directed by newcomer duo Gerard Bush and Christopher Renz, and stars Janelle Monáe, Marque Richardson II, Eric Lange, Jack Huston, Kiersey Clemons, Tongayi Chirisa, Gabourey Sidibe, Rob Aramayo, Lily Cowles, and Jena Malone.
Cannibal Comedian
Filmmaker Sean Haitz (Big Top Evil) has been hard at work finishing post-production efforts on his next feature, Cannibal Comedian, and this week brought us a short teaser to commemorate the launching of the film's official website and merch store! There are plenty of goodies there, including behind-the-scenes content and a mailing list to stay up to date, so we figured to pass it along this week. As for the film itself, the story follows a psychopathic cannibal named Charlie who's fed up with his lack of ambition. In an attempt to satisfy his appetite for normalcy, he tries his hand at stand-up comedy instead. Written and directed by Haitz, the film stars Aaron Prager as the titular killer himself, with Austin Judd and Robert Dunne playing supporting roles.
Sekiro: Shadows Die Twice
FromSoftware's ultra-difficult ninja game, Sekiro: Shadows Die Twice, is finding some new life on the Google Stadia streaming service this fall. Alongside this release will be an update for the title, which will add a Boss Rush Mode featuring two different styles of challenges as well as a few additional goodies. On top of some new cosmetic appearances for our titular character, the studio is also adding an online messaging system similar to what you might find in Dark Souls or Bloodborne. It doesn't look like any PvP elements will be included, but players will at least be able to send a phantom of themselves with a helpful (or harmful) message for another adventurer! The free update will arrive on October 29th.
Carrion
Devolver Digital's "reverse horror" game, Carrion, saw its official release last week and to celebrate selling over 200,000 copies, the studio has released a "Behind the Screams" video showing some of the fun goodness that went into creating the title's monstrous star. The game itself is a unique sort of action-platformer that has you, the player, taking controller of the gruesome monster this time around. Carrion is available now on all major platforms, including PC and Nintendo Switch.
---
There is always plenty happening in the world of horror, so be sure to drop in next week for our next news round-up and remember to visit throughout the week for original content and other major news discussion as it happens. Stay tuned!