Review: Bloodstained: Curse of the Moon 2 Once Again Delivers Retro Castlevania-Style Goodness
Koji Igarashi and Inti Creates keep the past alive in this latest 8-bit delve into the Bloodstained world.
By Chris Morse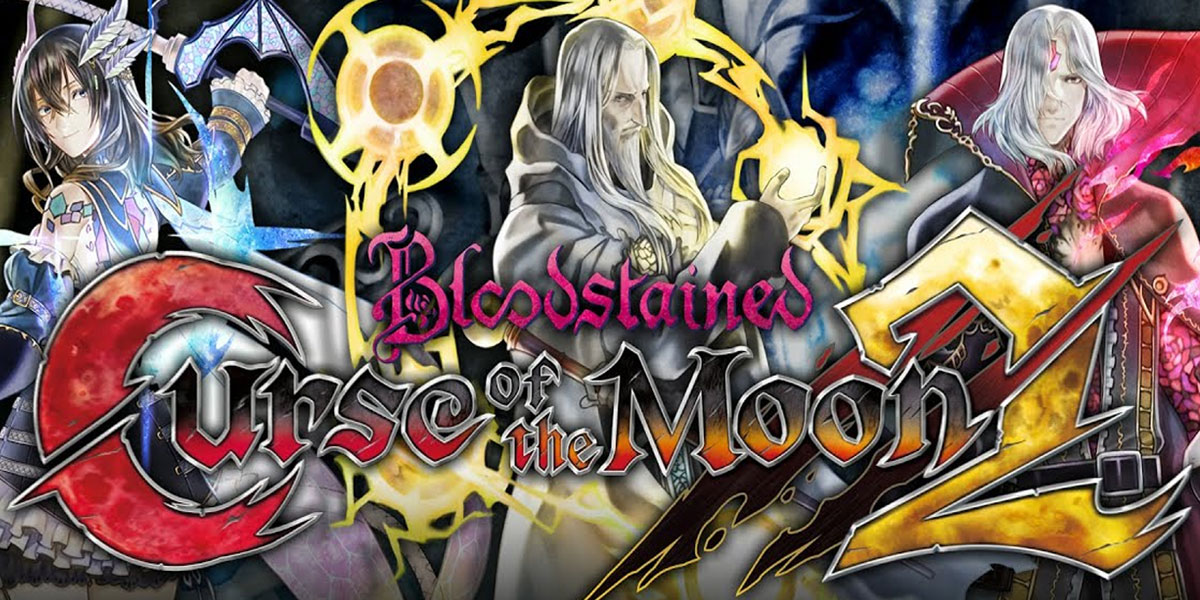 Much to the surprise of pretty much everybody, this month brought us a brand-new spinoff to the Bloodstained: Ritual of the Night universe with an 8-bit sequel to the 8-bit Bloodstained: Curse of the Moon (read our earlier review). Just as quickly as the title was announced as "coming soon." it was ready for the world and saw a multi-platform release on July 10th. Between The Last of Us Part II (read another review) and my then-ongoing immersion in the wonderful world of "Soulsborne" games, it took me a hot minute to get around to this one, but here we are!
For the uninitiated, Bloodstained: Curse of the Moon 2 is another 8-bit, retro Castlevania-style game developed by Koji Igarashi and Inti Creates, both of whom are known for delivering high-quality finished products. Of course that holds true here as we have yet another example of what Konami is missing out on by ignoring the historical video game side of its business recently. Similar to the first title, this sequel feels like a natural evolution of the original NES trilogy of Castlevania games and would pretty much fit right into that universe. However, it's all about Bloodstained now so we're just happy the legacy lives on in this spiritual successor of a franchise.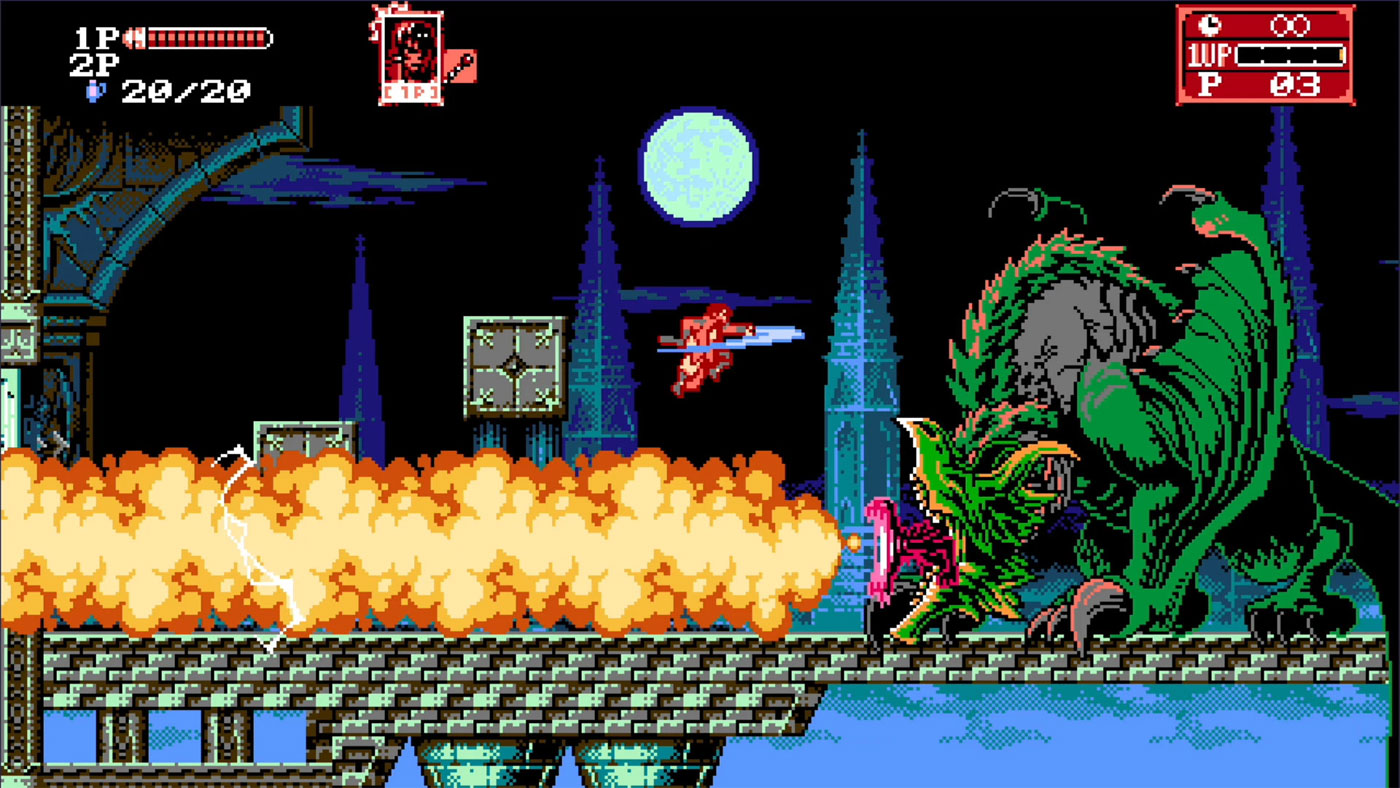 Speaking of the wider franchise, if you've played the previous game or Ritual of the Night you will be greeted by a familiar face in Zangetsu, who plays the starring role in this adventure. As usual, the game keeps it simple when delivering its premise, which boils down to dealing with some demonic problems at their source. Like last time, our hero picks up some important playable allies along the way, a feature that serves to augment the gameplay experience by letting the player freely swap between characters to take advantage of their respective strengths. All in all, Dominique's versatility and spellcasting (try using her as a healer with one of her sub-item drops), Robert's crawling and long-range combat, and Hachi's durability and hovering are great tools for working your way through levels. Oh, yes, Hachi is a Corgi in a mech suit so there's that. You really can't go wrong there.
There are eight stages in total with great level design and fun bosses. Much like the first Curse of the Moon, each of your allies has access to different paths and shortcuts as you move through a stage (even in the early levels before you recruit them, but more on that later). This game pretty much checks all of the boxes for a smooth experience. You can play on Casual or Veteran, with the former option granting unlimited lives and no knock-back effect when you take damage. Things are more old-school with the latter difficulty, but you can play through everything without penalty either way.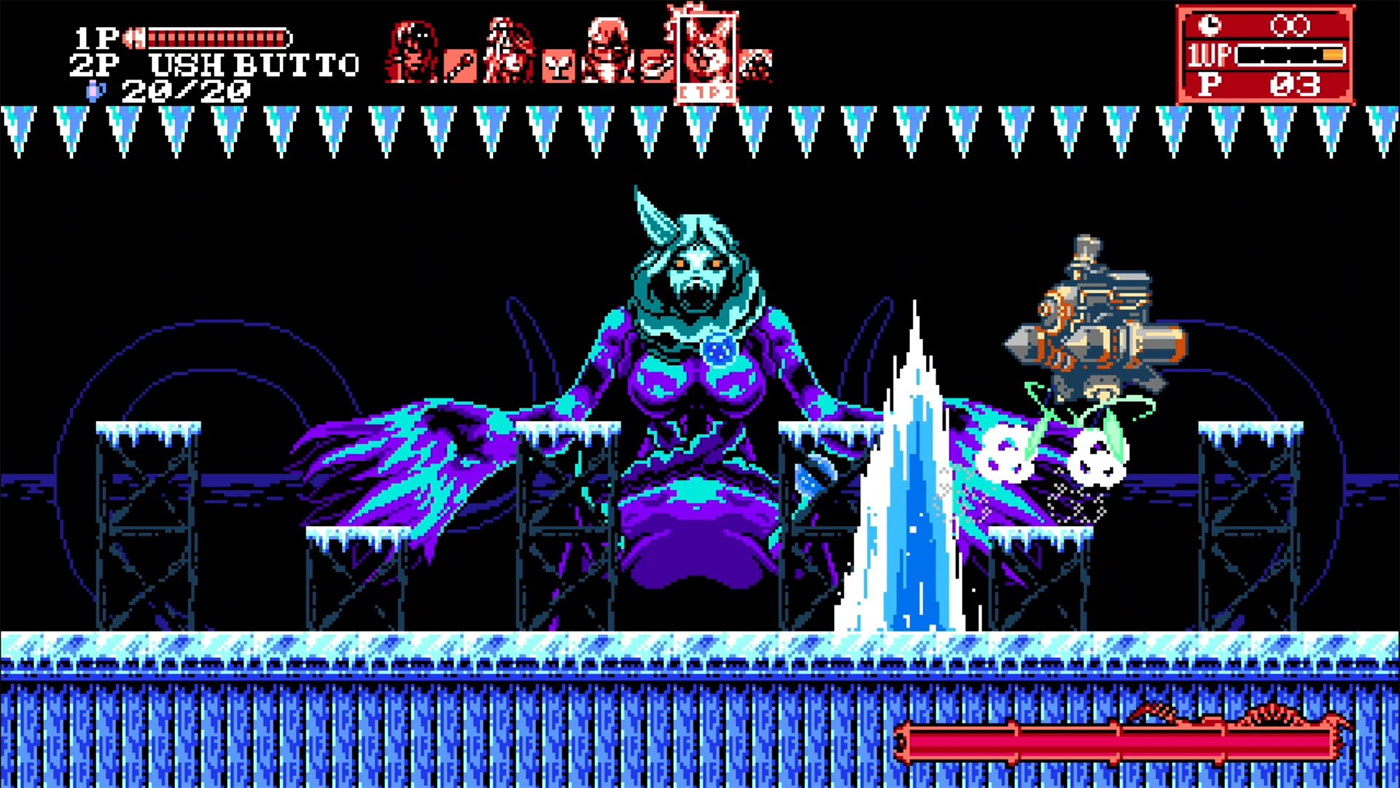 Curse of the Moon 2 really gets interesting when you beat it, because, naturally, there is more to do after the credits roll. This time around it's not simply alternate endings or additional game modes, but rather additional "Episodes" to play through. While they do use the same stages, the replays will offer more variety by way of available paths through the early levels and alternate boss patterns. There is also additional story context and items you must find on these additional playthroughs to see all of the bosses and reach the true ending. I won't spoil any specific surprises, but you can expect to have a few branching paths and additional (familiar!) allies in your quest to really put these demonic matters to rest.
While a very fun and enjoyable experience, my main criticism would have to be that it didn't do enough to evolve from the first game. The replayability aspects are better, but otherwise it's just more of the same. That's not a bad thing, because "the same" is still pretty damn good. It just would have been nice to see some new gameplay features to set it apart a bit more. Overall, it remains as top-notch of a retro experience as you could ask for and for that I am happy to have spent time working my way through it.
The Good
This sequel carries over the high quality and polished design of the first game, while also building on its replayability aspects with better-structured follow-up chapters. The stages and various paths through them are solid, as are the bosses, and the options/accessibility tools present are a big plus.
The Not-So-Good
One could make the case that this sequel didn't do enough to evolve past its predecessor. While this game might be more of the same, which is still good, there isn't much to set is apart as a true step forward for the 8-bit spinoff series.
Bloodstained: Curse of the Moon 2 is another well-crafted spinoff to a universe I hope to see much more of in the years ahead. As someone who grew up playing the original Castlevania games on the NES, it's great to have a franchise revisiting this 8-bit era with far more polish than we could have hoped for back then. If you enjoyed the first one, you will also enjoy this. It's a simple as that.