Resident Evil 3's New Nemesis Trailer Gives Fans Plenty to be Excited About
As though Nemesis with a flamethrower wasn't enough, there looks to be no shortage of terrifying dangers in Raccoon City.
By Chris Morse

Capcom recently went on record to state the upcoming Resident Evil 3 remake will lean more towards action than horror when compared to its predecessor, last year's remake of Resident Evil 2. However, it doesn't seem like that notion should be confused with the less horrific brand of action offered in the fifth and sixth numbered installments of the franchise. The Tyrant pursuer, codenamed Nemesis, is here and he does not leave the terror at the door.
The latest trailer for the title is without a doubt action-packed, featuring high-octane scenes and a whole lot of former S.T.A.R.S. member Jill Valentine getting battered and bruised. Yet the presence of the relentless Nemesis boasts a certain kind of adrenaline-pumping horror that doesn't drift too far away from what made the more traditional survival horror games in the series so special. Even next to RE2's grotesque close-ups of zombified flesh and dark corridors, I expect to soil my pants all the same.
This modern take on Nemesis is every bit as exciting as I wished for and more, seemingly boasting more than just a rocket launcher this time around. The flamethrower is firmly placed front and center in the trailer, but who knows what else the monstrous creature has up his sleeve? Resident Evil 2's Mr. X brought more than enough stress to dial up the survival horror, but Capcom has doubled down and then some with its redesign of this iconic bio-organic weapon.
That's not to say there aren't other aspects of this trailer to be totally pumped about. Sticking with the monsters theme, fans were also given their first look at a modern take on the Hunter, an iconic creature dating back to the very first Resident Evil game. As expected, I am already dreading entering a hallway and seeing one (or more) of these on the other side. Who said the horror had to be dialed down to turn up the action? It sure looks like the developers are handling both just fine.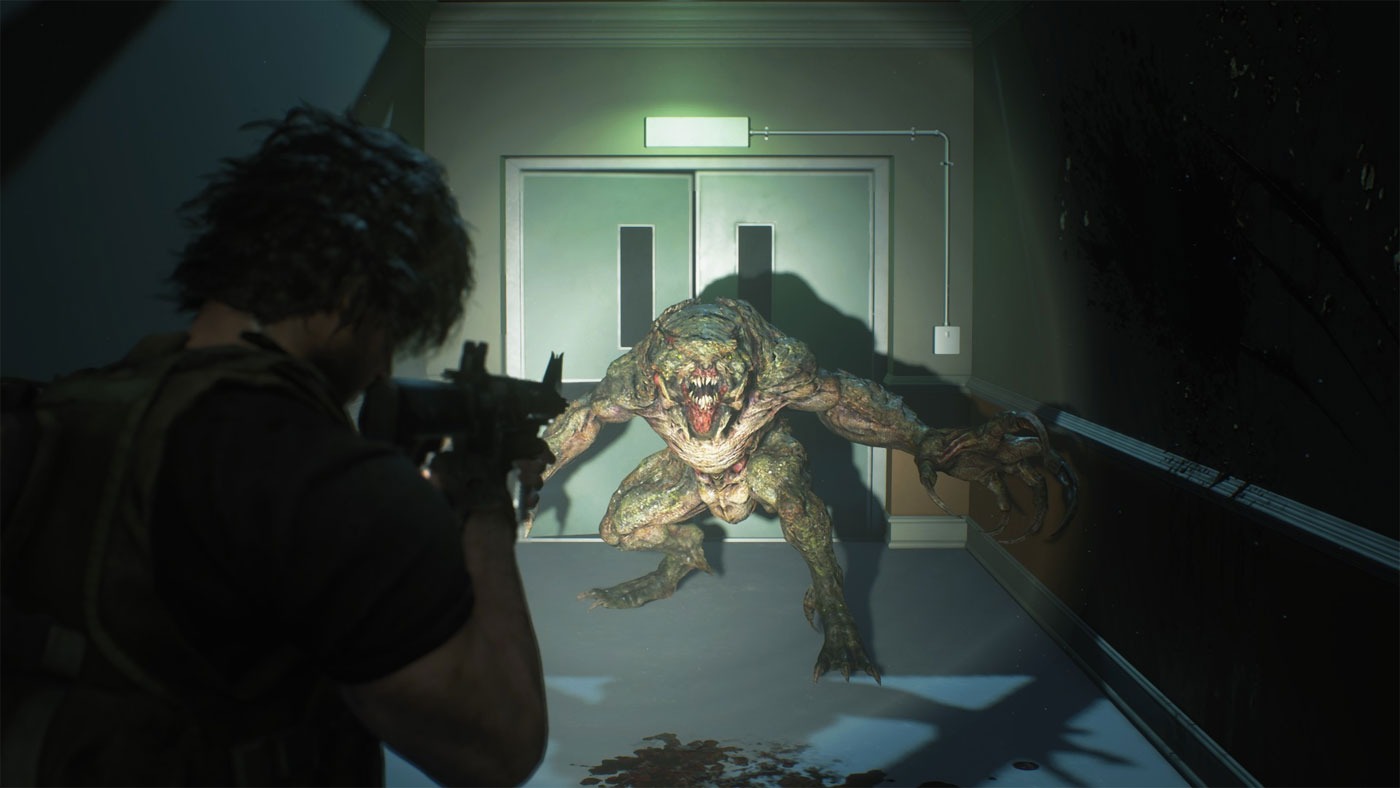 Another point to look forward to is the overall refining and fleshing out of the game's narrative. While the original title offered branching points in the story and multiple ending epilogues, the remake will be a more streamlined and cohesive experience in the same vein as Resident Evil 2, although that installment was built around Leon and Claire having separate perspectives. There is only one such story in RE3, so we expect Jill's main campaign to be longer and contain more substance all around, including Carlos' playable segment teased in the trailer.
One final element which has been making its way through headlines recently is the lack of a Mercenaries mini-game, an additional game mode present in the original. This isn't really a noteworthy complaint, in my opinion, given that the remake is being developed alongside the multiplayer spin-off, Resident Evil Resistance, which ships as part of this title and should receive regular updates and additions of its own. It looks to be a worthy replacement for The Mercenaries and will be a great inclusion considering this game doesn't offer multiple replayable campaigns like Resident Evil 2 does.
Overall, this remake should be a terrific blend of action and horror that appeals to both new and returning fans alike. Survival horror is alive and well this decade, and this latest trailer seems to illustrate that point in pulse-pounding fashion. There is plenty to be excited for.
---
Resident Evil 3: Nemesis is set around the events of Resident Evil 2 and follows former S.T.A.R.S. member Jill Valentine as she seeks to escape from Raccoon City before its certain destruction. The only catch is that Umbrella has deployed Nemesis, a powerful bio-organic weapon, to hunt down and eliminate anybody who knows the truth behind the outbreak.
In Resident Evil Resistance, four Survivors work together to take on one Mastermind. Each character has his or her own unique benefits and playstyles, all of which are necessary for making it through a match alive. The Mastermind, on the other hand, will track the Survivors through a network of security cameras, staying one step ahead by creating obstacles, summoning monsters, manipulating the environment, and even taking direct control of zombies to build the ultimate deadly challenge.
Both titles will release together in one package on April 3rd, 2020. As always, Dead Entertainment has you covered with all the latest news and information regarding this release and horror gaming in general.