Weekly Horror News Round-Up March 28: Resident Evil 3, The Last Drive-In, Into the Dark
Plus, the coronavirus continues to create delays, Castlevania gets renewed for a fourth season, go behind the scenes of Penny Dreadful, and more.
By Chris Morse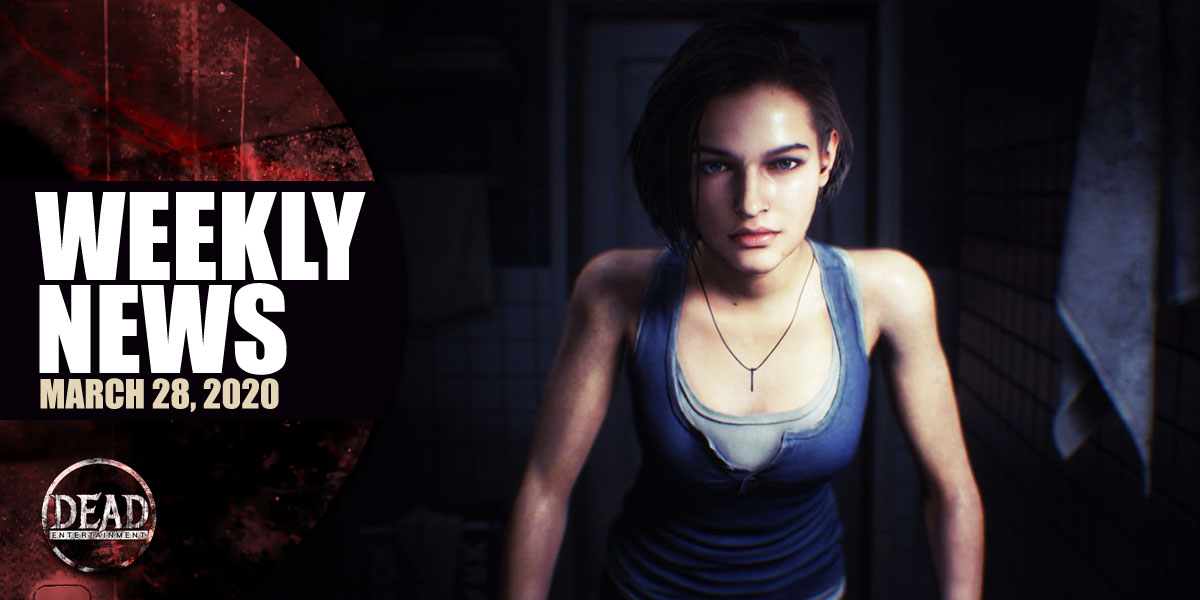 Welcome back to Dead Entertainment's weekly horror news column for this March 28th edition. As usual, this easily-digestible round-up contains the latest news and notes, trailers, upcoming releases, and anything else we found fun or interesting throughout the week in horror. As we all try to stay healthy and safe, it's always nice to have some horror to fall back on so let's jump into what's new this week.
Resident Evil 3
The long-awaited Resident Evil 3 remake will finally arrive in one week and Capcom has marked the occasion by offering up a brand-new trailer, this time focused around our leading heroine Jill Valentine. For starters, it's been revealed that the former S.T.A.R.S. Alpha Team member will be appearing as a survivor in the multiplayer Resident Evil Resistance, which is totally welcome. The video then goes on to show off some story highlights surrounding our main character in epic fashion, so give it a watch as you count down the days until April 3rd, when the title is set to arrive for PlayStation 4, Xbox One, and PC. As a fun additional note, the publisher also released an interactive website showing key events surrounding this game and its predecessor Resident Evil 2, which takes place around the same time. You can check that out right here.
The Last Drive-In
If self-quarantining has you itching for more Joe Bob Briggs, the horror host has stepped up to deliver with the announcement that The Last Drive-In will return to Shudder with its second season on April 24th. Episodes will premiere weekly Friday nights at 9 PM eastern and will feature all the entertaining goodness you have come to expect. Check out the announcement video below!

[blockquote-0][scripttag-0]
Into the Dark
Pooka is back and naughtier than ever as Into the Dark is set to revisit the fan-favorite installment with a follow-up titled Pooka Lives. The official trailer dropped this week and we can't wait to dive in when the new feature-length episode begins streaming on Hulu on April 3rd. Directed by Alejandro Brugués of Juan of the Dead and Nightmare Cinema notoriety (read our interview with the filmmaker), and based on a script from Ryan Copple, the film follows a group of thirty-something friends who create their own internet story about Pooka for laughs, only for it to go so viral that it actually manifests more murderous versions of the creature. The episode stars Felicia Day, Wil Wheaton, Malcolm Barrett, Rachel Bloom, Jonah Ray, Lyndie Greenwood, and Gavin Stenhouse.
Even More Coronavirus Cancellations
We already knew production on the next season of The Walking Dead would be affected by the ongoing pandemic, but it was also revealed this week that Season 10, too, will be impacted. The current season on its regular schedule will end with Episode 15 on Sunday, April 5th, with post-production on the originally planned finale still incomplete. That episode will appear sometime later this year, when (hopefully) this mess has been sorted out. Additionally, two other relevant delays have been announced with James Wan's Malignant postponed indefinitely and George A. Romero's novel, The Living Dead, as completed by Daniel Kraus, pushed back to August. We can only hope for some respite soon.
Castlevania
Netflix's fantastic Castlevania animated series (read our episode reviews) will continue on at least one more year, as the streaming giant announced a fourth season is on the way. No further details are available at this time, such as a release estimate or episode count, but given how long it took each of the previous seasons to develop, fans probably should not expect the next to drop until at least mid-2021. The show has, at least, proved it is well worth the wait, so we'll be right here counting down the days. If it interests you, look below for the fun social media announcement from earlier today.

[blockquote-1][scripttag-0]
Penny Dreadful: City of Angels
This week also brought us a new behind-the-scenes featurette for Showtime's upcoming sequel series, Penny Dreadful: City of Angels, which stars Natalie Dormer (Game of Thrones) as the demonic Magda. The new show will kick off on Sunday, April 26th at 10/9c and is set in 1938 Los Angeles, following a detective as he and his family grapple with powerful forces threatening to tear them apart.
World War Z
A fun bonus comes our way this week via Saber Interactive's cooperative zombie shooter World War Z, which is currently completely free on the Epic Games Store through April 2nd at 11 AM eastern time. You can simply add it to your library and it's yours to keep permanently. Pretty good deal for being stuck inside the house, huh?
BioShock
A surprise Nintendo Direct Mini took place this week and revealed that all three BioShock games are on their way to Nintendo Switch. They will be available for purchase individually or through a collection bundle starting May 29th. As the popular hybrid console's library continues to grow, it's nice to see so many of our favorites making the leap to portable gaming. This franchise should feel right at home.
---
There is always plenty happening in the world of horror, so be sure to drop in next week for our next news round-up and remember to visit throughout the week for original content and other major news discussion as it happens. Stay tuned!