Weekly Horror News Round-Up March 7: Resident Evil 3, Lucifer, Stranger Things
Plus, the first teaser for What We Do in the Shadows Season 2 is here, the Antebellum trailer debuts, a classic Castlevania heads to mobile, and more.
By Chris Morse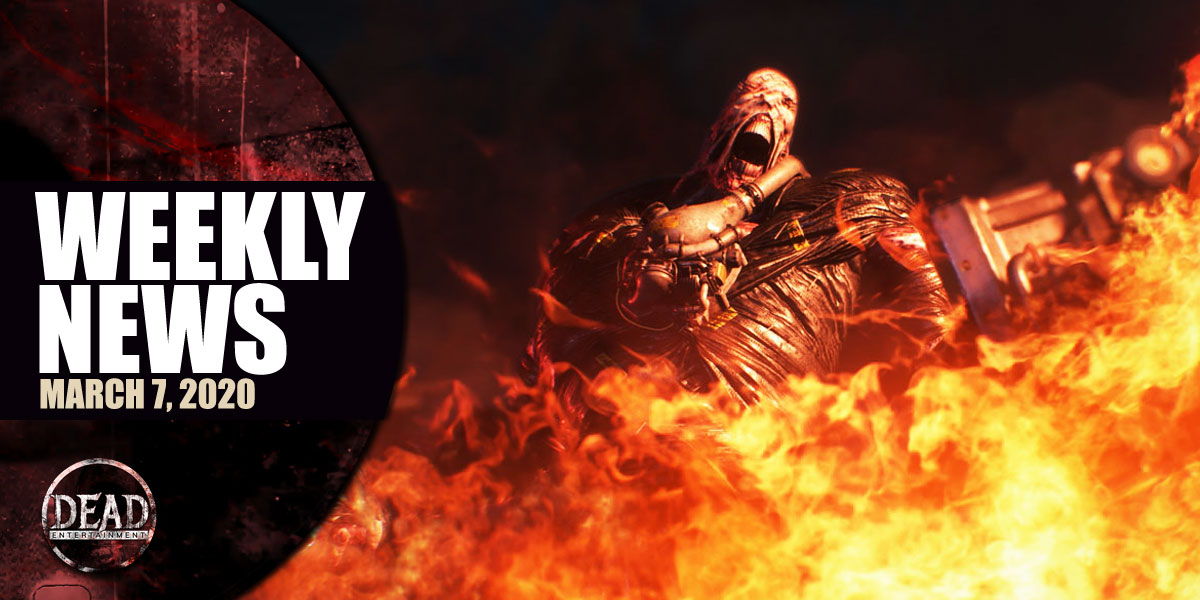 Welcome back to Dead Entertainment's weekly horror news column for this March 7 edition. As usual, this easily-digestible round-up contains the latest news and notes, trailers, upcoming releases, and anything else we found fun or interesting throughout the week in horror. There are plenty of exciting tidbits from this week, including a few debut trailers and teasers, so let's jump right in.
Resident Evil 3
The latest issue of the Official Xbox Magazine offers a fresh look at the upcoming Resident Evil 3 remake, which is set to release on April 3 for PS4, Xbox One, and PC. Among the new reveals are the latest details about Nemesis and his AI, the return of the Grave Digger boss, a look at the "perfect dodge" system and related gameplay additions, the presence of infected spider enemies and other familiar creatures, a much larger Raccoon City, and even a form of "fast traveling" via the subway system. There is plenty of great information here, so be sure to give the entire feature a read right here.
Resident Evil 3 (Continued)
The fine folks over at Laced Records are easily becoming the go-to source for Resident Evil music on vinyl. Their latest release is 1999's Resident Evil 3: Nemesis soundtrack, composed by Masami Ueda and Saori Maeda, along with a previously-released track by Shusaku Uchiyama ("The First Floor" from 1998's Resident Evil 2 soundtrack). Keep in mind this particular release is not the complete soundtrack and features some of the finer music pieces from the game instead. If you're interested in pre-ordering this record, head on over to Laced Records today.
Lucifer
It's looking more and more likely that Season 5 of Lucifer will not, in fact, be the end after all. When reports surfaced a couple of weeks ago regarding the potential future of the show, one major consideration with respect to seeing this happen was the expiring contracts of some of the stars, including our devilish leading man. According to TVLine, Tom Ellis has reportedly inked a new deal that could carry him through Season 6, paving the way for the series to continue. The tentatively-final season of Lucifer should arrive sometime this year. It will be broken up into two parts, each consisting of eight episodes. We'll be sure to provide updates on this possible sixth season in the weeks ahead.
Stranger Things
The cast of Stranger Things reunited for a Season 4 table read this week and it sure is nice to see everyone together again, including David Harbour's Jim Hopper. It's a fun little video to tease the ongoing production of Stranger Things 4, which should hopefully arrive by the end of the year or early next. As an additional note, Brett Gelman, who debuted as Murray in Season 3, has been upped to series regular status, so fans can expect to see more of him in the next batch of episodes. Stay tuned for the latest updates on the new season in the weeks and months ahead.
What We Do in the Shadows
We don't have a full trailer or anything yet, but the very first teasers for What We Do in the Shadows Season 2 dropped late this week and they feature the painfully-awkward humor we have come to miss since the first season wrapped up last year. The show finally comes back on April 15 and we have an unquenchable bloodthirst for more of deadpan vampire goodness. Expect more teasers soon!
Antebellum
From producers Ray Mansfield and Sean McKittrick of Get Out and Us prominence comes Antebellum, a horror-thriller following a successful author named Veronica Henley (Janelle Monáe), who finds herself trapped in a horrifying reality and must uncover the mind-bending mystery before it's too late. The full trailer released this week finally shows a bit more of what viewers can expect from the film, so give it a watch above and gear up for the theatrical release coming on April 24, 2020.
Castlevania
The acclaimed Castlevania: Symphony of the Night, originally released for PlayStation as a direct sequel to Rondo of Blood, quietly made its way to both iOS and Android earlier this week. This release utilizes 2007's Castlevania: The Dracula X Chronicles version of Symphony of the Night and is different in various ways from the original PlayStation version. If you're interested in downloading the full game for your mobile device, you can snag it on the App Store or Google Play for just $3.00!
Malignant
James Wan's upcoming new horror movie Malignant may be set to hit theaters on August 14, 2020, but the casting news wasn't quite finished yet. Deadline reported late in the week that The Haunting of Hill House and Ghostbusters: Afterlife actress Mckenna Grace has joined previously-announced stars Annabelle Wallis, George Young, Jake Abel, Maddie Hasson, Michole Briana White, and Jacqueline McKenzie. Surprisingly, this film has remained heavily under wraps and plot details are as scarce as ever. Expect to hear more about this one as we inch closer to its summer premiere date.
DOOM Eternal
You may recall earlier stories about how Mick Gordon was in need of heavy metal screamers to help provide a unique flavor to the soundtrack of DOOM Eternal, which is releasing this month on March 20. This might the first time such a feat has ever been attempted for a video game, and it's definitely a first for the DOOM franchise. If you're interested in what that recording session entailed and hearing a preview for yourself, check out the embedded video above for a killer behind-the-scenes look.
Into the Dark
Following last week's plot unveiling, the upcoming Saint Patrick's Day episode of Hulu's Into the Dark, titled Crawlers, received its official trailer this week and it does not disappoint. The story follows three unlikely friends who band together to save a college town from a vicious horde of body-switching aliens. This wild-sounding installment is directed by Brandon Zuck with writing credits going to Catherine Wignall and Mike Gan. Starring is Jude Demorest, Pepi Sonuga, Giorgia Whigham, Olivia Liang, and Cameron Fuller. This year-round anthology debuts new episodes monthly with each focusing on a different holiday from that month.
Creepshow
The debut season of Creepshow, the anthology television series by AMC's Shudder, is now available to pre-order on Amazon as a physical release for Blu-ray and DVD, both of which are expected to ship on May 19, 2020. If owning it this way is not your thing, you can still stream it today and get yourself ready for the inevitable second season, which could be arriving later this year or in early 2021. Stay tuned for the latest about the second season as we learn more information about it ahead.
Jerusalem's Lot
Emily Hampshire (Schitt's Creek) is set as the female lead in Chapelwaite, a drama series based on Stephen King's short story, Jerusalem's Lot. According to Deadline, Hampshire will play Rebecca Morgan, a young writer who returns home to Preacher's Corner in order to pen a story for a prestigious magazine. However, after meeting Captain Charles Boone (Adrien Brody) and his three children, she applies to be the governess in his ancestral home, the infamous Chapelwaite manor, with the hope of writing about his family. Principal photography for Chapelwait is being completed in Halifax, Nova Scotia and is set to begin next month in April. If all goes well, the series has the potential to premiere later this year in the fall. Stay tuned for updates about this show.
The Sandman
A new adaptation of Neil Gaiman's The Sandman is on the way, but this one isn't of the film or television show variety. According to The Hollywood Reporter, DC has partnered with Audible to create a multi-part audio drama that will launch later this year. The best part is that Gaiman himself will be narrating the story on top of his duties as executive producer. This is in addition and has no relation to the upcoming 11-episode TV series being planned by Netflix, which is still moving forward and in early development. The audio drama will be available this summer in English, but other versions in French, German, Italian, and Spanish are set to premiere in the months following. We'll keep you posted on any updates regarding both of these projects whenever we hear more.
Army of Darkness & Mortal Kombat
Varèse Sarabande, in partnership with Record Store Day, is bringing the scores to 1995's Mortal Kombat film and Army of Darkness to vinyl. These items, along with others, will be available at independent record stores across the globe next month on April 18, 2020. This marks the very first time the score for Mortal Kombat, which was composed by George S. Clinton, has been produced for vinyl with this special release celebrating the film's 25th anniversary. Joseph LoDuca did the score for Army of Darkness and the composer was personally involved in remastering this release himself. Have a look below for the promotional artwork for this event, and visit Record Store Day for a list of participating retailers.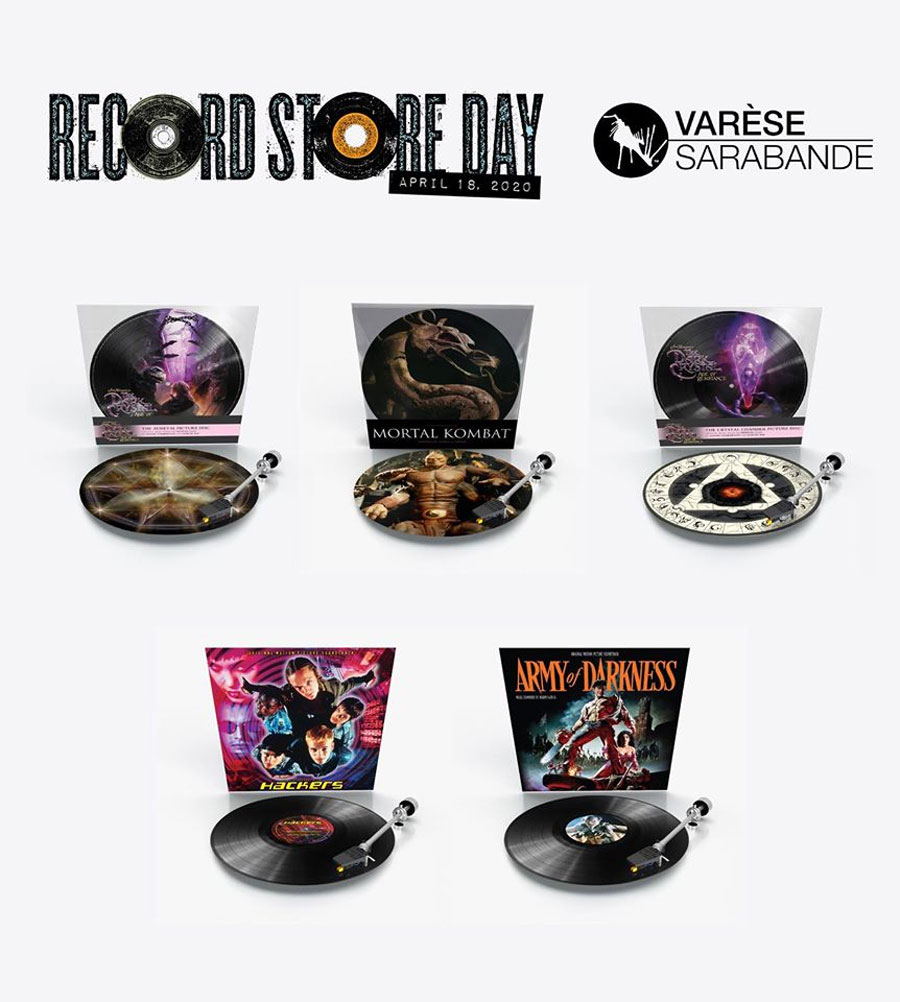 Bloodstained: Ritual of the Night
Koji Igarashi's fantastic side-scrolling action RPG Bloodstained: Ritual of the Night (read our review) is still receiving updates, believe it or not, and the latest is a mixed bag for those who have been following the game since its unveiling on Kickstarter. While the Nintendo Switch version of the title has received a number of well-needed optimizations on the road to content parity across all platforms, it was announced this week that the originally-planned "Roguelike" mode will not be going forward after all due to the original design clashing with the current vision of the game. However, in its place will be a new "Randomizer" mode that will let players switch things up on new playthroughs. In addition, the Boss Revenge feature will not be launching at the same time as the new playable character Zangetsu, voiced by David Hayter, as was mistakenly mentioned during a previous developer discussion. Either way, all of these bonuses are still on the way and we look forward to seeing more from this team in the future. In the meantime, you can check out a preview of the Randomizer mode just below.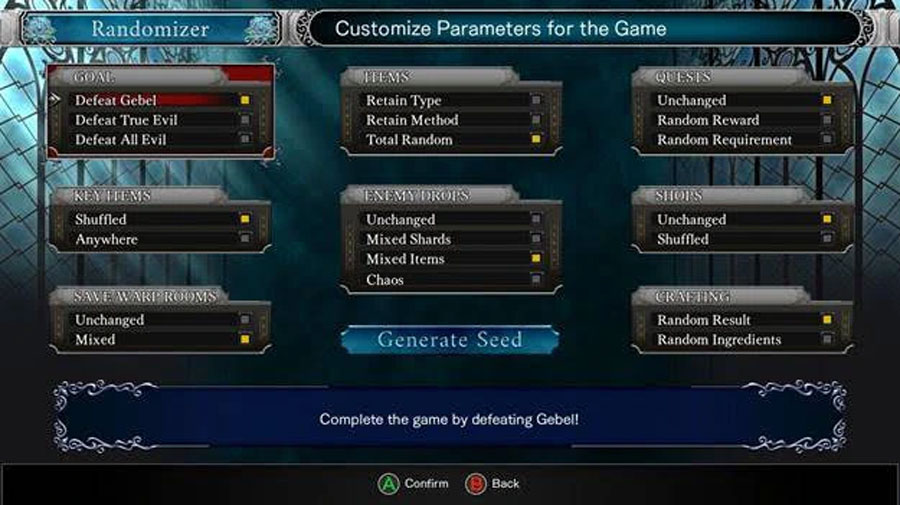 The Lost Boys
The CW's second attempt at a pilot for its The Lost Boys TV series has added one more name to its cast, with Deadline reporting that Rochelle Aytes (Mistresses) has been tapped to play the mother of our two main characters, now named Jackie. She will be joined by previously announced stars Branden Cook as Garrett (one of the brothers), Lincoln Younes as Benjamin (a new take on David), and Ruby Cruz as Elsie (a version of the movie's Star). The new pilot will have about a 40% rewrite of the script, but further details are not yet known at this time.
The Brides
ABC is moving forward with its new take on The Brides of Dracula, simply titled The Brides this time around. The project comes from Chilling Adventures of Sabrina creator Roberto Aguirre-Sacasa and a slew of casting details were revealed this week. Gina Torres (Pearson) has been tapped for the leading role in the series, while it also welcomes Katherine Reis (Rise), Chris Mason (Broadchurch), and Sophia Tatum (I Am Not Okay with This) in prominent roles as well. The show is described as a contemporary reimagining of Dracula with strong horror elements and plenty of drama. It could be interesting, especially considering the tone of other similar reimaginings, but we'll have to wait and see how this one turns out. We expect more details will trickle out before too long.
Parasite Eve
While this shouldn't be taken too seriously right now, Yoshinori Kitase, the producer behind The 3rd Birthday and the upcoming Final Fantasy VII Remake, was asked in an interview about whether Square Enix is planning another Parasite Eve game. While Kitase said he wasn't aware of any such project, he succinctly noted, "the [Parasite Eve] characters are very rich and deep, especially Aya Brea" and then proceeded to mention how "it would be a waste to not use those characters again." Given the success of Capcom's recent efforts with Resident Evil, and the fact Square Enix's Final Fantasy VII Remake is practically an instant success for the publisher at this point, it might be fun to start ruminating about a potential Parasite Eve remake or at least a fourth entry in the series. You can check out the full interview above (or skip to 19:25 to hear Kitase's response to the question about Parasite Eve).
---
This week's round-up includes news contributions from our very own Chris Morse and Jay Gervais. There is always plenty happening in the world of horror, so be sure to drop in next week for our next news round-up and remember to visit throughout the week for original content and other major news discussion as it happens. Stay tuned!