Weekly Horror News Round-Up March 21: Resident Evil 3, What We Do in the Shadows, More Coronavirus Cancellations
Plus, Simon Pegg and Nick Frost reunite for a PSA, Universal offers up some early home video releases, a few new trailers arrive, and more.
By Chris Morse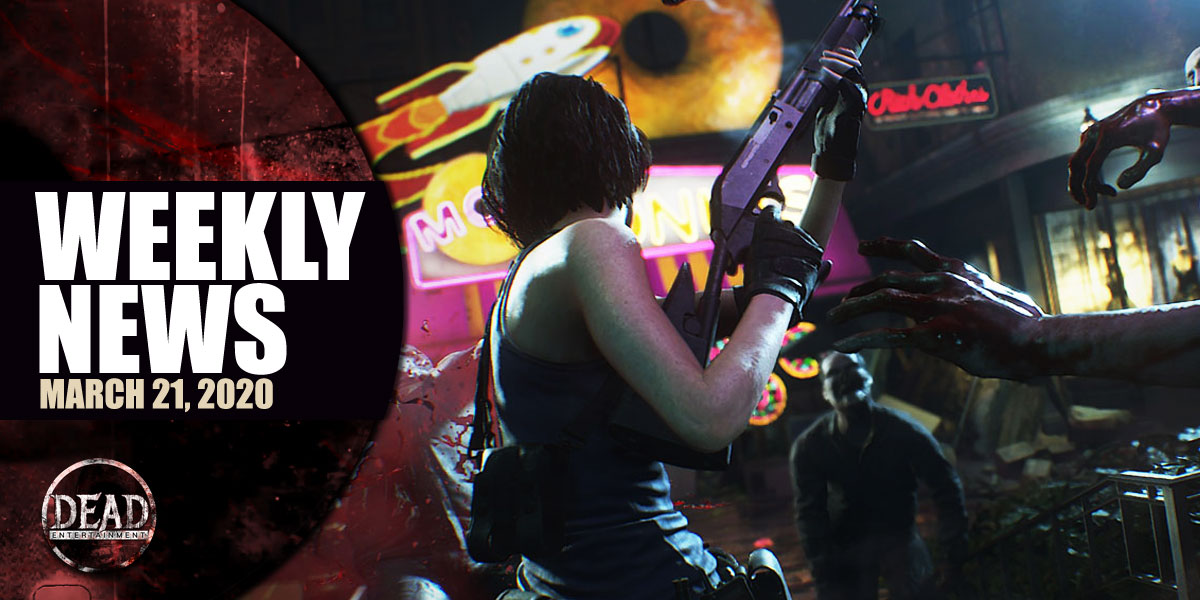 Welcome back to Dead Entertainment's weekly horror news column for this March 21 edition. As usual, this easily-digestible round-up contains the latest news and notes, trailers, upcoming releases, and anything else we found fun or interesting throughout the week in horror. The world of horror entertainment is really beginning to feel the effects of the COVID-19 pandemic, but we've still managed to dig up some interesting stories to help get you through your self-quarantining. Shall we begin?
Resident Evil 3
The official demo for Capcom's highly-anticipated Resident Evil 3 remake is now live for PlayStation 4 and Xbox One. In it, players are offered their first taste of the expanded Raccoon City and the relentless bio-organic weapon, Nemesis. There's not much more to say here until review time, but the title is set for release on April 3 for PS4, Xbox One, and PC. Do you have what it takes to survive?
What We Do in the Shadows
At long last, the wonderful What We Do in the Shadows TV series returns for its second season on April 15. Based on the film of the same name, this series follows a different group of ancient vampires struggling to get by in a modern world. If deadpan humor is up your alley (read our Season 1 review), you won't want to miss this one. The official trailer made its debut this week and you can watch that above, but we've also included the three most recent teasers containing different material just below. That should be enough to sate your thirst for blood until next month.
More Coronavirus Cancellations
Much like last week, the ongoing coronavirus pandemic is taking its toll on the film industry and the horror genre is no exception. This week brought us a new slate of indefinitely pushed back releases, including Spiral (the next Saw movie) and Antebellum to add to the previously-announced delays for A Quiet Place Part II, Antlers, The New Mutants, and Stranger Things. Production on Season 2 of The Witcher has also been halted for now, primarily due to Kristofer Hivju (Game of Thrones) testing positive for the virus, along with the next season of Fear the Walking Dead. In addition, the start of production for The Walking Dead Season 11 has been pushed back at least 3-4 weeks in light of this and even the upcoming third series, The Walking Dead: World Beyond, will premiere later this year instead of its original date of April 12. Unfortunately, this disruption hasn't shown any signs of slowing down here in the United States. We can only hope things will be back to normal sooner rather than later.
Shaun of the Dead
Here's something wholesome to get your mind off of all the terrible things happening outside right now. Shaun of the Dead stars Simon Pegg and Nick Frost reunited for a PSA on the pandemic and it's exactly what you might expect. While you stay at home, have a cup of tea, and wait for all this to blow over, give the above video a watch and enjoy this blast from the past from this forever-classic horror-comedy.
Universal Pictures
In the world of recent releases affected by the coronavirus outbreak, Universal's The Invisible Man and The Hunt have received early home video releases so they can be enjoyed by all, especially those who missed them out of the gate and want to (or have to) avoid the movie theater for the time being. It's a nice move, so look into your digital platform of choice and grab up your copy if you've been meaning to check out either of these films.
We Summon the Darkness
Saban Films' We Summon the Darkness is due to hit theaters, on demand, and digital on April 10, and the newly-released official trailer teases a nice blend of heavy metal and satanic murder fun. Written by Alan Trezza and directed by Marc Meyers, the film follows a group of friends on their way to a concert during a time when reports of satanic killings are surfacing. We can only imagine where it might go from there. Starring is Alexandra Daddario, Johnny Knoxville, Keean Johnson, Maddie Hasson, Logan Miller, Amy Forsyth, and Austin Swift.
Inheritance
Another new trailer also came our way with Vertical Entertainment's Inheritance. This movie, due for an early DirecTV release on April 23 with theater/on demand/digital following on May 22, follows the family of a wealthy patriarch who suddenly passed away and left them with a shocking secret inheritance that threatens to unravel and destroy their lives. Written by Matthew Kennedy and directed by Vaughn Stein, the film stars Lily Collins, Simon Pegg, Connie Nielsen, Chace Crawford, and Patrick Warburton.
Blair Witch
Finally, game developer Bloober Team announced this week that its Blair Witch video game will be receiving a Nintendo Switch port. We've never been one to turn down a little terror on the go and this title should do the trick nicely. There is no specific release date set just yet, but it is slated to be available sometime this summer. Stay tuned and enjoy the official announcement trailer above!
---
There is always plenty happening in the world of horror, so be sure to drop in next week for our next news round-up and remember to visit throughout the week for original content and other major news discussion as it happens. Stay tuned!