Weekly Horror News Round-Up September 19: Resident Evil, Stranger Things, Demon's Souls
Plus, check out the full trailer for Scare Me, Blumhouse and Amazon pull back the curtain on 4 movies, Scream 5 gets another star, and more.
By Chris Morse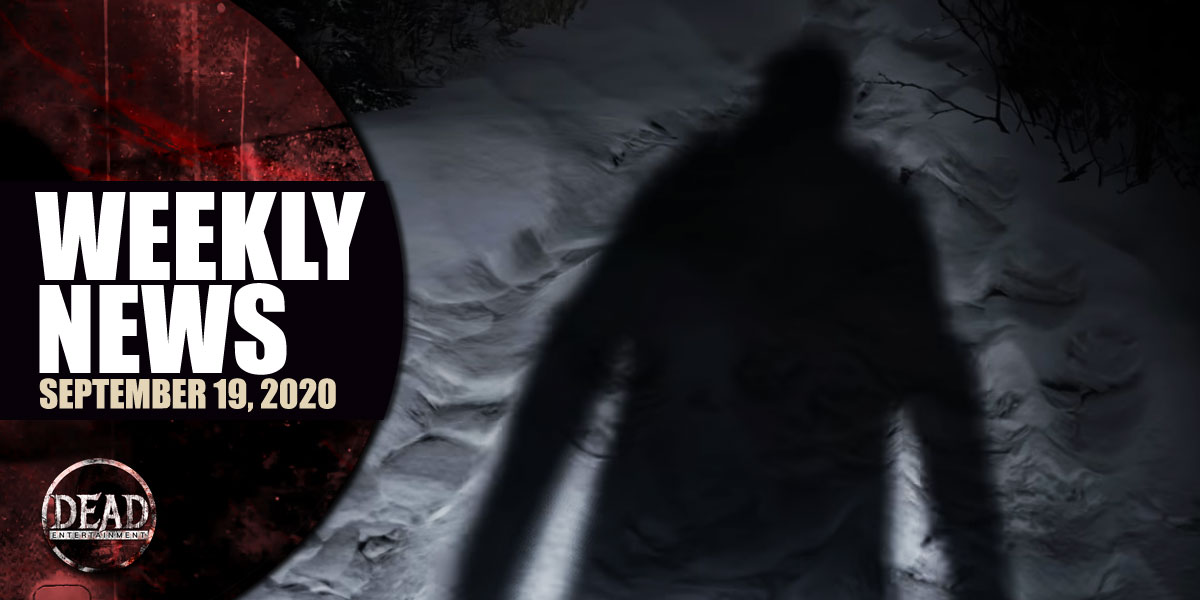 Welcome back to Dead Entertainment's weekly horror news column for this September 19th edition. As usual, this easily-digestible round-up contains the latest news and notes, trailers, upcoming releases, and anything else we found fun or interesting throughout the week in horror. And here we go!
Resident Evil
The next mainline installment of the Resident Evil franchise, a direct follow-up to Part 7 dubbed Resident Evil Village, received a brand-new trailer this week during Sony's big PlayStation 5 showcase event. More on that event later on in this round-up, but this new preview gives fans a better idea of what to expect from the story and overall style of the game. Some good news to cap off the trailer is that the title is for sure coming sooner rather than later and will release on PlayStation 5, Xbox Series X, and PC sometime in 2021. Stay tuned for more information in the months ahead!
Stranger Things
As various film and television productions are slowly beginning to start back up, it looks like Stranger Things might be next in line to resume filming. According to a report by Deadline, the studio seems to be eyeing a September 28th return to the set in Georgia, where production on the upcoming fourth season originally began back in February before the COVID-19 pandemic arrived in full. This isn't totally confirmed just yet, but it would make sense with all of the other sets coming back to life these days. Here's hoping this will bring us that much closer to streaming a new season once again.
Demon's Souls
Later on in Sony's PS5 event, we got a glimpse at a longer gameplay trailer for Bluepoint Games' upcoming remake of FromSoftware's Demon's Souls, the title that essentially kicked off a highly successful video game genre. If a stunning gameplay preview wasn't enough to tickle our fancies, we also learned that the game will exclusively debut as a launch title for the next-gen console. We are more than ready to die again and again in the kingdom of Boletaria. This title will land on Day One: November 12th.
Scare Me
Shudder's upcoming horror-comedy Scare Me also received its full official trailer this week. The feature is written and directed by Josh Ruben, and follows two strangers in a power outage who tell each other scary stories that eventually begin to come to life in the cabin. Starring is Ruben himself, along with Aya Cash and Chris Redd. Scare Me will arrive exclusively on Shudder beginning October 1st.
Blumhouse/Amazon
Halloween month is gearing up to be a busy time with 8 new Blumhouse movies on the way to Amazon Prime Video as part of the two companies' long-reported-on partnership. This week brought us previews for the first four, and you can find those trailers embedded below. This whole thing kicks off on October 6th with The Lie and Black Box, followed by Evil Eye and Nocturne on October 13th. There are more to come, but, without further ado, here are your first official trailers!
Scream
The cast for the next chapter of the Scream franchise continues to grow with yet another addition this week. Joining the rest of the previously announced stars—Neve Campbell (Sidney Prescott), David Arquette (Dewey Riley), Courteney Cox (Gale Weathers), and Marley Shelton (Judy Hicks), along with series newcomers Melissa Barrera, Jenna Ortega, Jack Quaid, Dylan Minnette, Mason Gooding, Mikey Madison, Kyle Gallner, and Jasmin Savoy Brown—is up-and-coming French-Arab actress Sonia Ammar. James Vanderbilt and Guy Busick of Ready or Not notoriety are handling screenplay duties for the film, which is set to be directed by Matt Bettinelli-Olpin and Tyler Gillett. Scream 5 is expected to hit theaters on January 14, 2022.
Devil May Cry
Back to the PS5 showcase, the next-gen console will also be launching with a special edition version of Devil May Cry 5, featuring Vergil as a playable character. This release also adds a new Legendary Dark Knight difficulty setting that ramps up the number of enemies on-screen, as well as Turbo Mode so you can slay demons even faster. Unfortunately for PC players, this version of the game is only headed to next-gen consoles. Here's hoping you're on the bandwagon for a new system this holiday season!
Five Nights at Freddy's
If you thought this week's PS5 showcase might have needed more from the horror genre, then Steel Wool Studios helped deliver with the revealing of its next Five Nights at Freddy's game, titled Security Breach. Details are still quite scarce for now, with this only being an initial teaser/reveal trailer, but at least we know this game is coming to the next-gen on PlayStation 5, at least. For now, enjoy the early preview and stay tuned for more details ahead!
DOOM
Absolute classic DOOM 64 is finally getting the respect it deserves with a physical collector's release courtesy of Limited Run Games. If you recall, the original 64-bit title received a modern re-release on current-generation consoles and that is the version of the game this bundle will include. What makes it special, however, are the additional goodies that come with it, including an undeniably awesome commemorative metal N64 cartridge (no, it is not functional). See below for everything it includes. Pre-orders will open on LimitedRunGames.com beginning September 25th at 10:00 AM eastern time.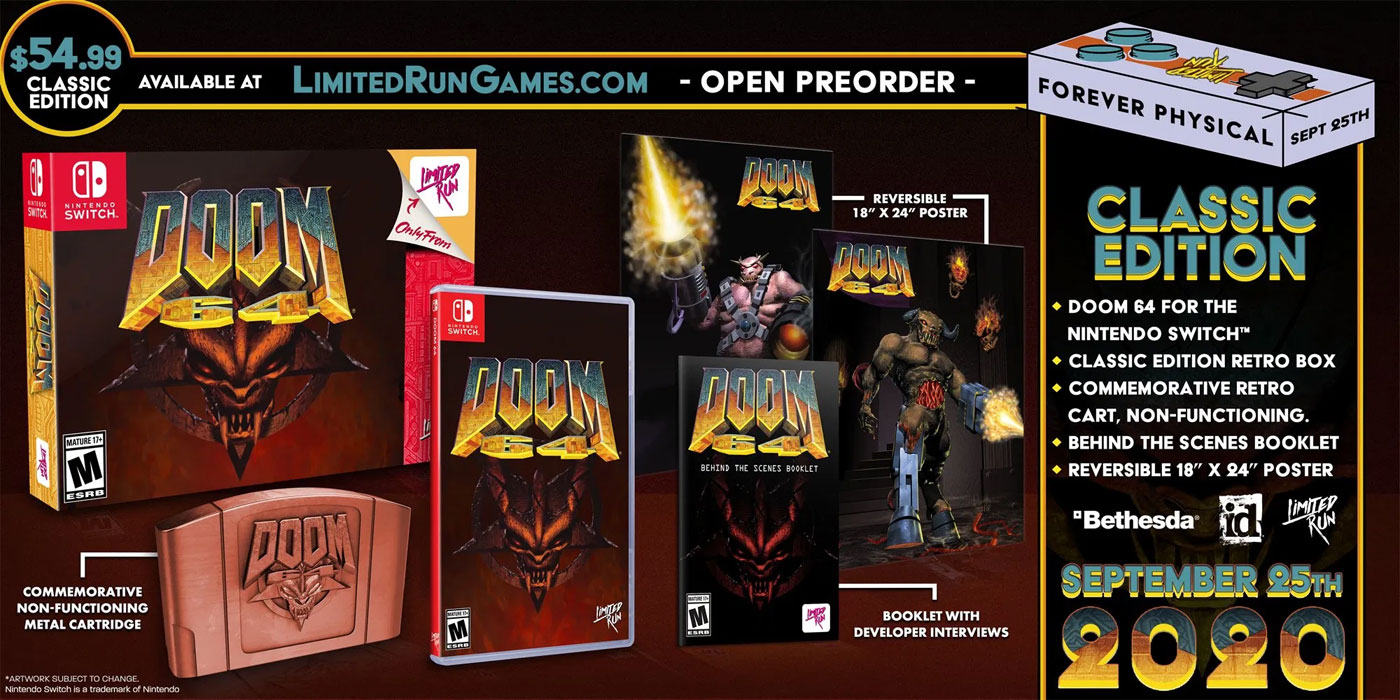 Two Sentence Horror Stories
Season 2 of The CW's Two Sentence Horror Stories hasn't even premiered yet, but the network has already gone ahead and green-lit a third. Following delays caused by the COVID-19 pandemic, the series is scheduled to return sometime in early 2021 and will continue its subgenre variety of anthology horror stories. We are unsure at this time whether Season 3 will be ready in time for the show's typical fall release, especially considering the next season's premiere timing is still a bit unclear, but we'll be sure to pass along any details whenever we learn more.
Black Forest
A new horror-thriller is on the way from Unhinged director Derrick Borte, as revealed by Deadline earlier this week. The film, titled Black Forest, centers on the German forest of the same name, where a group of students find themselves transported back in time to the Middle Ages, ending up separated and pursued by local villagers in a deadly witch hunt. Black Forest is co-written by Borte and Daniel Forte, and distribution sales are currently underway.
---
There is always plenty happening in the world of horror, so be sure to drop in next week for our next news round-up and remember to visit throughout the week for original content and other major news discussion as it happens. Stay tuned!