Weekly Horror News Round-Up August 22: Stranger Things, Scream, The Last Drive-In
Plus, Mike Flanagan's Midnight Mass begins production, look ahead with a season preview of HBO's Lovecraft Country, and more.
By Chris Morse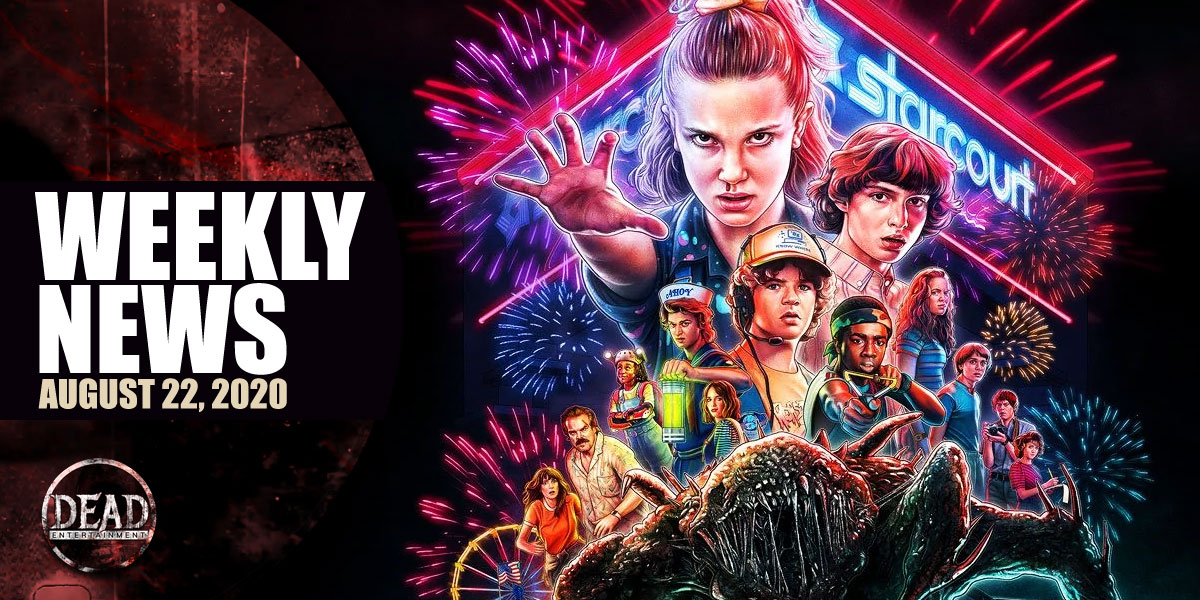 Welcome back to Dead Entertainment's weekly horror news column for this August 22nd edition. As usual, this easily-digestible round-up contains the latest news and notes, trailers, upcoming releases, and anything else we found fun or interesting throughout the week in horror. It hasn't been the most exciting week for the genre, but there's been some welcome movement on a few projects we are eagerly looking forward to, so let's dig into some stories!
Stranger Things
The Duffer Brothers have spoken plenty about how they don't want to see Stranger Things drag on longer than it needs to, which is admirable in itself from a quality point of view, but it's nice to hear Stranger Things 4 won't be the end of our adventures in Hawkins (and beyond). In a recent interview with The Hollywood Reporter, the duo confirmed that the upcoming fourth season, delayed as it may be, will not be closing the book on this series. Based on the Duffers' earlier comments, it's hard to imagine the hit show will run more than 5 or 6 seasons, but at the very least the pandemic has afforded them the opportunity to really map out what's ahead and how to get there. Even if COVID-19 has delayed many of our favorite shows, including this one, we could be seeing some higher-quality finished products if these comments are any indication. Be sure to check out the full discussion on THR. Also, if immersive experiences are your thing and you happen to be in the Los Angeles area, be sure to check out Stranger Things: The Drive-Into Experience with tickets going on sale in just a few days!
Scream
How about some Scream 5 casting news to brighten up your day? While we have heard plenty about returning familiar faces to the franchise, such as Neve Campbell's Sidney Prescott, David Arquette's Dewey Riley, and Courteney Cox's Gale Weathers, we haven't heard much about any newcomers, that is, until now. Deadline came in hot with the scoops this week, confirming that Melissa Barrera (Vida) and Jenna Ortega (You) have boarded the joint effort from Spyglass Media Group and Paramount Pictures. James Vanderbilt and Guy Busick of Ready or Not notoriety are handling screenplay duties for the film. Expect even more details in the weeks and months ahead.
The Last Drive-In
Joe Bob Briggs is a national treasure and we will never say no to more The Last Drive-In, which is exactly what the beloved horror host has us looking forward to in a couple short months. Not only is a third season officially on the way to Shudder, Briggs has invited fans to his next double-feature special, just in time for Halloween at a to-be-announced "very special location." Our next trip to the drive-in will take place on Friday, October 23rd at 9 PM eastern time. We'll see you there!

[blockquote-0][scripttag-0]
Midnight Mass
In a year of so many delays and indefinite postponements, it's almost refreshing to catch wind of some news that a project is gearing up for production. What's even better is when production has already kicked off like it has for Netflix's upcoming new horror series, Midnight Mass. The seven-episode series is directed entirely by Mike Flanagan, who announced the start of filming on social media, and will follow an isolated island community that experiences miraculous events and frightening omens alike after the arrival of a charismatic and mysterious young priest. Starring is Zach Gilford (The Purge: Anarchy), Kate Siegel (The Haunting of Hill House), and Hamish Linklater (Legion), with the cast also including Annabeth Gish, Michael Trucco, Samantha Sloyan, Henry Thomas, Rahul Abburi, Crystal Balint, Matt Biedel, Alex Essoe, Rahul Kohli, Kristin Lehman, Robert Longstreet, Igby Rigney, and Annarah Shephard. All we need next is some good news on the status of The Haunting of Bly Manor, another notable horror project from the filmmaker. Our fingers are crossed!

[blockquote-1][scripttag-0]
Lovecraft Country
HBO's appropriately racially-tinged new series, Lovecraft Country, is set to consider delivering the cosmic horror goods in the weeks ahead and the network offered a preview of what's to come for the Jordan Peele-produced series, which you can check out just above. If you happened to miss watching the debut episode that has left many viewers talking, it has also been made available for free to everybody online. You can find that video right here:
Penny Dreadful
It would appear the sequel series to Penny Dreadful failed to capture the magic of its namesake, with Variety reporting this week that Showtime has cancelled the new series after just one season. Although reviews did not view the show unfavorably, it would appear ratings might not have been up to par to warrant investing in more episodes. It's quite possible the still-ongoing pandemic has something to do with this, though no further details were elaborated on with the announcement. Penny Dreadful: City of Angels had just finished airing its first season back on June 28th.
The Walking Dead
The third series in AMC's The Walking Dead television universe is set to kick off this fall on October 4th, immediately following the long-awaited airing of the Season 10 finale of the main series, and another teaser video looks to get you primed and ready for it. Titled "Generations," this latest preview focuses on the youthful next generation of survivors who have come of age knowing only this new normal, which is the ruined world of a zombie apocalypse. The show definitely has a unique tone to it, based on this and earlier trailers, so it will be interesting to see what direction it takes. The Walking Dead: World Beyond is being billed as a two-season limited event.
Antebellum
Lionsgate's oft-delayed Antebellum (thanks, pandemic) may have finally opted for a safe, at-home release, as announced earlier this month, but that doesn't mean we can't sneak in a few more teases to hold us over. What we have today is a preview clip, viewable just above, as the film gears up to premiere on-demand September 18th. This mind-bending mystery is written and directed by newcomer duo Gerard Bush and Christopher Renz, and stars Janelle Monáe, Marque Richardson II, Eric Lange, Jack Huston, Kiersey Clemons, Tongayi Chirisa, Gabourey Sidibe, Rob Aramayo, Lily Cowles, and Jena Malone.
---
There is always plenty happening in the world of horror, so be sure to drop in next week for our next news round-up and remember to visit throughout the week for original content and other major news discussion as it happens. Stay tuned!