Into the Dark: Pooka! is This Year's Hottest New Holiday Horror Story
Holiday horror tends to follow a tried-and-true approach, but Pooka! throws that right out the window.
By Ray Morse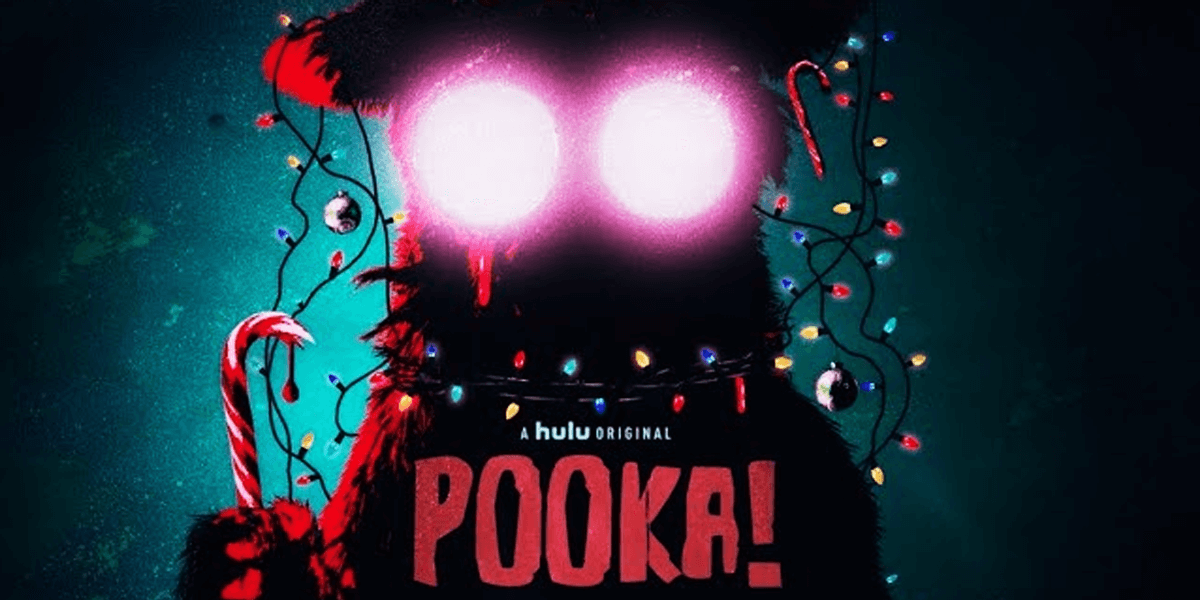 Hulu's holiday-themed anthology horror series Into the Dark has returned with the delightfully-dark Christmas tale, Pooka! Directed by Nacho Vigalondo (Colossal, Timecrimes) from a script penned by relative newcomer Gerald Olson, Pooka! tells the story of Wilson, played wonderfully by Nyasha Hatendi (Casual, Mass Effect: Andromeda), a struggling actor who finds himself landing a less-than-ideal job portraying the costumed mascot of this holiday season's hottest new toy. Reluctant at first to take on the job, Wilson is quickly caught up in a whirlwind of attention that he never would have anticipated a role like this might bring whilst attempting to lead a relatively normal existence and acclimate to a new beginning of sorts in his everyday life.

At first, Wilson seems to be handling his balancing act with ease but finds that the lines between each of his personas are beginning to blend the more he gets comfortable in them. A constant throughout the entire story is the concept of duality that is often presented in subtleties but can, at the same time, be as in your face as Jekyll and Hyde, with each moment proving to exceptionally complement the given scene. Before long, Wilson must face these demons and accept how the two of them go hand in hand.

While it's true that Pooka! may not be the first film of its kind to explore an individual's psychology by presenting conflicting characteristics when they take on one personality or the other, but what Vigalondo and Olson achieve here is a master craft of continuously keeping the viewer thinking they know what twist is (or isn't) around each turn. Nyasha Hatendi captures the perfect storm of a sympathetic and nuanced character who is tormented by a previous life he's left behind and the new life he so desperately wants. Just when you feel comfortable with fully understanding who Wilson is in and out of the costume, more layers manifest and leave you a step behind when you thought you were one ahead.

The victories of Pooka! don't exclusively lie with the story and character development either. Nacho Vigalondo and crew go to great lengths to put together a harrowing, visually-bipolar journey for both the characters that exist within the narrative as well as the viewer. While the danger remains constant throughout, the brighter moments are often comfortable and calming while the opposite have a colorful, almost surrealistic and nightmarish quality about them. You never quite know when the other shoe will drop. The struggle between these polar opposite forces effectively tears at the fabric of reality, unraveling the world of Pooka! with each passing frame and it does so without wasting a single beat.

Pooka! isn't all bleak, however. The supporting cast pull their weight, offering a welcome counterbalance to the madness that seems to follow Wilson wherever he goes. Jon Daly (The Secret Life of Walter Mitty, Zoolander 2), who plays Pooka's eccentric brand ambassador, adds much of the episode's humor, while Wilson's romantic interest Melanie and her son Ty, played by Latarsha Rose (The Hunger Games, Being Mary Jane) and Jonny Berryman (This is Us, New Girl) respectively, bring the heart to the story. To round out what is truly a wonderful collection of actors, Dale Dickey (Hell or High Water, Winter's Bone), Wilson's next door neighbor, shines brightly in bringing some much needed grounding amid the chaos.

The episode's conclusion leaves the viewer finally able to piece together the remnants enough to understand Wilson's complete journey, the individuals in his life and what they represented, and where these events have led him, but it all reveals itself with a very harsh cost. What started as an intriguing character study, drenched in fun holiday colors, ends gift-wrapped in disaster. The closing moments of Pooka! will leave most speechless, recounting every mile traveled on the road that lead to this destination as the final lines of dialogue are repeated. "Look at all the pretty lights" will surely haunt you for holiday seasons to come!

[relatedArticle-0]
The Good
Despite what some might think, anthology horror isn't exactly the easiest type of film to tackle. Throughout the years, we've seen some of the genre's leading storytellers attempt it and fall short. What makes Pooka! succeed where others have failed is the sheer level of care put into treating this story like a feature and not a one-off episode to a Tales from the Crypt knockoff. Nacho Vigalondo treats this film as his own personal playground and doesn't let any limitations of the small screen hold him back.
The Not-So-Good
What makes Pooka! work is how contained Wilson's world is. The story bounces from one location to another and back in such a smooth fashion that you hardly feel like you've already visited once before. This is due, in part, to the way Wilson's story is offered to the viewer one piece at a time. Returning to familiar places is almost justified when additional story is the reward. Despite this, you can't help but feel the urge to explore his life just a hair more than you get the opportunity to.
The verdict is in and Into the Dark: Pooka! is without question the year's hottest new toy – err, story – this holiday season. If you are looking for a truly unique approach to the "holiday horror" subgenre and not something that has been done time and time again, look no further. Pooka! is sure to become a staple in any horror fan's holiday viewing lineup.