Weekly Horror News Round-Up January 10: American Horror Story, What We Do in the Shadows, The Howling on Netflix
Plus, Sabrina gets a music video, we get a first look at Into the Dark: My Valentine, Doctor Strange moves on from its director, and more.
By Chris Morse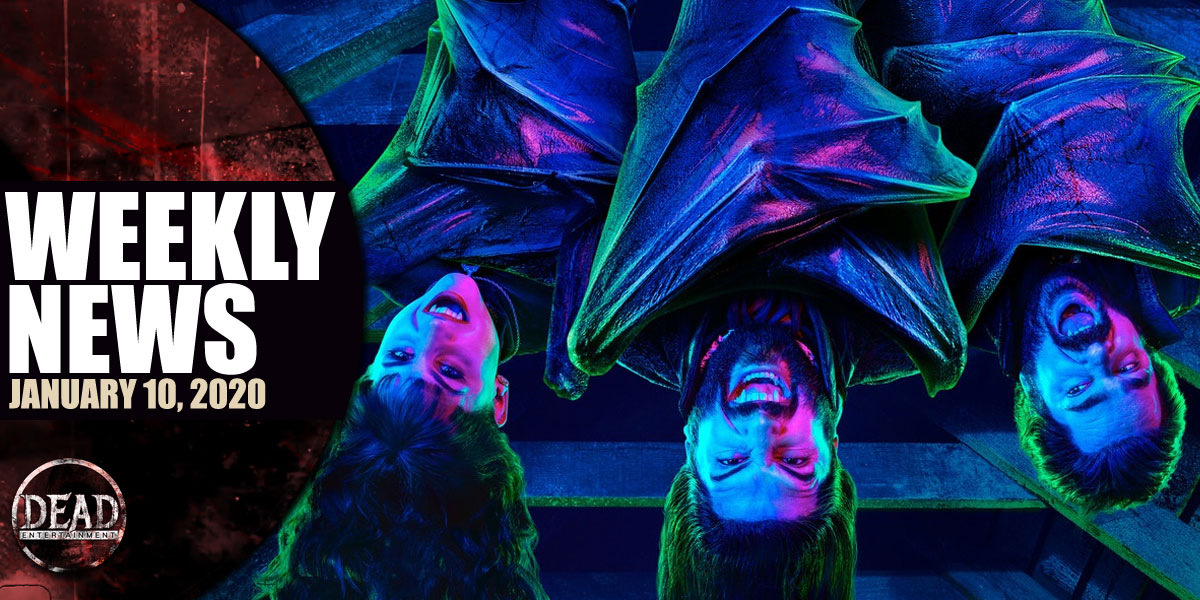 This is the first installment of something new we will be doing here on Dead Entertainment, which is to say that the bulk of our basic news coverage will be presented as an easily-digestible round-up at the end of each week. As mentioned in our recent announcement, we will still be providing articles and discussion on major news and events in horror, on top of offering more original content overall, but this will be the hub for everything else you may find interesting that happened throughout the week.
Our weekly round-up posts will contain news and notes, trailers, upcoming releases, and all of the other content you typically expect to find on this site. We will also occasionally take the time to add fun or interesting horror content we find across the web that might be of interest. This is all fairly flexible so without further ado, let's move ahead with the January 10th installment of our horror round-up.
American Horror Story
American Horror Story received some major love this week with FX ordering a renewal for three more seasons. That's on top of the tenth season which is already being worked on as we speak, bringing us confirmation that the show will at least run through Season 13. This could be a fitting end, according to FX chairman John Landgraf, who also suggests we could see even more seasons after 13. One more exciting bit of news is that Sarah Paulson will be playing a major role in the new season, a welcome addition after she skipped the previous, 1984.
What We Do in the Shadows
We finally have a release date for Season 2 of What We Do in the Shadows, which will premiere on Wednesday, April 15th over on FX. If that's not exciting enough on its own (it is), it's also been revealed that Luke Skywalker himself, Mark Hamill, will be guest starring in the new season. We don't know much about the role he'll play just yet or how involved he will be, but we sure hope he'll be playing a vampire.

[blockquote-0]
The Howling
It's been reported that It and It: Chapter Two director Andy Muschietti is in early talks to direct a remake of Joe Dante's The Howling for Netflix. This is still a very early scoop with no deals in place for the rights or development just yet, but the interest is there and they certainly have a fitting filmmaker to take it on. We'll have to wait and see if this goes anywhere.
Chilling Adventures of Sabrina
Who needs a trailer when you can just make a music video instead? Chilling Adventures of Sabrina returns with Part 3 January 24th and Netflix made a popstar out of the teenage witch with a musical preview released this week. On top of being a catchy, original song, the music video also contains footage from the upcoming new season. We will probably still get a more traditional trailer very soon, but this fun diversion does a fine job holding us over until then.
Into the Dark
The writer and director of the upcoming Valentine's Day episode of Hulu's Into the Dark, Maggie Levin, has taken to Twitter to show off her own little teaser ahead of the official trailer's debut that should fall sometime later this month. Check it out below.

[blockquote-1][scripttag-0]
Color Out of Space
Richard Stanley's Nicolas Cage-led H.P. Lovecraft adaptation, Color Out of Space, is set to hit theaters on January 24th, but we received word today that the home video release won't be far behind. The film will be available in 4K Ultra HD, Blu-ray, and DVD formats on February 25th, 2020. You can get your pre-orders in now on Amazon.
Doctor Strange
Filmmaker Scott Derrickson is out for the upcoming Doctor Strange sequel, Doctor Strange in the Multiverse of Madness. The director announced on social media that due to creative differences, he and Marvel have agreed to part ways on the project. Although he will no longer be helming the film, he will remain on board as executive producer. We're not sure how this change will affect the horror-tinged approach that's been discussed previously, but there is still plenty of darker source material to draw upon that we hope the next filmmaker will embrace when the cameras begin rolling.
Fear the Walking Dead
In terms of the world of The Walking Dead, a new interview with franchise chief content officer Scott M. Gimple over on EW this time dives into the still-running spinoff, Fear the Walking Dead. Among the topics discussed are the format of the new season with the separation of characters, possible connections to the other shows and upcoming movies, and finally the fact that Season 6 will see a lot of time passing in the story. Read the full discussion right here.
Dracula
Netflix and the BBC's Dracula has been a big topic of conversation lately. Love it or hate it (read our review), today brought us a behind-the-scenes featurette highlighting how the team brought the world of Dracula to (un)life. It touches upon sound design, costumes, hair and make-up, production design, visual effects, and more. It's definitely worth a watch!
Elden Ring
A final bit of gaming news broke today with the report from PC Gamer that the next FromSoftware game, Elden Ring, which is a collaboration between the studio and A Song of Ice and Fire author George R.R. Martin, will make an appearance at the Taipei Game Show running from February 6th through 9th. This should bring us a new trailer and possibly even a release date. Could that rumored summer date indeed be possible? We will find out soon!
---
With some major releases and returning series coming up in the weeks ahead, we will surely have plenty more to talk about next week and beyond. Keep an eye out for original content and major news discussion throughout the week and be sure to join us again next week for our round-up of everything else that's transpired in the world of horror.