Weekly Horror News Round-Up May 16: The Purge, The Twilight Zone, American Horror Story
Plus, get cursed by the Ju-On: Origins trailer, go behind the scenes of The Last of Us Part II, check out the short film The Scroll of Morlok, and more.
By Chris Morse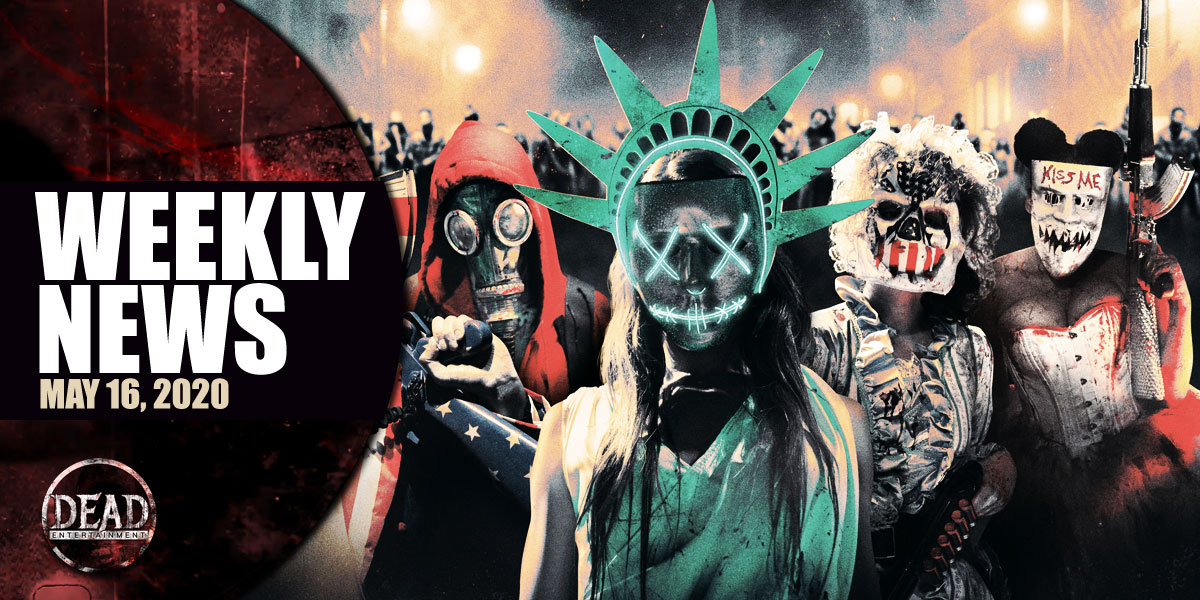 Welcome back to Dead Entertainment's weekly horror news column for this May 16th edition. As usual, this easily-digestible round-up contains the latest news and notes, trailers, upcoming releases, and anything else we found fun or interesting throughout the week in horror. Once again, there is no shortage of stories to talk about this time so let's cut to the chase and get started!
The Purge
This week's updates on Blumhouse's The Purge franchise are of the disappointing variety, but not entirely unexpected either. It shouldn't come as much of a shocker that the next film in the series, titled The Forever Purge, will not release this summer after all. It's been a damn-near full season of indefinite delays due to the pandemic, so this is just another to add to the list. On the television side of the franchise, USA Network delivered more bad news with the cancellation of The Purge TV series, which ran for two seasons and featured a fairly steep ratings decline after Season 1. Fans of this dystopian world will still get the next movie eventually, so it's not all bad news here. Still a bummer, though!
The Twilight Zone
In the realm of upcoming shows not delayed, CBS All Access is inviting us to return to another dimension with the next season of its The Twilight Zone revival, hosted by Jordan Peele. Last week brought us a slew of cast and episode details, and it didn't take long for this week to bring us the full official trailer. The first season premiered to a lukewarm reception, sometimes being a little too on the nose for its lessons to really land, but there were a handful of fantastic installments as well. Here's hoping that room for improvement pays off in the second season. We will most certainly be tuning in.
American Horror Story
If an anthology horror series with each season telling a different story wasn't enough for you, Ryan Murphy is here to tease you with an anthology spinoff of American Horror Story that tells a different story each episode. The prolific television creator took to Instagram and revealed the existence of a project titled American Horror Stories, which will reportedly feature a different ghost story in each installment. Details are vague for now, but this is definitely something to be looking forward to as the entertainment industry very slowly prepares to reopen.
[blockquote-0]
Ju-On: Origins
Fans of The Grudge franchise will no doubt be excited for Netflix's serialized take on the cursed ghost story in Ju-On: Origins. As expected, this adaptation centers on those haunted by a mysterious house and the horrifying history that made it that way. You will be able to dive right into this one early this summer on July 3rd, exclusive to the streaming platform.
The Last of Us
Naughty Dog's highly anticipated sequel, The Last of Us Part II, is finally dropping on June 19th and this week brought us the first of four behind-the-scenes featurettes diving deep into the game, which will continue the journey of Ellie in a brutal, post-apocalyptic world. This adventure looks to be even more intense than the last, so there's no doubt we have our calendars marked for this release.
The Scroll of Morlok
We break from the regular news with a look at a short film we've been following for some time now. The Scroll of Morlok comes our way from independent filmmakers Evan Scott and Dash Finley, and stars Rae Gray and Dyson Posey. This short puts a modern, and quite frankly meta, spin on the silent horror film style of old. It sounded like a great idea when it was first being pitched and the finished product is now here for you to enjoy. Give it a watch above and enjoy!
Latest Coronavirus Updates
This week additionally brought us a couple more updates regarding projects that have been affected by the ongoing COVID-19 pandemic, on top of the previously mentioned postponement of The Forever Purge. In the realm of delays, Shaun of the Dead filmmaker Edgar Wright's upcoming psychological horror-thriller, Last Night in Soho, will no longer release in September as planned. No new date has been given at this time, but we will probably get one before too long. On the other hand, the previously delayed The New Mutants has found its new date and will now premiere on August 28, 2020. All things considered, we hope the worst of the delays are now behind us.
Predator
Illfonic's Predator: Hunting Grounds may not have been as buzzy of a release as Friday the 13th: The Game, but its next update is sure to get people talking when Arnold Schwarzenegger's Dutch returns to the jungle to kick some alien ass. EW unveiled a first look at the title's upcoming DLC, which launches on May 26, with a preview of the actor's likeness in video game form. The downloadable expansion will show players what the iconic character has been up to since the events of the first film and will have them taking control of the man himself. Check out the preview image below!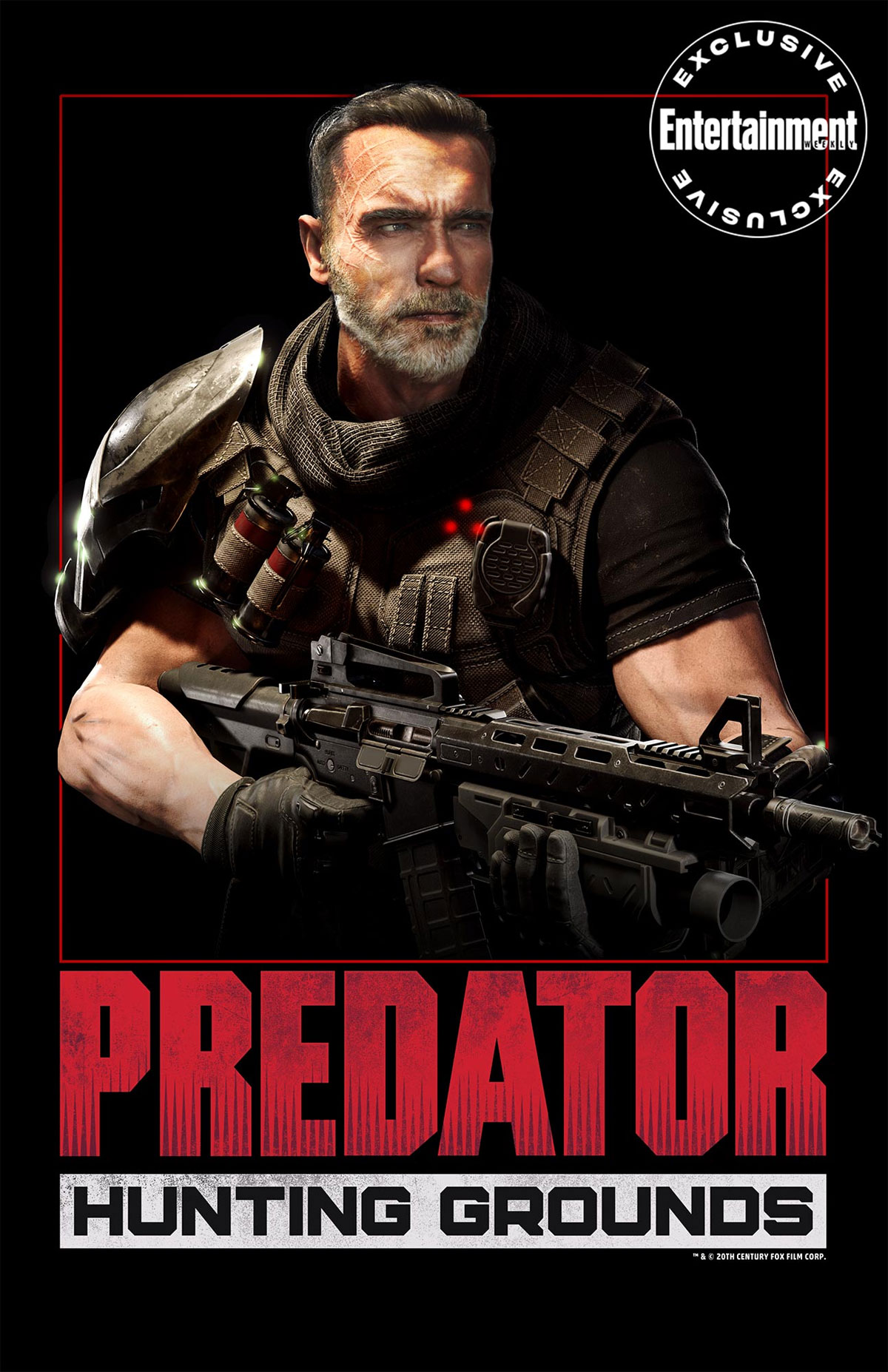 Swamp Thing
If you were one of the many people disappointed by the befuddling cancellation of DC Universe's Swamp Thing TV series, or didn't buy into that streaming platform at all, you will at least be able to enjoy the season that did make it out into the world. The CW has picked up the rights to air the 10 episodes that comprised its first and only season. It's not huge news, as the series is still not continuing at this time, but this should at least get more eyes on the show, which premiered on a streaming platform with a more limited audience than the vast majority of households that still have access to network television. At the very least, more people will be able to enjoy these episodes that could have become so much more.
Diablo
Rumors have been swirling this past week about a potential remaster of Diablo II, which is reportedly being developed by Vicarious Visions, according to French website Actugamer. We tend to take most of these stories with a hefty grain of salt, even if they are theoretically possible, but this one seems a bit more plausible to us. Back in November, we received word from a source at the BlizzCon benefits dinner that the studio's head of classic games, Robert Bridenbecker, strongly alluded to this being in the works, sarcastically commenting how that is definitely not something they would do and that it definitely won't be released on the Nintendo Switch. Sounds like a pretty strong indicator to us, though it wasn't announced at that particular event. Could we be hearing more about this soon?
Anne Rice
News broke this week that AMC has picked up the rights to Anne Rice's The Vampire Chronicles and The Lives of the Mayfair Witches, which are being considered for TV show development. The author's works under these two series are quite robust, featuring over 20 books in total. There's a lot of room for the network to potentially develop multiple shows set in each of these worlds, but specific plans have not been detailed at this time, as it's still very early in the process for all parties involved. We'll be sure to pass along updates whenever we learn more.
Into the Dark
Hulu's horror anthology Into the Dark is taking on Independence Day again with a new episode titled "The Current Occupant." Deadline detailed the story and cast this week, revealing that the episode is directed by Julius Ramsay and based on a screenplay by Alston Ramsay. Laying on the symbolism rather thick, this installment follows a man in a psychiatric ward who has come to believe he's the President of the United States and the subject of a diabolical political conspiracy. The cast includes Barry Watson, Sonita Henry, Marvin "Krondon" Jones III, Lilli Birdsell, Kate Cobb, Ezra Buzzington, and Joshua Burge. This one debuts on July 17, 2020. With the coronavirus pandemic still underway, we are unsure how many more episodes we will be getting before there is a lull in releases. This could possibly be the last one for some time until production picks back up. We'll see.
The Sandman
There have been a few projects based on Neil Gaiman's The Sandman floating around, the most notable of which is in development at Netflix, but a rather interesting one has been detailed by THR this week. Audible has been developing an audio drama adaptation of the graphic novel series and a slate of stars has been revealed. The cast will be led by James McAvoy (It: Chapter Two) as Dream, Riz Ahmed, Justin Vivian Bond as Desire, Arthur Darvill, Kat Dennings as Death, Taron Egerton, William Hope, Josie Lawrence, Miriam Margolyes as Despair, Samantha Morton, Bebe Neuwirth, Andy Serkis, and Michael Sheen as Lucifer. There's no doubt this one should be very interesting.
The Lost Boys
It looks like it's better luck next season for The CW's attempt at getting a series for The Lost Boys off the ground. After a disappointing pilot led to a rework order at the network, filming was underway on the second attempt at the show when the pandemic hit, so naturally that has thrown a monkey wrench into these plans. During a press call this week, The CW president Mark Pedowitz dropped the news that this series would be rolled into next year's possible options, simply due to the fact that the reworked pilot was not complete and a full series isn't quite ready to take off. The project is by no means dead in the water yet, but this news adds yet another bump in the road for what has already been a tumultuous development from the beginning. Here's hoping the show eventually sees the light of day!
Mortal Kombat
A new story DLC is on the way for Mortal Kombat 11 and we have a brand-new gameplay trailer to prove it. Launching on May 26th is Mortal Kombat 11: Aftermath, which is set after the events of the title's main campaign and features a few familiar faces, including RoboCop! The content addition will include new fighters and locations, with a limited portion of the content being made available to all players as part of a free update on the same day.
Two Sentence Horror Stories
We leave off with one more news bit from The CW in the form of a second season announcement for Two Sentence Horror Stories. The series from Vera Miao debuted last summer and featured contemporary tales of horror and haunting for the diverse and digital age. Season 2 will continue this trend with all-new episodes beginning this fall. Further details are not yet available, but we'll be sure to fill you in with all the latest whenever we hear more.
---
There is always plenty happening in the world of horror, so be sure to drop in next week for our next news round-up and remember to visit throughout the week for original content and other major news discussion as it happens. Stay tuned!