Scott Gimple Previews The Walking Dead: World Beyond and Its Place in the Franchise Universe
Here's how the upcoming third series from AMC will interact with the wider world of Robert Kirkman's zombie apocalypse.
By Chris Morse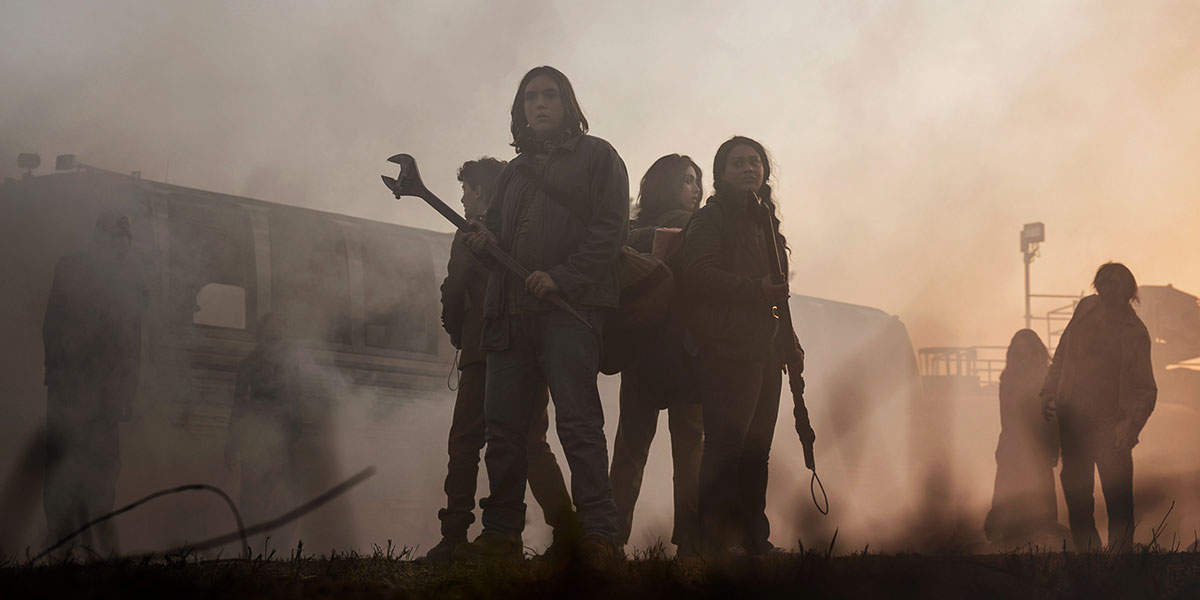 Just a day after hearing about what to expect from the upcoming Andrew Lincoln-led The Walking Dead movies, franchise chief content officer Scott M. Gimple is back with some more insight in a new discussion on EW. This time, he offered a preview of what to expect from the upcoming third series in the apocalyptic universe, The Walking Dead: World Beyond.

The first teaser trailer for the new series hinted that we will be seeing more of a community that is at least loosely connected to events from the other two shows, notably the survival of Rick Grimes and what the future might hold for him.

Gimple explained, "We're going to be discovering this very big aspect to the world that we haven't yet seen. We've seen glimpses of it on the shows with the helicopters and with the soldier that we saw, Isabelle on Fear. The movie does obviously touch upon some of that mythology as well as Rick being in one of those helicopters. In some ways, World Beyond, it's a big story and yet it's sort of Rosencrantz and Guildenstern to Rick's Hamlet, meaning the show and the movie touch upon some of the same things, but they're not really that deeply related."

"We'll learn more though about that group, that civilization, the nature of some other civilizations of the world through World Beyond, and that will give some of the background for the world that Rick finds himself in," he continued. "But the story of World Beyond doesn't really intersect with the movies other than they share knowledge and interaction with some of these bigger things going on in the world."

Gimple also opted to temper fans' expectations of just how much this new show will intersect with the main series and Fear the Walking Dead, indicating that these projects will occasionally touch upon one another but viewers should not expect a constant connection.

"I will say that though this mythology appeared on The Walking Dead and on Fear the Walking Dead, those two shows aren't going to be as involved with this," Gimple commented. "We don't want to change all of The Walking Dead to having to do with this. It'll wax and wane, it'll occasionally touch upon it, but really there's going to be brand new mythologies on each of these shows and even outside of these shows. This is not the new mythology for The Walking Dead. This is a new mythology for The Walking Dead universe. The new show is tied into it quite a bit, the movie is as well, but it isn't going to be a driving force throughout all the shows on the universe."

"We really want to strike some differentiation, and even the movie and the new show are so vastly different and deal with some vast different aspects," he continued. "They do kind of show these cool different aspects of this new mythology, but they aren't tied in it directly. The Walking Dead has such amazing stuff coming up, we don't want this to be the only story that all of these different shows and movies are telling."

Despite the creative team at AMC wanting each series to have its own unique footprint, there are some crossovers being planned but nothing that has been announced just yet. It sounds like we could see a major crossover or two by Season 2 of World Beyond.

"I mean, they do share a universe," Gimple said, "Though it is really cool to see how this different corner of the universe operates and the lives that they have been living all this time, it will be these little places that cross. We've been talking about aspects of next season of World Beyond. There might even be a big aspect of crossover with one of the shows. That's the other part of it is we have these plans, but we've got to execute them. That's sort of next season. We're still finishing up this season."

"They do share a universe, so where there are opportunities, we want to take them," he added. "That said, unlike reality today, these worlds are so isolated from each other because of a lack of mass communications, mass transportation. In some ways, they are on little islands from each other, so when they can have those crosses, it's kind of wonderful."

In terms of what will set World Beyond apart from The Walking Dead and Fear the Walking Dead, Gimple explained the team's approach, "I mean there's a lot of things that make it different. The first one is really the situation with which the characters have been living in, relatively, a first world situation. Relatively. Because it's focusing on young people, even the 'adults' in this are on the younger side, they've more or less grown up with this."

"There's a certain everydayness of this to them, though they've been behind walls," he said. "It's a very big deal for these characters to leave these walls. Even though they aren't like, 'Oh, what are these people?' They aren't shocked upon seeing walkers, but it's just they haven't been interacting with them. They haven't had to interact with them. It's an incredible act of bravery for some of these people to potentially step out into the world."

Gimple concluded by reiterating this point, emphasizing that while they want to bring their own signature approach to the zombie genre, each show should stand on its own and have enough variety in the stories being told to keep them all interesting in their own ways. There are many aspects to this universe and World Beyond is only one part of the equation. The same goes for the current two shows. The AMC exec is hoping that in the end, each will "scratch its own different itch."

[relatedArticle-0]

The series is set nearly a decade after the start of the apocalypse and will follow two young female protagonists who have come of age knowing only this outbreak. They will be joined by friends and other youths as they seek out to discover themselves and the world around them in what sounds like more of an adventure than a survival story. The end of the world was their beginning.

Previously announced stars for this spinoff include Alexa Mansour (Unfiltered: Dark Web) as Hope, Nicolas Cantu (The Good Place) as Elton, Hal Cumpston (Bilched) as Silas, Annet Mahendru as Huck, and Aliyah Royale as Iris. Also on board are Julia Ormond (Temple Grandin), Nico Tortorella (Scream 4), Joe Holt (The Punisher), Natalie Gold (Succession), Al Calderon (Step Up: High Water), Scott Adsit (Veep), and Ted Sutherland (Fear Street).

The Walking Dead: World Beyond will premiere in spring 2020. Follow Dead Entertainment for all the latest on this series and The Walking Dead franchise as a whole.