Weekly Horror News Round-Up September 12: The Walking Dead, Candyman, Books of Blood
Plus, Scream 5 adds to its cast, get Freaky in a new trailer from Blumhouse, the original Friday the 13th is remastered to return to theaters, and more.
By Chris Morse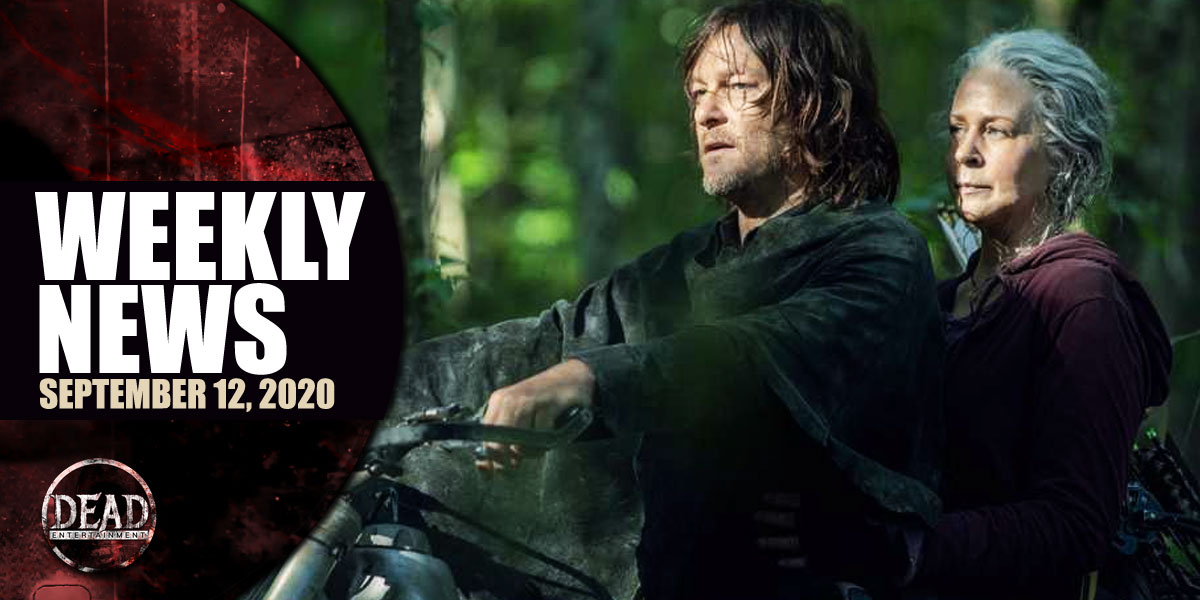 Welcome back to Dead Entertainment's weekly horror news column for this September 12th edition. As usual, this easily-digestible round-up contains the latest news and notes, trailers, upcoming releases, and anything else we found fun or interesting throughout the week in horror. Let's jump right in!
The Walking Dead
AMC quickly got us talking this week with the revelation that it has ordered a final, super-sized 11th season of The Walking Dead. This is a show that was going to shamble on indefinitely, or so the studio insisted, but finally settling on ending it at a point when the time is right in the story is exciting and welcoming news. All told, with the upcoming belated finale of Season 10, 6 bonus episodes coming in early 2021, and 24 Season 11 episodes through late 2022, there's no doubt this series is going out with a bang. If that's not enough for you, the studio has also ordered a Daryl/Carol spinoff starring Norman Reedus and Melissa McBride, which will kick off in 2023 with Angela Kang attached as showrunner. The main story may be coming to a close, but this TV franchise is showing no signs of slowing down.

[relatedArticle-0]
The Walking Dead (Continued)
If all of that somehow still didn't sate your hunger for flesh, these two new teasers for The Walking Dead: World Beyond just might. The two-season limited event premieres on October 4th and is set to follow a younger cast of characters who've known only the zombie apocalypse as their reality. On the video game side of the franchise, we have a new gameplay trailer for The Walking Dead Onslaught, the upcoming VR title from Survios Inc. that is set to release on PlayStation VR, Oculus, and Steam on September 29th. Check that out below, along with an image detailing the game's upcoming deluxe edition release.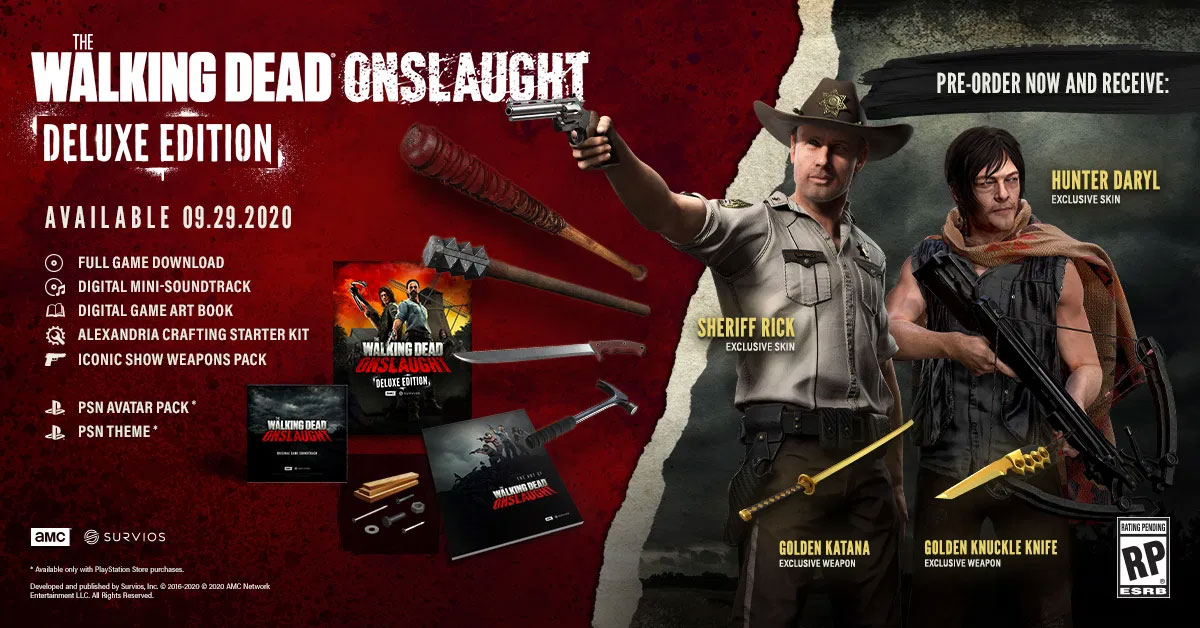 Candyman
If you happened to be looking forward to getting back into a movie theater to watch Nia DaCosta's Candyman next month, we have some disappointing news for you this week. Universal has officially delayed the film from its original October 16th release date, announcing that it will instead release sometime in 2021. No specific replacement date has been revealed at this time, but it looks like we have our final major horror casualty of this pandemic-ridden year. Here's hoping for a better New Year?
Books of Blood
On a more positive note, Hulu's upcoming film adaptation of Clive Barker's Books of Blood is still on the way and we have the first teaser trailer to prove it. The film, co-written by director Brannon Braga and Adam Simon, is set to premiere on October 7th and stars Britt Robertson, Rafi Gavron, Anna Friel, Yul Vazquez, and Freda Foh Shen. Books of Blood is a six-book series from Clive Barker, with each installment being a collection of stories ranging from horror to fantasy. Many of them take place in typical settings featuring typical people, but strange or terrifying events unfold to bring horror into the mix. But enough talking; give the trailer a watch above!
Scream
The cast for the next chapter of the Scream franchise got a whole lot bigger this week, starting with the official confirmation that Neve Campbell is indeed back, though it's already been known for quite some time that she was in talks to reprise her role of Sidney Prescott. Joining the rest of the previously announced stars—David Arquette (Dewey Riley), Courteney Cox (Gale Weathers), and series newcomers Melissa Barrera, Jenna Ortega, and Jack Quaid—are Dylan Minnette, Mason Gooding, Mikey Madison, Kyle Gallner, Jasmin Savoy Brown, and returning actress Marley Shelton. James Vanderbilt and Guy Busick of Ready or Not notoriety are handling screenplay duties for the film, which is set to be directed by Matt Bettinelli-Olpin and Tyler Gillett. Scream 5 is expected to hit theaters on January 14, 2022.
Freaky
How about some new horror to get excited about? If you've been following the regular genre beat, surely you've heard about Blumhouse's then-yet-untitled Vince Vaughn body-swap horror film. Well, this is it and it is called Freaky. The film hails from the Happy Death Day series' Christopher Landon and is set to be released on Friday, November 13th. The movie follows a teenage girl who becomes the target of an infamous serial killer whose mystical dagger causes the two to switch bodies, leaving her with only 24 hours to get her body back before the swap is permanent. The movie is co-written by Landon and Michael Kennedy, and stars Vince Vaughn, Kathryn Newton, Celeste O'Connor, Misha Osherovich, Uriah Shelton, Alan Ruck, Katie Finneran, and Dana Drori. Check out the trailer above.
Friday the 13th
In the realm of classic horror, and in the unfortunate absence of many new theatrical releases, Fathom Events has partnered with Paramount Pictures to remaster the original Friday the 13th for a return to theaters next month. Screenings will take place on Sunday, October 4th and Wednesday, October 7th, and will also include a special featurette titled "Secrets Galore Behind the Gore." Assuming you're ready to head to your local theater, you can grab up your tickets at Fathom Events.
Ratched
This week also brought us one final trailer for Netflix's Ratched, an upcoming series created by American Horror Story's Ryan Murphy and starring Sarah Paulson as the infamous Nurse Mildred Ratched of One Flew Over the Cuckoo's Nest notoriety. This is a prequel story diving into the origins of the malicious character and will premiere on the streaming platform beginning September 18th. Give the trailer a watch and get yourself ready to be her next patient.
Stranger Things
In minor Stranger Things news, the recent video game from developer BonusXP is now free to download and play on consoles for all Xbox Game Pass subscribers (it was previously only available to PC players). Stranger Things 3: The Game was released alongside the third season of the hit Netflix show and acts as a bit of a supplement to that story, also filling in a few blanks and offering side stories in your favorite little town of Hawkins along the way. If you have yet to give this title ap lay, now's your chance!
Possessor
From writer/director Brandon Cronenberg, son of acclaimed director David Cronenberg, comes a new sci-fi/horror film titled Possessor, which is now slated to be released in (some) theaters one week earlier. The film follows corporate assassin Tasya Vos, who uses her brain implant technology to take control of others to execute high profile targets. As she sinks deeper into her latest assignment Vos becomes trapped inside a mind that threatens to obliterate her. Possessor first debuted at Sundance and a wider release is coming soon. Starring in the film is Andrea Riseborough and Christopher Abbott. You will soon be able to catch this one in select theaters on October 2nd.
DOOM
Here's a little bit of fun to cap off our weekly round-up. If you're a fan of the DOOM franchise, in particular the original two games that started it all, you can fire up those classics for a brand-new update bringing official 16:9 widescreen support, among other things. The huge update also includes support for DeHackEd patches, Deathmatch 3.0 in split-screen multiplayer, an optional crosshair, Gyro Aim, new touch controls and controller support for mobile, a millisecond accurate timer for speedrunners, keyboard entry for cheat codes, secret area notifications, the Ultra-Violence+ skill level, bug fixes, and more. Check out the full patch details on the game's official website.
---
There is always plenty happening in the world of horror, so be sure to drop in next week for our next news round-up and remember to visit throughout the week for original content and other major news discussion as it happens. Stay tuned!