Weekly Horror News Round-Up October 17: Friday the 13th, The Walking Dead, Day of the Dead
Plus, I Know What You Did Last Summer gets the green light, You adds to its Season 3 cast, and more.
By Chris Morse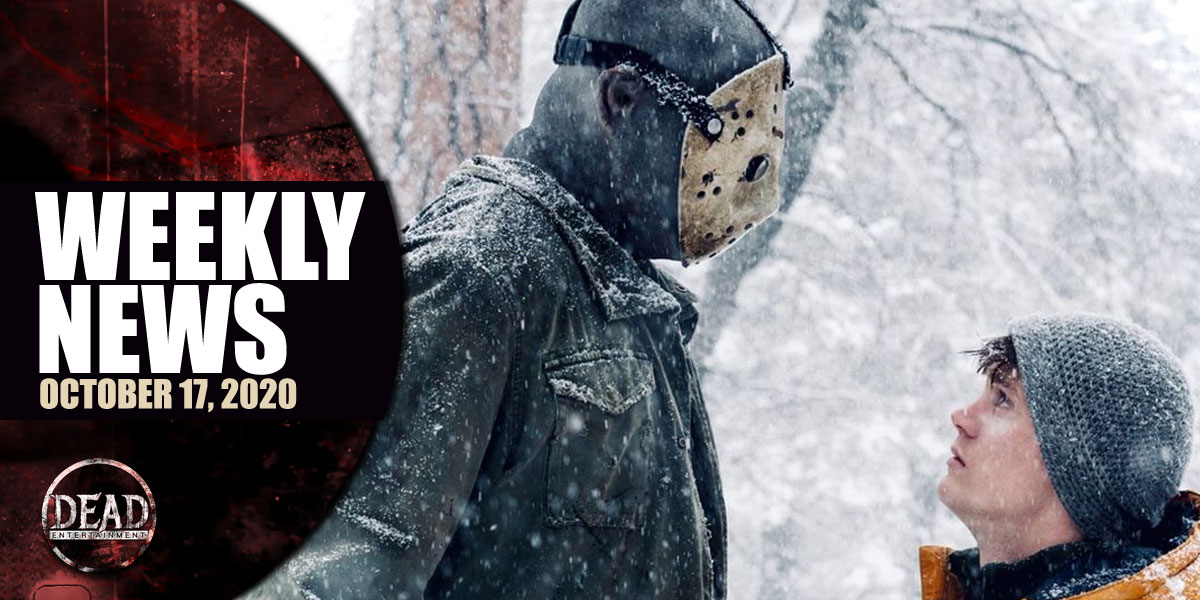 Welcome back to Dead Entertainment's weekly horror news column for this October 17th edition. As usual, this easily-digestible round-up contains the latest news and notes, trailers, upcoming releases, and anything else we found fun or interesting throughout the week in horror. Here are the latest scoops.
Friday the 13th
The Friday the 13th legal drama is still ongoing, no thanks to the pandemic, but fans have continued the trend of keeping Jason Voorhees alive in unofficial ways with the online release of the Never Hike Alone fan film sequel, Never Hike in the Snow, from independent filmmaker Vincente Disanti. Although you will soon be able to get your hands on a physical version of this movie, you can watch it in its entirety on YouTube right now. Starring is Thom Mathews as Tommy Jarvis (yup!), Vincente Disanti as Jason Voorhees, Vinny Guastaferro, Bryan Forrest, Anna Campbell, and Courtlan Gordon. Pre-orders are available on Indiegogo with orders set to ship by the end of the year.
The Walking Dead
AMC's The Walking Dead has officially returned to production! After the arrival of COVID-19 derailed plans to complete Season 10 in time, the studio has laid the groundwork for what's to come and all of that was set into motion this week. First up for fans of the television adaptation are six more bonus episodes set to arrive in 2021. From there we can expect to see the super-sized eleventh and final season of the main series kick off later in the year, consisting of 24 final episodes running through the end of 2022. All of that begins now, so there is plenty to be excited about regarding what lies ahead for the show.

[blockquote-0][scripttag-0]
Day of the Dead
Earlier this year, which feels like an eternity ago at this point, SYFY officially ordered a 10-episode television series based on George A. Romero's Day of the Dead. Eight grueling months later, the show's cast has been revealed, as reported by Deadline. The show, which is written by Jed Elinoff and Scott Thomas, will star Keenan Tracey (Bates Motel), Daniel Doheny (Alex Strangelove), Natalie Malaika (Fractured), newcomer Morgan Holmstrom, and Kristy Dinsmore (Vikings). The first four episodes will be directed by Steven Kostanski, who is also serving as executive producer for the project. Specific plot details are still under wraps, but it's safe to assume this series will at least loosely follow the original work. There's no word yet on when we can expect the 10-episode first season to kick off.
I Know What You Did Last Summer
On the topic of horror movies getting fresh new life on TV, Amazon and Sony's take on I Know What You Did Last Summer has officially received a series order. This project has largely been driven forward by Neal Moritz, who served as producer for the film franchise dating back to 1997. This new adaptation is written by Sara Goodman and will follow the same plot as the original movie. Stay tuned in the months ahead for more specific details on casting and production once everything finally gets off the ground.
You
With Netflix moving ahead on a third season of You, it was only a matter of time before we caught wind of casting news. We got a little bit of that this week, courtesy of Deadline, with the revealing of new cast members Travis Van Winkle (The Last Ship) and Shalita Grant (NCIS: New Orleans), who will be playing a wealthy entrepreneur and a mom influencer, respectively. Season 2 last left us with Joe moving into a new home with a very pregnant Love, but we couldn't imagine our favorite(?) serial stalker had truly put his old habits behind him. Either way, we're bound to find out soon when the show eventually returns with new episodes, though no production schedule or premiere date are known at this time.
Little Hope
The next installment of Supermassive Games' Dark Pictures Anthology, Little Hope, is finally due out on October 30th and this week we have a new trailer diving into the many secrets and premonitions that await. The game was originally pushed back due to COVID-19, but it looks like it will be ready to go just in time for Halloween. The game will be available on PlayStation 4, Xbox One, and PC.
Mortal Kombat
We are exactly one month away from the arrival of a new Kombat Pack for Mortal Kombat 11, which seeks to bring into the fold franchise alumni Mileena and Rain, as well as none other than John Rambo (voiced by Sylvester Stallone). This week, NetherRealm Studios offered fans a more detailed look at what to expect from Rain in an all-new gameplay trailer. Check it out just above and stay tuned for the upcoming release of this pack, along with the "ultimate" edition of the game, on November 17th.
Remothered: Broken Porcelain
The sequel to survival horror title Remothered: Tormented Fathers, is out now and we have the official launch trailer to prove it. The game is set in the infamous Ashmann Inn, a haunted location full of mysteries to unravel. Remothered: Broken Porcelain is available now on PlayStation, 4, Xbox One, Nintendo Switch, and PC.
---
There is always plenty happening in the world of horror, so be sure to drop in next week for our next news round-up and remember to visit throughout the week for original content and other major news discussion as it happens. Stay tuned!