Weekly Horror News Round-Up July 25: Terrifier, The Walking Dead, Chucky
Plus, the latest pandemic film delays, Nick Frost and Simon Pegg reunite in Truth Seekers, enjoy a retro-style indie take on Bloodborne, and more.
By Chris Morse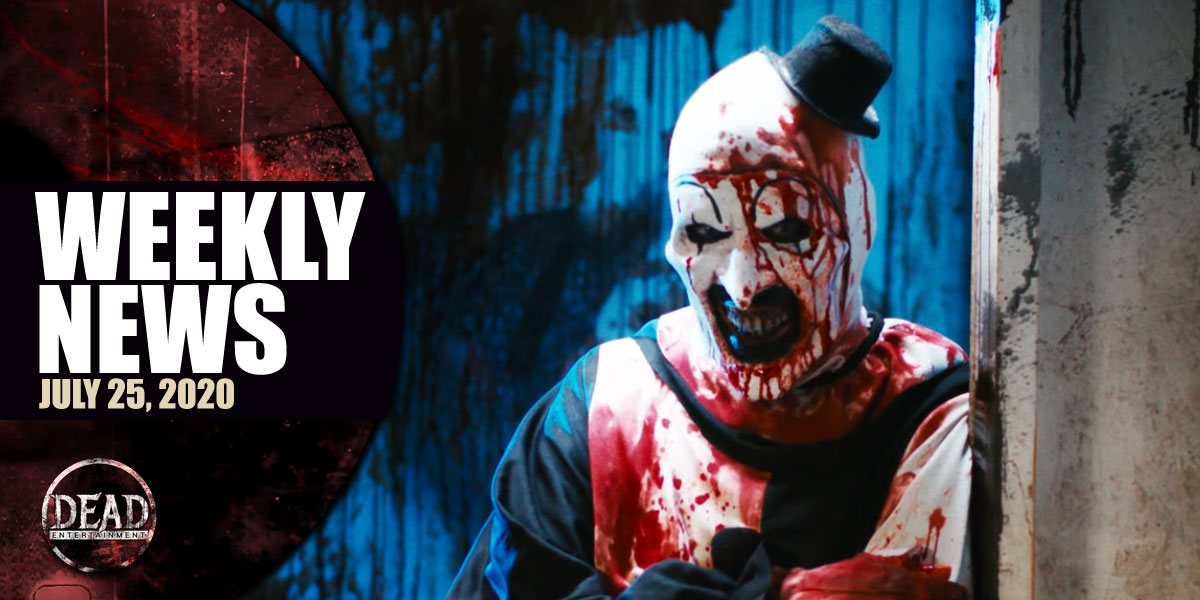 Welcome back to Dead Entertainment's weekly horror news column for this July 25th edition. As usual, this easily-digestible round-up contains the latest news and notes, trailers, upcoming releases, and anything else we found fun or interesting throughout the week in horror. If the first half of the week was slow, then this weekend's "Comic-Con@Home" event made up for it on the back half. Here's what's new!
Terrifier
Despite everything that's been going on this year, Art the Clown wants you to remember he's still out there and waiting for you. The first official teaser for Terrifier 2 dropped late this week, showing off a bloody return to form for the brutal, murderous clown. Written and directed by Damien Leone with David Howard Thornton starring alongside Lauren LaVera, Felissa Rose, Jason Lively, and Tamara Glynn, the film sees Art resurrected by a sinister entity and prompted to return to Miles County to hunt down and destroy a teenage girl and her brother on Halloween night. The sequel was planned to be released sometime this year, but it's unknown at this time whether it might be delayed due to the novel coronavirus. We'll be sure to keep you posted on the latest details either way.
The Walking Dead
Having to hold Comic-Con virtually this year didn't stop AMC from going all-out on The Walking Dead just like the network would any other year. For starters, we can at long last expect the airing of the Season 10 finale on October 4th at 9:00 PM. The episode was originally delayed due to the pandemic and post-production needing more time. Right after that episode airs, we will have the premiere of the second spinoff series, The Walking Dead: World Beyond, which is being billed as a two season limited event and also received a full trailer during the stream. Last but not least, the first teaser trailer for Fear the Walking Dead Season 6 also dropped, indicating that show will return a week later on October 11th. It's additionally worth noting, before we get into all the trailers and the opening minutes of the upcoming season finale, that Season 11 will not be airing in 2020. In fact, we will be receiving six additional episodes almost like a mini-season in early 2021. Got all that? Good, let's see some footage.
The Walking Dead (Continued)
While I'm out here waiting for some more Negan sometime in the future (hopefully), the creator of The Walking Dead, Robert Kirkman, has had slightly different plans that are still exciting plans nonetheless. For the first time ever, the entire comic series is being released in full color beginning on October 7th with The Walking Dead Deluxe #1. Each month following the debut installment, two more issues will be released, also in full color, showing the story of Rick Grimes unfold like never before. Personally, it's tempting to double dip on this to add these versions to my collection, but I might be better off waiting for one big box set to be released by the end of this run. Either way, you can check out a preview of this new run with a couple of images included below.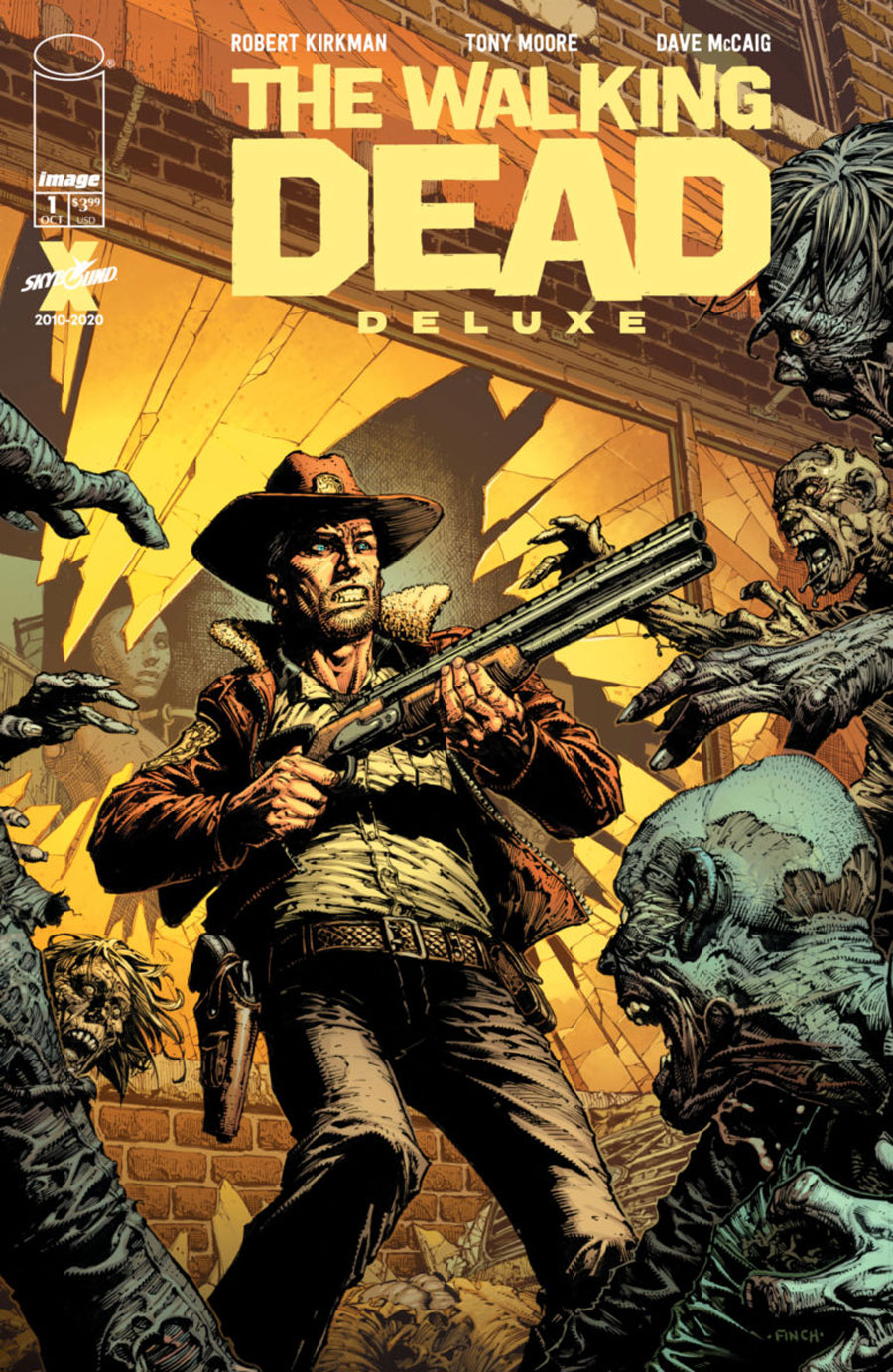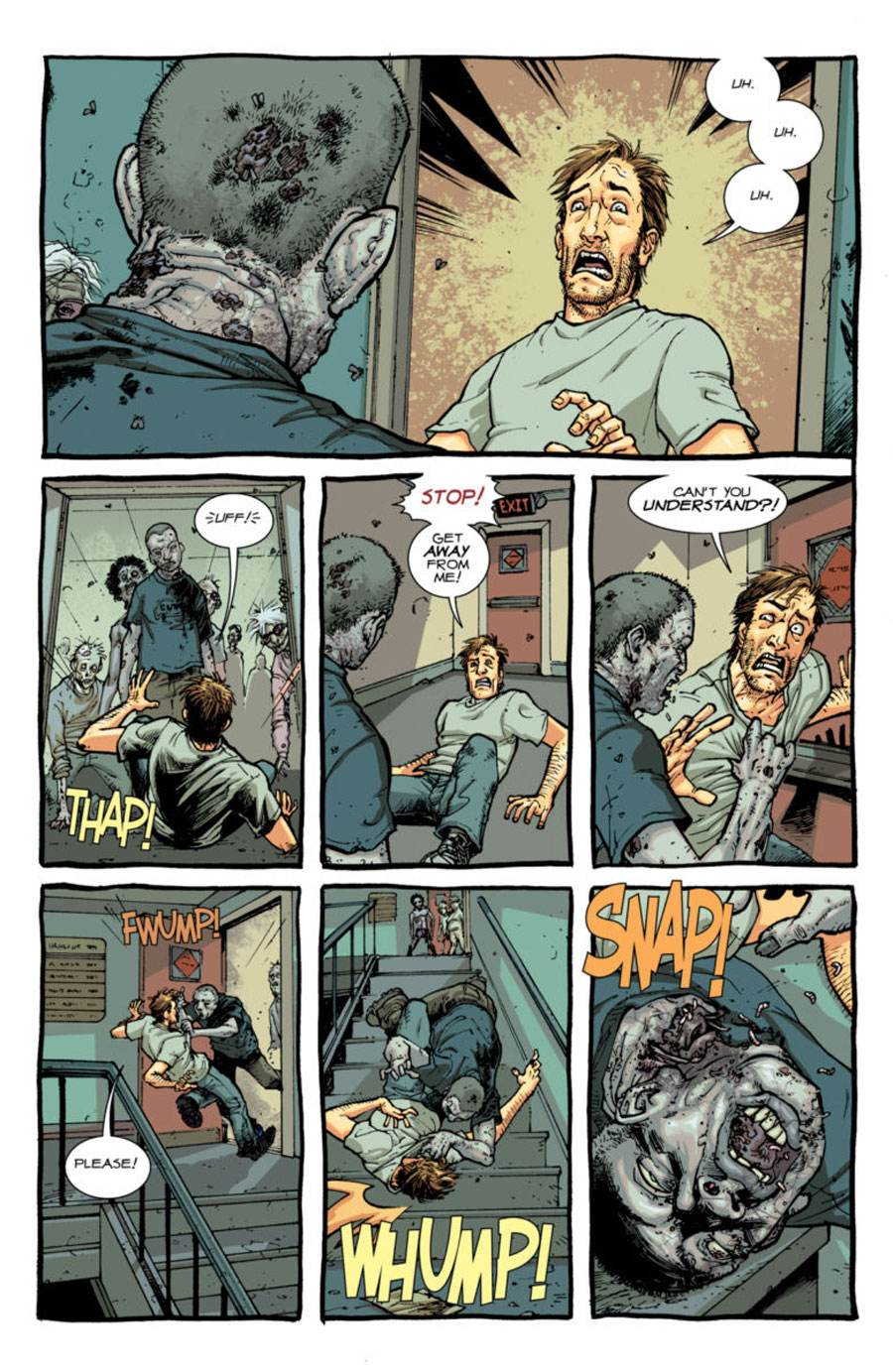 Chucky
SYFY and USA have made official this week Brad Dourif's casting as the voice of our titular killer doll in Don Mancini's upcoming Chucky television series. The powers that be behind the show, as well as the actor himself, previously gave fans plenty of reason to believe this would be the case, but having that confirmation is exciting news during an otherwise less-than-exciting time in horror. The series, which will be released on both networks sometime in 2021, sees Mancini joining forces with Channel Zero's Nick Antosca, and David Kirschner, a producer with long-time ties to the franchise dating back to the beginning, to bring upon the world his vision of where Child's Play goes next.
New Pandemic Delays
It feels like we get one or two of these each week, but as optimism regarding the ongoing COVID-19 pandemic continues to fade, at least here in the United States, a number of upcoming horror releases have retreated from the year altogether. First up, we have The Conjuring: The Devil Made Me Do It moving all the way back to June 4, 2021, a far distance off from the original September date we were looking forward to. John Krasinski's A Quiet Place Part II has also received yet another delay, this time to April 23, 2021. Finally, the Guillermo del Toro-produced horror movie Antlers, jointly written by Nick Antosca and C. Henry Chaisson with Scott Cooper behind the camera, will now release on February 19, 2021. Here's hoping this mess is over with by then!
Truth Seekers
In terms of more positive news, something we're all in need of right now, we have the official teaser trailer for Amazon's Truth Seekers, which is a horror-comedy reuniting Shaun of the Dead stars Simon Pegg and Nick Frost. The series is a spoof on those ghost-hunting "reality" shows and also stars Samson Kayo and Emma D'Arcy. This one looks to be a great time and is coming soon to Amazon Prime Video, though no specific date has been given at this time. We're definitely looking forward to it!
Bloodborne
Indie game developer Max Mraz has released a fantastic little Bloodborne tribute called Yarntown, which has been making its way around the internet this week. The gameplay is kind of like classic Legend of Zelda with an over-the-top view and some light FromSoftware mechanics. It's free, of course, so you can check it out for yourself on the official download page. Of course this is for PC only, but that shouldn't stop you from checking it out and maybe even giving it a play!

[blockquote-0][scripttag-0]
Lovecraft Country
This week also brought us one more trailer for Lovecraft Country, this time making with the monstrous goods and showing off a little of the supernatural. Set in the 1950s Jim Crow era and complete with supernatural terror, this story looks to combine a deadly mix of racial drama with monsters that could be taken right out of the works of H.P. Lovecraft, which is quite the deliberately ironic choice given the indubitably racist history of the writer himself. The series is slated to debut August 16th on HBO.
Helstrom
Marvel TV and Hulu's Helstrom series is officially on the horizon with the release of the first teaser trailer at this weekend's virtual Comic-Con  event. Not only did we get our first look at the show itself, we also learned that all episodes will premiere October 16th on the streaming platform. The series follows Daimon, aka the Son of Satan, and Ana Helstrom, the offspring of a mysterious serial killer, as they work to track down the worst of humanity. This debut season will contain 10 episodes.
Stranger Things
If our return to Hawkins (and beyond) is going to have to wait for this pandemic business to be over with, we Stranger Things fans can still get our fill of our beloved characters via Dark Horse's line of comic books, which is continuing with a one-shot Halloween special on October 21st. The story will follow Will, Mike, Lucas, and Dustin as they eat candy and scare each other with spooky stories, only to unknowingly reveal the town's deepest kept secret: The Child-Eater of Hawkins. The comic is written by Michael Moreci with drawing, coloring, and lettering handled by Todor Hristov, Chris O'Halloran, and Nate Piekos, respectively. Check out the cover art below and mark your calendars for this Halloween season.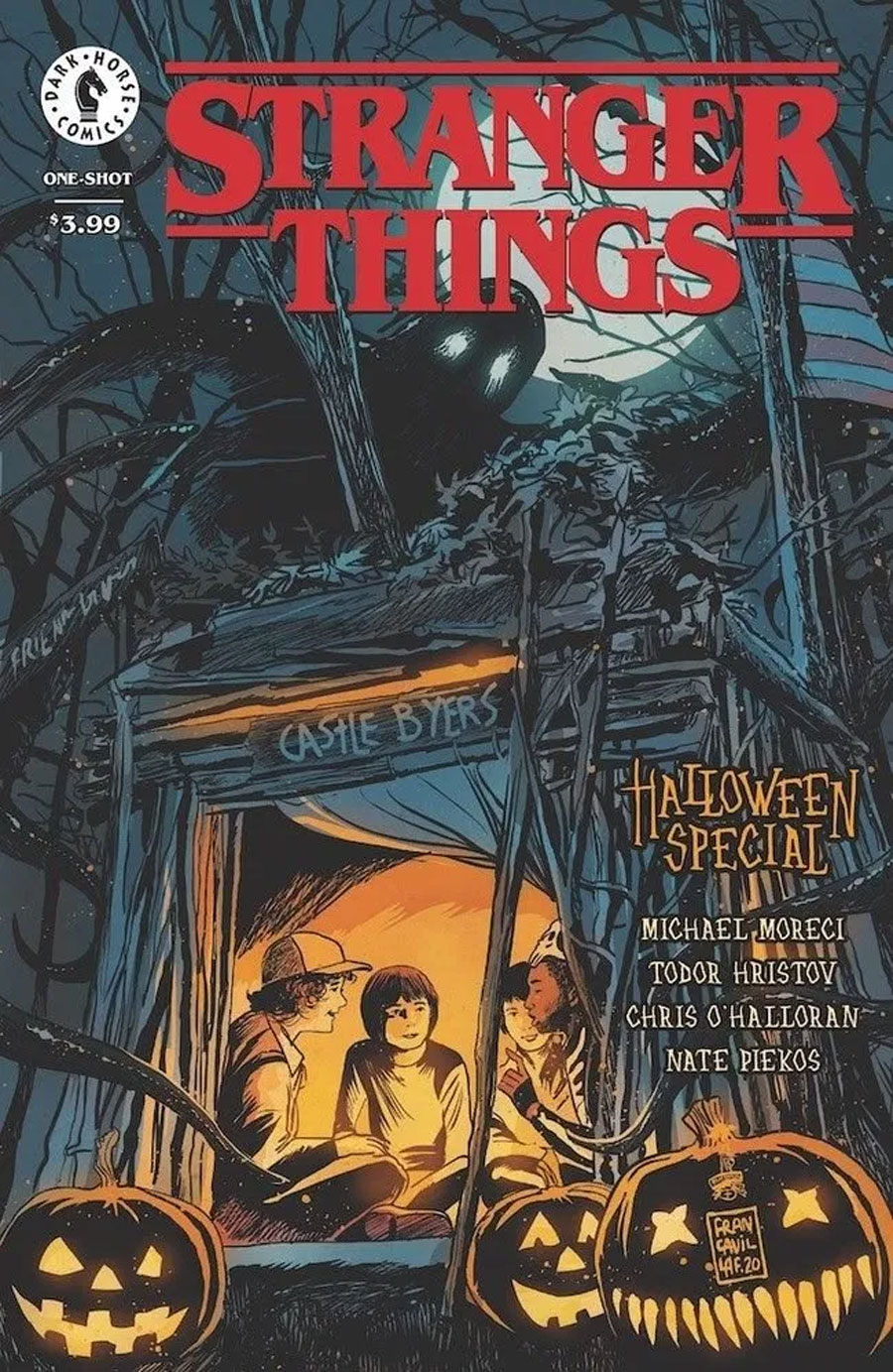 You Should Have Left
It's a quick turnaround time for Blumhouse's You Should Have Left, which released to on-demand platforms back on July 19th. This week brought us the news that the film will be receiving its home video and digital format release on July 28th. Written and directed by David Koepp, the story stars Kevin Bacon and Amanda Seyfried, and follows a screenwriter and his family moving to a presumably haunted house in Wales. What could possibly go wrong? If you haven't checked this one out yet, you can order up your copy over on Amazon.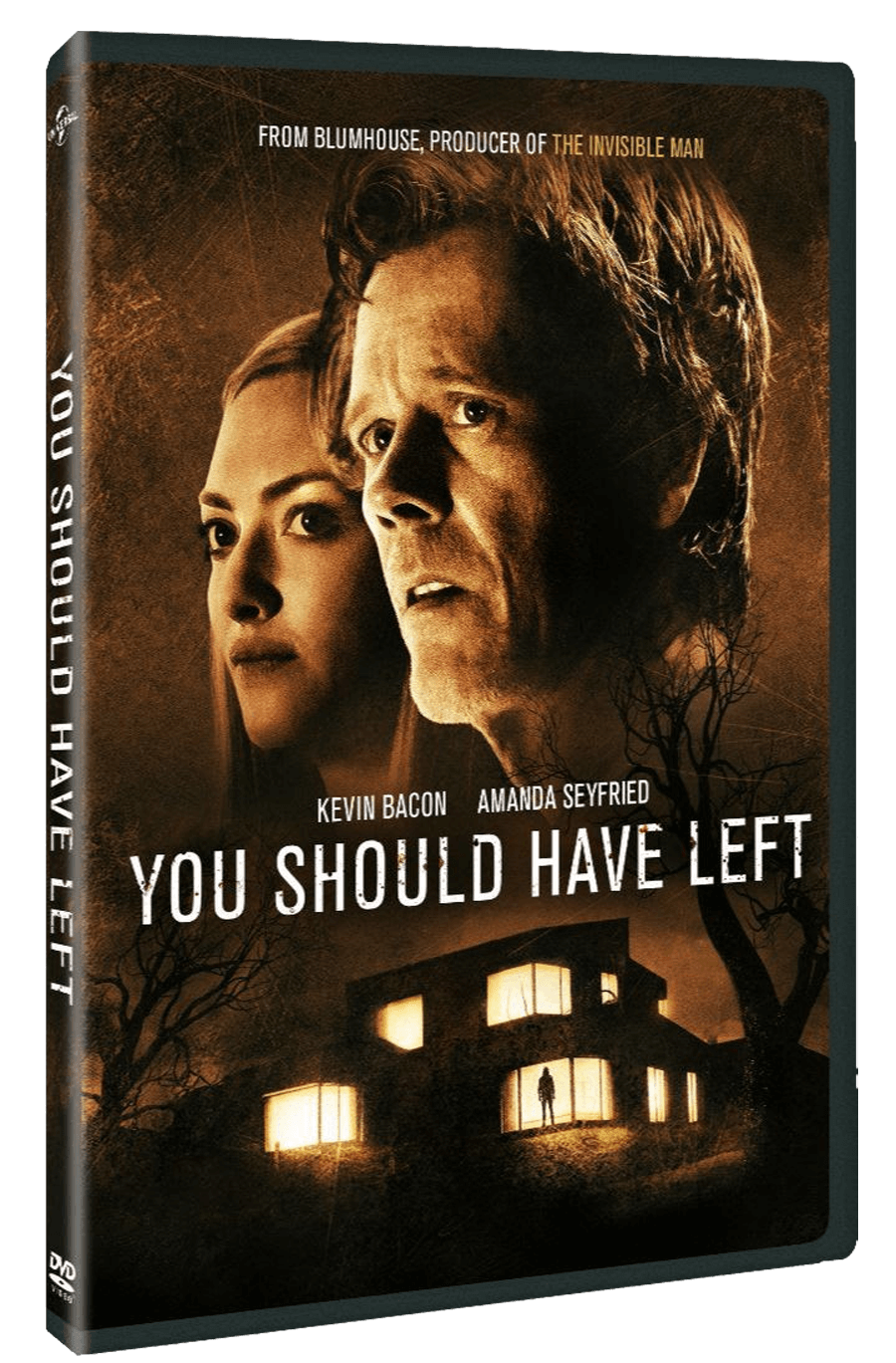 The Revelations of Becka Paulson
The CW is taking on a television adaptation of another Stephen King tale, this time the short story The Revelations of Becka Paulson. First published in the 1984 collection I Shudder at Your Touch, the series is moving forward under the working title Revelations and comes from writer Maisie Culver and producer Katie Lovejoy. The story follows a woman who survives accidentally shooting herself in the head with a nail gun and begins to experience odd visions, particularly being recruited by Jesus as his "chosen one" to stop the apocalypse and save the world. The project is being developed as a one-hour drama.
The Medium
Dual-reality horror? Why not? The next title from Bloober Team, the studio behind the Blair Witch video game, is titled The Medium and it looks to do something very different in challenging players with simultaneous gameplay across two worlds displayed on screen at the same time. The trailer speaks for itself, frankly, so check it out above and see what kind of scares you will be on for when the game hopefully releases sometime this holiday season on PC and Xbox Series X.
O2
Netflix has tapped Crawl director Alejandre Aja to helm its upcoming French survival thriller, O2. As reported by Deadline, Melanie Laurent (Inglourious Basterds) will star in the feature that follows a young woman who wakes up from cryostasis with no memory of who she is or how she ended up there. Running out of oxygen, she must rebuild her memory and find a way out of her waking nightmare. It's still too early for any kind of estimated release window, but definitely stay tuned for more details in the months ahead as the project gets ready to move forward.
Carrion
You might remember hearing about Devolver Digital's "reverse horror" game, Carrion, which saw its official release this week, and along with it an animated launch trailer (embedded just above). It's a unique sort of action-platformer that has you, the player, taking controller of the gruesome monster this time around. The new trailer isn't of the gameplay variety, but rather seeks to introduce its story and the premise of becoming the monster instead of stopping it. The game is available now on all major platforms, including PC and Nintendo Switch.
---
There is always plenty happening in the world of horror, so be sure to drop in next week for our next news round-up and remember to visit throughout the week for original content and other major news discussion as it happens. Stay tuned!