Weekly Horror News Round-Up July 18: Chucky, Lucifer, The Last Drive-In
Plus, Scream Factory reveals an epic Friday the 13th collection, Blumhouse and Ryan Murphy join forces for a Stephen King project, and more.
By Chris Morse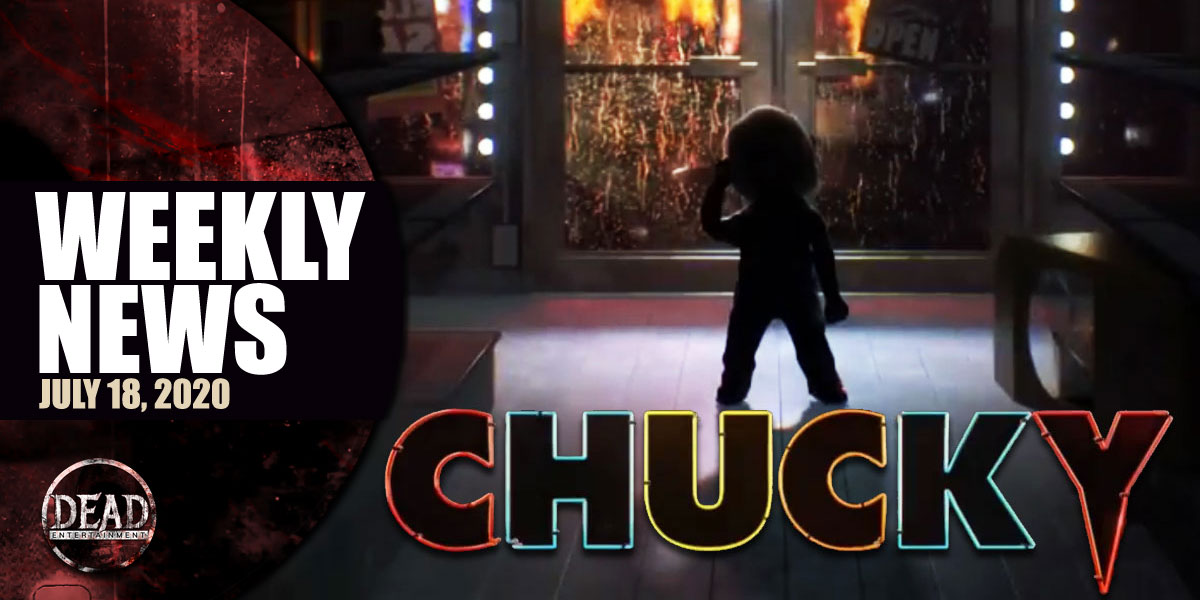 Welcome back to Dead Entertainment's weekly horror news column for this July 18th edition. As usual, this easily-digestible round-up contains the latest news and notes, trailers, upcoming releases, and anything else we found fun or interesting throughout the week in horror. As the summer rages on, here's what new for our bloody favorite genre.
Chucky
SYFY has officially teamed up with USA to bring Child's Play to the small screen with Don Mancini's upcoming Chucky television series. The first short teaser for the show made its way online this week, revealing that the fun and mayhem will kick off on both networks sometime in 2021. For this take on the classic killer doll, original Chucky actor Brad Dourif is back in the fold with Channel Zero's Nick Antosca and David Kirschner, a producer with long-time ties to the franchise dating back to the beginning, leading the charge from a production standpoint. More details will surely come soon, but for now, enjoy the preview of what's to come in the embedded post below.

[blockquote-0][scripttag-0]
Lucifer
There's been no shortage of interesting Lucifer news these days, especially after Netflix managed to get everybody back on board for a sixth season after the fifth was originally going to be the last. The 8-episode first half of the supersized Season 5 made its trailer debut this week along with the news that the new episodes will be hitting the streaming platform on August 21st. Give the full preview a watch above and prepare to raise some hell.
The Last Drive-In
In true Joe Bob Briggs fashion, the drive-in will never die. Especially not on Shudder, at least for now, as the AMC-owned streaming platform has officially renewed the fan-favorite series for a third season. In addition, the beloved horror host has also announced that a "summer sleepover" double-feature special will take place on August 14th. We are more than on board for more Joe Bob. How about you?
Friday the 13th
When it comes to the Friday the 13th franchise, it's pretty easy to see a new collection and think, "not another one!" But this is Scream Factory we are talking about and boy is this box set impressive. Officially unveiled this week is a deluxe edition Friday the 13th collection with bonus goodies that more than make the $159.98 price point feel like a steal. This 16-disc Blu-ray set has feature-loaded versions of each movie and also includes two exclusive posters and lithographs (limited to the first 7,000). Check out the full package below and find more details as well as a pre-order link on the official product page.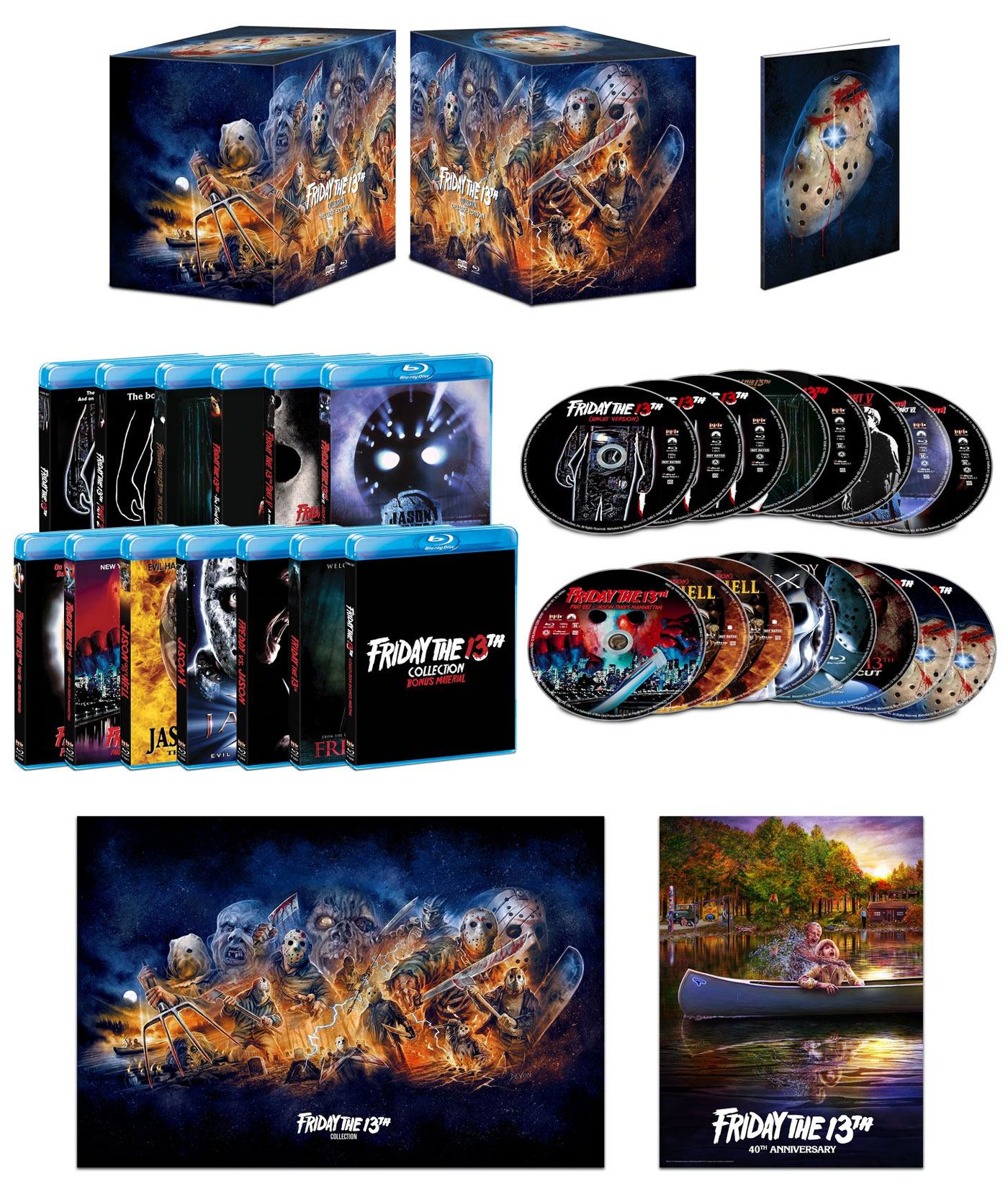 Mr. Harrigan's Phone
Blumhouse's Jason Blum and American Horror Story creator Ryan Murphy are joining forces for a new Stephen King adaptation, this one based on a short story from the prolific horror author's recent collection, If It Bleeds. The pair will soon be working with Netflix on a feature-length adaptation of the short story, Mr. Harrigan's Phone. The story follows a boy who befriends a wealthy old man as they bond over the billionaire's first iPhone. When the man passes away, the boy soon discovers they can still communicate via that very same phone, which was buried with him. John Lee Hancock (The Blind Side) will be writing and directing, but no other specifics about the project are known at this time.
Unseen
The Soska Sisters are set to write, produce, and direct a new video game-themed horror film titled Unseen, according to The Hollywood Reporter. The project is based on BlindSide, an audio-only mobile adventure game that has built quite a following, especially among the blind gaming community. The film version is described as being about a Boston couple who wake up blind in a terrifying world they cannot recognize. Sounds intriguing to us, but further details are still slim for now. Stay tuned for more details as this project slowly comes together!
Monsterland
Hulu's upcoming anthology series, Monsterland, added to its cast this week with the addition of Kelly Marie Tran (Star Wars: The Last Jedi). The creature-centric horror/fantasy series is based on Nathan Ballingrud's 2013 collection of short stories, North American Lake Monsters: Stories, and has been developed to television by Preacher and Succession's Mary Laws. According to THR, Tran will appear in an episode titled "Iron River, MI" and following a soon-to-be-married woman named Lauren, who returns to her hometown where her best friend once went missing back when they were 16. There's still no release date for this series, but you can certainly expect more information in the weeks and months ahead. Keep an eye on this space for updates!
Possessor
From writer/director Brandon Cronenberg, son of acclaimed director David Cronenberg, comes a new sci-fi/horror film titled Possessor, and this week brought us the chilling red band trailer for it. The film follows corporate assassin Tasya Vos, who uses her brain implant technology to take control of others to execute high profile targets. As she sinks deeper into her latest assignment Vos becomes trapped inside a mind that threatens to obliterate her. Possessor first debuted at Sundance and a wider release is coming soon. Starring in the film is Andrea Riseborough and Christopher Abbott. We have no specific dates yet, so stay tuned for updates on this feature's eventual release!
Shifter
Time travel and body horror? Jacob Burns looks to mash these two concepts together in Shifter, which he co-wrote alongside Zach Burns. The sci-fi/horror film follows a young woman who experiences painful and gruesome side effects after an experiment with time travel goes wrong. The film stars Nicole Fancher, Ashley Mandanas, Paul T. Taylor, and Jamie Brewster, and will soon see a release via The Horror Collect on August 6th in both digital and on-demand formats. Give the teaser trailer a watch above!
Google Stadia
Google's video game streaming experiment is still ongoing with Stadia and a recent livestream reveal teased what's ahead for the service's fall lineup. Among the titles on their way to the cloud gaming experience are FromSoftware's Sekiro: Shadows Die Twice and popular multiplayer horror game Dead by Daylight. We can't say we're early adopters of the streaming game technology at this time, but these are definitely some exciting additions for those who are. Give the full spotlight video a watch above for more details on what's upcoming for Google Stadia!
---
There is always plenty happening in the world of horror, so be sure to drop in next week for our next news round-up and remember to visit throughout the week for original content and other major news discussion as it happens. Stay tuned!