Weekly Horror News Round-Up June 20: Candyman, The Walking Dead, Creepshow
Plus, Clive Barker sets his sights on the Hellraiser film rights, The Evil Dead heads to the drive-in, preview The Twilight Zone Season 2, and more.
By Chris Morse

Welcome back to Dead Entertainment's weekly horror news column for this June 20th edition. As usual, this easily-digestible round-up contains the latest news and notes, trailers, upcoming releases, and anything else we found fun or interesting throughout the week in horror. Let's take a break from the craziness of the real world with a check-in on some genre stories.
Candyman
While the prolonged wait for Nia DaCosta's fresh, modern take on Candyman, produced by Jordan Peele, can't reach its end soon enough, the director herself took to Twitter and released a hauntingly beautiful teaser that needs no introduction. It, quite frankly, speaks for itself in its sobering, indubitably relevant artistic portrayal. Give it a watch below and don't forget to mark your calendar for September 25th.

[blockquote-0][scripttag-0]
The Walking Dead
When Robert Kirkman's iconic comic series finished its run with issue #193 of The Walking Dead, one noticeably absent figure was perhaps the most recognizable character of all: Negan. While the creator teased there may be more of his story left to tell somewhere out there, it was a very pleasant surprise to hear the news of an upcoming special issue, Negan Lives #1, arriving exclusively at comic book stores on July 1st. Not only do we get to see what Negan has been up to in the midst of a slowly rebuilding society, this release is also special because 100% of its proceeds will go directly to the stores selling it as a gesture to give back to those businesses who have been largely responsible for getting this series in the hands of eager readers since the early 2000s. You won't want to miss it. Check the cover art below.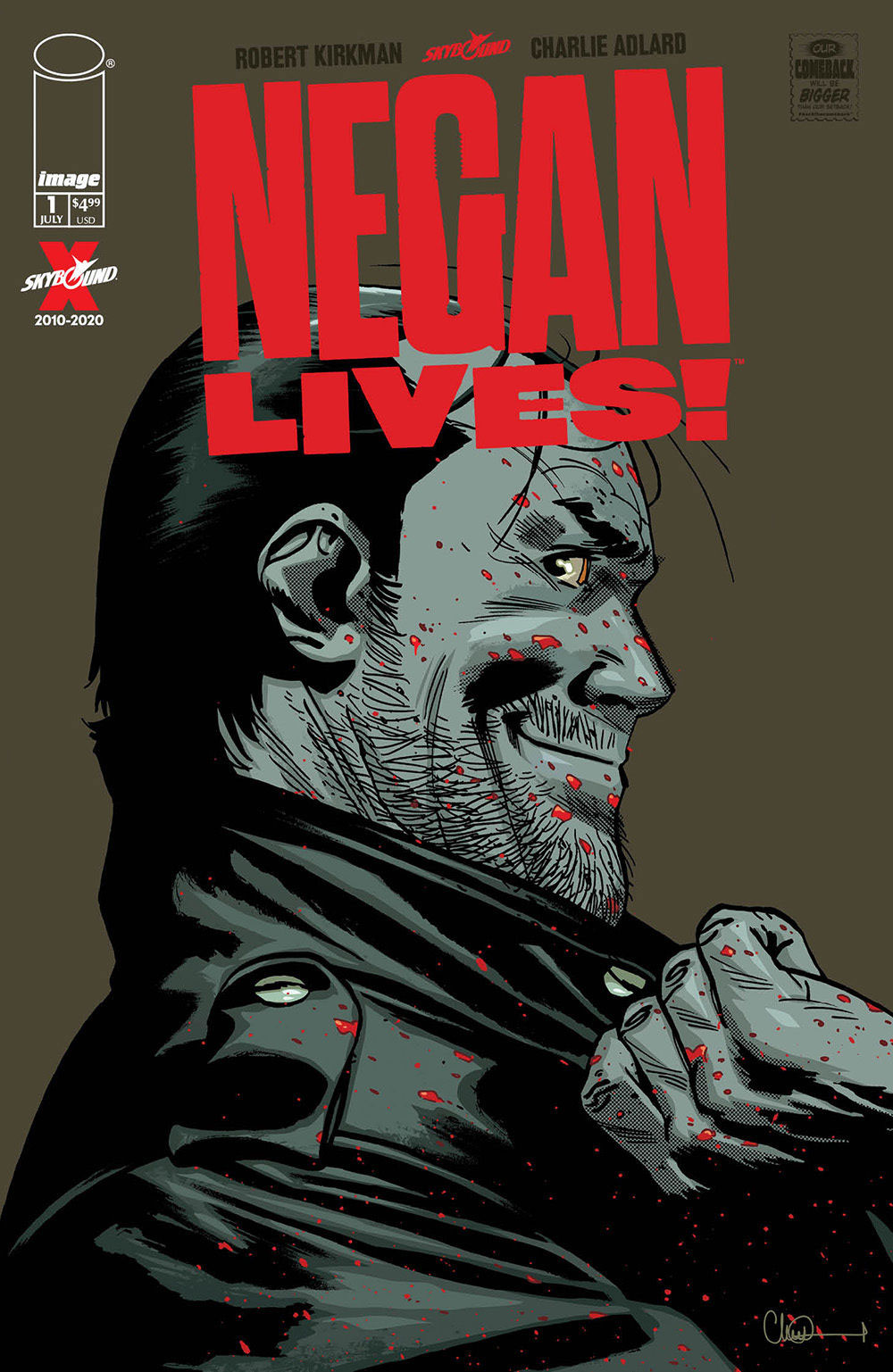 Creepshow
Season 2 of Creepshow may not be a thing we can watch just yet, even though it's headed our way in the not-too-distant future, but Shudder apparently already has its sights set on what comes after that. According to Variety, the AMC-owned horror streaming platform has ordered a full set of scripts to be written for a third season. This news makes it pretty clear that a renewal is likely, which would come as no surprise given what a hit the TV series has been thus far. This is certainly some good news to take with us into an uncertain summer of entertainment.
Hellraiser
This week's Hellraiser news may come as a bit of déjà vu for Friday the 13th fans, who are at this point no doubt familiar with the legal process of a writer reclaiming their work via the Copyright Act. As reported by entertainment lawyer Larry Zerner of F13 fame, Clive Barker has taken the first steps to re-securing the rights to the horror franchise, which would ultimately allow him to negotiate fresh deals or develop new projects of his own once all is said and done. It's worth noting that, if successful, this wouldn't take effect until December 19, 2021. Anything between now and then is fair game for the current rights' holders. Check out the scoop below.

[blockquote-1][scripttag-0]
The Evil Dead
How would you like to catch some classic horror at the drive-in? How about enjoying some Evil Dead? What if you could do both at the same time? The film is currently touring with drive-in screenings across the country, but announced this week are two very special dates featuring none other than Bruce Campbell himself, in the flesh! See below for the promo image and full list of dates. It's worth noting the several screenings have already happened, but the ones featuring Campbell are currently scheduled for July 10th and 11th in Sterling, IL at the Midway Drive-In. Sounds like a blast.

[blockquote-2]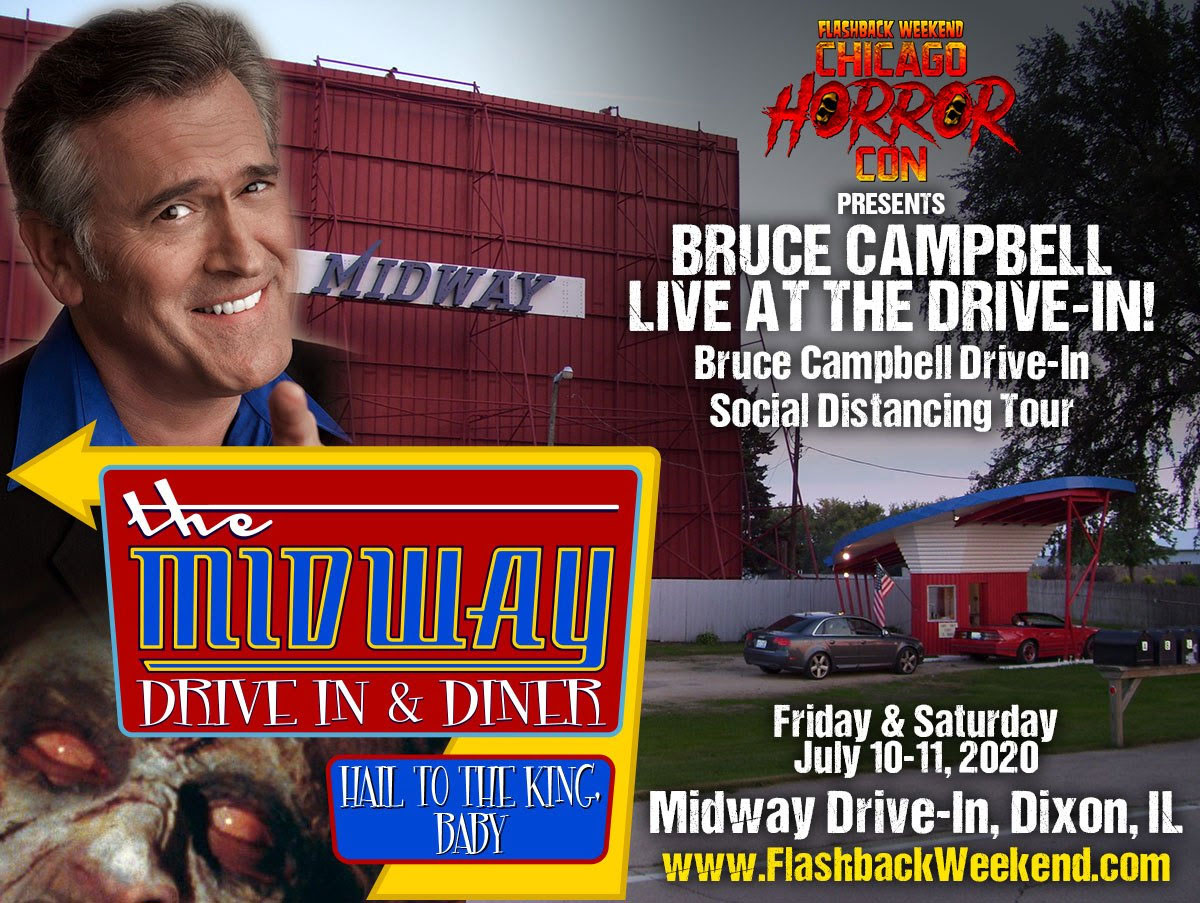 The Twilight Zone
Season 2 of CBS All Access' Jordan Peele-hosted revival of The Twilight Zone kicks off on June 25th and promos have begun trickling out to build some more interest in the occasion. Give the latest a watch above! The first season premiered to a lukewarm reception, sometimes being a little too on the nose for its lessons to really land, but there were a handful of fantastic installments as well. Here's hoping that room for improvement pays off in the second season. We will most certainly be tuning in.
The Rental
From director Dave Franco comes The Rental, an upcoming thriller headed to theaters and VOD on July 24th. Starring Dan Stevens, Alison Brie, Sheila Vand, Jeremy Allen White, and Toby Huss, the film follows two couples on an oceanside getaway who grow suspicious that the host of their seemingly perfect rental house may be spying on them. Naturally, what should have been a celebratory weekend trip soon turns into something far more sinister. The official trailer dropped late in the week, so give it a watch above and prepare to be unnerved.
The Chain
Adrian McKinty's 2019 bestselling novel, The Chain, has been optioned by Universal Pictures with Shaun of the Dead filmmaker Edgar Wright set to direct. This news comes our way via Deadline, who also reports that Jane Goldman (X-Men: First Class) will be writing the script. The story is an unsettling one, telling the story of a woman whose 11-year-old daughter has been kidnapped. She soon becomes entangled in a scheme in which the only way she gets her child back is to kidnap another, and so on to form the "chain." This one sounds like it will make an intense adaptation, so we will definitely be keeping an eye on the project as it develops. Stay tuned for more information ahead.
Vampire: The Masquerade
Paradox Interactive's upcoming Vampire: The Masquerade - Bloodlines sequel may have been pushed back until later this year, but that delay hasn't stopped new and exciting information from trickling out. A new trailer dropped this week revealing the return of a fan-favorite character, Damsel, who will certainly be a welcome addition for those who love the cult-classic first game. Also revealed is that the title is receiving a beefed-up physical collector's edition, the details of which are included in the image below. Vampire: The Masquerade - Bloodlines 2 is set to be released on PC, PlayStation 4, PlayStation 5, Xbox One, and Xbox Series X. Whatever you may play on, we think you are pretty much covered.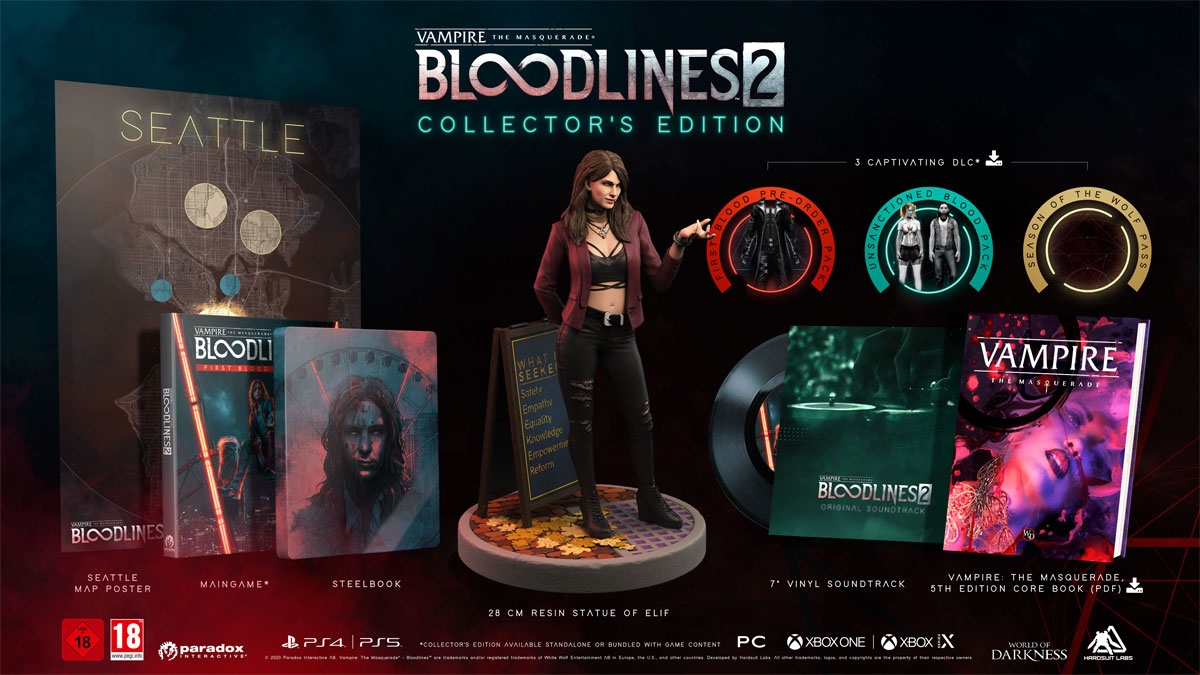 Remothered: Broken Porcelain
Survival horror title Remothered: Tormented Fathers is receiving a sequel later this summer with Remothered: Broken Porcelain. Earlier this week, the full reveal trailer debuted on the official PlayStation blog and revealed the game's August 25th release date, along with other interesting details about what sets this follow-up apart from its predecessor. The title will soon be headed our way for PlayStation, 4, Xbox One, Nintendo Switch, and PC. Be sure to check out the trailer above!
---
There is always plenty happening in the world of horror, so be sure to drop in next week for our next news round-up and remember to visit throughout the week for original content and other major news discussion as it happens. Stay tuned!