Weekly Horror News Round-Up January 17: Chilling Adventures of Sabrina, The Silence of the Lambs, Candyman
Plus, upcoming home video releases, Penny Dreadful: City of Angels gets a trailer, release window set for CBS All Access' The Stand, and more.
By Chris Morse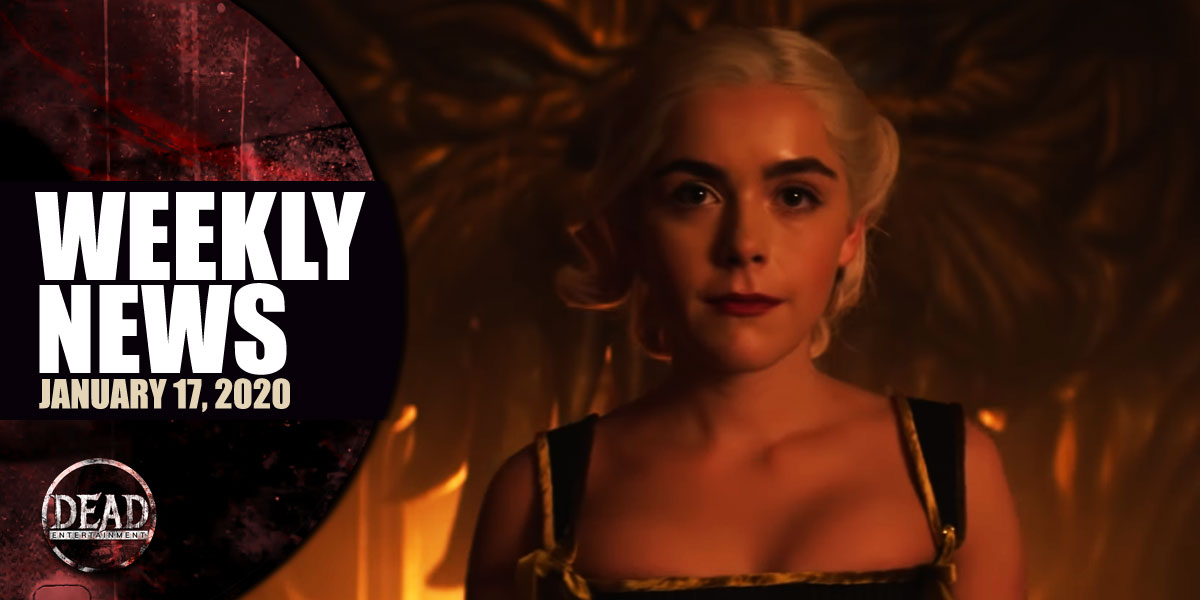 With the holidays now behind us, horror news has finally begun to ramp up once again and this week brought us no shortage of updates in the form of new trailers, information, and other stories. In case you missed our recent announcement, part of Dead Entertainment's shifting approach in the New Year is focusing on original articles while presenting the bulk of our basic news coverage as an easily-digestible round-up at the end of each week.
Our weekly round-up posts will contain news and notes, trailers, upcoming releases, and all of the other content you typically expect to find on this site. We will also occasionally take the time to add fun or interesting horror content we find across the web that might be of interest. This is all fairly flexible so without further ado, let's move ahead with the January 17th installment of our horror news round-up.
Chilling Adventures of Sabrina
While most students are off to summer jobs in retail or fast food, Chilling Adventures of Sabrina's titular witch will soon be working to earn her spot as Queen of Hell, all in an effort to free her boyfriend from both its fiery depths and his body shared with the Dark Lord himself. While last week brought us a fun music video teaser for Part 3 of the series, Netflix served up the full official trailer this week. All eight episodes will be available on January 24th.
Silence of the Lambs
The early part of the week gave us the most befuddling bit of news that CBS is planning a spin-off of The Silence of the Lambs focusing on what happens to Clarice after Hannibal Lecter. That's all well and good, but this is happening in a world where we had the incredible Hannibal TV series and the stage set for a worthy retelling of the classic film, which could have led to a Clarice-driven future season just fine. Clarice is in development from the Star Trek franchise's Alex Kurtzman and has not yet received a full series order, but a pilot episode is moving forward and will be produced for the network. More updates shouldn't be too far away.
Candyman
A very exciting scoop regarding Jordan Peele's upcoming Candyman "spiritual sequel" popped up this week on Bloody Disgusting regarding the potential plot of the film. Director Nia DaCosta and company have kept most of the project under wraps up until this point, but the report indicates that a main catalyst for the story is Helen Lyle herself, which makes plenty of sense given how the original movie ended. Cassie Kramer will reportedly play the part in the new film set for release on June 12th, 2020.

[relatedArticle-0]
Don't Breathe 2
It was revealed earlier today that filmmaker Fede Alvarez will be passing the directorial torch to his longtime collaborator Rodo Sayagues for the upcoming sequel to Don't Breathe, which has been officially greenlit. The pair co-wrote this film as well as the original, and also worked together on Evil Dead. Stephen Lang will once again play Blind Man as production is set to begin this April.
Penny Dreadful: City of Angels
The first teaser trailer for Showtime's Penny Dreadful: City of Angels sequel series was finally released and it shows off plenty of Game of Thrones actress Natalie Dormer's demonic character Magda. In addition, we now also know that the new show will kick off on Sunday, April 26th at 10/9c. Regarding one thing fans shouldn't expect from it, creator John Logan made it clear at the Television Critics Association that this series will not connect to the original in any way, calling it a "complete novel" that is "closed at the end." Expect something totally original with City of Angels.
The Stand
Out of TCA, it was announced that the upcoming The Stand limited series from CBS All Access will be hitting the streaming platform sometime during the fourth quarter of 2020. Written by Josh Boone and Ben Cavell, with the former also directing, the series will consist of 10 episodes that will likely release weekly, if other shows on the network are any indication. Here's hoping the cast and crew are up to the challenge of adapting this monumental story to screen.
The Walking Dead: World Beyond
AMC's third series set in the apocalyptic world of The Walking Dead has finally been given a premiere date. The network announced during this week's TCA press tour that The Walking Dead: World Beyond will finally debut on Sunday, April 12th. The story follows a group of young characters in a community that's already used to the current state of the world. While it will connect in some ways to the other shows and upcoming Rick Grimes movies, fans should expect this one to stand on its own in terms of story and themes this spring.
You
Netflix's murderous drama You has been quite a hit since it moved to the streaming platform, and the second season more than kept viewer interest high. In light of its popularity, and despite the next book from Caroline Kepnes still being in the works, the series has been renewed for a 10-episode third season. Of course, both Penn Badgley and Victoria Pedretti will be reprising their roles. In light of the big reveal at the end of Season 2, where do we go from here? Fans can't wait to find out.
Morbius
As expected, the first trailer for Marvel and Sony's Morbius movie surfaced this week and included a surprising connection to the MCU, more specifically the world of Spider-Man. Although this trailer was only dubbed a teaser, it still clocks in at two-and-a-half minutes, showing off plenty of Jared Leto's titular scientist-turned-vampire-anti-hero. This one is due out on July 31st, 2020.
The Dark Tower
And just like that, Amazon's The Dark Tower television series is no more. Following various casting additions and the development of two original scripts, the platform has passed on the pilot and will not be moving forward with adapting the Stephen King books to screen. We're not yet sure if this endeavor could find new life somewhere else, but the situation is not looking good at this time.
Rabid
The Soska Sisters' remake of David Cronenberg's Rabid is heading to home video on February 4th in Blu-ray and DVD formats. Bonus features include an audio commentary with filmmakers Jen and Sylvia Soska, an interview with star Laura Vandervoort, and the theatrical trailer, if rewatching old previews happens to be up your alley. This release comes our way via Scream Factory.

[relatedArticle-1]
DOOM Eternal
A new story trailer for DOOM Eternal released this week offers another slice of things to come and it's as bloody and awesome as you can expect! The Doom Slayer, our unhinged protagonist, is as angry as ever and this time we have a good peek at him swinging The Crucible, a demonic sword that will surely come in handy in close-quarters combat. Considering the game was delayed, players can expect a more refined experience come March 20th, when the game lands on PlayStation 4, Xbox One, and PC.
The Twilight Zone
The CBS All Access revival of The Twilight Zone, hosted by Jordan Peele, is gearing up for a second season. It's still early in the process but casting has now begun, as announced at this week's TCA showing. It has also been revealed that Peele will write an episode titled "Downtime," which will star Morena Baccarin (Deadpool), Colman Domingo (Fear the Walking Dead), and Tony Hale (Veep). Other confirmed cast members include Billy Porter, Jenna Elfman, Gillian Jacobs, Chris Meloni, Ethan Embry, Abbie Hern, Sophia Macy, Joel McHale, Jimmi Simpson, Daniel Sunjata, and Tavi Gevinson. No premiere date has been set at this time.
Gremlins
The upcoming animated series, Gremlins: Secrets of the Mogwai, appears to be set for a 2021 release, but no specific date has been ironed out at this time. Last summer, it was revealed that WarnerMedia gave a 10-episode series order to the project from Amblin Television and Warner Bros Animation. The story is set in Shanghai during the 1920s and will follow the early days of a young Sam Wing and the Mogwai Gizmo as they embark on a perilous journey through the Chinese countryside.
Devil May Cry 3
The upcoming Nintendo Switch version of Capcom's devilish prequel, Devil May Cry 3, received new details this week, beginning with the revelation that the title will include the all-new feature of being able to switch combat styles on the fly. This is a big gameplay enhancement on its own that echoes more recent installments of the franchise, but the release will also include (like previous Special Edition re-releases) Vergil as a playable character and the series staple Bloody Palace mode. Two more exclusive features are expected to be announced over the next few weeks leading up to the release on February 20th. The game is now available for pre-order on the Nintendo eShop for $19.99.

[relatedArticle-2]
Alien
The initial Alien film as you know it is actually a significantly different beast from what writer Dan O'Bannon first envisioned. His screenplay went through extensive rewrites from Walter Hill and David Giler, the changes of which made O'Bannon pretty salty about the whole affair. However, it now looks as though his original vision for the film will finally come to fruition in a five-issue comic book miniseries from Dark Horse Comics. You can check out the cover of the book below and, if you're looking for a preview of inside the pages, you can head on over to The Hollywood Reporter to check it out. This series is expected to hit shelves on April 22nd, 2020.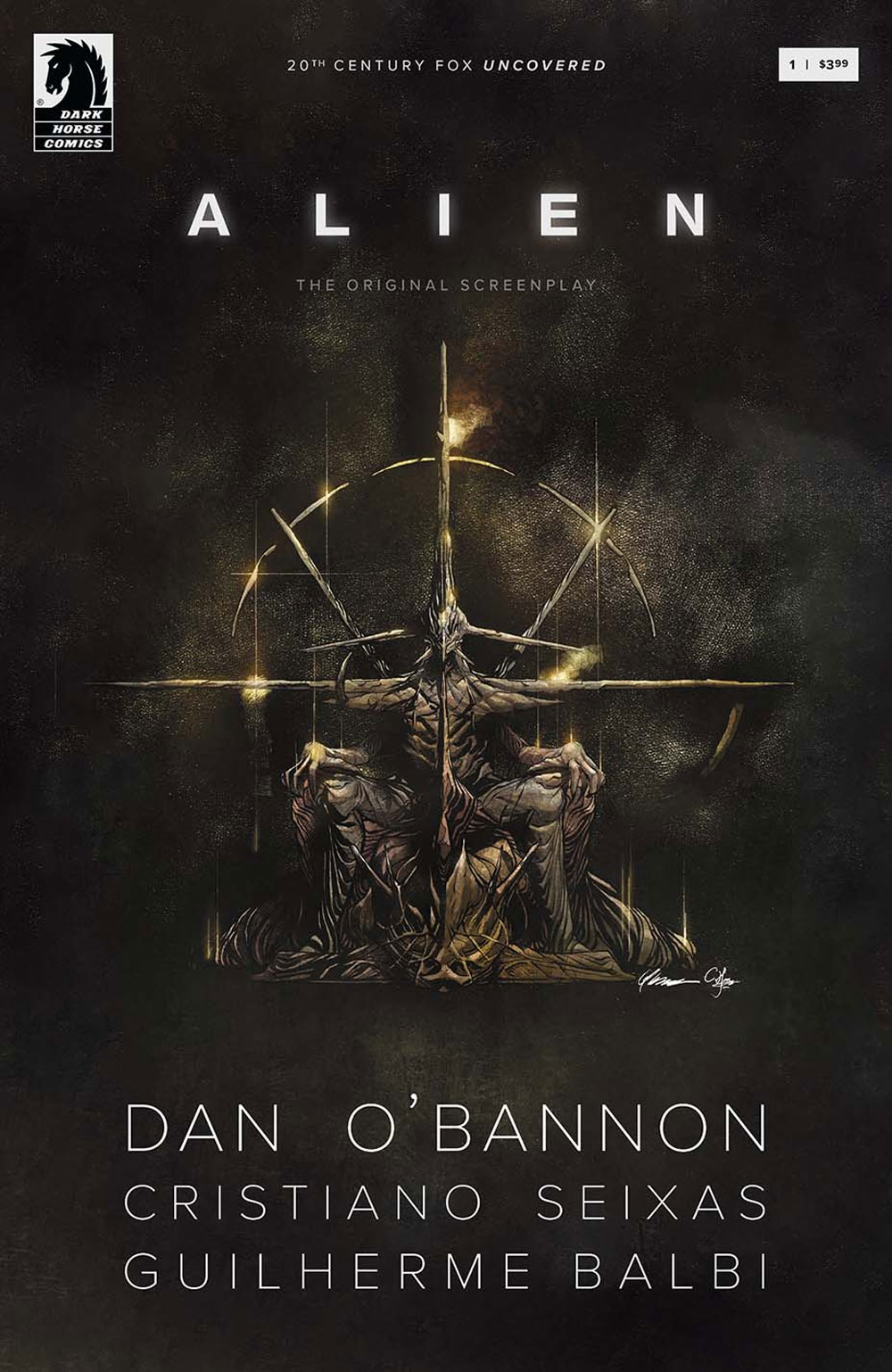 Black Christmas
The home video release for Sophia Takal's remake (or reimagining if you prefer) of Black Christmas has been set by Universal Pictures Home Entertainment. Bonuses include an alternate ending, deleted and extended scenes, a commentary with the director and star Imogen Poots, and finally three features titled "You Messed with the Wrong Sisters," "The (Re)Making of a Cult Classic," and "Welcome to Mu Kappa Epsilon." It will be released on March 17th, 2020 in both Blu-ray and DVD formats.
True Terror with Robert Englund
Formerly known as Shadows of History, the Travel Channel's upcoming Robert Englund-hosted series is now known as True Terror with Robert Englund. It will feature six episodes exploring and sometimes debunking strange, supernatural-related stories from past American newspapers and is set to debut on Wednesday, March 18th at 10 PM. We can't think of any better person to keep us on the edge of our seats while diving into the mysteries of the unknown.
Mortal Kombat 11
As you may know, The Joker from the Batman franchise is laughing his way into Mortal Kombat 11 later this month as part of the game's Kombat Pack DLC. This latest gameplay trailer should please fans and the level of variety included with the character is bound to keep things interesting all around. Even Mark Hamill himself returned to voice the Clown Prince of Crime, so you know it's going to be good! Joker will unlock for Kombat Pack owners on January 28th.
---
There is always plenty happening in the world of horror, so be sure to drop in next week for our next news round-up and remember to visit throughout the week for original content and other major news discussion as it happens. Stay tuned!