Weekly Horror News Round-Up July 10: Halloween, Candyman, Chilling Adventures of Sabrina
Plus, The Forever Purge heads to next year, Leigh Whannell enters talks to helm Wolfman, Bloodstained: Curse of the Moon 2 debuts, and more.
By Chris Morse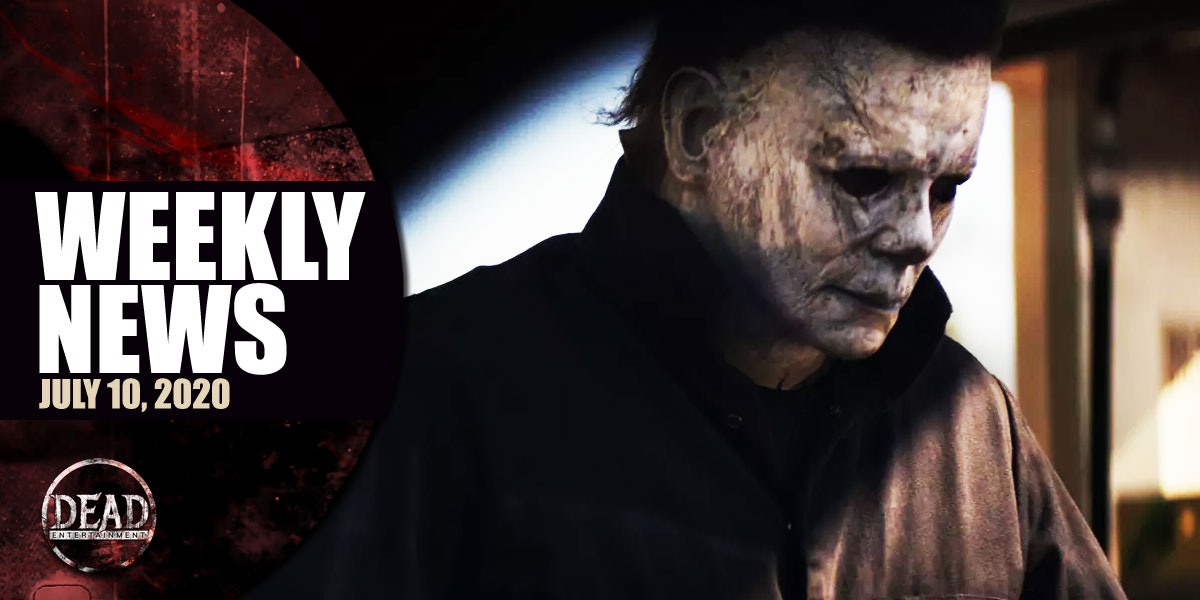 Welcome back to Dead Entertainment's weekly horror news column for this July 10th edition. As usual, this easily-digestible round-up contains the latest news and notes, trailers, upcoming releases, and anything else we found fun or interesting throughout the week in horror. As we put a cap on another week of summer, let's take a look at what's been going on across the genre.
Halloween
This doesn't come as a huge surprise for 2020, but another potential theatrical release has bitten the dust. This time it's the next Halloween movie, Halloween Kills. John Carpenter himself took to social media this week with the disappointing announcement, revealing that the movie will be delayed until October 2021 to avoid being compromised by the current pandemic situation. On the bright side, the team is putting plenty of extra care into the film as a result of the extra time and next year will also bring us an IMAX release alongside the big premiere. If that wasn't enough to blunt this sad news, an all-new clip from the movie might help smooth things over, not to mention the news that early work on Halloween Ends will also be proceeding during this time. Check out the video below and hold on tight until this sequel can finally be unleashed upon us. We'll be here waiting!

[blockquote-0][scripttag-0]
Candyman
It's another movie and another delay with this week's news that Nia DaCosta's fresh, modern take on Candyman, produced by Jordan Peele, will not be releasing in September after all. This always seemed like a possibility given all of this year's uncertainty, but Universal hasn't quite given up on the film just yet. Since Halloween Kills is no longer releasing on its original date, this sequel/reboot will, at least for now, fill the horror void on October 16, 2020. We hope this one will stick, but we honestly can't know for sure at this point. Stay tuned for updates.
Chilling Adventures of Sabrina
It feels like this week's news has a running theme of disappointment, because the latest on Netflix's Chilling Adventures of Sabrina isn't going to brighten up your day either. The streaming giant announced the series' cancellation this week, which means that the upcoming "Part 4" batch of episodes will be the last. These final eight episodes are scheduled to premiere sometime later this year and that will do it for this more horrific take on the teenage witch. There were indeed plans to continue the series with a Part 5 titled "Witch War," particularly with a Riverdale crossover. According to series creator Roberto Aguirre Sacasa, that story will be told on the pages of the comic book. See below for his tweet.

[blockquote-1][scripttag-0]
The Purge
Following its indefinite delay back in May, the next installment of Blumhouse's The Purge franchise, titled The Forever Purge, has found its new release date for next summer. The movie, written by creator James DeMonaco and directed by Everardo Gout, will now release on July 9, 2021. The film stars Leven Rambin, Will Patton, Cassidy Freeman, Ana de la Reguera, and Tenoch Huerta. You may also recall USA's cancellation of the television series earlier this year, so this new date is pretty much all we have to look forward to for this series in the foreseeable future. Here's to 2021 being a much better year than 2020!
Wolfman
Universal's next big monster movie revival, Wolfman, appears to be coming together with the news that Blumhouse has come on board for the production, much like the studios' previous collaboration for The Invisible Man. If that wasn't enough, Deadline is also reporting that the very same director of the previous joint effort, Leigh Whannell, is currently in talks to direct this one as well. The only other tidbit we know about this project so far is that it will star Ryan Gosling, who has played an active role in putting this together. Keep an eye on this space for the latest news as it develops.
Bloodstained: Curse of the Moon
"Coming Soon" really meant coming soon for the sequel to Bloodstained: Curse of the Moon (read our review), which was an 8-bit spinoff released ahead of Koji Igarashi's Bloodstained: Ritual of the Night (read another review). Just two short weeks after its reveal, the game is out now for PC, PlayStation 4, Xbox One, and Nintendo Switch. In addition, the developer has already announced that an update is on the way for July 16th, containing a new Boss Rush Mode as the highlight feature, and possibly some minor fixes or improvements. Check out the update trailer above!
Castlevania
About the only thing good going for Konami's Castlevania franchise right now, aside from the above spiritual successors, is the absolutely fantastic Netflix series. The video game side of things continues to look as bleak as ever with the not-too-surprising news that the recently released mobile game, Castlevania: Grimoire of Souls, is already shutting down in September. This short-lived endeavor only lasted about a year and that's all she wrote for this one. Be sure to avoid spending any money on this game given its impending shutdown.
Little Hope
Not delayed for long, the next installment of Supermassive Games' Dark Pictures Anthology, Little Hope, was recently pushed back due to the ongoing pandemic and already has found its new release date. You will be able to play this one on October 30, 2020, just in time for Halloween. Check out the new release date trailer above, and in the meantime, you can still check out the first game in the series, Man of Medan, on PlayStation 4, Xbox One, or PC.
Killing Floor 2
We know you like free games and the Epic Games Store has had a great track record of giving away horror titles in particular, so we're happy to share the latest freebie you can add to your collection. From now through July 16th, multiplayer horror game Killing Floor 2 can be added to your library at no cost to you. Head on over to the store page to grab yours!
The Vigil
This week brought us another new horror movie trailer with a look at Keith Thomas' The Vigil, which will be releasing in the UK on July 17th with a US premiere to follow at some point in the future. Written and directed by Thomas, the film stars Adam Margules, Dave Davis, Menashe Lustig, Malky Goldman, Lynn Cohen, and Fred Melamed. Check out the trailer above and stay tuned for updates on when you can expect a domestic release.
Remothered: Broken Porcelain
Survival horror title Remothered: Tormented Fathers is receiving a sequel with Remothered: Broken Porcelain. Although the game was only revealed a couple weeks ago, it's already been delayed (albeit not by very long). The title will now be headed our way on October 20th for PlayStation, 4, Xbox One, Nintendo Switch, and PC. Check out the initial trailer above if you happened to miss the original reveal.
Tomie
You may recall last year's news that short form mobile streaming platform Quibi had tapped Alexandre Aja (2006's The Hills Have Eyes, Crawl) to direct a live-action television series based on the Japanese horror manga, Tomie. The series was officially announced this week with the news that Adeline Rudolph (Chilling Adventures of Sabrina) is set to star in the show, which is written by David Leslie Johnson-McGoldrick (The Conjuring series). The official description for the series begs the question, what happens when a beautiful high school girl goes missing and pieces of her body are discovered scattered across a small town? What starts out as a murder mystery quickly turns into something even more horrific. Stay tuned for updates whenever we have them!
---
There is always plenty happening in the world of horror, so be sure to drop in next week for our next news round-up and remember to visit throughout the week for original content and other major news discussion as it happens. Stay tuned!