Weekly Horror News Round-Up February 21: The Witcher, Diablo, The Auteur
Plus, the Season 3 cast of Castlevania is revealed, Stranger Things promotes a fan favorite to series regular, Devil May Cry 3 arrives on Switch, and more.
By Chris Morse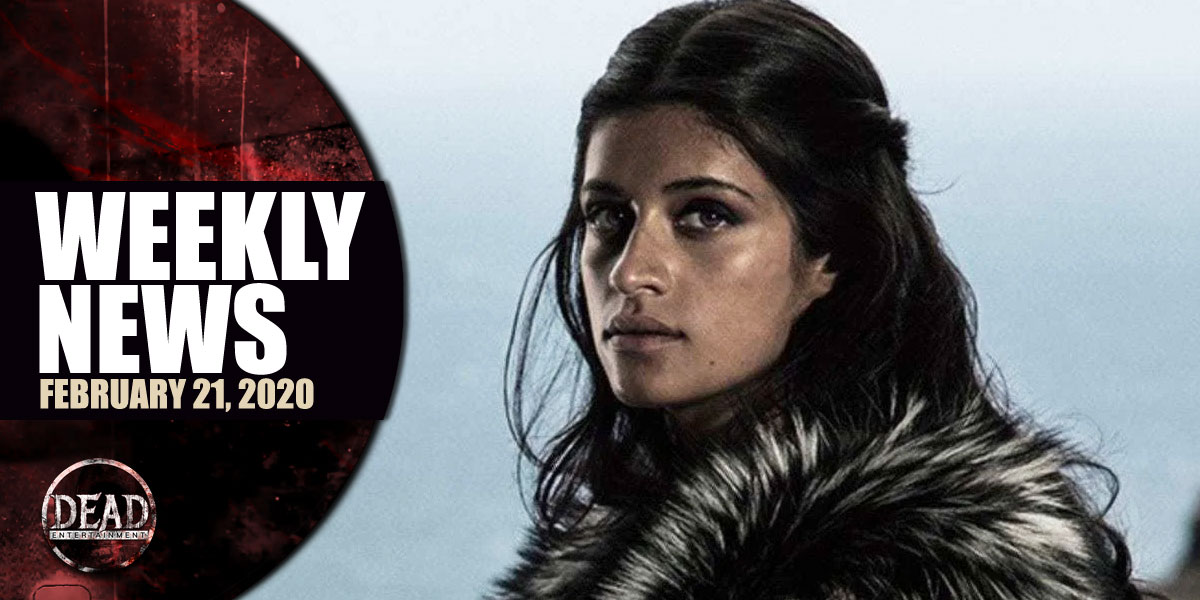 Welcome back to Dead Entertainment's weekly horror news column for this February 21st edition. As usual, this easily-digestible round-up contains the latest news and notes, trailers, upcoming releases, and anything else we found fun or interesting throughout the week in horror. All things considered, it's been a slow week in horror but we have found more than a couple of things to be excited about. Let's get to it!
The Witcher
Production on Season 2 of Netflix's The Witcher has officially kicked off! Announced alongside this wonderful news are some cast additions as well as the directors who will be bringing the Continent back to life for these eight new episodes. Joining returning stars Henry Cavill, Anya Chalotra, Freya Allan, and Joey Batey, not to mention several others, are Yasen Atour as Coen, Agnes Bjorn as Vereena, Paul Bullion as Lambert, Thue Ersted Rasmussen as Eskel, Aisha Fabienne Ross as Lydia, Kristofer Hivju (!!) as Nivellen, and Mecia Simson as Francesca. Those familiar with the books and games will, of course, recognize a few of these names, but we are beyond excited to see Hivju join our latest favorite show. Directing for Season 2 are Stephen Surjik, Sarah O'Gorman, Ed Bazalgette, and Geeta Patel. The series is not expected to return until sometime in 2021.
Diablo
News broke once again this past week that an animated Diablo series is in the works for Netflix, but the astute reader will remember a report from Fall 2018 regarding the existence of this very project. While Boom! Studios founder Andy Cosby spilled the beans a little early back then, the LinkedIn profile of Activision Blizzard Studios president Nick van Dyk revealed a bit more. "Executive producer of Diablo, a TV adaptation of Blizzard Entertainment's IP, rendered in anime style," the bullet point reads. "The show is currently in pre-production for distribution worldwide through Netflix." This is definitely happening at this point, so fans of the franchise can look forward to plenty of hellish goodness ahead of Diablo IV.
The Auteur
We don't know about you guys, but we can't get enough of Taika Waititi so news of his latest horror comedy being official at Showtime is certainly welcome. The half-hour series will be based on the graphic novel of the same name and will star Jude Law (The Young Pope). Waititi will direct the horror comedy while co-writing with Peter Warren. The show is a satire about a producer who is desperate to make a great horror movie after a massive bomb, but soon his entire production is accidentally trapped on a backlot with a serial killer. Sounds fun to us. We'll have to keep our eyes on this one as it develops.
Castlevania
Last week brought us the official trailer for Season 3 of the animated Castlevania series, but Netflix teased a little bit more this time around with an introduction to the new and returning cast members for the show. Interestingly, it's been revealed that Theo James will be playing Hector, a character who has only appeared in 2005's Castlevania: Curse of Darkness, which indicates that the story is likely heading in that direction. Meet everybody for yourself in the video below!

[blockquote-0][scripttag-0]
Stranger Things
Priah Ferguson, who plays Stranger Things fan favorite Erica Sinclair, has officially been promoted to series regular. Deadline broke the news earlier today that the young actress will continue to play a prominent role in Stranger Things 4 and potentially beyond. Production on the new season is currently underway, but it is not expected to premiere until later this year or sometime next. Either way, we'll keep you posted on that front, of course.
Devil May Cry
The special-edition Nintendo Switch port of Devil May Cry 3 has finally arrived, and with it came a not-unexpected launch trailer. This version boasts a few exclusive features, such as on-the-fly style and weapon switching as well as a coop-enabled Bloody Palace mode. This classic re-release will set you back just $19.99 as a digital-only purchase on the Nintendo eShop. With this release, fans of the franchise can now own the entire original trilogy on the popular hybrid console.
Run
American Horror Story mainstay Sarah Paulson is giving us all a reason to turn in run in the newly-released official trailer for Run, due to hit theaters on Mother's Day (May 8th). The film, which is written and directed by Aneesh Chaganty (Searching) with Sev Ohanian co-writing, sees Paulson becoming the mother of our nightmares in her twisted relationship with her daughter, Chloe. Based on the trailer and the filmmaker's previous work, this looks to be one worth checking out.
Zombie
Another new version of Lucio Fulci's classic flick, Zombie, is on its way from Blue Underground. You may recall the company was responsible for the 4K restoration of the previously-released 3-disc limited edition version from late 2018. Now, the team over there has taken on a standard-release 4K Ultra HD release, which had its classic cover art revealed alongside the announcement. Check it out below!

[blockquote-1][scripttag-0]
Dark Harvest
Finally, this week additionally brought us an update on filmmaker David Slade's upcoming adaptation of Norman Partridge's Dark Harvest. As reported by Deadline, MGM has picked up the project which will see Slade directing a script from Dungeons & Dragons screenwriter Michael Gilio, who is also executive producing. The story follows the legend of October Boy, otherwise known as Ol' Hacksaw Face or Sawtooth Jack, who rises from the cornfields each year with a butcher knife in hand, and a group of teenage boys preparing to square off against the malevolent force. There is not yet any kind of timetable for this film, but we will surely be on the lookout for the latest updates ahead.
---
There is always plenty happening in the world of horror, so be sure to drop in next week for our next news round-up and remember to visit throughout the week for original content and other major news discussion as it happens. Stay tuned!