Weekly Horror News Round-Up January 24: The Witcher, The Walking Dead, Resident Evil
Plus, Silent Hill rumors, some early Castlevania Season 3 art, Dying Light 2's delay, a new horror game from Ninja Theory, and more.
By Chris Morse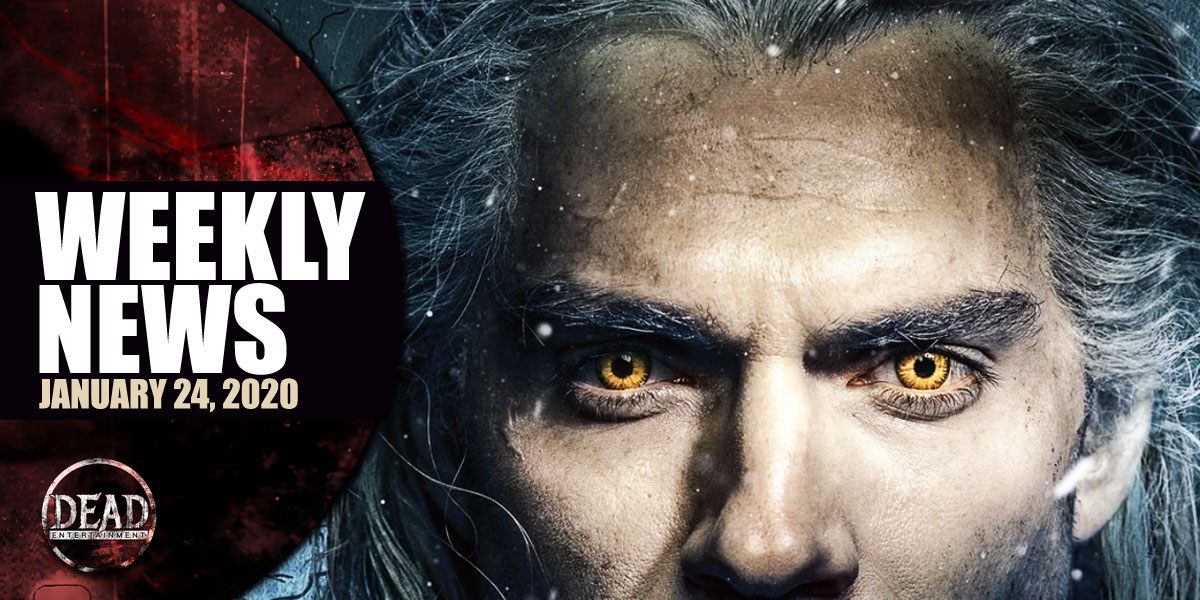 Welcome back to Dead Entertainment's weekly horror news column for this January 24th edition. As usual, this easily-digestible round-up will contain the latest news and notes, trailers, upcoming releases, and anything else we found fun or interesting throughout the week in horror. A short and sweet introduction sounds just fine this week, so let's get right to the latest stories.
The Witcher
Netflix doesn't usually release any numbers unless there is good news to report, which speaks well of The Witcher once again making headlines this week for being well on track to become the streaming platform's biggest debut over. Under its new metrics, which measure accounts that picked a show or movie and chose to watch it for at least two minutes (indicative of somebody intentionally tuning in), 76 million customer households tossed a coin to this series within the month since it premiered. That's almost half of 2019's total subscriber count. Impressive. An eight-episode second season will soon begin production for a 2021 return and next year already can't come soon enough. To hold you over until then, be sure to check out the official soundtrack available now!
The Witcher (Continued)
But wait, there's more! To add to this week's excitement, Netflix also addressed recent rumors and revealed that a new Witcher project is on the way. While Season 2 remains in development for a 2021 premiere, showrunner Lauren S. Hissrich is teaming up with Beau DeMayo and Studio Mir to bring us an anime film titled The Witcher: Nightmare of the Wolf. Few details are known about the project so far, but it will be a side story set on the very same Continent following a powerful new threat facing the land. It's unknown at this time whether any stars will lend their voices to appear in this movie or if it will follow different characters altogether, but more details should arrive in the months ahead.
The Walking Dead: World Beyond
Following last week's premiere date reveal, AMC offered fans of The Walking Dead franchise a little more information regarding the upcoming third series, The Walking Dead: World Beyond. Set to debut on Sunday, April 12th, the show is being billed as a two-season story and will not continue beyond that point. Could the reason for this be to lead into the in-development Rick Grimes movies? It seems clear such a connection like that will be an important one for this story. As a final note, the logo for the series has also been revealed. Check it out below, courtesy of the show's official Twitter page.

[blockquote-0][scripttag-0]
Telltale's The Walking Dead
As of this week, the entirety of Telltale's mostly-excellent The Walking Dead video game series is now available on the Nintendo Switch. From the critically-acclaimed first season to its conclusion with Skybound taking over development on The Final Season (read our review) shortly after Telltale Games went under, it's all available on the eShop for $14.99 each and ready to play wherever you go. In addition, all four seasons have also relaunched on Steam after a brief hiatus of only being available for purchase on the Epic Games Store. A solid move all around for fans of these games.

[relatedArticle-0]
Resident Evil
We have a few rumors to add to the pile in this week's round-up column, both courtesy of the same fairly prominent leaker who has proven to be somewhat reliable in gaming, such as when he spoke of the existence of a Resident Evil 3 remake (though we felt that this was fairly obvious anyway). According to the scoop, Resident Evil 8 is in the works but it could still be years away, as the project was internally rebooted by Capcom sometime last year. This has happened in the past, with two notable examples being the infamous Resident Evil 1.5 and the original version of Resident Evil 4. This information seems plausible enough but the usual grain-of-salt disclaimers apply.
Silent Hill
Next, the very same leaker talked a little bit about Silent Hill this week and how the future of the property might be more than just slot machines. According to the scoop, Konami has apparently been reaching out to developers over the last two years to pitch ideas for two new games in the franchise. The first would be a soft reboot of the series, while the second would be an episodic-style game (think Telltale or Until Dawn) to supplement the overall experience. There has been no official indication of anything like this being in the works but if these rumors prove to be accurate, fans of horror gaming would certainly have something to be excited about. If only Hideo Kojima's Silent Hills worked out…
Stranger Things & Ghostbusters: Afterlife
Young actor Finn Wolfhard recently chatted with THR and talked a little bit about both Stranger Things and Ghostbusters: Afterlife, two big upcoming projects he's set to appear in. According to his comments, Stranger Things 4 will begin filming in a month or two and production will run through late summer. Regarding Ghostbusters, the actor recounted some of his experiences filming, including what it was like to "drive" the Ecto-1. It makes for a pretty interesting read, so be sure to check out the full interview.
Castlevania
A third season of Netflix's animated Castlevania series is still on the way. While details such as when it is expected to hit the streaming platform remain relatively scarce for now, the show's official Twitter account offered its own small sneak peek at some new characters through its new cover photo. The vampire Carmilla should already be familiar to viewers of the series, but the other three are newcomers who will be introduced in upcoming episodes. As for who they might be, the official Season 3 description offers a big hint: "Trevor Belmont, last survivor of his house, is no longer alone, and he and his misfit comrades race to find a way to save humanity from extinction at the hands of the grief-maddened Dracula and his sinister vampire war council." We're probably looking at the latter.

[relatedArticle-1]
Dying Light 2
Techland's Dying Light 2 has been delayed, according to the latest development update the studio shared to social media this week. The title was originally due to hit stores this spring, but no new date has been given at this time. The post indicates that fans will receive more details in the coming months so it remains to be seen whether the game will release in 2020 at all, but here's hoping. The much-anticipated zombie survival sequel will eventually be released for the PlayStation 4, Xbox One, and PC

[blockquote-1][scripttag-0]
Project: Mara
Ninja Theory, the studio behind 2013's DmC: Devil May Cry reboot, announced this week a new horror game titled Project: Mara. It's described as a "real-world and grounded representation of true mental terror" and will be based on research, interviews, and firsthand accounts to recreate the horrors of the mind as accurately and believably as possible. Interestingly, the game will follow one character in one location and the developer hopes it will "showcase what could become a new immersive storytelling medium." That's all we know for now, along with the imagery shown in the announcement teaser above, but this project certainly sounds like an intriguing one so we'll be sure to follow along and share updates as development moves along.
Locke & Key
Just a couple weeks after the official trailer reveal for Netflix's adaptation of Locke & Key, the streaming platform released a behind-the-scenes featurette titled "From Comic to Screen." It features discussion from the graphic novel's co-creators Joe Hill and Gabriel Rodriquez, as well as showrunners Carlton Cuse and Meredith Averill, diving into how this story has finally been made a television reality. The 10-episode first season is set to debut on February 7th, 2020.
---
There is always plenty happening in the world of horror, so be sure to drop in next week for our next news round-up and remember to visit throughout the week for original content and other major news discussion as it happens. Stay tuned!