Weekly Horror News Round-Up February 7: Saw, Texas Chainsaw Massacre, Midnight Mass
Plus, Jennifer Tilly joins the Chucky TV show, a premiere date for Castlevania is revealed, Into the Dark: My Valentine gets a trailer, and more.
By Chris Morse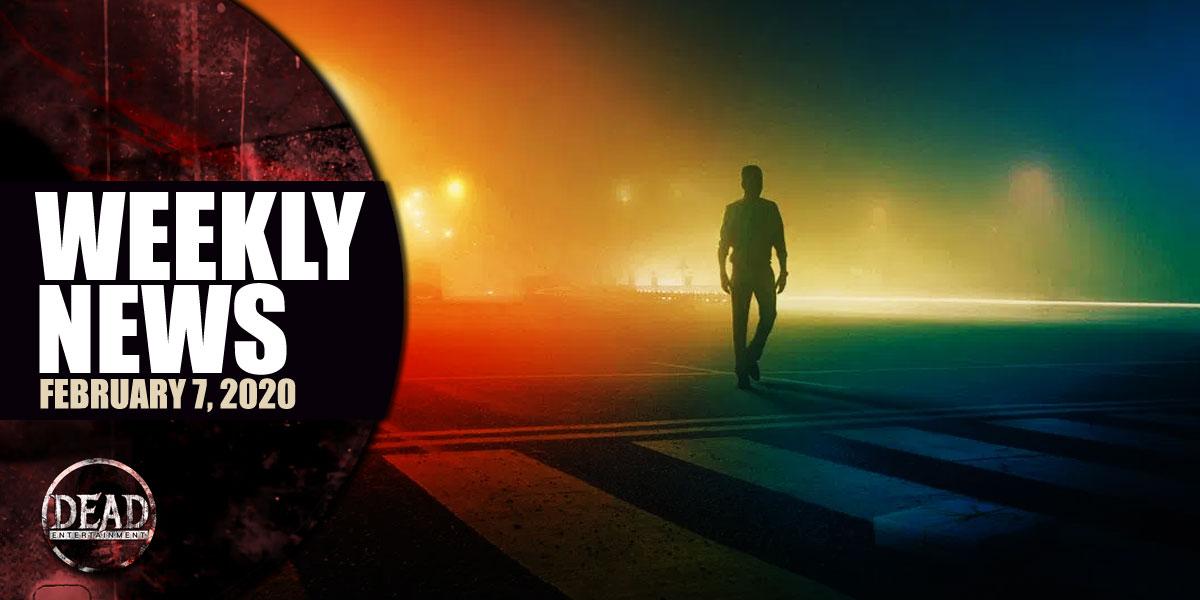 Welcome back to Dead Entertainment's weekly horror news column for this February 7th edition. As usual, this easily-digestible round-up contains the latest news and notes, trailers, upcoming releases, and anything else we found fun or interesting throughout the week in horror. February is off to a fine start with a first look at Chris Rock's updated take on the Saw franchise and more, so let's take a look!
Saw
Spiral is the name of Chris Rock's new Saw movie, as revealed in the official teaser trailer released earlier this week. "From the book of Saw," the tagline reads with this first footage hinting a grim, mature tone. Some of the imagery is very much inspired by the original films, no doubt by design, but it's looking like this story will be a bit of a rebooted sequel more than anything else. Time will tell if this new take on the franchise is a good one. We could certainly use something fresh after the last few not-so-successful attempts at keeping the spirit of the Jigsaw Killer alive. The film hits theaters on May 15th.
Texas Chainsaw Massacre
Directors have been chosen for Legendary's Texas Chainsaw Massacre reboot, which we learned back in November was going to be produced by Evil Dead remake filmmaker Fede Álvarez under his Bad Hombre Films banner. According to a report shared today on Variety, Ryan and Andy Tohill, the duo behind The Dig, will be bringing this classic horror franchise back to life with a screenplay set to be written by Chris Thomas Devlin. There's no word yet on any kind of timetable for production or theatrical release just yet, so fans will have to sit tight on this news for the time being.
Midnight Mass
The main cast has been revealed for Mike Flanagan's next Netflix project, titled Midnight Mass, which also comes from Intrepid Pictures' Trevor Macy. The seven-episode series will follow an isolated island community that experiences miraculous events and frightening omens alike after the arrival of a charismatic and mysterious young priest. Starring is Zach Gilford (The Purge: Anarchy), Kate Siegel (The Haunting of Hill House), and Hamish Linklater (Legion), with the cast also including Annabeth Gish, Michael Trucco, Samantha Sloyan, Henry Thomas, Rahul Abburi, Crystal Balint, Matt Biedel, Alex Essoe, Rahul Kohli, Kristin Lehman, Robert Longstreet, Igby Rigney, and Annarah Shephard. Among this list are plenty of Hill House and Doctor Sleep alums. Interesting!

[relatedArticle-0]
Chucky
SYFY's upcoming Chucky TV series from Child's Play creator Don Mancini is going to have at least one more friendly and familiar face. Speaking to Page Six, actress Jennifer Tilly revealed that she will be a part of the upcoming television show, just like she has been involved in the franchise since Bride of Chucky. This news is only the latest reminder that the legacy of the series will live on through this series and not the films, which MGM derailed by rebooting while Mancini's vision was still going strong. At least with the show, all the right people are involved and that's quite promising.
Castlevania
Netflix's animated Castlevania series is set to return with its third season on March 5th, and an official trailer should arrive any day now. While the first season of the vampire-hunting anime started the series off on the right foot, Season 2 truly found its groove and gave us plenty to be excited about going forward. A mix of new and returning characters is sure to delight in Season 3. Keep an eye on this space for the official trailer when it drops and a full review when we finally get the chance to watch it.

[blockquote-0][scripttag-0]
Into the Dark
Love is in the air for Hulu's Into the Dark with the arrival of the official trailer for My Valentine, which puts a horror twist on the holiday (much like other installments of the anthology series). Written and directed by Maggie Levin, this feature-length episode follows a pop singer whose songs and artistic identity have been stolen by her ex-boyfriend and manager, who shamelessly handed them off to his new girlfriend and protégé. Of course, violence is bound to ensue and this preview makes it look like a bloody good time. They even released a song to go along with it, which you can find below.

[relatedArticle-1]
Resident Evil
While the Resident Evil games have been going strong as of late, it's easy to forget that Netflix has a television series on the pipeline. News has been fairly quiet on that front for some time now, but a new report surfaced over from the noted sleuths of Redanian Intelligence (who typically focus on The Witcher), revealing that everything is moving forward on schedule. According to a production entry they got their hands on, the television series is set to begin production this year on an eight-episode first season. Filming is expected to take place in South Africa from June through October. Further details are not yet available, but we expect this year will bring us plenty of updates as the project comes together.
The Invisible Man
Blumhouse's upcoming horror-thriller take on The Invisible Man is quietly on its way and Universal Pictures just released a brand-new trailer to get you ready for it. Written and directed by actor-filmmaker Leigh Whannell, the film stars Elisabeth Moss (The Handmaid's Tale), Storm Reid (A Wrinkle in Time, 12 Years a Slave), Aldis Hodge (Clemency, Straight Outta Compton), and Harriet Dyer (The InBetween). Oliver Jackson-Cohen (The Haunting of Hill House) plays the titular role of The Invisible Man. It will hit theaters on February 28th, 2020.
The Witcher
Filming on the second season of The Witcher is expected to get underway this month and the first new casting addition has been revealed by Deadline. Carmel Laniado (Dolittle) will be entering the Continent to play the supporting role of Violet, a young girl with a playful and whimsical demeanor that's a front for her smarter and more sadistic side. This isn't a huge part, nor one that would carry as much weight as, say, Mark Hamill coming on board to play Vesemir (we're still waiting for this!), but it's a noteworthy mention nonetheless. Season 2 of the hit Netflix series isn't expected to arrive until 2021.

[relatedArticle-2]
Monster Mash
This is one of those bits of news that could really go either way. Deadline revealed earlier today that Universal Pictures is working on putting a bit of a musical spin on its Universal Monsters property with Monster Mash. We have no idea what kind of film this might be, but something like Repo! The Genetic Opera would certainly be welcome. While we have our doubts on whether the tone will be anything close to that, it can't hurt to keep our fingers crossed for something as memorable and awesome. Either way, noted Grammy-nominated music video director Matt Stawski will be directing a script from Will Widger. This could be either really fun or really bad. We'll have to wait and see which!
Monsterland
The cast for Hulu's upcoming horror anthology series, Monsterland, has grown a little bit this week with the arrival of Luke Cage's Mike Colter, according to Deadline. The project is based on Nathan Ballingrud's 2013 collection of short stories, North American Lake Monsters: Stories, and will follow various tales of man against monster, often showing the groups have more on common than they think. The series comes our way from Preacher and Succession's Mary Laws, who penned the eight-episode first season. This is definitely a series worth keeping our eye on.
Mortal Kombat
Fans of Mortal Kombat 11 might want to clear their schedules for Final Kombat 2020, an officially-sponsored event being held this March in Chicago. This event will bring together sixteen of the best players from around the world to compete for a chance to win a share of the $100,000 prize. Thus far, special guests appearing at the event include Mortal Kombat co-creator Ed Boon, Todd McFarlane and Keith David (Spawn), and finally Cary-Hiroyuki Tagawa (voice of Shang Tsung in Mortal Kombat 11, and also played the character in the 1995 live-action film). For more information regarding this event and how to secure your tickets, check out the event's website right here.
---
This week's round-up includes news contributions from our very own Chris Morse and Jay Gervais. There is always plenty happening in the world of horror, so be sure to drop in next week for our next news round-up and remember to visit throughout the week for original content and other major news discussion as it happens. Stay tuned!