Weekly Horror News Round-Up May 2: Hellraiser, Lovecraft Country, NOS4A2
Plus, The Last of Us Part II will drop in June, Spiral gets a new debut date, the Resident Evil 3 board game begins funding, and more.
By Chris Morse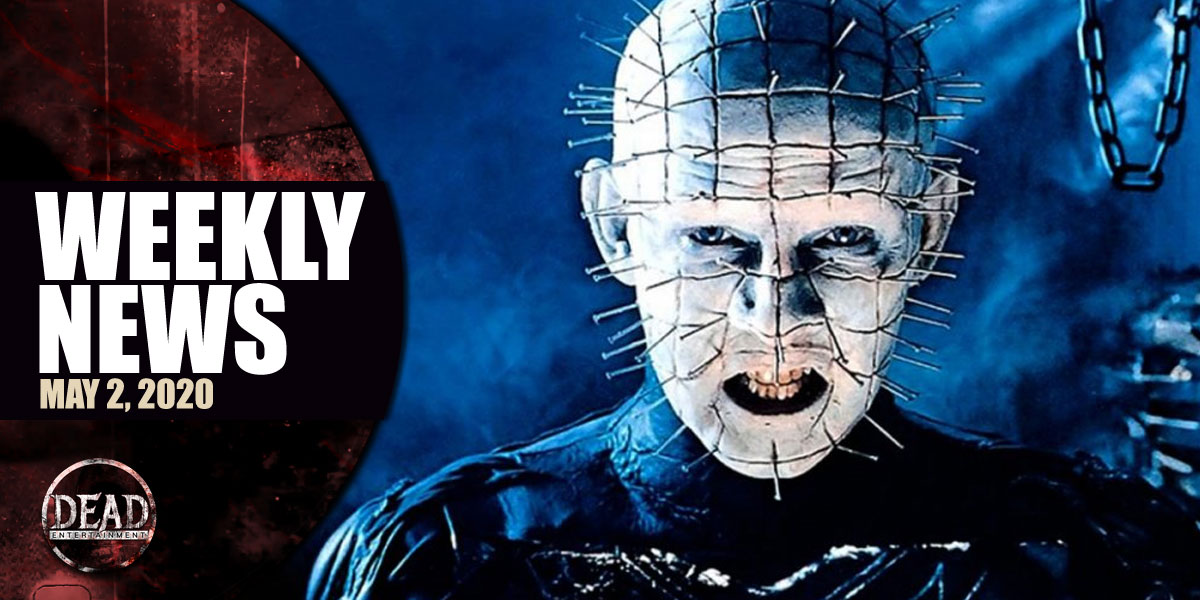 Welcome back to Dead Entertainment's weekly horror news column for this May 2nd edition. As usual, this easily-digestible round-up contains the latest news and notes, trailers, upcoming releases, and anything else we found fun or interesting throughout the week in horror. It's been another quiet week stuck indoors, so here's a look at what's new.
Hellraiser
HBO is officially making a Hellraiser television series a reality, Deadline reports. Last summer, we learned that a rights deal was secured to develop the Clive Barker classic on the small screen and this week brought us the first details regarding what is currently transpiring in that space. The director of 2018's Halloween, David Gordon Green, will be helming several initial episodes of the series, including the pilot, with Mark Verheiden (Daredevil) and Michael Dougherty (Trick r' Treat) on board as writers as HBO seeks to introduce Pinhead to a whole new audience. Few specifics are known at this time, but the report indicates that the show will be an "elevated continuation and expansion" of the mythology as opposed to a reboot. We'll be sure to provide updates as this project moves along in the months ahead.
Lovecraft Country
Once again from the HBO camp comes the first official trailer for Lovecraft Country, a new series from executive producers J.J Abrams and Jordan Peele. Set in the 1950s Jim Crow era and complete with supernatural terror, this story looks to combine a deadly mix of racial drama with monsters that could be taken right out of the works of H.P. Lovecraft, which is probably a deliberately ironic choice given the indubitably racist history of the writer himself. Either way, it looks like a wild ride so keep your eyes peeled when it makes its debut this August.
NOS4A2
Although the return of NOS4A2 was slightly pushed back to a new premiere date of Sunday, June 21st, it's still a great time to catch the full official trailer for the upcoming second season, which will continue the otherworldly struggle between Vic McQueen and the twisted Charlie Manx. Just like the first season, these new episodes are based on the Joe Hill novel of the same name. With much of the country still stuck at home, we wish this premiere would come sooner but we'll have to wait patiently until then.
The Last of Us Part II
About one month ago, we were saddened to learn that Naughty Dog's highly anticipated sequel, The Last of Us Part II, would be delayed indefinitely due to the COVID-19 pandemic. With delight roughly equal to the sadness of the original news, we are happy to report the studio has landed on a new date for the game, which will continue the journey of Ellie in a brutal, post-apocalyptic world. Coronavirus crisis be damned, this title will finally release on June 19th and we can't wait to get our hands on it. Here's hoping no last-minute delays throw a wrench in these plans, but it looks like everything is good to go this time.
Spiral
Among the upcoming movies delayed because of the pandemic is the next Saw movie, Spiral, which has been given a new date that is, unfortunately, a long way away. Originally set to be released in May of this year, the film has officially been pushed back all the way to May 21, 2021–a full year later than the original target date. We guess having a definite day to look forward to beats the previously-indefinite delay, but it's an absolute bummer that a fresh, new take on the horror franchise has slipped into another calendar year altogether. We hope it will be worth the wait.
Resident Evil 3
This week, the crowdfunding campaign for Steamforged Games' Resident Evil 3 (read our review of the remake) board game officially went live on Kickstarter, and, to nobody's surprise, it has already been fully funded. Fans who are interested in this tabletop take on the classic survival horror game (this one is based on the original) can still support the project and claim a slew of exclusive rewards when it goes into production. Many of the stretch goals and add-ons available are exclusive to the campaign and won't be provided with the retail version, so there is plenty of incentive to buy in early if this kind of game is up your alley. Be sure to check out the campaign and claim your goods before this concludes!
Into the Dark
With Hulu's horror anthology Into the Dark set to take on Mother's Day next week, it's about time to look ahead to what June has to offer us. According to Variety, "Good Boy" will take on Pet Appreciation Week and will follow a woman (Maggie Greer, one of the executive producers) who gets an emotional support dog that is almost too effective, because he kills anybody who adds stress to her life. Directed by Tyler MacIntyre based on a screenplay from Aaron and Will Eisenberg, the episode stars Judy Greer, Steve Guttenberg, Ellen Wong, Elise Neal, Maria Conchita Alonso, McKinley Freeman, and Chico the Dog. It will be streaming on Hulu beginning June 12th.
The Girl Who Loved Tom Gordon
This week also brought us the first details on the upcoming film adaptation of Stephen King's The Girl Who Loved Tom Gordon, a terrifying tale of isolation and wilderness survival, coming our way courtesy of Deadline. Village Roadshow Pictures will be leading the charge with Christy Hall (I Am Not Okay with This) taking on the screenplay. Producing for this project are Jon Berg, Vertigo's Roy Lee (It: Chapter Two, Doctor Sleep), Christine Romero (yes, that Romero), and Ryan Silbert. This adaptation is still in the early stages of development, but we'll be sure to provide updates as everything comes together.
Antebellum
Finally, another delayed upcoming film has landed on a new date as Lionsgate hands Antebellum an August 21st release date. The film, which comes from Get Out and Us producers Ray Mansfield and Sean McKittrick, was originally due out last month, but the coronavirus situation made that release impossible. This effort is directed by newcomer duo Gerard Bush and Christopher Renz, and stars Janelle Monáe, Marque Richardson II, Eric Lange, Jack Huston, Kiersey Clemons, Tongayi Chirisa, Gabourey Sidibe, Rob Aramayo, Lily Cowles, and Jena Malone. With some luck, we'll be back in movie theater seats by that time and can enjoy some new horror flicks without current worries on our minds. Fingers crossed!
---
There is always plenty happening in the world of horror, so be sure to drop in next week for our next news round-up and remember to visit throughout the week for original content and other major news discussion as it happens. Stay tuned!