Grindhouse Releasing Reveals First Screening Dates and Locations for Evil Dead 4K Restoration
Announced late last month, this very special theatrical run will also feature an exclusive new soundtrack.
By Chris Morse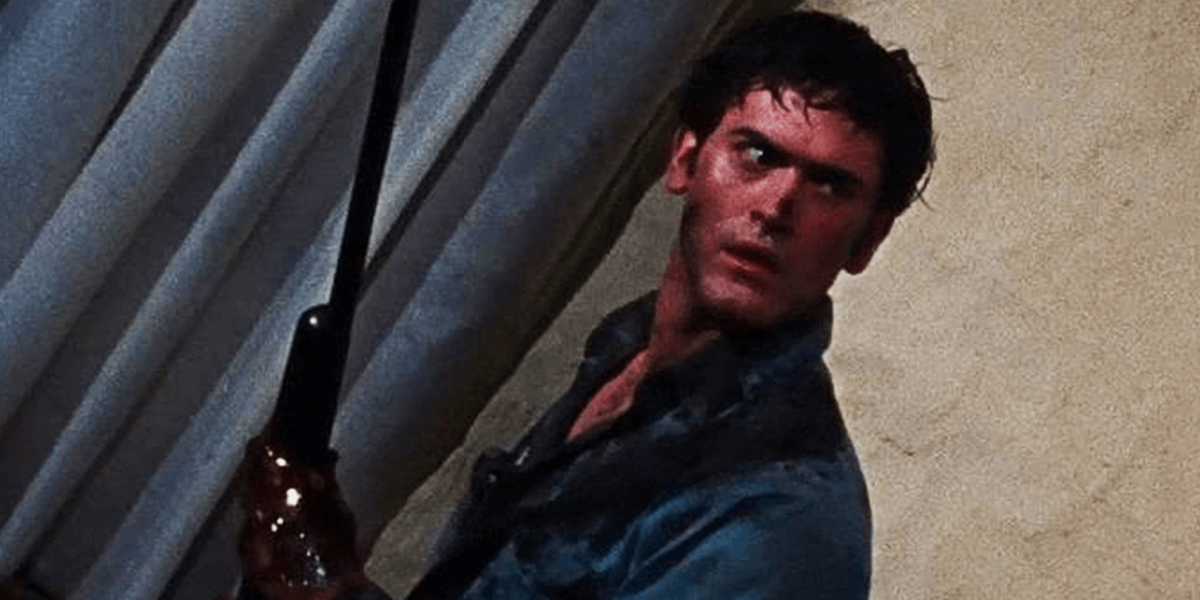 Sam Raimi's original Evil Dead film is headed back to theaters in 4K, courtesy of Grindhouse Releasing. As we previously reported, this special restoration will feature an exclusive new soundtrack from original composer Joe LoDuca as well as a fresh surround mix from Marti Humphrey and Jussi Tegelman, both of whom also worked on Ash vs Evil Dead.
Grindhouse Releasing's Bob Murawski, who previously edited for Army of Darkness and Ash vs Evil Dead, worked closely with Raimi to restore the beloved horror film from the original 16mm negatives, creating this new 4K transfer to be premiered in theaters for horror fans everywhere to enjoy. The new soundtrack is freshly balanced and mixed with the rest of the film's sound design and should enhance the overall viewing experience.
Today, the company announced the first round of screening dates, locations, and venues for this presentation. Have a look below for the full list to see when Evil Dead is coming to your area.
9/24 – Rio Theatre, Vancouver , B.C. – Canadian premiere

10/4 – Texas Theatre, Dallas, TX

10/4 – Alamo Drafthouse, Houston, TX

10/4 – Landmark Theatres Ritz- Bourse, Philadelphia , PA

10/5 – Beyond Fest – Egyptian Theatre, Los Angeles, CA – DCP3

10/5 – Belcourt Theatre, Nashville, TN

10/6 – Tropicana Theatre, Las Vegas, NV

10/10 – New! Encore screening @ Texas Theatre, Dallas, TX

10/11 – Music Box Theatre, Chicago, IL

10/11 – 10/17 – Plaza Theatre, Atlanta, GA

10/11 – Alamo La Vista, Omaha, NE

10/12 – Wealthy Theatre, Grand Rapids, MI

10/15 – Alamo Drafthouse, Corpus Christi, TX

10/15 – Alamo Drafthouse, Laredo, TX

10/15 – Avalon Theatre, Milwaukee, WI

10/15 – Alamo Drafthouse, Raleigh , NC

10/16 – FilmScene, Iowa City, IA

10/17 – Alamo Drafthouse, Richardson TX

10/18 – Palace Theatre, Syracuse, NY (*35mm original version)

10/18 – FilmBar, Phoenix, AZ

10/18 – Gables Cinema, Coral Gables, FL

10/19 – Knoxville Horror Film Festival, Knoxville, TN

10/19 – Roxy 14, Santa Rosa, CA (with THE BEYOND)

10/20 – Hollywood Theater, Portland, OR

10/21 & 22 – Frida Cinema, Santa Ana, CA

10/23 – Fox Gold Coast, Ocean City, MD

10/23 – Alamo Drafthouse, Littleton, CO

10/25 – Kentucky Theatre, Lexington, KY

10/25 – Cinematique, Daytona Beach, FL

10/25 – Broadway Theatre, Saskatoon, SK

10/26 – Globe Theater, Calgary, AB (Calgary Underground Film Festival)

10/26 & 31 – AFI Silver, Silver Spring, MD

10/26 – FEARnyc, New York, NY

10/27 – Metro Cinema, Edmonton, AB

10/29 – 11/3 – Historic Howell Theater, Howell MI

10/29 & 30 – Mayfair Theatre, Ottawa, ON

10/30 – Byrd Theatre, Richmond, VA

10/31 –Railroad Square Cinema, Waterville, ME

10/31 – Cinema Arts Center, Huntington, NY

10/31 – Loft Cinema, Tucson, AZ

11/2 & 11/3 – Landmark Ken Theatre, San Diego

11/8 & 11/9 – Coolidge Corner Theatre, Boston

11/10 – Alamo Drafthouse, Woodbridge, VA

11/10 – Alamo Drafthouse, Ashburn, VA

12/20 – 12/24 – Gateway Film Center, Columbus, OH
The Evil Dead, the film that kicked off a fan-favorite horror franchise, was written and directed by Sam Raimi and features Bruce Campbell in the iconic role of Ash Williams. It's the story of five friends who travel to a cabin in the woods and discover a book and audio tape, unknowingly releasing demons by reading from the book of the dead, the Necronomicon. The movie first premiered in 1981.
Grindhouse Releasing will be announcing more dates as time goes on, but rest assured, we'll be sure to keep you up to date here on Dead Entertainment. For bookings, the point of contact is theatrical sales director David Szulkin, who can be reached at info@grindhousereleasing.com.