Greg Nicotero Talks Creepshow TV Series Ahead of Upcoming San Diego Comic-Con Panel
The Walking Dead executive producer is overseeing the Shudder series as showrunner.
By Chris Morse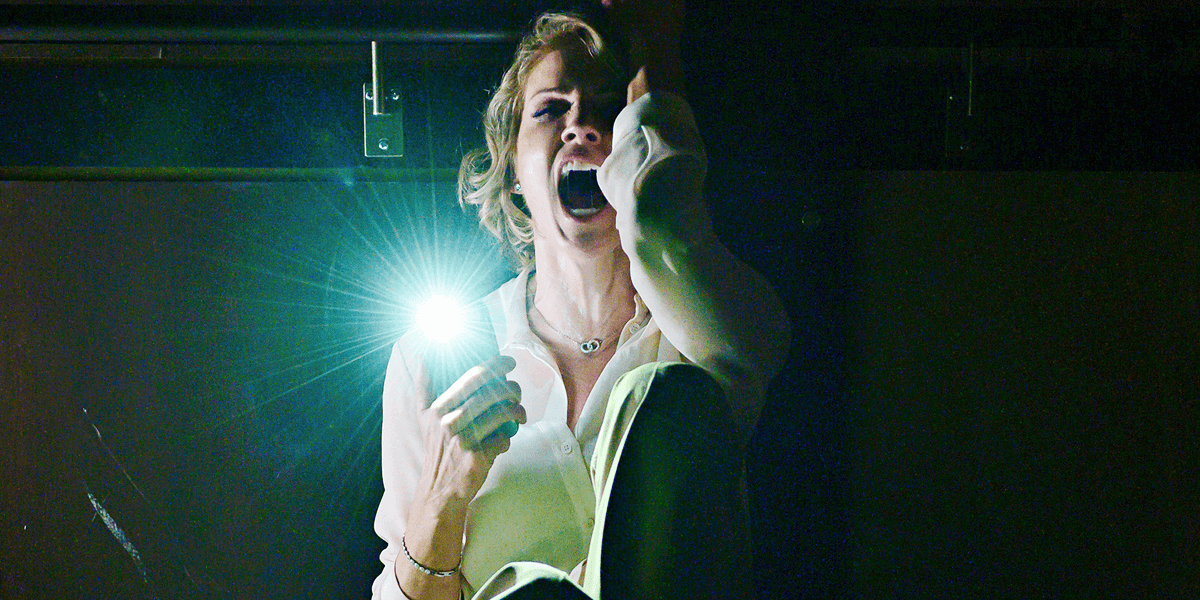 The Creepshow television series is slowly coming together on its way to Shudder later this year. We already have a good idea of what 12 stories are being adapted across the debut season's six episodes, but in a chat with EW, showrunner Greg Nicotero offered a look behind the scenes at how this whole thing evolved into the series we will soon be tuning in for.
"I was very ambitious and attacked Creepshow with a lot of tenacity," he explained. "We were set to do six episodes, but I insisted that we shoot twelve stories in six episodes, because I wanted that Creepshow feel. So, we ended up having to create an entirely new universe, with an entirely new cast, every three and a half days."
With regard to the difficulty of doing 12 different horror stories in this kind of timeframe, Nicotero pointed towards a handful of sleepless nights. "Ugh, every night, when I couldn't sleep, because I was trying to figure out how we were going to do it!" he said. "It was crazy. It was the hardest thing I've ever done in my life. Now that I'm seeing it coming together, and putting all the icing on the cake, it's pretty spectacular."
Many familiar faces have been brought on board for Creepshow, including several who Nicotero have worked with and would even call friends, in terms of both stars and other filmmakers. "They're all my friends," he commented. "When you're presented with an opportunity like this, number one, you want to pay tribute to what they have contributed to the industry, but also you always dream about working with your friends. That's sort of the Mount Olympus of being a filmmaker, is to surround yourself with your friends, and create these great tales together. So, it seemed like a no-brainer to have John Harrison be a part of the show as a writer and director, and Tom Savini, and Adrienne. I even hired Rick Catizone, who was the same animator who did the animation for the original Creepshow, because it so inspired me at that time. I felt it lends a very special authenticity to the project that is important to me."
Nicotero continued, "Extending the umbrella to younger up-and-coming filmmakers was very important to me. I didn't want it to appear that I was turning my back on the new generation of filmmakers, and Roxanne did a great job. Getting David Bruckner (The Ritual), and Roxanne Benjamin, and Rob Schrab (The Sarah Silverman Program) in to direct episodes — I was really fortunate that these guys wanted to come onboard."
More details should surface later this week at the San Diego Comic-Con, where Shudder will hold a panel for the series on Friday, July 19th. Fans can expect new information and possibly even the first footage, so be sure to check back with us over the weekend and don't miss out on the latest information!
Twelve segments in total will make up the Creepshow series' six-episode debut season. Previously-announced cast members for the series include Tobin Bell (Saw), Adrienne Barbeau (Creepshow film), and Giancarlo Esposito (Breaking Bad), who will all be appearing in a segment based on Stephen King's 1973 short story, Gray Matter, which was eventually released as part of his 1978 collection, Night Shift. Jeffrey Combs (Re-Animator), Big Boi (of OutKast), King Cudi, Bruce Davison (X-Men franchise), and DJ Qualls (The Man in the High Castle) will also appear in episodes.
Another trio of stories we learned were being adapted are Times is Tough in Musky Holler, with John Harrison directing a screenplay from John Skipp and Dori Miller, Lydia Layne's Better Half, written by Harrison and directed by Roxanne Benjamin, and, finally, Skincrawlers, with Benjamin this time directing a screenplay by Paul Dini and Stephen Langford.
Additional tales being adapted include Joe Hill's By the Silver Water of Lake Champlain, Bird Box author Josh Malerman's House of the Head, Joe R. Lansdale, Kasey Lansdale and Keith Lansdale's The Companion, Christopher Buehlman's The Man in the Suitcase, Bruce Jones's All Hallows Eve, John Esposito's Night of the Paw, and Rob Schrab's Bad Wolf Down. It was reported early on that an episode called Survivor Type would be included, based on a short story from Stephen King's 1985 collection, Skeleton Crew, but we haven't heard much in the way of confirmation on that one.
The Walking Dead executive producer Greg Nicotero will serve in a similar role for this series, taking on overall showrunner duties as well. Much like his time on the AMC zombie drama, he will be behind the camera in the director's chair for select episodes as well.
Creepshow will arrive on Shudder sometime this fall, but no exact date or release schedule has been revealed at this time. Stay tuned to Dead Entertainment for all the latest news and updates on the series.