Weekly Horror News Round-Up June 6: Creepshow, The Last of Us, Lovecraft Country
Plus, catch up on the latest trailer drops and find out which films will soon be coming to Shudder.
By Chris Morse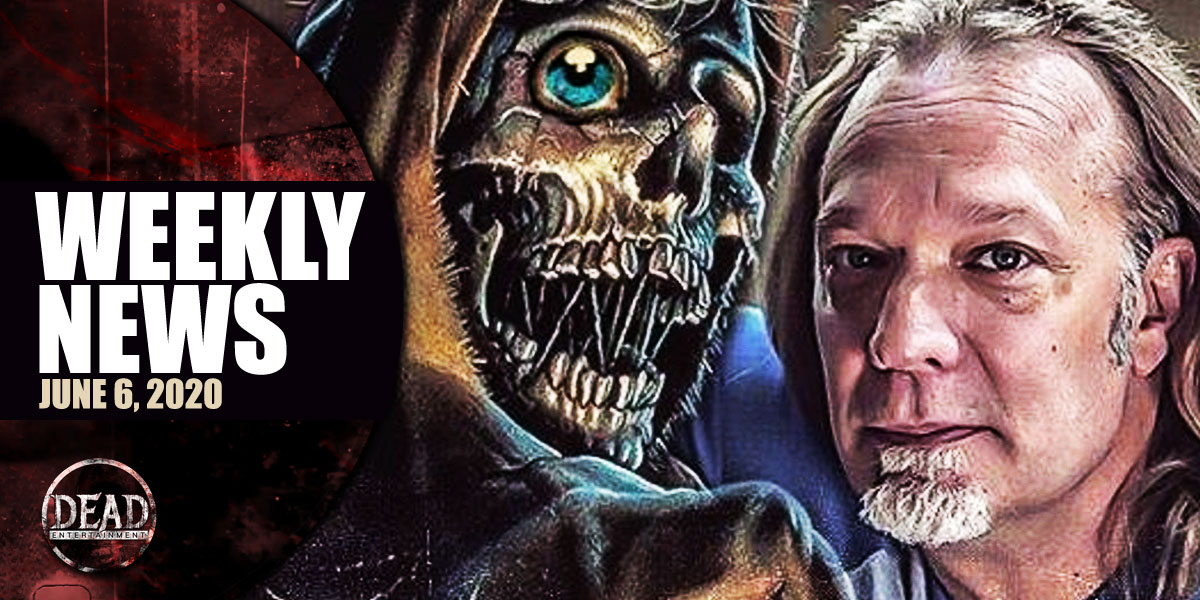 Welcome back to Dead Entertainment's weekly horror news column for this June 6th edition. As usual, this easily-digestible round-up contains the latest news and notes, trailers, upcoming releases, and anything else we found fun or interesting throughout the week in horror. While there has been a whole lot going on around the world this week, we can't say the same for our beloved genre, but here are a few stories to help keep your mind off of everything else that's been going on.
Creepshow
You may have been able to catch Season 1 of Shudder's Creepshow on AMC recently, but we still have Season 2 to look forward to sometime in the eventual future. Although production has been on hold due to the ongoing pandemic, executive producer and showrunner Greg Nicotero did manage to tease some interesting details over on Bloody-Disgusting, including an early preview of one of the episodes.
According to Nicotero, 90% of the scripts are already done and the new season sounds like it will be a lot of fun. He detailed an episode called "Pesticide" from Frank Dietz, about an "exterminator who does some unsavory things" and is "haunted by some of these creatures that he has killed," also revealing in the process that he has written a couple of the scripts himself (including one based on a Joe Hill story) and will be directing three of them.
Other writers you can expect stories from in Season 2 are Joe Konrath, John Esposito, David Schow, Melanie Dale, Mattie Do and Chris Larsen, and Paul Dini and Stephen Langford.
There's no word yet on when Creepshow Season 2 will ultimately make its debut, but as always there is plenty to look forward to once production can finally get back into gear. We'll be sure to provide the latest news and updates whenever that happens.
The Last of Us
We are still anticipating the long-awaited arrival of Naughty Dog's upcoming sequel, The Last of Us Part II, and this week brought us the fourth and final behind-the-scenes featurette to prepare for it. The game, which will continue the journey of Ellie in a brutal, post-apocalyptic world, finally releases on June 19th and we are more than ready to sink our teeth in. However, if you still need a little more convincing, you can check out the latest extended commercial below and the aforementioned "Inside the World" video just above. See you on the other side!
Lovecraft Country
HBO's upcoming new series from executive producers J.J Abrams and Jordan Peele, Lovecraft Country, is set to make some waves this August and a newly released teaser trailers aims to show off a little more. Set in the 1950s Jim Crow era and complete with supernatural terror, this story looks to combine a deadly mix of racial drama with monsters that could be taken right out of the works of H.P. Lovecraft, which is quite the deliberately ironic choice given the indubitably racist history of the writer himself. We'll be sure to keep you posted whenever we have an exact premiere date.
Becky
A new red band trailer has dropped for Becky, a home-invasion thriller from directors Jonathan Milott and Cary Murnion. Starring Lulu Wilson as Becky and Joel McHale as her father, a weekend getaway turns sinister as a group of convicts arrive to terrorize them. That group is led by the merciless and imposing Dominick, played by none other than Kevin James in a very serious role for the actor. The film is now available in theaters and Digital/on-demand formats.
Color Out of Space/The Shed
Shudder has officially acquired a pair of recent horror releases set to premiere on the streaming platform later this year, both of which come our way from RJLE Films. First up is Richard Stanley's trippy, Nicolas Cage-led H.P. Lovecraft adaptation, Color Out of Space, which debuted at the beginning of this year. You will also be able to stream Frank Sabatella's vampire flick The Shed at some point in the not-too-distant future. Keep your eyes peeled on Shudder for these upcoming additions.
---
There is always plenty happening in the world of horror, so be sure to drop in next week for our next news round-up and remember to visit throughout the week for original content and other major news discussion as it happens. Stay tuned!