Netflix Gets Spooky for Month-Long Celebration of Horror
Get ready for some Netflix & Chills this October.
By Chris Morse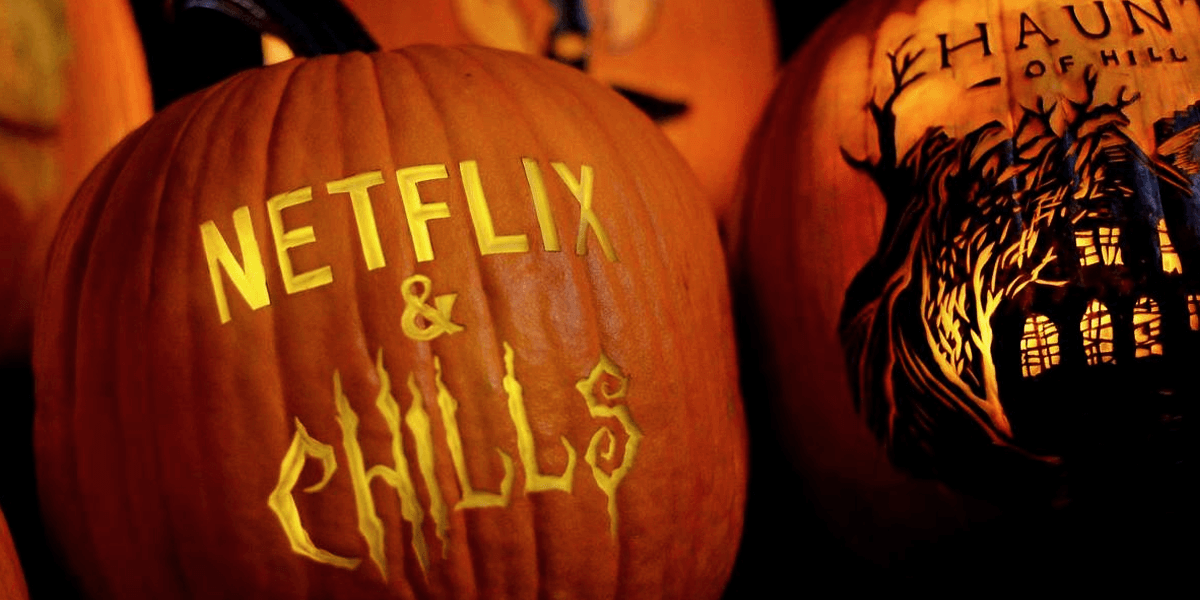 Let's be honest here. Even us horror fans will be watching a lot more horror than usual this month with the leaves finally beginning to fall. Fortunately, streaming platforms like Netflix are around to help us celebrate with an even wider selection of new and classic titles alike.
Netflix just released their 2018 horror guides to help you out if you're not sure what to watch as you get yourself ready to get spooky all month long. Thanksgiving and Christmas can wait until November because horror fans have a kick-ass October waiting for them this year.
We all know what we will be doing on October 19th with the new Halloween sequel making its long-awaited release, but how about the rest of the month when you're not in the movie theater? First of all, the latest arrivals on Netflix are as good of a place as any to start, so let's take a look at what's new.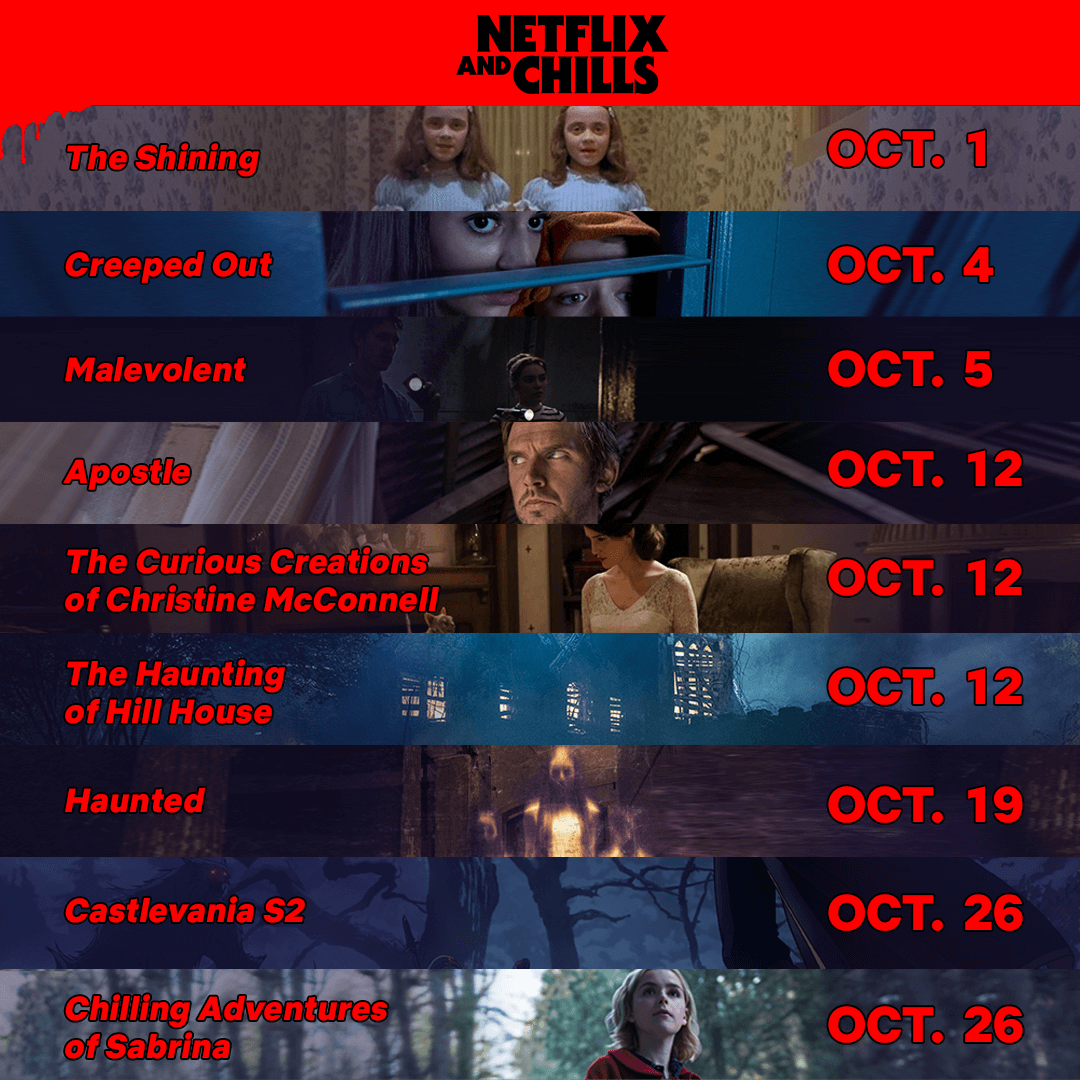 We've got a good mix here but the new arrivals are something to be excited for in particular. Upcoming Netflix original The Haunting of Hill House has generated a lot of buzz so far and we are personally also excited to see the next bloody chapter of the Castlevania animated serious, which debuts near the end of the month and will this time be a full 8 episodes.
On the very same day, we also get to hop on our brooms for the premiere of Chilling Adventures of Sabrina, a much darker take on the teenage witch that originated as a comic series with a more heavy focus on the occult. The rest of the month is also sprinkled with goodies, starting with a classic in The Shining, which seems as perfect of a way to start the month as any.
So, this begs the question, what else to watch? Well, that depends on what kind of horror you are into. Whether you love jump scares or being flat-out terrified, there's something here for you. Fortunately, Netflix has released the below helpful infographic to help you decide what's right for you.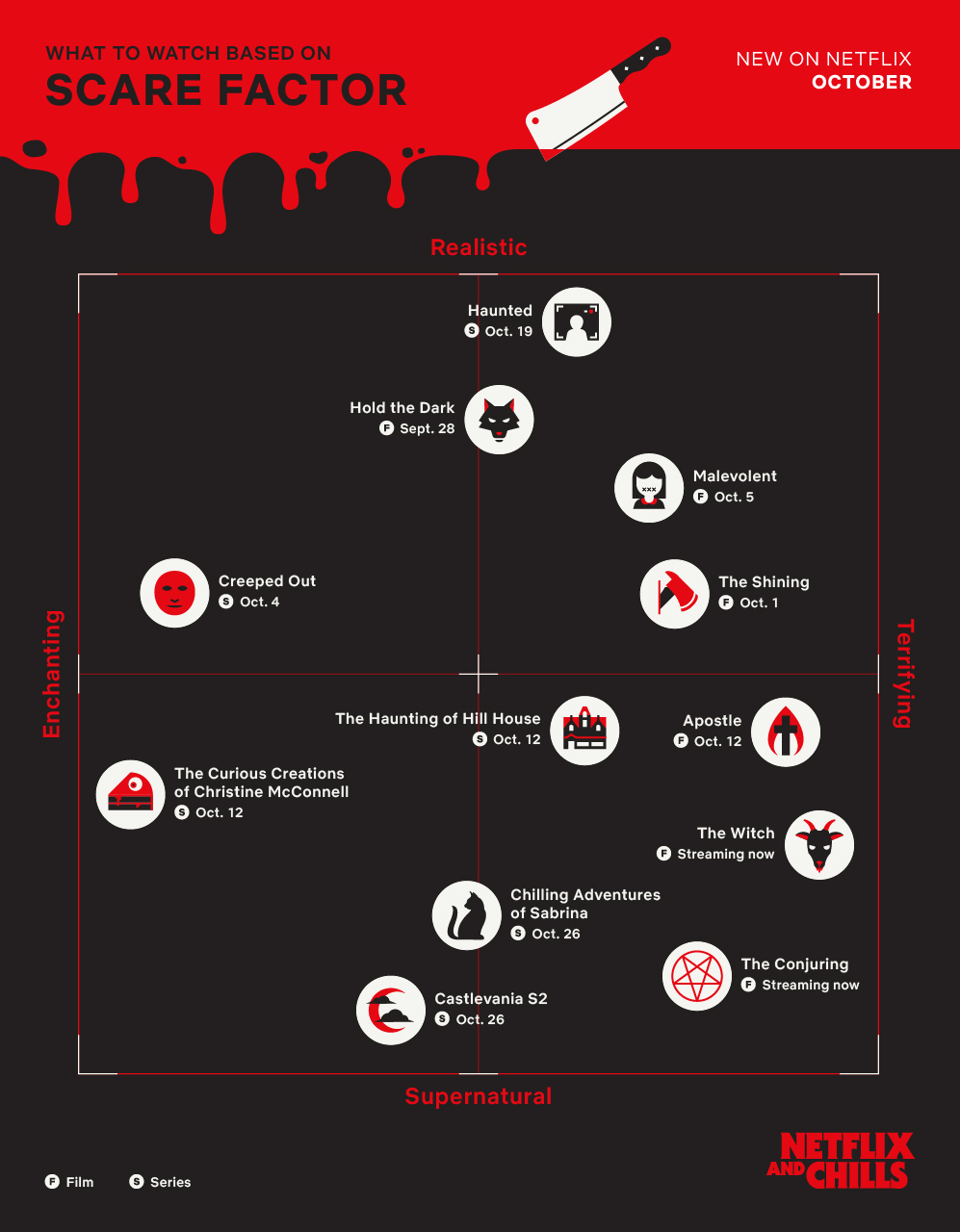 Apart from the new arrivals, there's a substantial existing library of solid horror for you to indulge in all month long. We've helpfully received a full list for you to take a look so let's get it going!
NETFLIX ORIGINAL HORROR

Four friends with a long-standing -- but strained -- connection take a hiking trip into the Swedish wilderness, from which they may never return. See trailer here.

A farmer pens a confession admitting to his wife's murder, but her death is just the beginning of a macabre tale. Based on Stephen King's novella. See trailer here.

A psychiatrist is plagued by flashbacks to a terrifying attack as she treats a new patient who was horribly disfigured in an accident. See trailer here.

When a new prisoner at a military detention center exhibits eerie behavior, a young interrogator's search for the truth becomes a battle for survival. See trailer here.

Amid a terrifying pandemic, a father searches the wilds of Australia for someone willing to protect and care for his infant daughter. See trailer here.

When Cole stays up past his bedtime, he discovers that his hot babysitter is part of a satanic cult that will stop at nothing to keep him quiet. See trailer here.

Still mourning the death of their son, Mark and Jessie welcome foster child Cody into their lives. Soon they discover he has a strange ability. See trailer here.

When her husband's sex game goes wrong, Jessie -- handcuffed to a bed in a remote lake house -- faces warped visions, dark secrets and a dire choice. See trailer here.

I Am the Pretty Thing That Lives in the House

A nervous nurse who scares easily finds herself caring for an ailing horror novelist while living in a house with hidden secrets. See trailer here.

As a zombie plague ravages their rural Quebec town, a scrappy band of survivors join forces to flee the infected hordes in this quiet thriller.

As a zombie outbreak sweeps the country, a dad and his daughter take a harrowing train journey in an attempt to reach the only city that's still safe.

Rampaging serial killers leave carnage in their wake as their next victims fight to stay alive in this horror anthology series.


MORE HORROR ON NETFLIX

FILMS:

SERIES:
If the above choices and new arrivals are any indication, we think you'll have plenty to watch all month long courtesy of Netflix. What are your favorite picks out of the selection here? Are you going to check out any of the new additions? Sound off in the comments below or let us know on social media.