Weekly Horror News Round-Up September 26: The Haunting of Bly Manor, Books of Blood, Truth Seekers
Plus, a Creepshow animated special is on the way, Hulu drops the first Helstrom trailer, Lucifer returns to production, and more.
By Chris Morse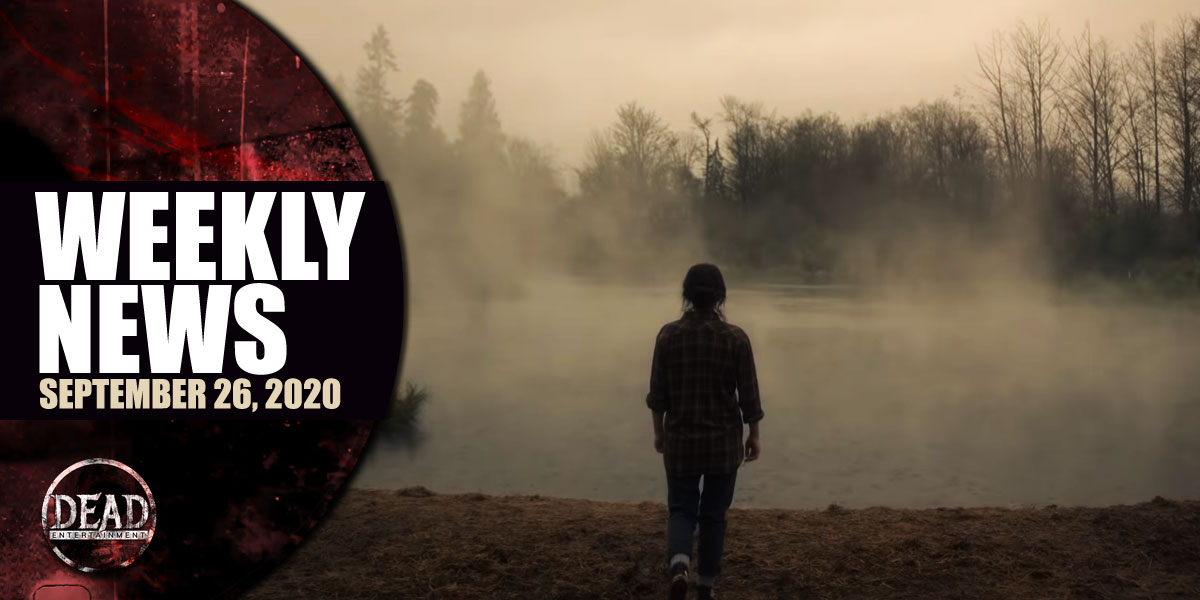 Welcome back to Dead Entertainment's weekly horror news column for this September 26th edition. As usual, this easily-digestible round-up contains the latest news and notes, trailers, upcoming releases, and anything else we found fun or interesting throughout the week in horror. Here are the latest stories.
The Haunting of Bly Manor
While the previously-released teaser didn't show much to creep us out, the full official trailer of Netflix's The Haunting of Bly Manor seeks to rectify that by opening its doors and inviting you to take a look inside. This follow up series to The Haunting of Hill House from Mike Flanagan is set to delve into the mysteries of Bly Manor, along with other Henry James stories, and features a number of returning cast members from the first "season." You can bet we'll be tuning in for this one.
Books of Blood
Hulu also kept things interesting this week by premiering the full trailer for its upcoming film adaptation of Clive Barker's Books of Blood. The movie, co-written by director Brannon Braga and Adam Simon, is set to premiere on October 7th and stars Britt Robertson, Rafi Gavron, Anna Friel, Yul Vazquez, and Freda Foh Shen. Books of Blood is a six-book series from Clive Barker, with each installment being a collection of stories ranging from horror to fantasy. Many of them take place in typical settings featuring typical people, but strange or terrifying events unfold to bring horror into the mix.
Truth Seekers
How about another trailer for you this week? This time it's for Amazon's Truth Seekers, which is a horror-comedy reuniting Shaun of the Dead stars Simon Pegg and Nick Frost. The series is a spoof on those ghost-hunting "reality" shows and also stars Samson Kayo and Emma D'Arcy. This one is coming to Amazon Prime Video on October 30th, just in time for Halloween. We'll be there!
Creepshow
Although Season 2 of Shudder's Creepshow won't be headed our way until 2021 (scripts have been ordered for a third!), that doesn't mean we aren't getting a little bit of seasonally appropriate content from the franchise next month. Announced this week is a much-welcome Creepshow animated special, premiering on October 26th and featuring two stories directed by Greg Nicotero, with the first also being adapted by him. First up is "Survivor Type," based on the Stephen King short story of the same name and starring Kiefer Sutherland. The other is a Joe Hill Story, "Twittering from the Circus of the Dead," adapted by Melanie Dale and starring Joey King. Very exciting! Check out the official announcement just below.

[blockquote-0][scripttag-0]
Helstrom
Hulu brought us yet another trailer this week with a full preview for its upcoming Helstrom show from the streaming company in conjunction with Marvel TV. The series follows Daimon, aka the Son of Satan, and Ana Helstrom, the offspring of a mysterious serial killer, as they work to track down the worst of humanity. This debut season, premiering on October 16th, will contain 10 episodes. Starring is Tom Austen (The Royals), Sydney Lemmon (Succession), and Elizabeth Marvel (Homeland).
Lucifer
Netflix is officially back to work on Lucifer, according to a report by Deadline. If you recall, there are 8 more episodes on the way for the super-sized Season 5 and one final (for real this time) season after that. It looks like the now-resumed production is set to finish up the last episode and will then move on to Season 6. The end is nigh, though no official premiere dates have been set at this time.
The Last Drive-In
Joe Bob Briggs just keeps coming back for more, and that will continue with next month's Halloween special for The Last Drive-In. This week, the previously-announced double feature has been revealed as the "Halloween Hideaway" special, teasing a dark, secluded place to enhance our nightmares. The special will hit Shudder on October 23rd. See below for the official artwork!

[blockquote-1][scripttag-0]
Resident Evil
As promised, Capcom took to this year's virtual Tokyo Game Show to show off a little bit of the next mainline Resident Evil title, Resident Evil Village. The video features not only more game footage, but also commentary and discussion from the developers. Among the points raised is that the team wants to bring this title to current generation consoles as well as the already-announced PlayStation 5/Xbox Series X versions. However, there's no definite timetable on that just yet. Either way, if you're feeling itchy tasty for a better look at the game, look no further then the presentation above.
The Witcher
The world of Netflix's The Witcher has been plenty busy these days, especially since production on Season 2 finally kicked back off, but all of the rescheduling has caused at least one major shakeup of the cast, albeit not for a character we've already met. Actor Thue Ersted Rasmussen was originally set to take on the role of Eskel, a fellow Witcher, but the star had to back out due to conflicts with the new schedule. There's no word yet on who will be replacing him for the character, but we can't imagine we'll be waiting too long for updates. Stay tuned!
Dead by Daylight
Earlier this year, Konami's classic Silent Hill horror franchise made its way into Behaviour Interactive's Dead by Daylight. This week, the fun expanded a bit with the addition of Cybil Bennett, now available in the store as a purchasable skin. As usual, the release came with a trailer and we've included that for you just above. Love the game or hate it, you've got to appreciate its staying power after all these years.
DOOM
The DOOM franchise is always a blast and you can't go wrong with free games either (well, free to play for subscribers at least). To that point, it was announced in a blog post this week that DOOM Eternal will be arriving on Xbox Game Pass beginning October 1st. The subscription service, which provides great value for PC and Xbox players alike, allows its members access to download and play anything from its ever-expanding catalog of titles. With each new addition, the value is only getting better, and this latest one will make you howl with violent fury as you rip and tear through your enemies.
Maneater
Tripwire Interactive's Maneater proved to be a blast and the studio is looking to continue the fun on the next generation of consoles heading our way this holiday season. As announced this week, a graphically enhanced version of the title will be available at launch for PlayStation 5 (November 12th) and Xbox Series X (November 10th), featuring 4K HDR visuals, 60 FPS, and new lighting effects. To sweeten the pot, if you currently own the game on either current-generation platform, you will get a full upgrade to the new version for free. That's a pretty sweet deal!
Castlevania
A handful of classic Castlevania titles have arrived on PC this week, courtesy of GOG.com. The first 3 games, originally released for the Nintendo Entertainment System, can now be enjoyed as part of KONAMI Collector's Series: Castlevania & Contra. This mini collection isn't nearly as robust as some of the anniversary ones released more recently, but giving those original titles some new (un)life on PC is more than welcome and worth grabbing up.

[blockquote-2][scripttag-0]
Remothered: Broken Porcelain
The upcoming sequel to survival horror title Remothered: Tormented Fathers is now due out a week early, after originally being delayed, with the new date set for October 13th. That's a rare change of pace considering this past year! Remothered: Broken Porcelain is set in the infamous Ashmann Inn, a haunted location full of mysteries to unravel. The title will soon be available on PlayStation, 4, Xbox One, Nintendo Switch, and PC.
---
There is always plenty happening in the world of horror, so be sure to drop in next week for our next news round-up and remember to visit throughout the week for original content and other major news discussion as it happens. Stay tuned!