Weekly Horror News Round-Up April 25: Scary Stories to Tell in the Dark, Creepshow, Penny Dreadful
Plus, NOS4A2 lands on a new premiere date, the trailer for Into the Dark: Delivered drops, Little Demon gets a pilot order, and more.
By Chris Morse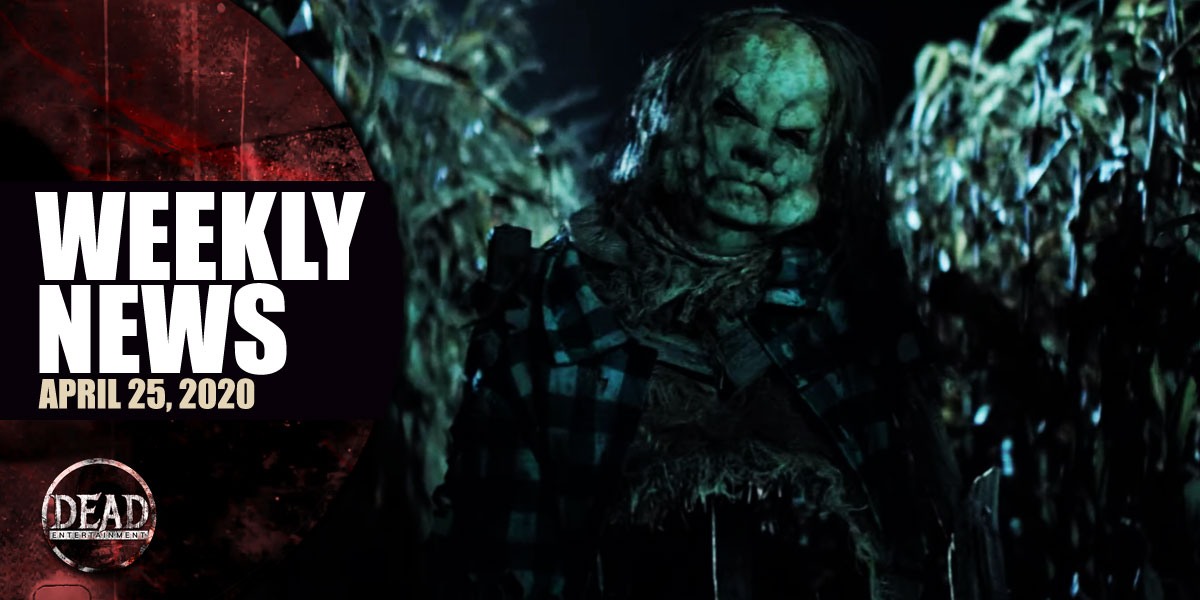 Welcome back to Dead Entertainment's weekly horror news column for this April 25th edition. As usual, this easily-digestible round-up contains the latest news and notes, trailers, upcoming releases, and anything else we found fun or interesting throughout the week in horror. While it hasn't been the busiest week for our beloved genre due to the ongoing pandemic, here are the latest happenings.
Scary Stories to Tell in the Dark
A sequel to last summer's Scary Stories to Tell in the Dark movie is officially a go and filmmaker André Øvredal will be back to direct, Paramount Pictures announced yesterday. The first film's co-writers Dan Hageman and Kevin Hageman are also back in the fold, penning a script once again based on a story by Guillermo del Toro. It's hard to say when Scary Stories to Tell in the Dark 2 will begin filming at this time, but we'll be sure to provide updates right here on Dead Entertainment.
Creepshow
In light of these uncertain times, AMC has shaken up its schedule a bit, including altering its upcoming plans to air the debut season of Shudder's Creepshow. Instead of appearing on the network over just a three-week span, the episodes will be televised on Monday nights for six weeks from May 4th through June 8th. This is likely to fill in some content gaps given the current COVID-19 situation.
Penny Dreadful
How would you like to watch the series premiere of Penny Dreadful: City of Angels right now? The show show is formally due to arrive on Showtime tomorrow night, but the network has made the first episode viewable by all online in an effort to jump-start interest during these unusual times. I'm all for companies trying new things with all that's been happening lately, so this could be a net win for the Penny Dreadful sequel series as it finally makes its debut. You can find the full episode embedded just above.
NOS4A2
Similar to the Creepshow situation outlined above, AMC has modified its upcoming schedule and the second season of NOS4A2 has been slightly pushed back as a result. Originally set to premiere on June 1st, the debut episode will now air on Sunday, June 21st at 9/8c. Season 2 is set to continue the otherworldly struggle between Vic McQueen and the twisted Charlie Manx.
Into the Dark
The official trailer for the next monthly, seasonal installment of Hulu's horror anthology Into the Dark has been released. Written by Dirk Blackman, directed by Emma Tammi, and starring Tina Majorino, Natalie Paul, Michael Cassidy, and Micah Parker, "Delivered" follows a pregnant woman whose life is upended when she realizes someone close to her has darker plans for her and the baby. The episode will be available on Hulu beginning May 8th.
Little Demon
In the horror-comedy realm, FX has placed a pilot order for a new animated series titled Little Demon, starring Danny DeVito, his daughter Lucy DeVito, and Aubrey Plaza. According to Deadline, the show will follow a reluctant mother and her Antichrist daughter as they attempt to live an ordinary life while being constantly thwarted by monstrous forces, including Satan, who yearns for custody of his daughter's soul. Danny DeVito, of course, plays the Devil himself. This should be a fun time with Rick & Morty co-creator Dan Harmon executive producing, so we'll keep an eye on it as it develops.
Coronavirus Delays
We have a few new delayed releases to report, starting with the Sam Raimi-directed Doctor Strange in the Multiverse of Madness, which has shifted from its November 2021 release date to March 25, 2022. Additionally, in what might be the smallest delay yet, Escape Room 2 has moved ahead a whopping two calendar days from December 30, 2020 to January 1, 2021. Not the most devastating change there!
---
There is always plenty happening in the world of horror, so be sure to drop in next week for our next news round-up and remember to visit throughout the week for original content and other major news discussion as it happens. Stay tuned!