Joe Meets His Perfect Match in You Season 2, but is it a Good Thing?
Bodies don't always stay buried in the Netflix Original Series.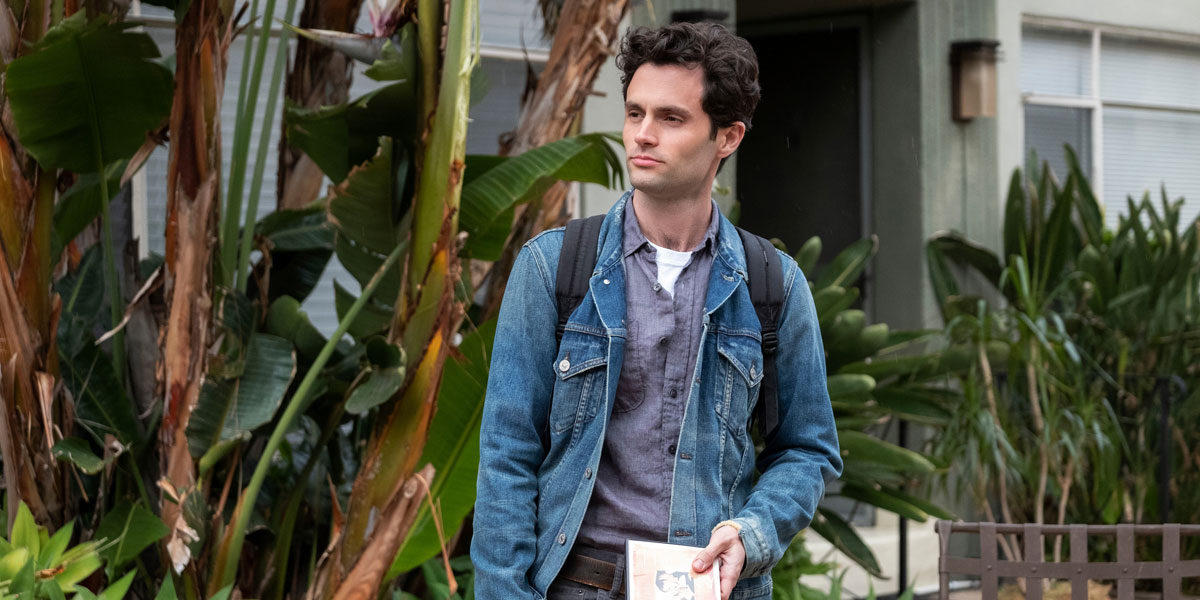 Man meets girl, man stalks girl, and man kills girl before heading to Los Angeles for a new start. Season 2 of You premiered on Netflix on December 26th, 2019. All episodes were released simultaneously so that loyal fans of the stalker show could binge-watch. It's only been a few weeks since the second season aired, but official word came last week that the show is going to continue into a third installment.
Based on the books by Caroline Kepnes, You tells the story of Joe Goldberg, a violent and sneaky, yet charismatic, stalker who in his own mind believes he has done everything for love and to protect those he cares about. He doesn't see the fault in his actions or that what he is doing is not only creepy but also illegal. This recipe is what makes his character both hated and loved by viewers.
At the end of Season 1, we saw the return of Candace (Ambyr Childers), who we assumed was the dead ex-girlfriend of our leading man Joe (Penn Badgley). The reveal excited viewers with the promise of a second season and more insight into Joe's past.
In the new season, Badgley once again allows himself to turn into the dangerous main character he was in prior episodes. It opens with his familiar voiceover that we all remember from the previous season. We find Joe attempting to survive in the bright lights and cameras of LA, but with a new identity: Will Bettelheim. He moves into a new complex and is eager to stay on the straight and narrow. It doesn't last too long, however, after he encounters Love Quinn (Victoria Pedretti) in a health food market.
It isn't a surprise that the Joe we know is up to his old tricks. Scouring social media for information on Love, adjusting his telescope to spy on her at home, following her around town, and using his charm and book knowledge to land a job at the very market that Love owns with her brother, Forty (James Scully).
While the Will-Love storyline progresses at a good pace, others run parallel that don't really seem necessary. Aside from one incident, we don't see Joe's violent side, which is opposite from Season 1. He is trying harder to remain good, yet often finds himself dragged into sketchy situations. We learn early on that he has moved the bookstore "cage" to LA and has it set up in a storage unit. The cage already has a victim: the real Will Bettelheim, who is not completely innocent himself as Joe finds out when he loses a finger thanks to his prisoner's illicit activities.
The focus of Season 2 is not the real Will or the question of if Joe is going soft, but rather his relationship with Love. At first glance, they seem like the perfect couple, but it's clear they both are hiding things from their past. Aside from the one episode, we do not see Joe physically hurt anyone. In fact, he seems to be the one getting injured most often.
Joe quickly wins the heart of Love, and the two appear to be the perfect couple. At least until Candace tracks him down to LA and hooks up with Love's brother to get close to her and warn her of who Will really is. As Joe is trying to get rid of Candace, he learns that Love hired a PI to follow Candace and learn more about her. The two finally face each other and Candace lays it all on the line: who Will really is and what he has done back in New York to Beck and even to herself.
As we continue through the episodes, we see Joe struggling to remember if he, in fact, did kill someone in his bookstore cage or not. He returns to find the body of his property manager but can't seem to recall what had happened due to a night of drinking and being drugged by Forty.
Again, he is then locked in the cage himself, alongside Delilah's dead body, in a final confrontation with Candace. Trying to talk his way out of it, she calls Love to expose Joe's murderous past. When she shows up, he tries to explain his way out of the cage, even accusing Candace herself of being a stalker who is obsessed with him. In a major twist of events, Love attacks and kills Candace. She returns to the cage and in a tearful confrontation with Joe, she reveals that she is pregnant.
As we saw in the first season, Joe was very protective of Paco, even killing his mother's boyfriend to save him, so upon hearing the news that he is going to be a father, he backs off from hurting Love. As they leave the storage unit, Love's brother lures them both back to the market.
As the trio are confronting each other over past crimes, Forty is holding them at gunpoint. We also learn that Love's past is not as innocent as we may have thought, even framing her own brother for the death of the babysitter, which their parents swept under the rug to protect them both. She tells Forty that she is pregnant and Joe is the father, which upsets him even more. As he is about to shoot Joe in the head, the private investigator busts in and shoots Forty, killing him.  
As Season 2 comes to an end, we see Joe and a very pregnant Love moving into their new home. Is this the end of the sneaky stalker? Not so fast. While he sits outside, he hears something over the fence. An unidentified woman is sitting out in her backyard, and soon we see again that Joe is still, well, Joe.
While I was excited for a second season, after binge-watching the first one I found that some of the storylines were not only flat, but unnecessary. Unfortunately, I have not read the books, so I can't comment on how relevant the characters are, based on their roles in the source material, but I just found that a few of them could have been removed from this season, and it still would have held up.
I enjoyed seeing a different side of Joe this season and it seemed that he found the perfect match in a female version of himself, but one can only speculate whether fatherhood be good for him in Season 3.
So, what will the next season hold for You and its fans? One has to ask, firstly, if the baby is actually Joe's, or perhaps Milo's? If Joe attempts to leave Love, will she kill him? Who is the new neighbor? Someone new or someone else from Joe's past? All of these questions will hopefully be answered in the next season, which currently does not yet have a release date.
If you watched Season Two of You, who do you think the neighbor could be? Stay tuned to Dead Entertainment for details about Season 3 once they are released.