The Purge Season 2 Episode 9 Recap: Hail Mary
As the finale nears, a franchise alumnus returns.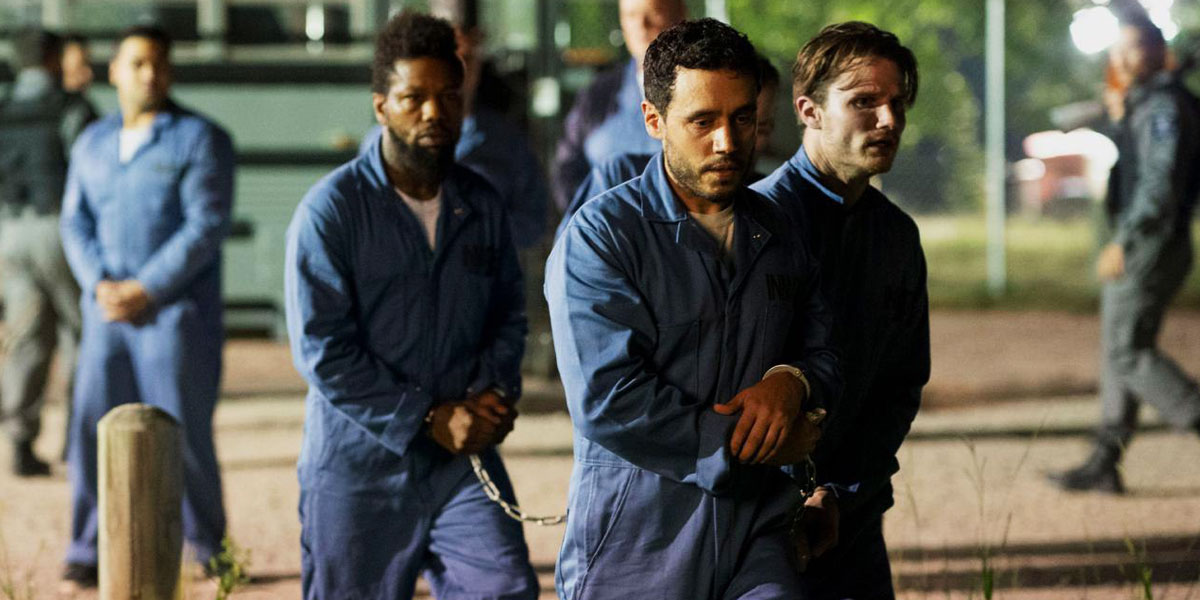 In the ninth episode of The Purge's second season, the annual event is finally upon our cast members and this week's action is at its highest as the season winds down. As we saw last week, it's still unknown who will be standing when the deadly event comes to an end at 7:00 AM.
This season, the TV series has done what the films and last season have not attempted to do: show what happens both during the Purge and during the other remaining days of the year. Why the film franchise hasn't explored this storyline is puzzling, as the show has thus far done a fantastic job giving us insight into the mechanics of the NFFA and how the citizens' lives carry on once the Purge has concluded.
Ryan & Tommy
Last week, we saw Ryan and his group preparing for another heist but it seems that idea has turned into a rescue mission to get one of their own back. A few episodes ago, you will remember Tommy was tagged by the NFFA for committing a crime once the Purge was finished for the year, thus being given a death sentence to be carried out on the next night of mayhem.
When it comes time, those who broke the law are all lead to a bizarre party of sorts, which plays out more as a Most Dangerous Game event. It seems like a controlled hunt in which those who want to Purge can do so without much effort as long as they can pay the price. What's even more chilling is the daughters of the NFFA hand out prizes at the end of the night.
The prisoners, including Tommy, are led off the bus chained together. When Ryan and his gang arrive with the sole purpose of rescuing their man, it just so happens that the owners of the home they had broken into previously are at this event.
As the group finds Tommy, they begin to unchain him before Ryan is hit with a dart. Ironically, darts are not allowed at the controlled event. Once again, rules are broken on a night that seemingly tends to not have rules when it comes to Purging. Despite showing up to rescue Tommy, Ryan finds himself buried alive. Lucky for him, his gang, Tommy included, shows up to rescue him. Their mission now is to get their money and get Ryan out of the country immediately.
Esme & Vivian
Esme arrives at her location and is frantically banging on the door to be let in. Inside, she sees many hackers who are all working and making their money on Purge Night doing what they do best. Speaking to Skye (Tyner Rushing), Esme requests that she be made into a ghost. Despite it sounding crazy, Skye agrees to assist her.
Back at the NFFA headquarters, Curtis and Vivian are out to track down Esme, and it may Vivian who can save her friend. With the help from Skye, Esme is a ghost who is able to mimic her location. It confuses Curtis why she would look directly at one of the NFFA's cameras, so he orders people to head out to find her. After all, she does have a bounty on her head.
As Skye and Esme are on their way to her former workplace, they are ambushed by a Purger in the street who takes out their van. Skye appears to be dead while Esme attempts to break out of the back of the vehicle as the man realizes she is the woman with the bounty on her. She manages to get into the building, using her device to jam the systems and fend off the Purger all at the same time. Vivian warns Esme she needs to work quickly before the systems are back up and someone realizes she is there.
Marcus & Michelle
Our troubled couple decided to stay home and fight for not only their lives, but also their property. Marcus made sure to keep his son safe by breaking his arm so he could be admitted to the hospital, which is off-limits to Purging.
While choosing to ignore the warning from their neighbors, Clint decides he's going to do everything possible to take Marcus out. He throws lit bottles into the house as another neighbor reminds him that their target is not the only one in the house, but he disregards that as his purpose is to kill his target by any means necessary.
Marcus eventually convinces Clint to speak man-to-man. When Clint lies to him that they can work it out to get his foe's guard down, he turns to Michelle and stabs her. Marcus pleads with the group to allow him to leave with Michelle to take her to the hospital before she dies. They lower their weapons and allow him to leave before turning back to Clint and killing him.
Ben
Our maniacal frat boy Ben has just finished killing some of his fraternity brothers but left Scott and Turner alive. He tells Turner that if he wants to live, he needs to kill Scott. With his captive refusing to murder his friend, Ben tapes a machete to his hands and proceeds to drive it into Scott.
Once the kill is complete, he unties Turner's hands so he can wash his friend's blood off them. The unwilling murderer then pleads to be let go. Since Ben hasn't followed the rules all season, he is not likely going to act any differently on Purge Night. Nonetheless, Turner manages to escape and finds his way to a bus that is taking folks around for tours during the nightly event.
Eventually, Ben catches up to his friend. While the pair are standing there, another Purger with the same God mask we have seen Ben possessing all season shows up. Turner runs away into a cemetery as a group descend upon Ben. Thinking he has found a group to go around Purging with, he couldn't be any more wrong. They don't want to him to join them – they want to make him their victim.
Ben realizes he needs to fight to survive and stabs one of the Purgers. Just as we learn there are only four hours left of this annual Purge, Ben is hit by a car. The driver of the car is none other than Marcus, who picks him up to take him to triage. Little does he know he has the campus killer with him.
---
Once again, like last season, our characters' paths are finally converging just ahead of the finale. Fans of the original Purge movie will be thrilled to see a familiar face in next week's final episode. Reprising his role as James Sandin, Ethan Hawke will appear in the opening of the finale, titled "7:01 A.M."

You will remember Ethan was the security salesman who became hunted when he allowed a target to remain in his home, much to the displeasure of a group of Purgers lead by the "friendly stranger," played by Rhys Wakefield.

The opening of Episode 10 will be a flashback scene in which Sandin is testing out his security system during the first annual Purge. It was the original film that inspired not only the TV series, but also three big-screen sequels and an apparent fifth franchise installment coming next year.

Will our cast all survive the last four hours of the Purge? Stay tuned next week for our recap of the final episode of Season 2.

[relatedArticle-0]