The Purge Season 2 Episode 7 Recap: Should I Stay or Should I Go
Preparations begin for the next Purge, which is only days away.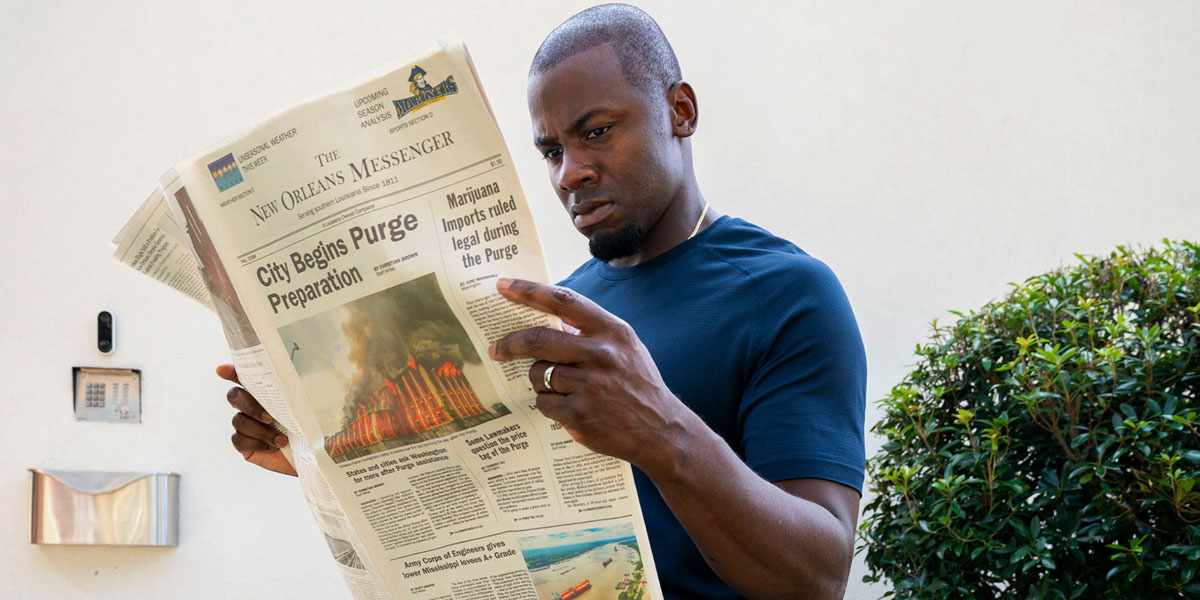 Season 2 of the dystopian horror action series The Purge premiered with the annual event winding down after twelve hours of continuous lawless activities. The season continued to focus on the aftermath of the event as opposed to the night itself, something that has not previously been explored in the films or the first season. The countdown to the next purge also dropped from 116 days last week to only two this episode. This jump makes sense as we approach the end of the season's ten-episode run. It looks like the finale will conclude how it began: during Purge Night.
During last week's episode, we saw two of our characters join forces while one has his secret discovered. We also learned that the NFFA's plan to enforce the one night with no rules may be backfiring, as crimes are continuing to occur during the remaining 364 days of the year.
Ryan and Esme
Ryan, who is now confident that Esme is not a threat to him, takes her to a secret location where, with the assistance of various electronics, she logs into the NFFA system. It's a risk, but she isn't going to back down from gaining the information that she needs at this stage. Ryan, who has already been betrayed by his group members, suggests she alters her look and directs her to a guy to get a new passport. When Esme refuses to flee, he tells her, "Graveyards are full of heroes."
When Ryan's mother goes missing from the nursing home, the pair head out to locate her. As he and his mother are escorted back to the car by an officer, he discovers that Esme has fled the car and is waiting back at the safe house for them. She also admits that she was the one that tagged his buddy Tommy before confessing that she is now determined to right the wrong that the NFFA did to citizens. The news of her actions against his friend results in him telling her she needs to leave. I'm thinking that their paths will cross again before the finale.
Marcus and Michelle
Last week, Marcus confronted the man who Michelle had an affair with. Getting the answers, although not ones he wanted, he is still trying to understand why he has a bounty on his head. He knows that this Purge is going to be worse and tries to encourage Michelle to leave. When he goes outside to pick up the newspaper, he sees neighbors, including Sam, go into a backyard.
One of them glares at Marcus and confronts him, giving him an ultimatum to leave and have the bounty removed or face certain death if he stays, as he will be the main target on Purge Night. The couple decides to leave when Darren arrives scared and asking to go with them, but unfortunately due to him helping Esme, he is tagged and not allowed to leave the state. They are turned away at the border checkpoints. Marcus and Michelle then decide to stay and fight, since they will not leave Darren behind.
Ben and Kelen
After Kelen discovers Ben's "God Mask" in his suitcase, she is struggling to come to terms that her boyfriend is the campus killer. For whatever reason, Ben could not let go of the mask despite burning the remaining evidence he had from the murders in his parents' backyard. He was unaware that while he was in the washroom, Kelen looked into the suitcase to see what he put in there.
When she told him she wanted to leave the next morning, he insisted on driving her home. After constant questioning, she finally caves and admits that she found his mask. Ben confesses to the Purging he has been doing. Surprisingly, he hands her a knife, claiming he wants her to feel safe while with him.
When they stop at a gas station, Kelen puts her escape plan into action. She leaves the knife in the car, proceeds to write a note in the washroom, saying she has been kidnapped by the campus killer, and gives a description of the car they are traveling in. She comes back only to find Ben not there, but he returns and thanks her for allowing him to use her cellphone.
They continue to drive for a bit, but he brings them to a secluded area where he admits he found her help note back at the gas station. He demands her to explain why she wrote it, telling her to take the knife and cut him so she can feel how freeing it is. Instead of just cutting him, she drives the knife into his leg, twisting it, and then flees the car for help.
Attempting to get help from a passing car, she winds up getting hit by a truck. Ben limps towards her, not sure if she would die from the injuries from the hit, and decides to choke her to make sure she does die, by his hands and in his arms.
---
With the Purge just two nights away, the character storylines are in full force and where the writers will take the final episodes is anyone's guess. Will Ryan and Esme join forces after all? Will Marcus stand up to the neighbors who want him dead? Will Ben continue to Purge leading up to the event.

All this and more will soon be revealed. Stay tuned for next week's recap here on Dead Entertainment.

[relatedArticle-0]