Scream Factory Releasing Munster, Go Home! and Universal Horror Collection: Vol. 4 Next March
America's funniest family joins other horror greats with these upcoming releases from Shout! Factory's popular horror banner.
By Jay Gervais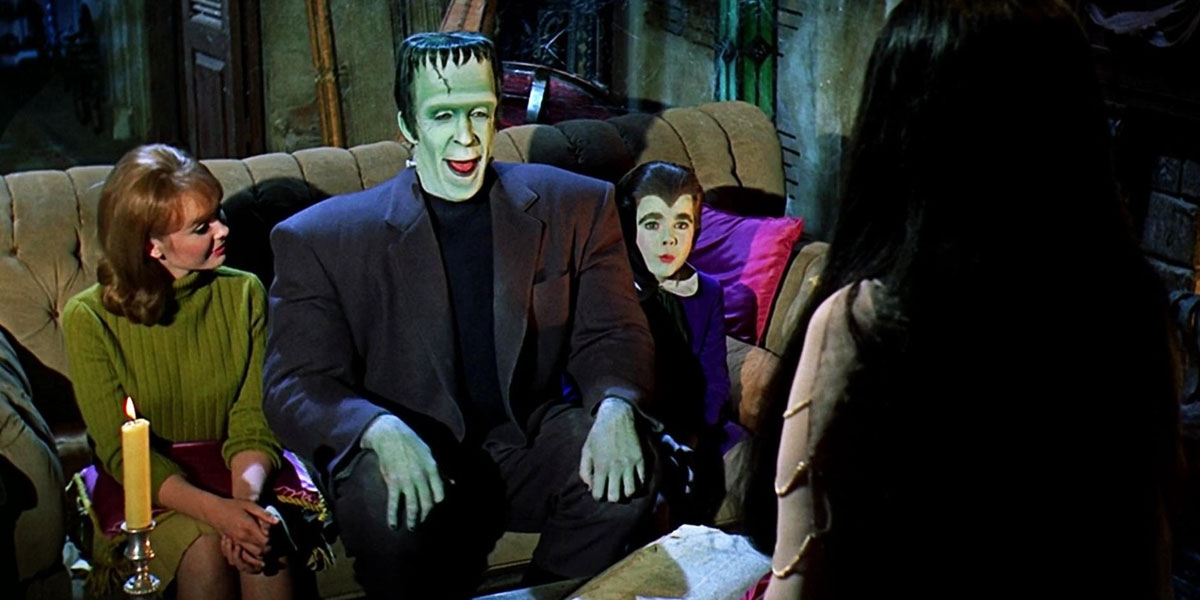 Earlier today, Shout! Factory announced via its Scream Factory brand that it will be bringing The Munsters' first feature film to Blu-ray along with Universal Horror Collection: Vol. 4 as part of that ongoing series, both slated for release in March 2020. The bonus features are still being ironed out by the retailer, but for now you can check out the box arts and other details released thus far.
Following the wildly popular The Munsters TV series, original cast members Fred Gwynne (Herman Munster), Yvonne De Carlo (Lily Munster), Al Lewis (Grandpa) and Butch Patrick (Eddie Munster) are reunited in this hilarious movie as you've never seen them before... In spooky color!

Herman inherits a mansion in England and moves the family into an estate full of ghosts and other surprises. Also starring Terry-Thomas (The Abominable Dr. Phibes), Hermione Gingold (Bell, Book and Candle), Richard Dawson (Hogan's Heroes), Bernard Fox (Arnold) and horror film legend John Carradine (The Howling), and directed by TV veteran Earl Bellamy who directed episodes of the original series, Munster, Go Home! is a spookily splendid return for the first family of fright!
If you're interested in pre-ordering this item for the current sale price of $22.99, plus any associated shipping costs, head on over to Shout! Factory today. It's expected to release on March 31st, 2020.
Next up, the Universal Horror Collection: Vol. 4 includes four tales of terror from Universal Pictures' archives: Night Key (1937), Night Monster (1942), The Climax (1944), and House of Horrors (1946). Fans of classic genre films will certainly recognize Boris Karloff (1932's The Mummy, Frankenstein), Bela Lugosi (Dracula), Lionel Atwill (Captain Blood), and Rondo Hatton (The Pearl of Death), all of whom appear in this great collection.
Boris Karloff ignites the screen as an inventor who is kidnapped by a gang of burglars and forced to help them commit robberies in Night Key. Bela Lugosi stars in a creepy tale of strange characters, secret passages and a murderer who masters the art of "mind over matter" in Night Monster. In The Climax, Karloff is terrifying as a mad doctor whose insane jealousy over a beautiful opera singer may drive him to murder. A giant of a man is used as an instrument of evil by a mad sculptor in House Of Horrors.
You can pre-order this item for the current sale price of $55.97, plus any associated shipping costs, by visiting this page. It is expected to release on March 17th, 2020. If you do not own the other volumes in this series, these are still available as well on the following pages: Volume 1, Volume 2, and Volume 3.
Which one of these releases are you considering adding to your collection? Let us know in the comments below or on any of our social media accounts. Stay tuned to Dead Entertainment for all the latest news and updates in the world of horror!