Diablo IV Developers Share Early Look at Sequel's Itemization
The latest system design discussion is a deep dive into the broader direction the new game is looking to take with its loot.
By Chris Morse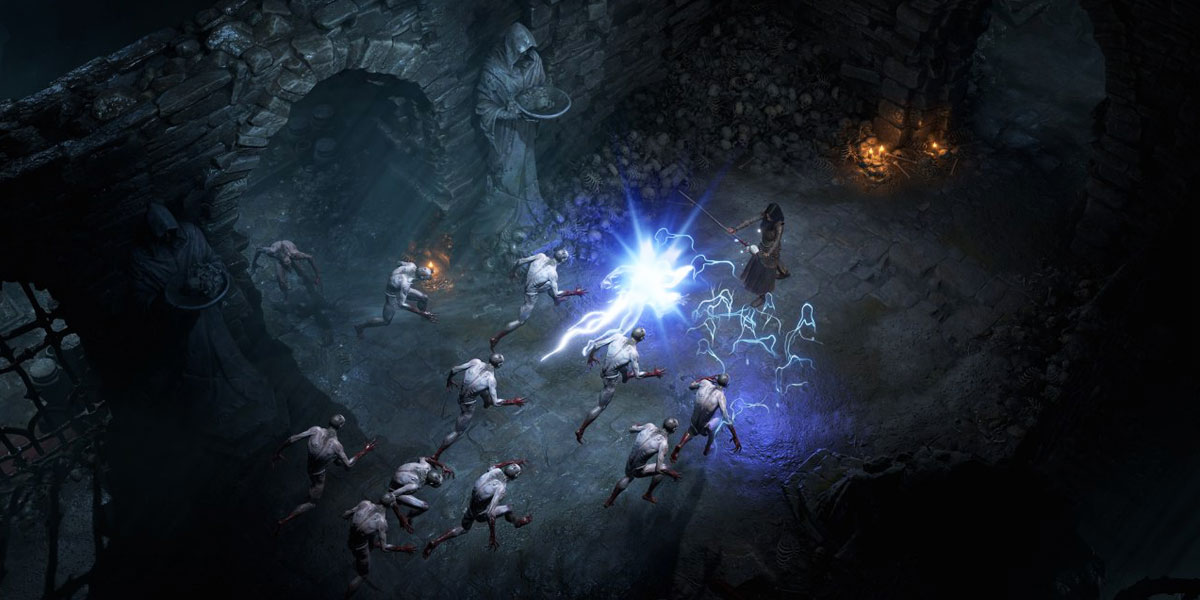 Blizzard is currently hard at work on the next installment of its popular dungeon-crawling Diablo franchise and the latest developer blog offers a deeper look at the item design philosophy that will be present in the upcoming sequel, Diablo IV. It's important to note that all of the ideas discussed therein are in the very early stages and subject to iteration (and even overhauls) as time goes on. The point of these posts is to involve the community in the process and get early feedback on the systems to provide the best possible outcome in the end.
Last time, the studio answered a number of burning questions from the fans following the game's BlizzCon 2019 reveal and promised more information about items would be coming soon, so here we are. We are going to break down a few of the highlights for you here, but don't be shy about giving the full post a read if you are among the more enthusiastic fans of the series.
The blog starts off by reiterating that the major goal behind the item system is to offer plenty of depth and character customization, coupled with an adherence to an overall company policy of creating "easy to learn, difficult to master" experiences in its games. That being said, the developers aren't looking to copy systems from Diablo II or Diablo III, but rather take the best parts of each, iterate on those, and add in plenty of new features to get excited about along the way.
One major change being discussed is increasing the number of affixes per item, which are the secondary bonus traits that help make an item what it is (raw power, critical chance/damage, resistances, movement speed, and so on, just to name a few). The team is looking to ensure even non-Legendary effects can be difference-makers on your gear and this will be achieved partly with the addition of new stats: Angelic Power, Demonic Power, and Ancestral Power.
These stats on their own will not only empower your character with bonuses such as increasing duration of beneficial/harmful effects or offering a higher proc rate for on-hit effects, but they will also be used as prerequisite requirements to empower some of the abilities you have in your arsenal. For example, an item might unlock an extra bonus for one of your spells or abilities if you have a certain amount of one of these stats, as illustrated in the provided example image below.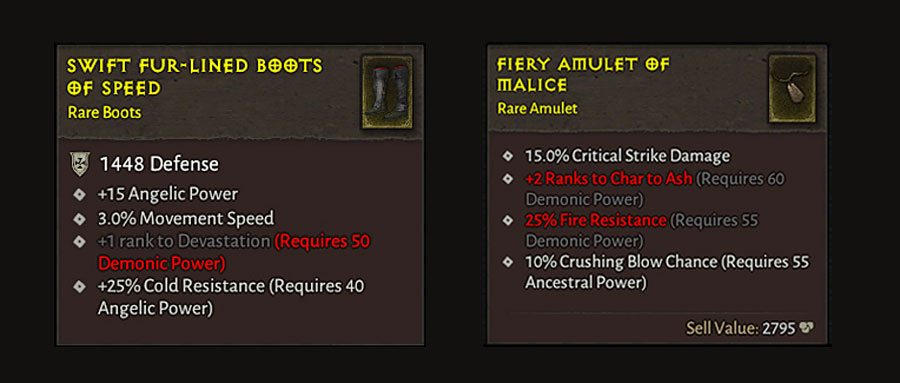 "You might find an amulet with the perfect stats for your build, but some of its Affixes may require Demonic Power when you've previously focused on Ancestral," lead systems designer David Kim explains in the developer update. "Maybe your current amulet is the primary source of your Ancestral Power, so equipping a new amulet would mean potentially making sacrifices elsewhere."

"With this system, it will be easy to identify items with good stats, but it will take some thought and planning to decide whether the item is good for your build. The best items for your character will really depend on what you currently have and how you've built that character, making it more difficult to just look up the right answer online."

One small change being discussed to make itemization a little more straightforward without sacrificing depth is that Attack will only be found on weapons while Defense will only be found on armor. Jewelry won't have either, so most of the choices you will be thinking about will be more about the affixes rather than the raw power of an item in terms of Attack or Defense. It sounds more accessible from a newcomer standpoint while ensuring that advanced players are still seeking out more nuanced variations of effects on their gear to optimize their endgame builds.

The final big topic today is the removal of Ancient Legendary items from the game and one of the currently-proposed solutions for replacing it. Ever looted a Rare-quality item with perfect rolls that will never be viable thanks to Legendary affixes? It sounds like that's possibly going to change with a new late endgame system in which players can occasionally loot consumable items with a random Legendary affix attached. That bonus can then be applied to any non-Legendary item.

What this means is that in your pursuit of eternal build optimization, you might be able to "create your own" Legendary version of another item you find that gives it one of those effects you can't afford to miss in your build. This may even open up further possibilities with respect to gearing, such as allowing you to add an affix from one slot to another using a well-rolled Rare item. This would no doubt give players even more build flexibility, which is what one of the ultimate goals for this sequel is.

With Diablo IV development ongoing, there are many more updates ahead and the developers are hoping fans will stay involved to offer continued feedback as design and iteration continues. Whenever the next update rolls out, we'll be sure to fill you in on the key takeaways. Stay tuned!

[relatedArticle-0]