Jason Takes Niagara Falls for Annual Horror Convention
Kane Hodder will appear in his full costume from Part VIII at this year's Frightmare in the Falls.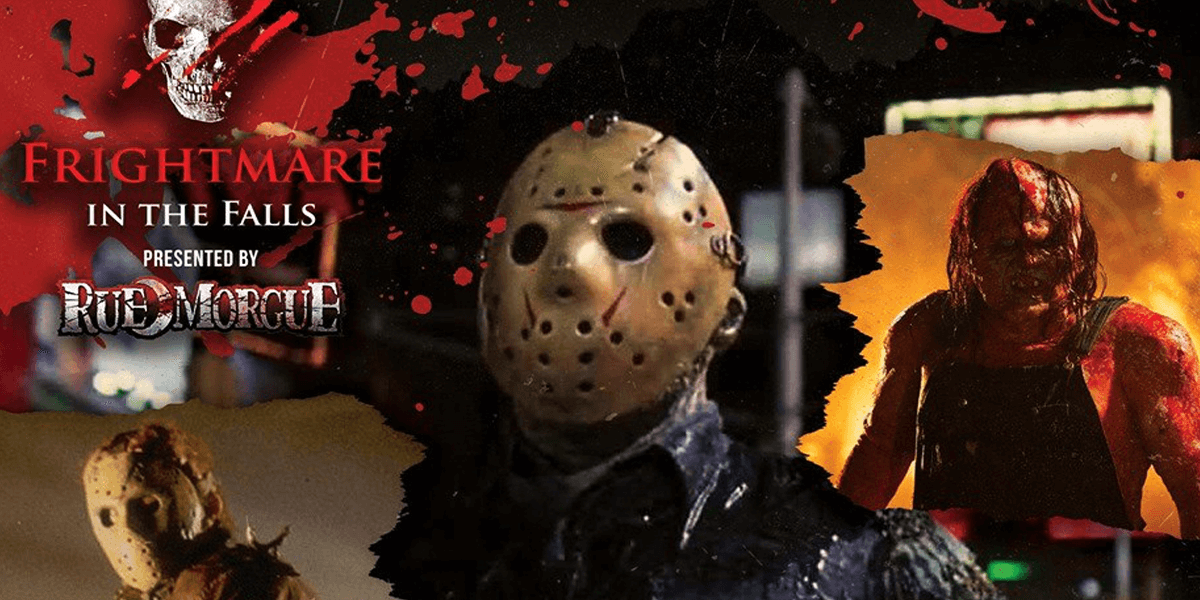 Niagara Falls, home to one of the Eighth Wonders of the World, will once again be hosting its annual horror convention, Frightmare in the Falls. For the third year, the convention will cater to horror fans by bringing in iconic guests from the genre, horror-based vendors, guest panels, and screenings of independent horror films. The convention, presented by Rue Morgue, runs October 26-27th in Niagara Falls, Ontario at the Scotiabank Convention Centre.
Last year, we reported on the event by filming and sharing Q&A panels featuring the late Steve Dash, C.J. Graham, and Doug Bradley. You can expect some similar coverage from this year's event as well.
Since Spring, the con's official Facebook page has been posting announcements regarding the guests who are scheduled to appear during the last weekend in October. This year's list is nothing short of incredible with the likes of Bill Moseley, Dee Wallace, Tony Moran, William Forsythe, Ari Lehman, Robert Mukes, Andrew Divoff, Adrienne King, Linnea Quigley, R.A. Mihailoff, Julian Richings, Michael Berryman, John Dugan, Lar Park Lincoln, Barbara Crampton, and Terry Kiser.
In addition to these first-timers to Frightmare is another guest who will be slashing his way through the long fan line ups, someone who I met for the first time at Frightmare in the Falls' inaugural event: Kane Hodder. This time, however, the actor is returning in his full costume from Friday the 13th Part VIII: Jason Takes Manhattan for photo ops.
Many fans of the franchise hail Hodder as their favorite slasher who has donned the hockey mask. Anyone who has had the honor of meeting him knows that besides being a total prankster, he is a genuine and friendly guy who always gives plenty of time to each guest who comes to his table.
Tickets for the event are now available for purchase. There are different price tier options. Individual day passes or weekend passes are available in advance and at the door. VIP options, which guarantee early entrance, front row for panels, and line-hopping for autographs and photo ops, are available online only while supplies last. New this year is the extremely-limited Ultimate Fan Pass. This entitles the bearer to receive an autograph and photo-op from every celebrity who is at the convention. Only 15 are available.
The convention also provides the opportunity to choose from a number of potential photo ops, including a Camp Crystal Lake backdrop with the franchise's alumni, the Stranger Things living room display, a haunted cemetery complete with tombstones and skeletons, Thor the 'Supernatural' Impala, an Evil Dead cabin display, The Butcher Shop that features special makeup effects, and Ecto-1, the Ghostbusters car. All of these will be on display for people to see and pose with for photos.
This week, they have also begun announcing the vendors who will be selling their horror-related goodies and collectibles. A full schedule of panels, screenings, and photo ops will also be released in the upcoming weeks. Be sure to follow them on Facebook and their official website for more details, to purchase tickets, and announcements as they are released.
If this year is like the previous two I have attended, it is safe to say that it will be another fantastic time. I'm looking forward to reporting back from the convention in October.