Men Behind the Masks: Friday the 13th Reunion Panel at Frightmare in the Falls
The late Steve Dash joined C.J. Graham in entertaining horror fans at the 2nd annual event in Niagara Falls.
Editor's note: While preparing this footage and article, we were saddened to learn of the passing of Steve Dash and would like to take this opportunity to remember the actor in the same way that he was memorable to us in life. Thus, you can enjoy our full panel recap much like he enjoyed participating in it. We would also like to dedicate this piece to him as well as extend our deepest condolences to his family, friends, and fans. Rest in peace to a beloved Friday the 13th great.

Known for being a majestic wonder of the world, Niagara Falls is now home to the annual all-horror Frightmare in the Falls convention, which we attended back in late October. In its inaugural year, the event welcomed horror icons such as Kane Hodder, Malcolm Manare, Alex Vincent, and Bill Johnson, to name a few. They promised that the next year would only be bigger and better.
This year, they kept their promise. With legendary names in horror on board, such as Tom Savini, Doug Bradley, Adrienne Barbeau, C.J. Graham, and the late Steve Dash in attendance, it was definitely shaping up to be an incredible weekend for lovers of the horror genre. In addition to the celebrity guests, they also featured numerous vendors that were selling horror related items. It really was a one-stop shopping event for any horror fan that was looking for unique and hard to find collectibles.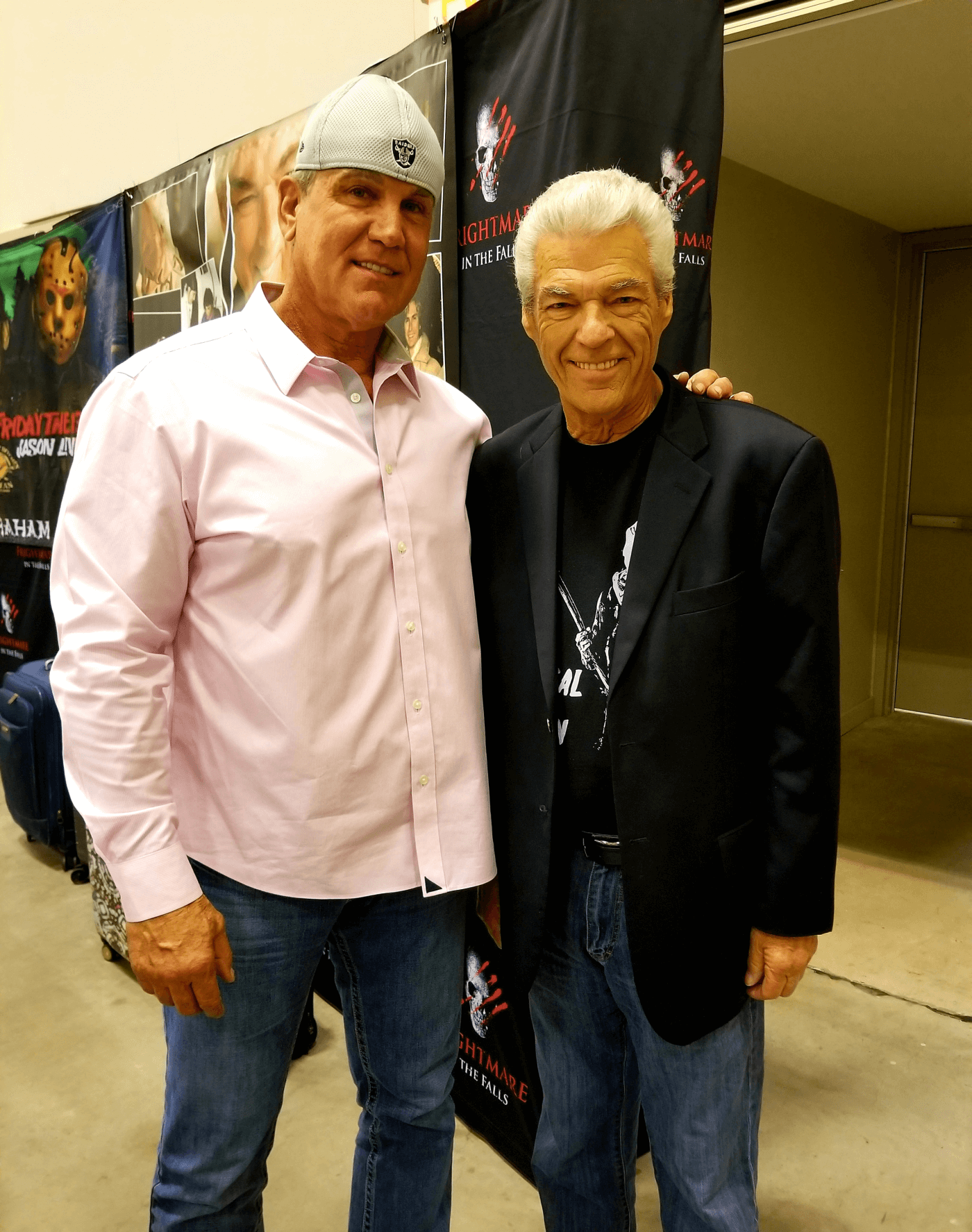 Friday the 13th fans were not only presented with the opportunity to meet two actors who portrayed the maniacal camp slasher, but also had the chance to have photos taken with both of them in their respective costumes from the films. Steve Dash, remembered by fans as the "Real Jason" from part 2, proudly put on his sack and grabbed his pickaxe to pose with fans.
On the other hand, C.J. Graham became famous for putting on the hockey mask in part 6 of the franchise and he too had fun grabbing guests and posing with them. Folks had the choice of photo opportunities with each of them individually or together, along with a table that displayed the replica severed head of their beloved mother Pamela.
Saturday afternoon, taking a break from their tables to do their panel, C.J. and Steve sat before us in the conference room along with other fans, eager to hear their stories and ask them questions.
For anyone who has seen Steve on a panel before, or met him, you will know that he is quite the character with no filter when it comes to answering questions, be it from the host or audience members. This panel was no different. Right from the start, despite C.J. whispering to Steve about kids in the room, he remained his brash, forward self, at times having us laughing as we listened to his stories.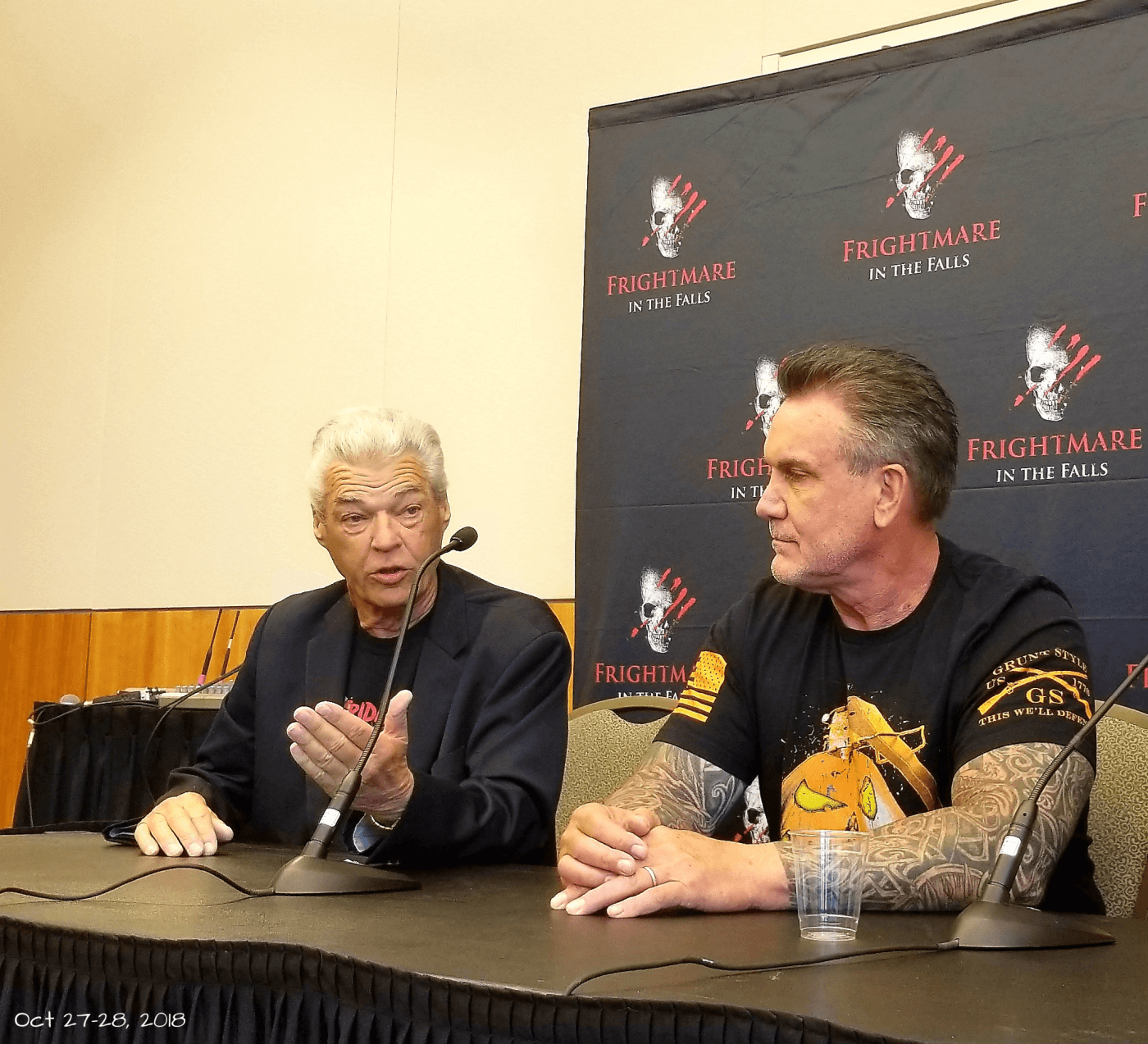 Steve and C.J. have this chemistry that is evident when they speak to each other and about each other. You can tell that these men enjoy making fun of each other but in a respectful way, all to entertain those in attendance. It really was one of the most fun-filled and comical panels of the two-day convention.
C.J. and Steve told stories of their experiences playing the masked killer. Steve also shared with us some stories of his days as a police officer. They proceeded to eagerly tell us about their involvement in the upcoming fan film, Friday the 13th: Vengeance. The film is said to take place decades after the events in Friday the 13th Part VI: Jason Lives. C.J., who played Jason in that film, returns as Elias Voorhees, Jason's father. Before his passing, Steve Dash was set to revisit his days as a New York City police officer by playing Sheriff Jason Realotti.
The film is currently raising funds on Kickstarter and anything above their goal will be donated to the Shriner's Children's Hospital's burn victim unit. Both Steve and C.J. told us that they would be donating their salaries from the project to benefit the children's charity as well.
Before we knew it, their hour was up and they went to prepare for their photo opportunities. Downstairs in the "kill shack," they returned in full Jason attire and began posing with the long line of fans. Those who had tickets clearly loved the opportunity and it appeared that both C.J. and Steve enjoyed revisiting their roles.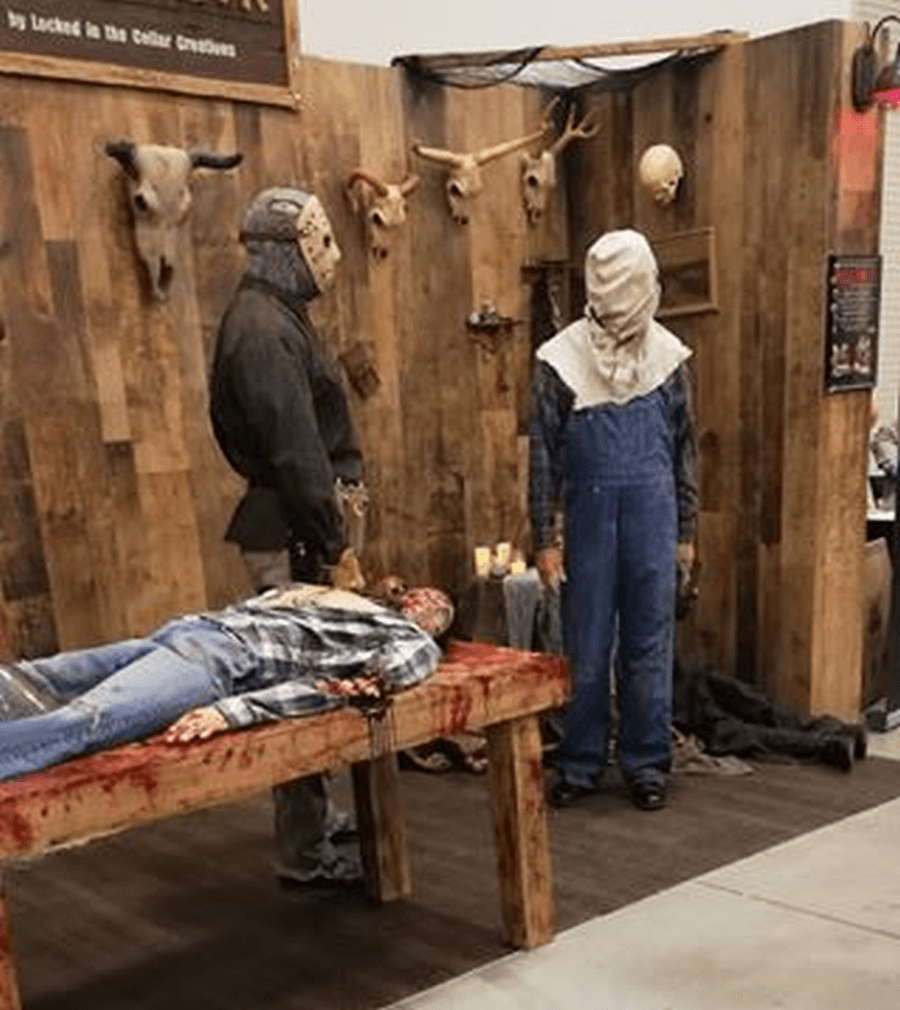 The next day, I decided to stop by C.J.'s table to get a photo autographed. Both days, he made it a point to come out from behind his table to those waiting in line and shake our hands. When it was my turn to get his autograph, we proceeded to have a short show and tell of our tattooed arms. Being a bit slower on a Sunday, I was able to spend more time speaking with him without the fear of holding up any long lines. A very friendly and approachable man, C.J. made it a point to thank every person for coming up to him that weekend. His wife, who was sitting next to him, was equally friendly and welcomed interaction from fans as well.
Steve, while initially appearing as not approachable or inviting, was very friendly once you actually had a chance to chat with him. An interesting man, he shared with us photos of his custom golf cart that he was very proud of and some others of his younger self. He was very accommodating to requests of photos and autographs throughout the weekend. He will no doubt be remembered for his love and gratitude for his fans.

Overall, it was a successful second year of Frightmare in the Falls. With the date already announced for next year, all that remains to do is wait until next summer to find out who the guests will be.
To learn more about Frightmare in the Falls, stay tuned on their official website and Facebook page for upcoming announcements for next October's convention.