The Walking Dead's Robert Kirkman Talks Comic Book Ending, Addresses Possible Negan Spinoff
Another comic series could certainly happen, but should fans expect it to?
By Chris Morse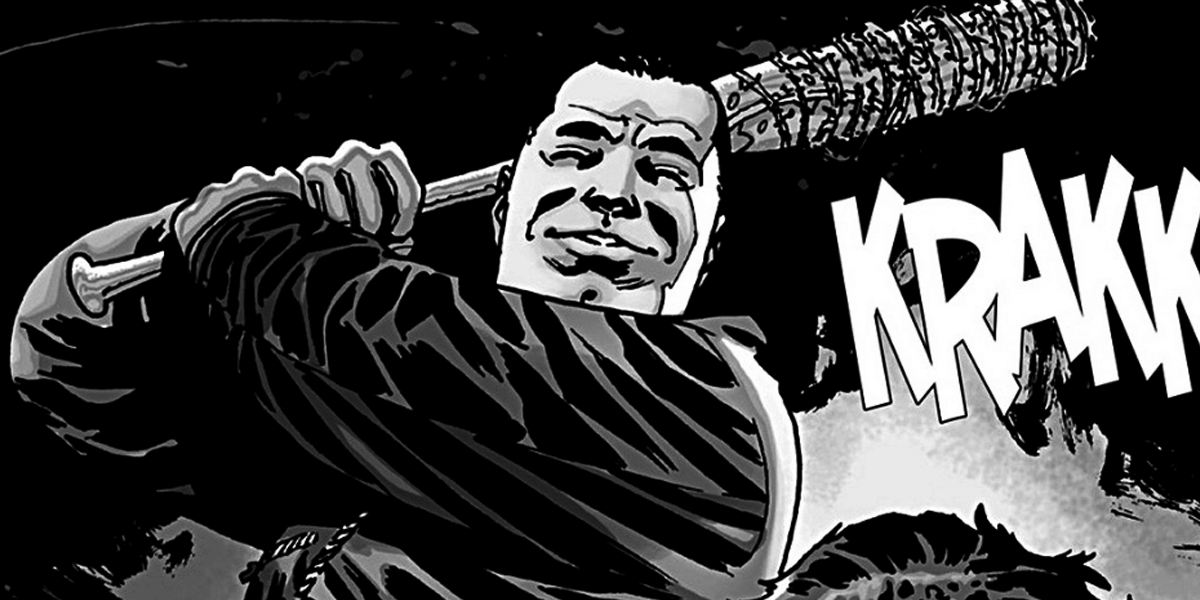 The surprise ending of The Walking Dead comic left readers with a satisfying and complete finale, but creator Robert Kirkman still had plenty to talk about this week at San Diego Comic-Con, where he finally addressed the elephant in the room and spoke at length about the series. After the final fate of Rick Grimes was revealed in #192, the next and last issue caught everybody by surprise and put a cap on the legendary 16-year run of comics.
During this week's event, Kirkman held a panel and took the time to address fans in attendance about the ending, even touching upon the possibility of a Negan-centric spinoff at some point. Thanks to The Hollywood Reporter for the quotes. Note that this article does contain further spoilers about the final issue and how everything wraps up.
"For the characters inside the story, in hindsight, it's a better world than what came before," he said, referring to the final message of the series. "It's a world where people appreciate things more, come together, work together to solve problems instead of fighting and picking problems. People have been pushed to their limits, and they are in a mindset that's different from where we are now. It's a more peaceful world and it makes people appreciate what they have more. That's the message: the zombie apocalypse happens, people die, but at the end of the day, you learn to appreciate what you have."
Why end the series now? "I feel like the story wasn't repetitious. I felt like it escalated," explained Kirkman. "But I was acutely aware of how it could become repetitious and I really wanted to avoid that. I wanted there to be a narrative flow, and in order to achieve that, I knew I would have to wrap it up."
In the final issue's farewell column, the series creator revealed what could've been a much different, much earlier ending for the comics. In addressing that original conclusion, Kirkman also took the time to talk about what makes the actual finale stand out.
"It was a futile ending," he commented. "It was me as a young writer figuring out how to cap everything off. It was really unsatisfying, because it made everything pointless. I considered it, but I was having fun with the book and I kept generating new ideas for the book. When I came up with the idea of the ending, that's what it brought it about. The ending gave it purpose. It made everything matter. It gave purpose to everything Rick did, and how he impacted the world. It's hopeful to see how people who are struggling and dealing with loss are making the world a better place and making a world that's better and good. Once I came up with the storybook, and [Carl] is reading to his daughter, I became very laser-focused on getting to that moment."
"I'm really proud of the fact that The Walking Dead stands as a solitary piece," he continued. "You get a complete story. If you wanted to follow Amazing Spider-Man, you would need to follow all these different [issues], it gets tedious. I love that you don't have to do that with Walking Dead. It's also work, and I'm very happy to have less work right now. It would be fun to explore that stuff in the future, but there are no plans to do it."
One particular question stood out, in which Kirkman was asked if there could be other comics set in the Walking Dead universe. After initially not saying much, the creator admitted something could be done with Negan, joking that it might be a good backup plan if his career goes downhill from here. Still, though, he played it on the coy side, so something like that could certainly happen at some point.
Astute readers may also recall Kirkman's teases following issue 192, in which the creator dropped some hints that, following Rick's demise, the comic could pivot towards Negan. "See you next month," he wrote. "And with Rick Grimes gone… who will be the focus of this series?! I'll give you one fucking fuckity guess, you fuckers."
Naturally, that never came to fruition with the next issue being the last. In fact, the popular villain only appeared in the final issue as part of a flashback, but he's still alive and well in the end. However, these small acorns could add up to some future plans to do more with the character. Nothing is certain, but it could happen.
For now, though, the comic series has come to an end and all eyes are on what comes next for the writer and comic creator. Be it other properties altogether or something new set in the world of The Walking Dead, only time will tell. Stay tuned!