NECA's First Wave of SDCC Reveals Include Life-Size Child's Play Replicas, Toony Terrors, It, and Godzilla
We'll have plenty of new reveals covered all weekend long.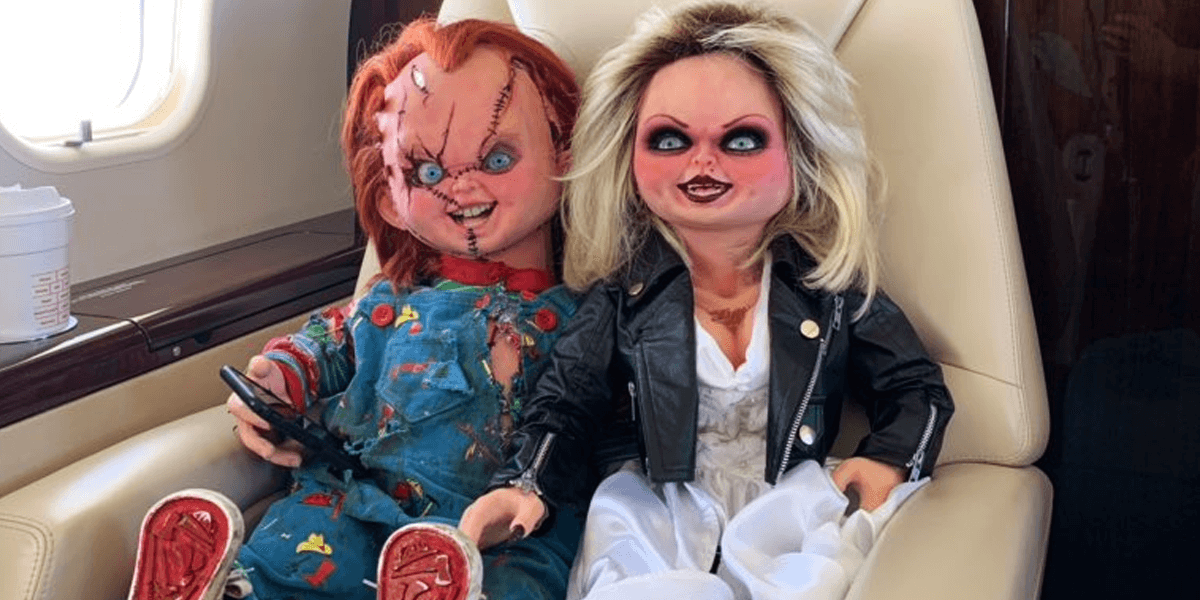 San Diego-Comic Con has begun, which means so did the reveals of some of the upcoming collectible toys from industry leader NECA. As usual, horror fans have a lot to look forward to in the coming months. Here are all of the official day one reveals.
Life-Size Chucky and Tiffany
First up, we have life-size 1:1 replicas of murderous doll Charles Lee Ray, a.k.a Chucky, and his bride Tiffany Valentine as they appeared in 1998's Bride of Chucky. Each doll is around 30 inches tall and was painstakingly recreated down to the most minor of details in conjunction with the film's actual puppeteers.

Both Chucky and Tiffany are set for release in February of 2020 with a retail price of $469.99 each. These are quite a bit more expensive than what we are used to with NECA, although the quality and detail of the final products makes this more than a fair price.

[blockquote-0]
Toony Terrors Wave 2 Assortment Pack
Next up, we have the second wave of the appropriately-named Toony Terrors, 6-inch tall figures that give off a distinct Saturday morning cartoon vibe. This three-pack includes figures of Leatherface from Texas Chainsaw Massacre, Pinhead from Hellraiser, and Halloween's Michael Myers, along with a jack-o-lantern accessory. The first wave, which should release soon, included A Nightmare on Elm Street's Freddy Krueger, Friday the 13th slasher Jason Voorhees, as well as both versions of Pennywise from the 1990 mini-series and 2017 film versions of Stephen King's It.

At the moment, pre-orders are available from online retailers for both the individual figures from wave 2 as well as the three-pack. A single Toony Terror figure retails for $15.99 with the assortment pack coming in at $46.99. It would appear if this is the case, the only way to get the jack-o-lantern accessory is to order the three-pack, although we will let you know when NECA clarifies this detail. Wave 2 will ship in October 2019, just in time for Halloween.

[blockquote-1]
Toony Terrors Chucky & Tiffany 2-Pack
Child's Play is not getting left out of the cartoony fun, with both Chucky and Tiffany receiving the Toony Terror treatment in a cool 2-pack. Both figures have been upscaled to 6 inches to match the rest of the line, since you would barely be able to see them if they were true to their doll scale. The Toony Terror Chucky & Tiffany 2-Pack retails for $23.99 and is set to ship in November 2019.

[blockquote-2]
It (1990) Clothed Pennywise
NECA is showing some more love for the 1990 It TV miniseries and the version of Pennywise played by the legendary Tim Curry. This new version of everyone's favorite dancing clown features "Mego-stylized" clothing made of real cloth material, something the company has been pushing with many of their releases over the last year. Clothed 1990 Pennywise will retail for $44.99 with a release date set for November 2019.

[blockquote-3]
Godzilla 1964 (Mothra vs Godzilla) 12" Head to Tail Figure
The final official announcement from the first day of San Diego Comic-Con was a black-and-white 12" head to tail Godzilla, based on his appearance in 1964's Toho classic, Mothra vs Godzilla. Godzilla will cost $27.99 and is set to ship in November 2019.

[blockquote-4]

Which of the figures revealed by NECA are must-haves for your personal collection? Stay tuned for more action figure and collectible news from San Diego Comic-Con and more right here on Dead Entertainment.