Fear the Walking Dead Showrunners Preview Season 5 and Dwight's Upcoming Crossover
Ian Goldberg and Andrew Chambliss offer an early look into how the character will transition from The Walking Dead to the spinoff series.
By Chris Morse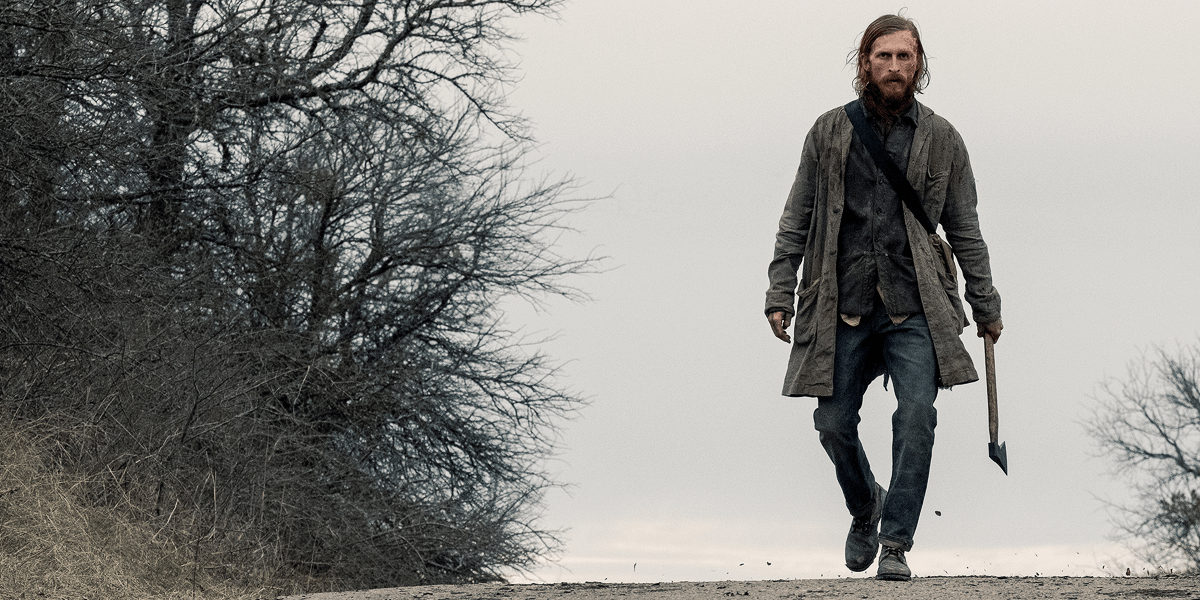 It's nearly time for another crossover in Fear the Walking Dead. This time, it's The Walking Dead Savior Dwight who will be making the journey from the main series to the spinoff. With the show's fifth season finally making its debut on June 2nd, EW recently had a chat with showrunners Ian Goldberg and Andrew Chambliss about the upcoming season, crossover, and what it all means for the series.
Regarding the overall plot going into Season 5, Goldberg had the following details to share ahead of the show's return early next month.
We ended season 4 with our group coming together and rallying behind this shared mission of helping people out in the world, and that was a mission that we saw come together over the course of season 4 with people like Madison and Polar Bear. It was about seeing our group of characters come together, this unlikely family, and using those philosophies that Madison and Polar Bear began in their own ways and using them to go forward and to help people out in the world, both as a way to make up for the bad things that our characters had done, and also just a way to make the world a little bit better.

That's where we left season 4, and when we come in in season 5 it is a couple months later, and we're going to see how that help mission has been going for our group. We're going to come in right in the middle of one of these help missions, and we're going to see that the group has gone to some pretty extreme measures to carry out their goals to help someone in need. It's going to take them to an entirely new and strange and dangerous environment that they've never been to before. It may involve a plane, and we're going to see the difficulties that their mission presents, but also the internal things that our characters are dealing with that are maybe preventing them from fully living. That's where we start the season, and those are the things that we're going to be exploring.
When asked whether the new season will be broken up into two distinct stories for each eight-episode half, Chambliss revealed that although the structure will once again be used, both halves should feel like they connect a bit more on the big picture level.
It's a little of both, and what I mean by that is there is a definite story in the front half that we will see a conclusion for, but then it is going to spin our characters into a story for the back half in a way that is very different than we did in season 4. There's going to be a through-line in the entire season in terms of our characters' overall mission, but how it affects them and how it affects others, that is something that is going to change from the front half of the season to the back half of the season.
Finally, with respect to the Dwight crossover, Goldberg offered a preview of what viewers can expect from the character's introduction, especially considering his history with Morgan, who also transitioned over from the main series last year.
We love Dwight. We love Austin Amelio. We're huge fans of his character and his work on The Walking Dead. When we started to talk about bringing Dwight over, it started in the same place for us emotionally as when we were talking last season about Morgan, and that is: Emotionally, what's the story we're telling on a bigger scale this season?

This season is going to be about our characters grappling with the things they've done in their past and looking for redemption through the things they're doing now, and for anyone who knows Dwight's story on The Walking Dead, he is someone who did a lot of bad things over his time as a Savior. He hurt a lot of people, he did a lot of things he regrets, but he was given a second chance by Daryl at the end of season 8 when Daryl spared his life and sent him away and told him to find Sherry and to make it right. That's the last we saw of Dwight on The Walking Dead, and we're going to see how that's been going for him and if he's been able to achieve either of those things that Daryl told him to do.
Front and center in Season 5 of Fear the Walking Dead are a number of returning characters who are making it their duty to connect with other people and help them out in any way they can. The group has adopted Morgan's mission to keep hope alive and put their faith in others to survive in this post-apocalyptic world together.
We recently learned that former Vulture Charlie, played by Alexa Nisenson, has been promoted to series regular status, with Once Upon a Time's Karen David being coming on board as a series regular as well. They will be joined by Lennie James' Morgan Jones and another crossover character as Austin Amelio's Dwight moves over from the main series.
In addition, it was previously reported that Ruben Blades and Daniel Sharman would be returning to reprise their roles of Daniel Salazar and Troy Otto respectively. The spinoff series is still very much in a transition phase after it ditched most of its original cast, leaving behind only Alicia Clark and a handful of newer additions along the way.
Fear the Walking Dead will return to AMC on June 2nd, 2019. Keep an eye on Dead Entertainment for all the latest news and updates on The Walking Dead and its various spinoffs.