There's More to This Creepy Us Trailer Than Meets the Eye
The latest teaser for Jordan Peele's next film is an odd one at first glance, but there are multiple ways to watch it.
By Chris Morse


We have discovered a very cool teaser for Jordan Peele's upcoming film, Us, even though it looks strange at first glance. What we have here is a 10-minute long video showing up-close footage of a rabbit before panning out to reveal a classroom with several of the animals locked up in cages behind the desks. There may be some symbolism at play that will tie into the film, or broader social commentary in general, but there is definitely something more interesting going on here. Let's go down the rabbit hole.

You may have noticed the occasional flicker of alternate frames spliced in as you watch. It turns out these occur every 10 seconds in the video, which lines up perfectly with the intervals in which you can see preview frames while hovering over different timestamps on a YouTube video. Thus, as you move your mouse (or finger on mobile) across the whole time span of the video, an entire different sequence of footage plays out in the small preview window on the bottom.

It's hard to totally make sense of it all, but the imagery first shows a clock reading 11:11 before revealing another scene of a man holding up a sign referencing the Bible verse, Jeremiah 11:11. The text of this particular verse makes this even more interesting.

[pullQuote-0]

The 11:11 then appears in each of the following scenes, once on a person's forehead and then again on the clock, this time zoomed in closer. Finally, we see a bloodied man on a stretcher as it appears he is being loaded into the back of an ambulance.

The numbers once again appear in this scene, both in the shape of the blood on his shirt and again on the blanket covering his lower half. See below for the still we took from the teaser.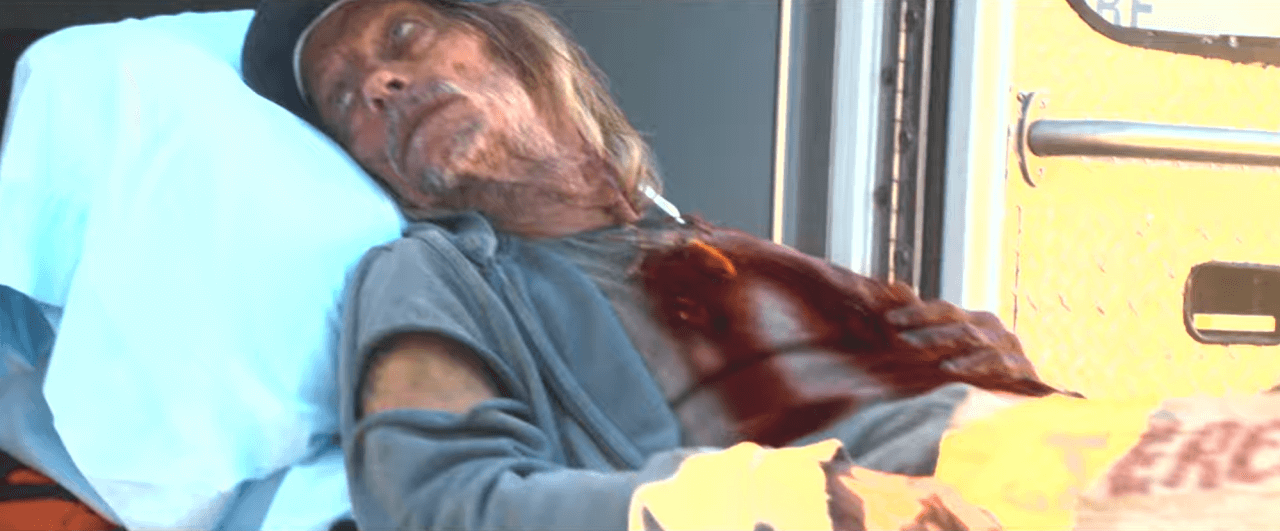 Everything once again points to the same verse, indicating that evil is being brought from the powers above, which could hint at there being a bit of a Biblical angle to the world of the Tethered, the domain in which our film's doppelgängers hail from.

Peele previously suggested that the film contains commentary on those people see as invaders, or the "others" in life, as well as how they are perceived, which could mean that not every invader is the evil they may seem to be. At the same time, this teaser seems to be hinting heavily at the evil that will be brought. How will the film reconcile these seemingly contradictory ideas?

This new teaser has certainly given us a lot to think about and we are as excited as ever to get to the bottom of what this film will offer when it hits theaters next week. Were you able to catch any other clues in the video? Share your own findings with us on social media or in the comments below.

[relatedArticle-0]

Set in present day, the film follows a woman who returns to her beachside childhood home with her husband and two children for a summer getaway. Growing increasingly more paranoid about something bad befalling her family, her fears prove to be grounded as four figures holding hands arrive at the home. Soon, the family is pitted against doppelgängers of themselves in a terrifying battle for survival.

Us stars Lupita Nyong (Black Panther, Star Wars: The Last Jedi, 12 Years a Slave) as Adelaide Wilson and Winston Duke (Black Panther) as her husband, Gabe, along with Shahadi Wright Joseph, Evan Alex, Elisabeth Moss (The Handmaid's Tale), Tim Heidecker, Cali Sheldon, and Noelle Sheldon.

Written and directed by Jordan Peele, the film is set to hit theaters on March 22nd, 2019.