Danai Gurira Reportedly Leaving The Walking Dead Next Season
The Michonne actress' contract with AMC had expired following production on Season 9.
By Chris Morse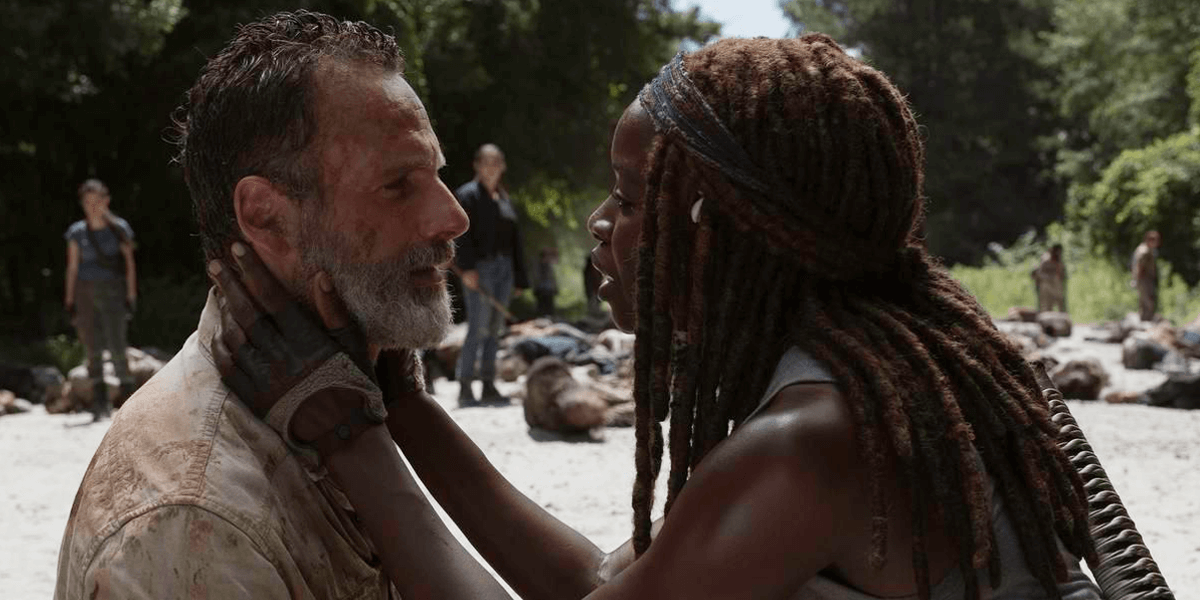 The Walking Dead returns from its midseason hiatus this Sunday, but all eyes are already looking ahead to what's next following the recent renewal of the series for a tenth season. When the news broke earlier this week, we learned that with his new contract, Norman Reedus has taken over the show's top billing slot following the departure of Andrew Lincoln. In addition, actress Melissa McBride has also locked down her own three-year franchise deal on the series.

Absent from these finalized deals was a contract renewal for Danai Gurira, who plays the ever-crucial part of Michonne in this television adaptation. Her current deal expired following the conclusion of production efforts on Season 9, but it was initially reported that she was still in ongoing contract talks with AMC over a possible return for more seasons and a continued involvement in the show.

Given her breakout status for her role in Black Panther and Avengers: Infinity War, as well as the crucial nature of her character to the series' continuing story, Gurira has certainly held a great deal of leverage as the two sides worked to lock down a deal for her to return. Unfortunately, it looks like they were unable to come to any kind of long-term agreement.

The Hollywood Reporter broke the news earlier today that Danai Gurira is set to exit The Walking Dead following a limited appearance in Season 10. This report has not been confirmed by either party, but the outlet's sources say she has signed a deal to appear in a small handful of episodes next season before transitioning out of the television series. THR speculates she may have a future involvement in the upcoming movies in which Andrew Lincoln will be reprising his role of Rick Grimes, but we will have to wait for a future announcement on that front as well.

[relatedArticle-0]

Creatively, this is a huge problem for AMC as the team seemingly has been unable to retain key talent as of late. These losses ultimately may end up scuttling the television series into something largely unfamiliar to fans of the comic series' original story and the world that has been built up over the last nine years. Unfortunately, this does come with the territory of a long-running series, but it's a shame to see it get to this point as the network strives to keep this show running for as long as possible.

This news may also be disheartening to executive producer Greg Nicotero and showrunner Angela Kang, who spoke to INSIDER yesterday about this very topic, expressing optimism that everything will work out on the contract front. When asked if he was hopeful to see the actress make a return for Season 10 and beyond, Nicotero had the following to say.

[blockquote-0]

Kang has likely been hopeful that she and her creative team would not have to utilize any of these contingency plans should Gurira and AMC fail to agree on a deal, commenting on just how important the character is to the series right now.

[blockquote-1]

So far, the creative minds behind the series have been operating as though MIchonne will continue to be a part of this world, which would have been the best-case scenario for the story and fans alike. However, we know how these negotiations can play out and the very real chance that Gurira had of walking away may very well be what we are looking at here. We will definitely be following this story and will provide updates whenever we learn more, so stay tuned to Dead Entertainment for all the latest.

The Walking Dead will return for eight more episodes on February 10th at its usual time, but AMC Premiere subscribers can stream the midseason premiere right now.