Andrew Lincoln Will Return in The Walking Dead Film Trilogy
Rick Grimes' final episode has shaken things up in a major way.
By Chris Morse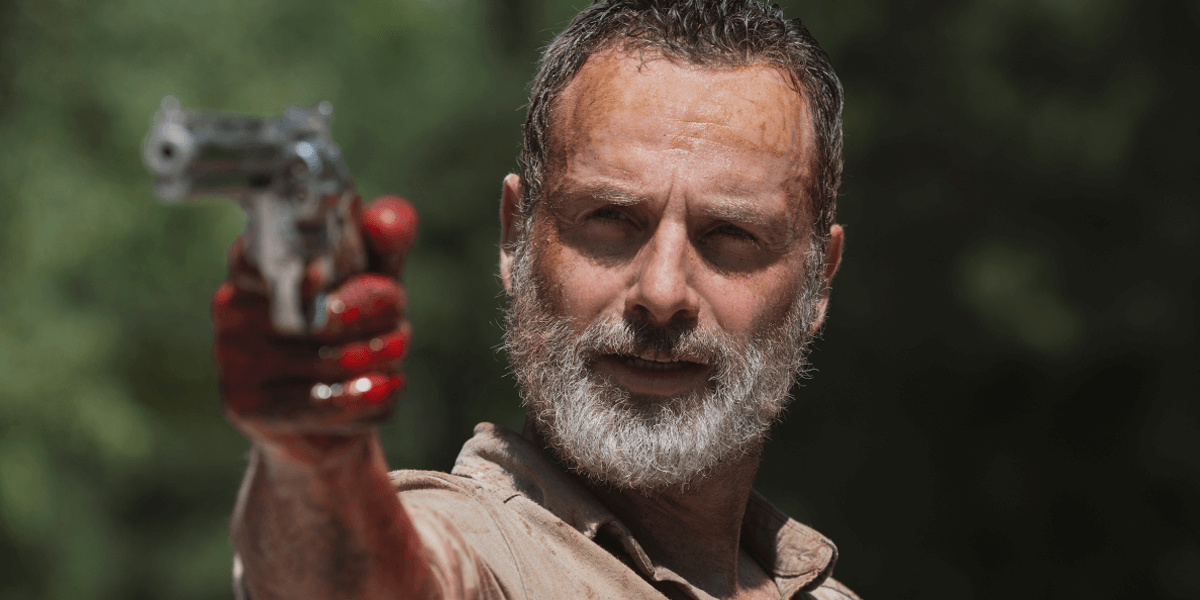 On Sunday, Andrew Lincoln played the part of Rick Grimes for the last time on The Walking Dead television series. For those who haven't yet tuned in, spoilers lie ahead! It's been a solid nine and a half year run for Lincoln but it's not quite over yet. After surviving his final episode, although barely, Rick lives on and is diverging from the main story with Jadis (otherwise known as Anne) and the mysterious helicopter that's been teased for some time now.
After we learned of this fate and the episode wrapped up, EW was finally able to pull back the curtains on what lies next for the franchise. The biggest news here is that Andrew Lincoln will return to reprise the role of Rick Grimes in a trilogy of The Walking Dead movies, all of which will likely air on AMC when it comes time to continue his part of the story.
The Walking Dead chief content officer Scott Gimple was able to make the announcement and explain what it all means in terms of the logistics and what fans can expect.
It is really important for the audience to know that we are going to be continuing to tell the story of Rick Grimes in these AMC Studios original films. We don't want this thing to be like, "Oh, well, he'll be back on the show any moment now." We are telling Rick's story in another medium, and it's going to be these AMC Studios original films. They're going to be on AMC, most probably. They're centered around Rick Grimes. We're going to tell the story of what happens after that helicopter flight, and these are going to be big, epic entertainments. Each are quality films. That's what's been happening in the industry. We've seen Netflix make these, basically, studio films for people to watch in their homes, and we're going to be doing the same sort of thing here.
Regarding when this is going to happen, Gimple revealed that the first movie should start filming next year. It's not on a television schedule, so that alleviates some of the issues that Lincoln was having continuing the show away from his family. It also ensures that the character's story continues the way that everyone would like to see.
I am extremely hard at work on the first one right now, and most likely filming next year, though I'm freaking out about deadlines right now, so I'm not going to tell you exactly when because it will only make me pass out. But it really is going to be sooner than later. On the flip side, these are not going to be made on television schedules. This is going to be on feature schedules, and they're going to be big, so they're going to take a minute to make.
These may not be the only Walking Dead movies, or even the only ones featuring Rick Grimes, but the current plans are for a trilogy led by Lincoln's character. Continuing his story is simply the big priority at the moment and the most substantial story that needs to be told.
We are talking about a trilogy for this Rick Grimes story. It doesn't necessarily mean it's the only Rick Grimes stories we're ever going to tell, and also they're probably not going to be the only movies that we tell. The Rick Grimes story, of course, is the biggest thing that we're doing right off the bat, but we're going to be doing a number of different Walking Dead things over the next few years. A universe of stuff. We're not going to release it all at once. We're going to be putting things out over the years for maximum effect. We don't want to overwhelm folks with it.

But we're going to see all sorts of different Walking Dead projects in all sorts of ways with old standbys, with new voices, which is really important to me. And they're all going to be very different and distinct from the shows. We have this one amazing show that is showing the beginning of its civilization, and we have this other show with these folks who are trying to make up for the things that they did. We're going to be having different entertainments, different narratives within The Walking Dead. Different tone, different characters. We're also going to see old characters — review some content with old favorites. We get to revisit them and see stories of their past that we might not have shared before.
In the meantime, however, what does this mean for the television series? This is the true new beginning as we jump ahead much farther beyond Rick's exit, which will be six years later. The first time jump was a much smaller one to set up Lincoln's departure from the show, but what we will be seeing now will be drastically changing the dynamic of the series.
Gimple added some comments about this time jump, which will bring us forward into this new era as Judith gets older and our characters are forging ahead to face new challenges with Rick out of the picture. Check out his comments below.
For fans of the comic, the end of episode 905, they're like, "Oh, this is 'The New Beginning'," meaning the storyline in the comic. I mean, we see Magna, and Yumiko, and their group, and that was the beginning of "The New Beginning" storyline in the comics.

The last time jump was a jump, but it wasn't a huge amount of time. This jump is that quantum leap forward from the comic, and it's a whole new world. It was important to, especially after "All Out War," get some distance from that story, and be in a whole new reality for Rick and the group. But that was an incredibly dramatic overture to "The New Beginning" that we saw in the comic, which is one of the terrific arcs of the comic. And it was so surprising, and so intense, and so new. I loved that. I was so thrilled that Angela, Matt, and the writers came upon that for 905 — to see Rick's legacy, and even Carl's legacy in action in that episode. I think it was unexpected. When it was pitched to me, I was like, "Holy crap. That is it. That is so definitely it." It got me excited.
This is all very exciting and arguably the best way that AMC could have pulled this off, considering how drastically they are diverging from the source material of the comic series. Not only is Rick Grimes still a part of this world, with his story taking him elsewhere, we are skipping ahead a few years and can expect to see a growing-up Judith begin to take center stage in this narrative.
If a series is going to try to continue on without its lead while still honoring the character, keeping him alive and pushing the story far enough ahead to really move on is the right way to go about it. Rightfully, there was plenty of skepticism about handling Lincoln's exit from the television series but by no means was this a bait-and-switch. Fans may have speculated that Rick would be killed off, but an abrupt end at this point in time just wouldn't have honored the character well enough in this author's opinion.
Even though the character will be heading into some uncharted territory, Robert Kirkman's comic series was always focused around Rick and allowing him to remain part of the universe is the best way to play his departure from the show. In the meantime, we look forward to bringing you more coverage of the show as well as the upcoming movies here on Dead Entertainment.