Hulu Releases First Photo from Into the Dark's Upcoming Valentine's Day Episode
The next episode of the anthology horror series arrives in early February.
By Chris Morse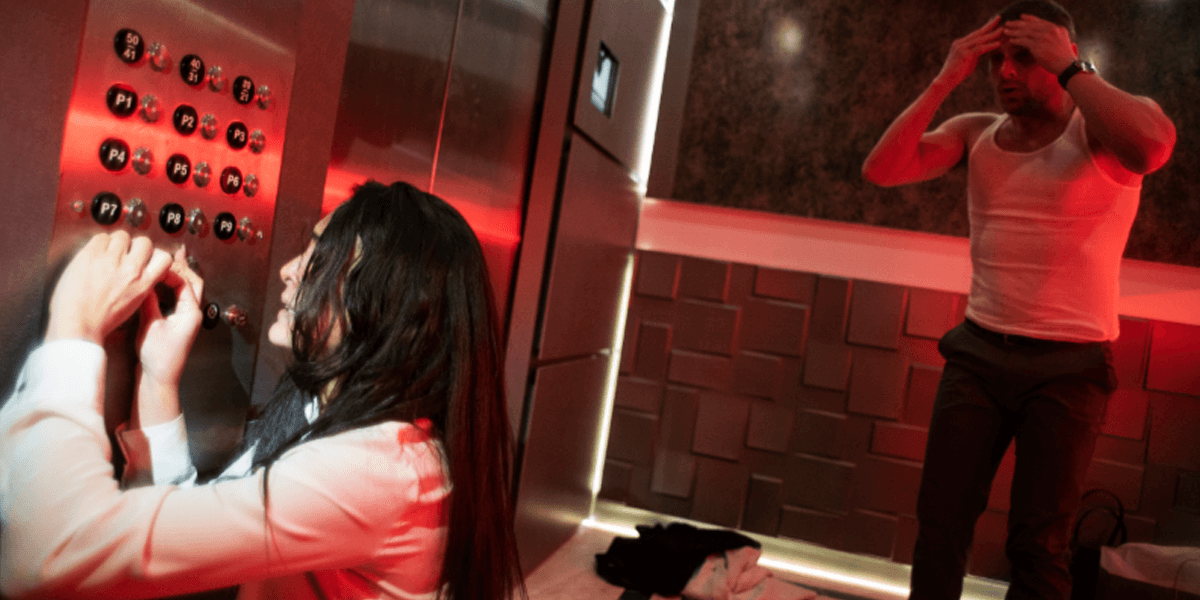 After a jam-packed December for Hulu's Into the Dark, featuring both the Christmas and New Year's themed episodes, titled Pooka! and New Year, New You respectively, the show took a brief hiatus for the month of January ahead of its next installment. On February 1st, we will get the Valentine's Day episode of the series with Down and we suspect this one might be a little more bloody than romantic.
With just a couple of weeks until it arrives on the streaming platform, Hulu has released new details and a photo for the episode, which we have provided for you uncropped below, along with a preview of what else is to come for the anthology series in the months that follow.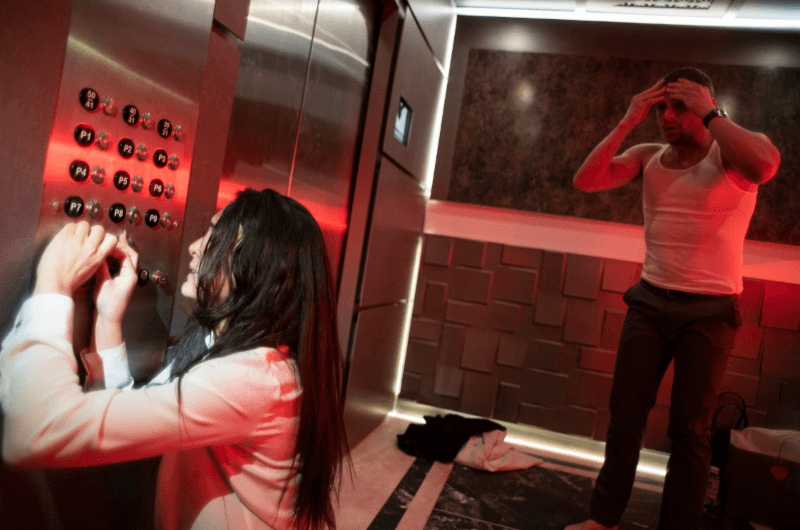 Into the Dark: Down was written by Kent Kubena and directed by Daniel Stamm. In the episode, a pair of office of workers get trapped in an elevator over a long Valentine's Day weekend, but what at first promises to be a romantic connection turns dangerous and horrifying in this Blumhouse mash-up of rom-com and horror film genres.
The cast includes Natalie Martinez (Death Race), Matt Lauria (Friday Night Lights), Arnie Pantoja (Sydney White), Diane Sellers (Into the Dark: Pooka!), and Christina Leone (Into the Dark: Flesh & Blood). Down will hit Hulu on February 1st, 2019.
In March, we have another new episode, this one themed around the Ides of March and the idea of the past coming back for what it's due.
Into the Dark: Treehouse follows the story of a celebu-chef, Peter Rake, who tries to escape a recent wave of negative tabloid exposure by retreating to his family's vacation estate in the woods. But the ghosts of Peter's past are everywhere and debts will be settled. Soon, he realizes that a woman's place is anywhere that she chooses to be.
The episode was written and directed by James Roday and stars Jimmi Simpson (Westworld, Black Mirror), Mary McCormack (Deep Impact, 1408), Shaunette Renee Wilson (Black Panther, Billions), Maggie Lawson (Gamer, Lethal Weapon TV series), Stephanie Beatriz (Brooklyn Nine-Nine), Julianna Guill (Friday the 13th remake), Michael Weston, Amanda Walsh, Sutton Foster, and Cass Bugge. Treehouse will arrive on Hulu on March 1st, 2019.
Beyond these two episodes, we exclusively learned the names of two more episodes back in October. I'm Just Fucking with You will celebrate April Fool's Day while another episode titled School Spirit should arrive by the end of the summer. That's all we have for now but this series will surely bring us plenty more holiday horror fun as the calendar pages turn throughout the year.
Hulu's Into the Dark continues with Down arriving on February 1st. The first four feature-length episodes are currently streaming so there's no reason not to get caught up. Otherwise, stay tuned to Dead Entertainment for more coverage on this series in the coming months.