We Have Such Sights to Show You: Q&A with Hellraiser's Doug Bradley at Frightmare in the Falls
The horror icon answers questions and quotes memorable lines from the films to ecstatic horror fans.
In the Fall of 1987, audiences were introduced to a new horror character. From the brilliant mind of Clive Barker came Hellraiser. Based on Barker's novella The Hellbound Heart, the film starred his schoolmate Doug Bradley in the role of the lead cenobite, Pinhead, named for the numerous pins covering his pale face and head. Since then, Doug has portrayed the once-human now monster, in eight of the films. Unlike other horror icons, who merely swing a weapon and kill, Pinhead was articulate and calculating, quickly becoming a fan favorite.
For over 40 years, Doug has appeared in movies, plays, music videos, and commercials, and has even lent his voice to a Star Wars video game. He is also a published author and was most recently involved with Blackcraft Wrestling as The Preacher.
Joining such greats as Tom Savini, C.J. Graham, and the late Steve Dash, Doug made his way to Canada for the second annual Frightmare in the Falls horror convention. This would be my second time attending the con and first time meeting the Hellraiser actor. As a long-time fan of the series, Clive Barker and Pinhead, this was extremely exciting for me, yet my nerves crept up on me just moments before I was to meet the icon himself.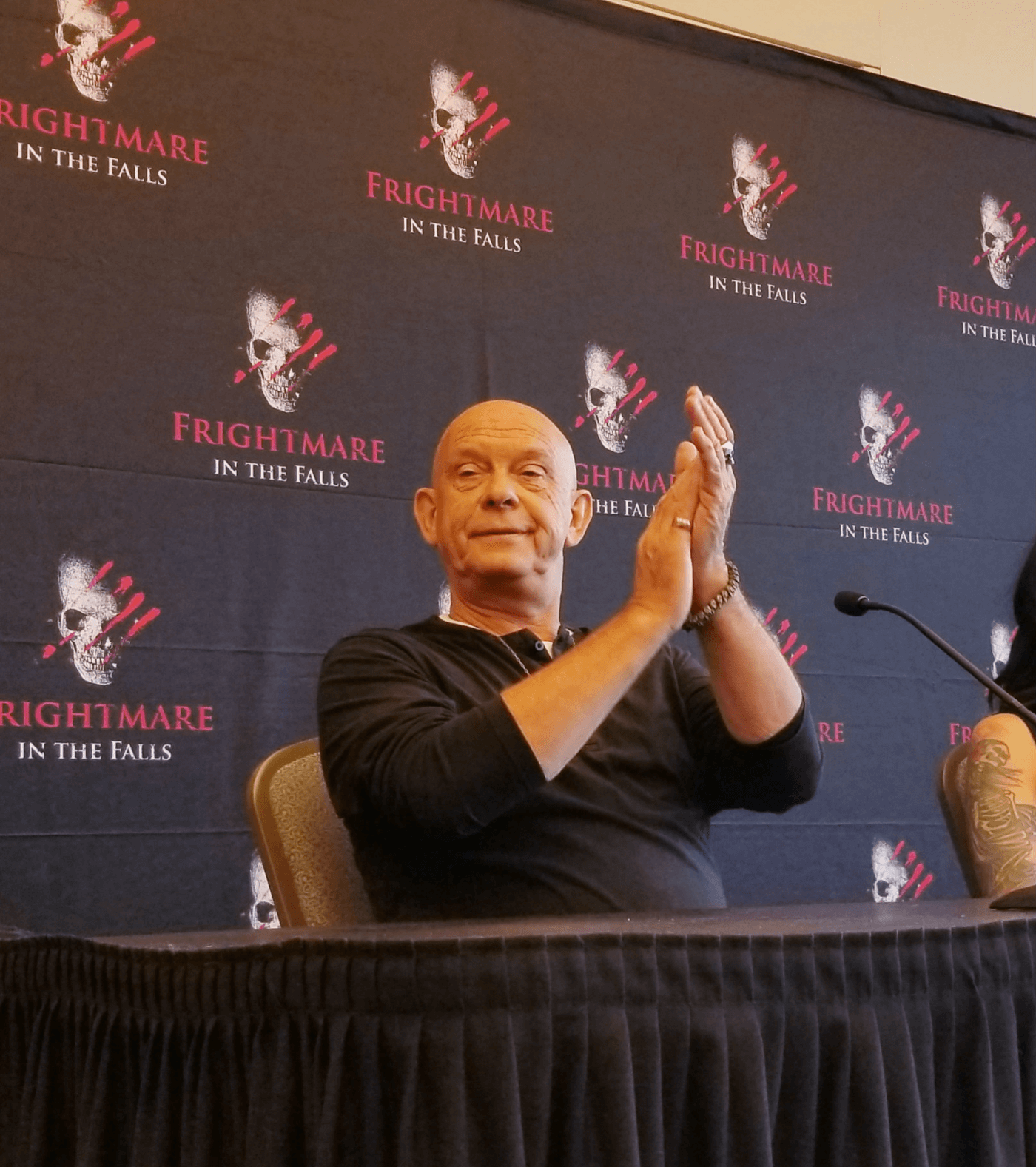 From a distance, I observed Doug interacting with fans who were eagerly presenting him with Pinhead photos, lament configuration boxes, and other Hellraiser memorabilia to have him sign for them. With slight trepidation, I approached his table and stood in front of him. I was greeted with a friendly smile, soft-spoken "hello" and an extended hand, which I shook nervously. I fumbled a few words about how it was an honor to finally meet him.
After selecting a photo from the many displayed on his table to have signed, he asked who he should make it out to. I managed to say my name and he confirmed the spelling. At this time, Tom Savini, who was seated next to him, made a comment about Doug not liking too many vowels. Both of the legendary men laughed and Doug went back to signing my photo. As I watched him meticulously signing his name, drawing the tiny "pin" next to it, I found myself starstruck. So many questions were swirling around in my head but, unfortunately, I lacked the ability to speak for here I was, in front of the one and only Pinhead, finally, after so many years of being a fan.
Once he was done, he carefully passed the photo back to me. When I asked if I could get a photo with him, he smiled and replied, "Of course." We stood in front of his table, arm around each other, while a friend snapped a couple photos. I thanked him again and wished him a great rest of the weekend.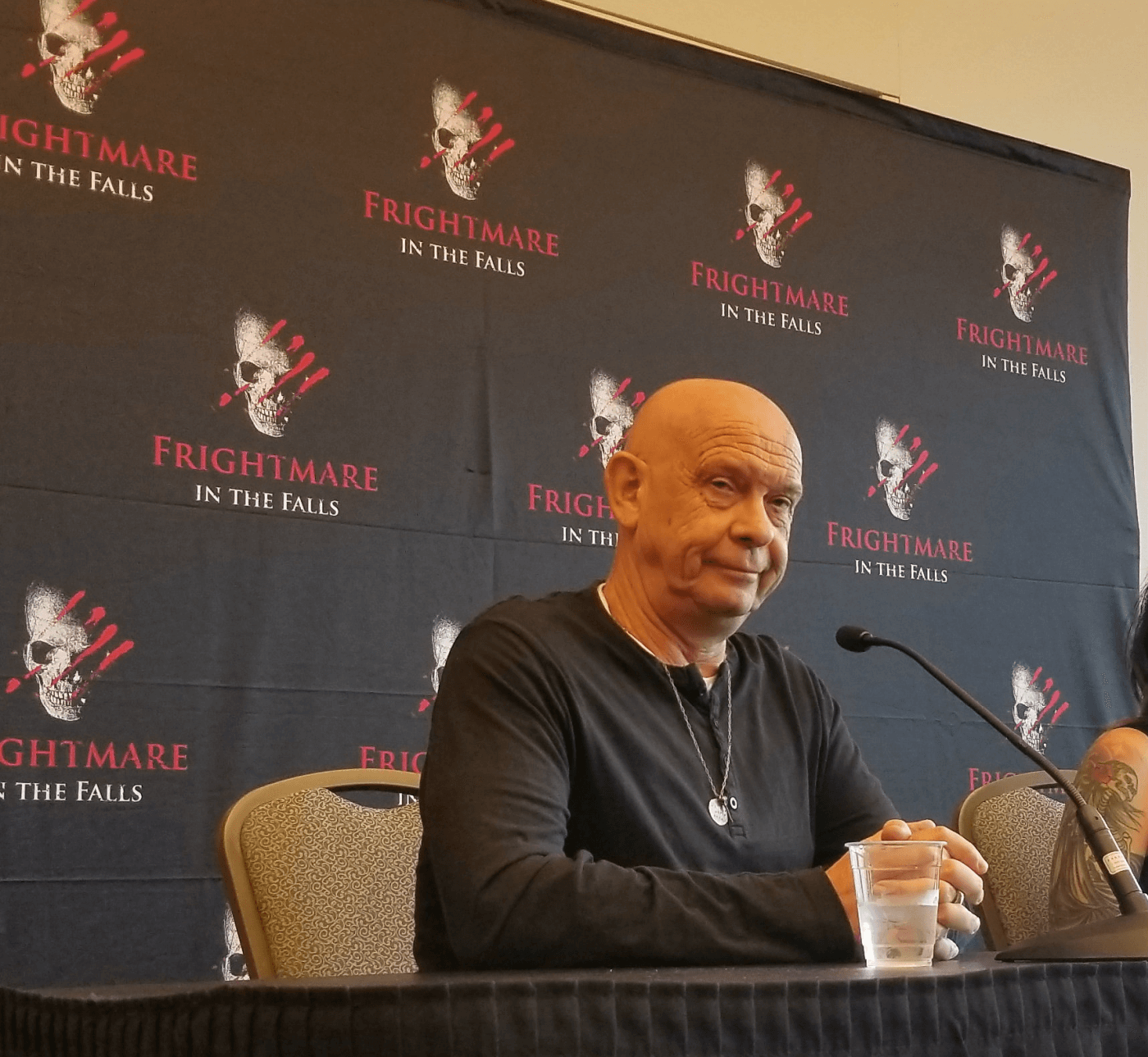 The next day, I would have the chance to once again be up close to Doug, during his live Q&A panel, which you can watch in full above. Right from the start, he thrilled all of us by quoting some of Pinhead's iconic lines: "We have such sights to show you," "Your suffering will be legendary, even in Hell," and "No tears please, it's a waste of good suffering." Despite the inadequate host, Doug carried the panel at his own speed. He told fascinating stories about his friendship with Clive Barker, his view of Pinhead, and how he wanted to portray the leader of the cenobites.
At one point, he gave a riveting history lesson about the British military that aided his role as Captain Elliot Spencer in parts two and three. He also shared with us details about his 2004 book Behind the Mask of the Horror Actor, which is less of a biography and more of an examination of how the mask has contributed to horror movies throughout the decades. The book also describes in detail the making of the Hellraiser films and what it was like for him personally to be one of those icons behind a mask.
Unfortunately, time restraints cut into some of the actual Q&A, but the panel was overall very informative and entertaining. It solidified my admiration for the actor and the roles he has delivered. As we exited the room, he walked alongside fans back to his table. For the remainder of the con, I was fortunate to witness Doug with fans and fellow guests, and despite the long days and signing essentially the same thing over and over, he did it all with a cool demeanor and a smile. This was definitely a highlight of the weekend for me.
The con wrapped up and compared to the previous year, this Frightmare was definitely a weekend to remember. Will they be able to top it next October? Time will tell.