Video: Clive Barker Crashes Monster-Mania's Hellraiser Reunion Panel
Filmed by Dead Entertainment in Cherry Hill, NJ, the full panel is available for your viewing pleasure.
By Chris Morse

This past weekend's Monster-Mania Con 43 in Cherry Hill, NJ brought with it a number of special appearances, photo ops, and plenty more for horror fans to enjoy. Among the festivities was a very special Hellraiser reunion panel, led by Pinhead himself, Doug Bradley. With a Q&A session on the docket and plenty of memorable franchise moments to discuss, this was sure to be a great time even before one unexpected arrival put the audience into a frenzy.
Dead Entertainment was happily in attendance for the event, which also featured Barbie Wilde (Female Cenobite in Hellbound: Hellraiser II), Simon Bramford (Butterball Cenobite in Hellraiser), and Nicholas Vince (The Chatterer in Hellraiser). After each of the panel's guests were introduced and the first question was asked, none other than Clive Barker himself crashed the party with a welcome interruption and made his grand entrance to a standing ovation.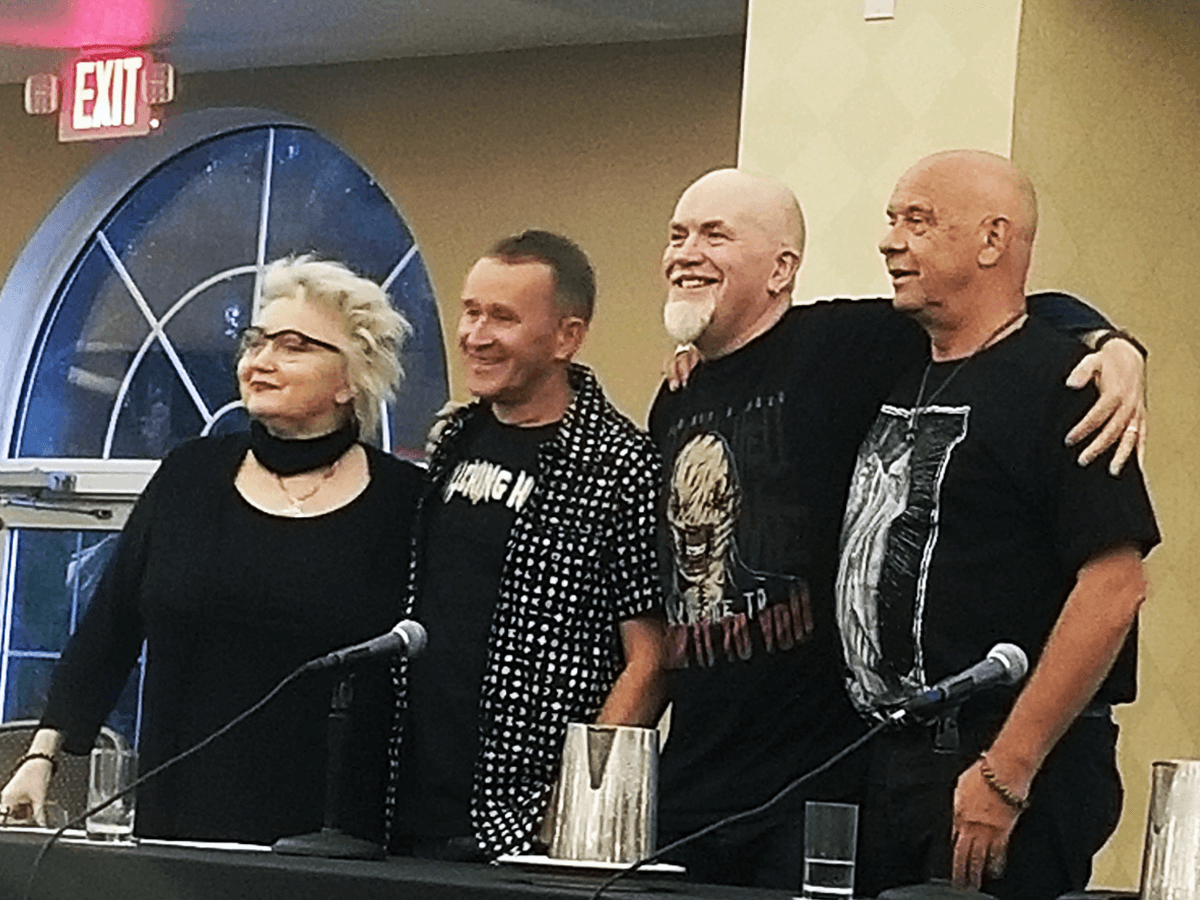 Photo Credit: Laura Beckous-Malmstrom
Needless to say, this panel quickly turned from a fun reunion into a must-watch event as moderator Dave Hagan led the discussion on all things Hellraiser. Among the topics touched upon in the nearly hour-long event were the character names and backstories, memories of working with Barker, stories from Barker's 50 years of friendship and collaborating with Bradley, Cenobite special effects, the making of the first film, other themes the cast would have liked to explore in the universe, and even Bradley's time working with Barker and Lemmy on a music video for Motörhead's "Hellraiser."
All in all, this was a great time and we recorded the entire panel for you check out on the likely chance you were unable to take part in the festivities. Considering the Barker appearance was a complete surprise to everybody in attendance, this reunion sure made for a ton of fun and some very memorable discussion.
This video was recorded on August 17th, 2019 at Monster-Mania Con 43 in Cherry Hill, NJ. Dead Entertainment has more exciting coverage from the event that we will be sharing in the coming days, so be sure to stay tuned for more exclusives.