Don't Miss Our "Not Quite Halloween Horrorthon" Halloween Stream!
Join us on Saturday, October 27th for this special livestream event featuring horror talk, game streaming, a mystery box giveaway, and more!
By Chris Morse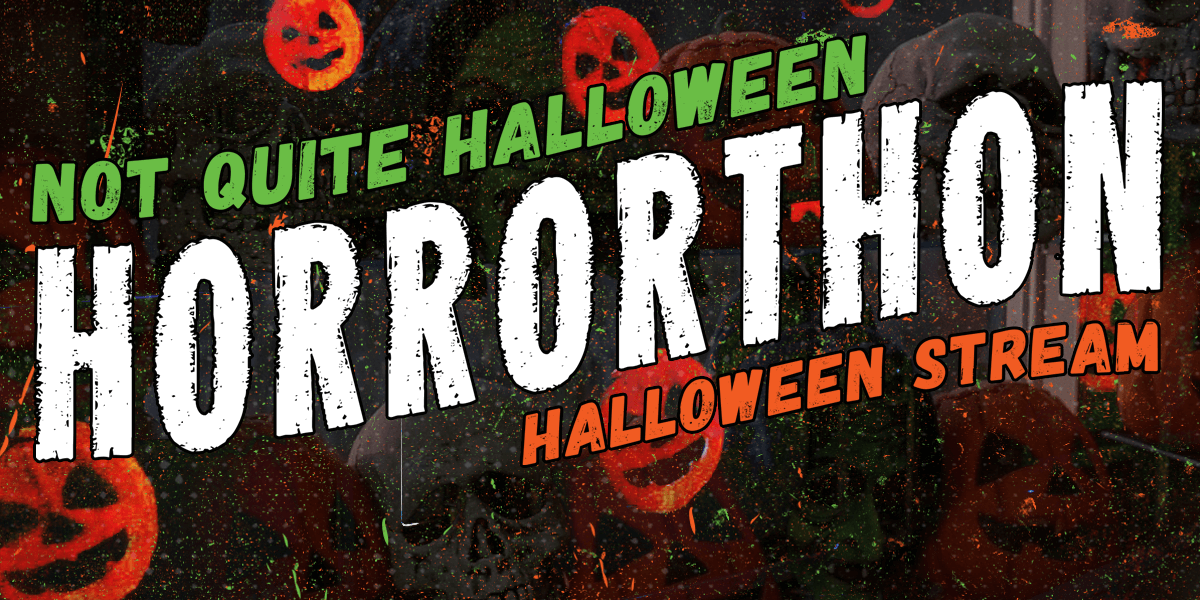 Did somebody say giveaway? It's no secret that Halloween is our favorite time of the year and we have decided to celebrate with something special. Beginning at 8 PM eastern time on Saturday, October 27th, our resident podcasters, Ray Morse and M.T. Bates, will be hosting our first annual Not Quite Halloween Horrorthon live on YouTube! It may not quite be Halloween that night but we are sure going to treat it that way with a ton of exciting fun planned.
If you're still reading this because we said "giveaway," then you're in luck! During the stream, we will be giving away a very special Box-o-Mystery containing a few horror tricks and a whole bunch of horror treats. What's so special about this box, anyway? Well, it may or may not contain up to $251 worth of early trick-or-treat goodness. You might be able to get your hands on some awesome prints or collectibles and maybe even a Blu-ray or two. On the other hand, however, we're going to give you a few tricks too. We might also include some stale marshmallows or some garbage like a Uwe Boll autograph. You never know!
With the big-ticket item out of the way, let's explore what else is in store for this special event, which will be streamed live on our YouTube channel. From horror commentary and discussions to game streaming and the giveaway, below you can find a list of some of the fun we have planned for the stream as well as our preview video for the event!
Interactive Horror Discussion
"In the News" Horror News and Updates
Live Game Streaming
Fan Commentary: Indie Horror
Trailers from the Grave
Slasher vs. Slasher
Fantasy Sequels
Trivia
Trick-or-Treat Box-o-Mystery Giveaway!
Gather 'round your TV set... or in the case of this stream, your computer screen!
We have a lot of fun segments planned for the event and all of the discussion will be interactive, which means that anybody in chat can join in on the conversation with our hosts, as well as the guests who may be joining us throughout the evening. It's all leading up to the big giveaway and entering is easy. All you have to do is join us for the stream and be present for the drawing for your chance at staking your claim on the ultimate trick-or-treat prize from Dead Entertainment.
We're not saying that taking some photos or videos of you unboxing your prize will help your chances of winning, but be sure to do that and let's keep the fun rolling well after the event has concluded!
Our hosts Ray and Bates started streaming last year with a few one-off special events and game streams before creating the Way of Life (Live!) and Metal Beer Horror podcasts. They have since hosted forty-five individual episodes and seven live commentaries, along with a solid attempt at a 24-hour livestream during Joe Bob Briggs' The Last Drive-In movie marathon. The show is in good hands and this is sure to be a fantastic way to not only celebrate the Halloween season, but also to mark some key milestones for our website's livestreaming team. Let's have some fun together!
Well, what are you waiting for? Clear your calendars and be ready to join us on Saturday, October 27th at 8 PM eastern time, live on the Dead Entertainment YouTube channel.
Don't make us have to keep all this horror junk... err, treats... for ourselves.