Announcing the "Watch 'Til We Drop" 24-Hour Live Stream Event
We are headed to Shudder's The Last Drive-In and we will be live for all 24 hours of it.
By Chris Morse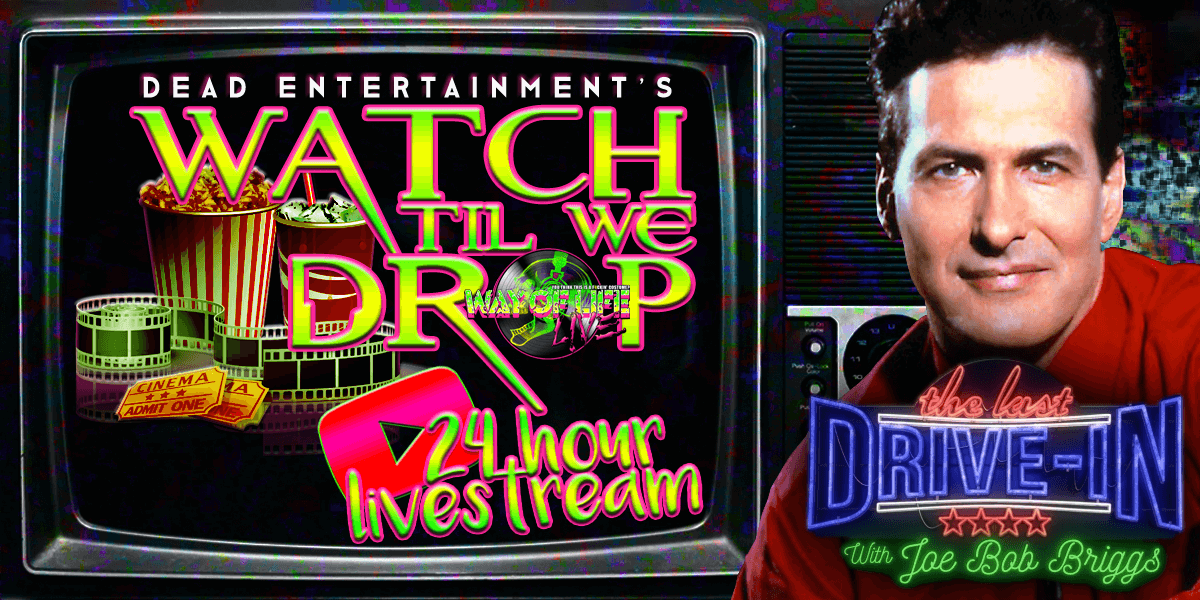 We are pretty pumped for Shudder's upcoming 24-hour movie marathon, The Last Drive-In, featuring MonsterVision's one and only Joe Bob Briggs. We are so pumped, in fact, that we will also be going live for 24 hours with our own sister event called "Watch 'Til We Drop." This live podcast-style event will run parallel to The Last Drive-In on Friday, July 13th. The marathon kicks off at 9 PM eastern time, but we will be going live with our pre-stream in the hour before the show begins.

[relatedArticle-0]

"Watch 'Til We Drop" will have us live on our YouTube channel watching all 13 of the movies that will be playing on Shudder's The Last Drive-In, beginning with Tourist Trap and also including Sleepaway Camp and Basket Case. This will be a sort of online hang-out to celebrate the event and so many years of awesome MonsterVision memories. We will be watching and interacting with the chat throughout the whole marathon, giving impromptu reviews, and even running a few giveaways that (spoiler alert) might include some very cool Friday the 13th collectibles. You won't want to miss those!

It's going to be a fun time and we dare you to stay up for 24 hours at the drive-in with us, but if you can't, fret not because you can hop in whenever, put on Shudder, and join in on the fun. Subscribe to our YouTube channel for an alert when we go live and keep an eye on our social media accounts for all of the latest updates. We're ready to hang out and have a fun time at The Last Drive-In. Will you be there?

For those who are unsure of how to tune in to The Last Drive-In, so you can watch it alongside our stream of course, check out the below guide from the official Facebook page of Joe Bob Briggs.