Give in to Your Urge to Purge in Episode 3 of The Purge
Forbidden love, a masked man, and a family's connection to the first Purge is revealed in this week's episode.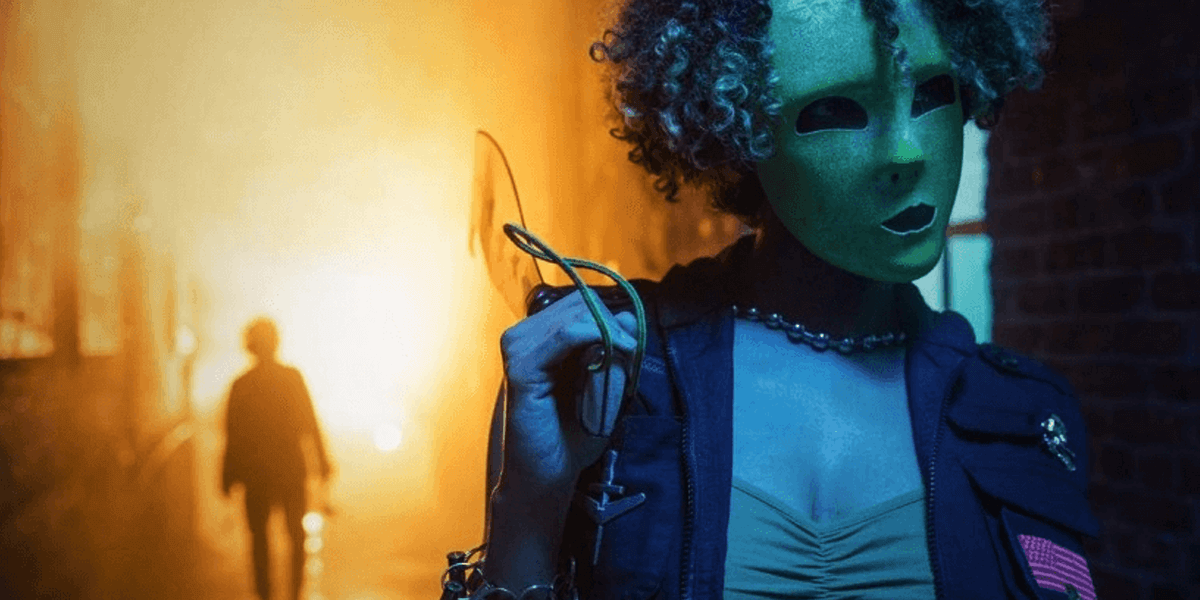 This week's episode of The Purge television series picks up where last week ended. While Lila and Jenna were sharing a romantic moment poolside, Allison finds out that Jane has hired someone to do her killing. Another cult member is sacrificed and a masked man followed a GPS to a new character's home. This week we learn a bit more about two of the characters, but unlike last week, there are no crossovers.
Miguel & Penelope
It was nice to see that they shed a bit of light on these two characters this week, as it was finally their time for a flashback. We see the two as youngsters growing up on Staten Island, just as the first Purge is about to commence. Those who have watched The First Purge movie will see the connection.
As Penelope is riding along in the school bus, the creepy cult leader chooses her as the next one to exit the bus. Up until now, she had always been excited about her role in the cult. By the time it's her turn to exit the glowing bus, it's clear that she is having second thoughts.
With one final flashback, this storyline shockingly ties into the ending of The First Purge movie, in a very eerie way. Miguel gets information from Pete the Cop, who only agrees to help him once he found out that Miguel is a member of the Original Martyr Family (OMF). After trading his car, he races on foot to find his sister. Catching up to the bus, he confronts Tavis, but is told that Penelope has already been handed over to purgers. Will Miguel find his sister alive in time? Would they really kill off this storyline already? We'll have to wait until next week to find out, it seems.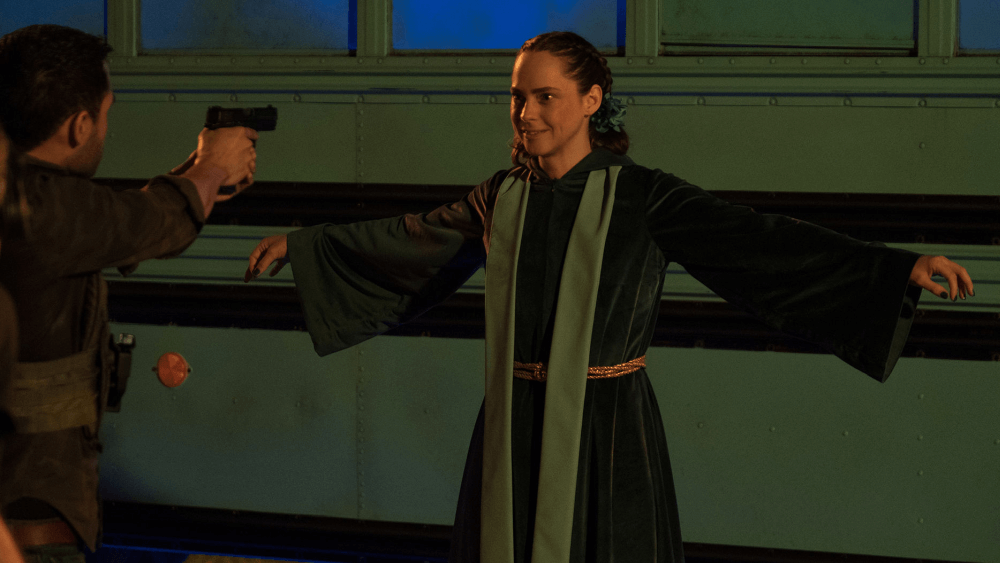 Jane
There may be big surprises in Jane's storyline as the series progresses. Just when you have her figured out, a twist occurs. Last week, we saw the first interaction between her and Bracka. Money was exchanged and now we wait to see who she has hired Bracka to kill. Co-worker Allison needs to be watched as well. She knows what Jane has done, but has not told anyone.
After a business deal closes, the rest of the office workers celebrate as Jane nervously watches her cell. A video call comes in from their boss and you can see the terrified look on Jane's face when he announces someone is at his door. After returning saying it's just a pizza guy, he ends the call and Jane leaves the conference room for her office.
All of this begs the question, why haven't any of the workers around her picked up on her nervous behavior? They all seem oblivious to it. However, in a shocking turn of events, to ensure a promotion is hers without having to compete with a fellow co-worker, Allison takes matters into her own hands.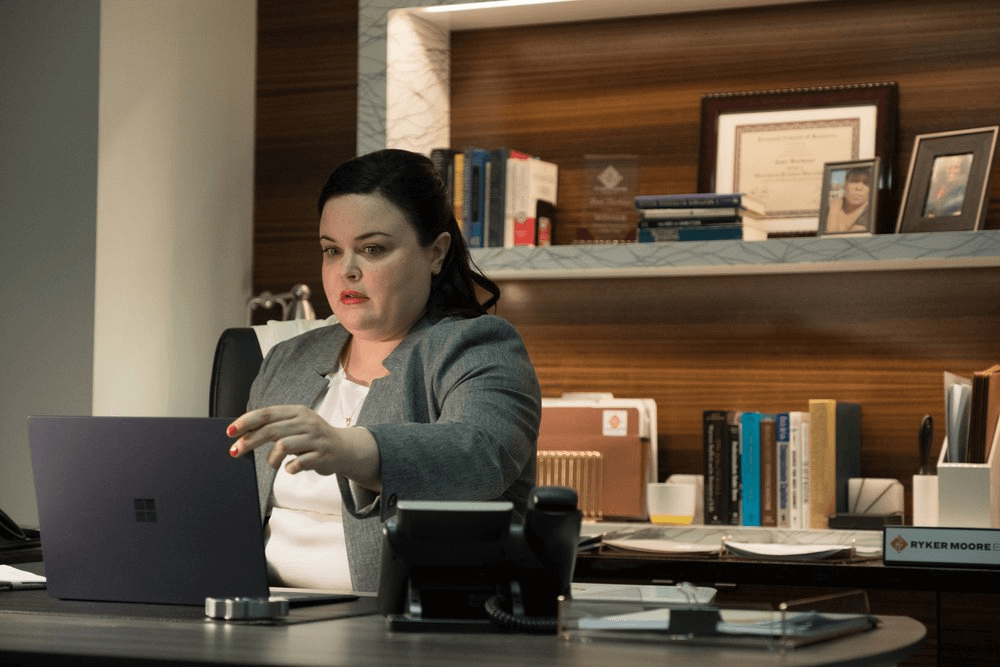 Rick & Jenna
The history between these two and Lila still hasn't been completely told. Jenna hides the fact that Lila kissed her, Rick finds it odd that Lila was speaking about him to her father, and Stanton calls both Rick and Jenna into his study to discuss the plan to fund the housing project. You can sense that Stanton has ulterior motives when it comes to this pair, which becomes evident as soon as they make the deal.
After expecting that he would try to recruit them to the NFAA, sure enough, he suggests that they discuss it. Two guards then bring in a gagged and bound man, who turns out to be an employee of Stanton's. Forced to kneel in front of a stunned Rick and Jenna, Stanton wastes no time and exercises his right to purge. There may be more to Rick than has been told. He seems to be accepting of the Purge and the NFAA than his wife is. If this will cause a twist in this storyline, we will need to wait and see.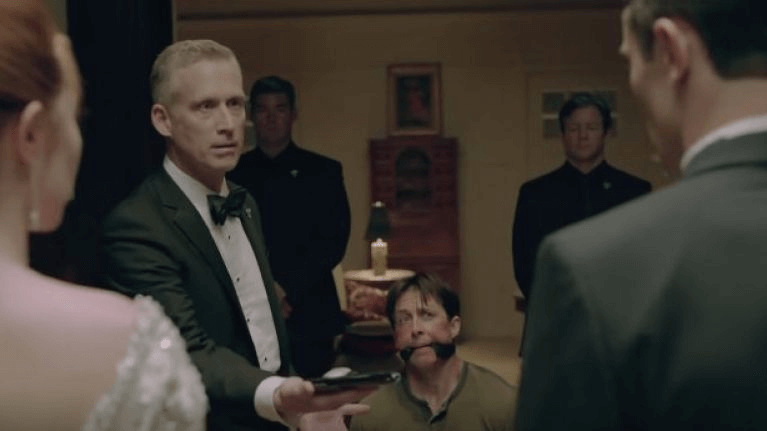 This week ends similar to last. A confident male voice, once again speaking words of wisdom relating to the Purge. A masked man, in the house of a woman that we can only assume is the same one that appeared on the GPS last week, sets up another storyline that may or may not cross over into the others.
If viewers were worried that The Purge television series was going to be too tame, we've seen some graphic moments so far. They've incorporated a fair amount of killing along with history of the stories within these three episodes. It's enjoyable so far and hopefully it will be revealed that all of the storylines are somehow related.
As we mentioned earlier, DeMonaco has stated that something big is going to happen in episodes 4 and 5. Next week might be exciting and allow us to see where these twists and turns will fit in. Stay tuned.