Jason Blum and James DeMonaco Talk The Purge and Halloween
The CEO of Blumhouse Productions and the creator of The Purge recently discussed their latest projects.
By Chris Morse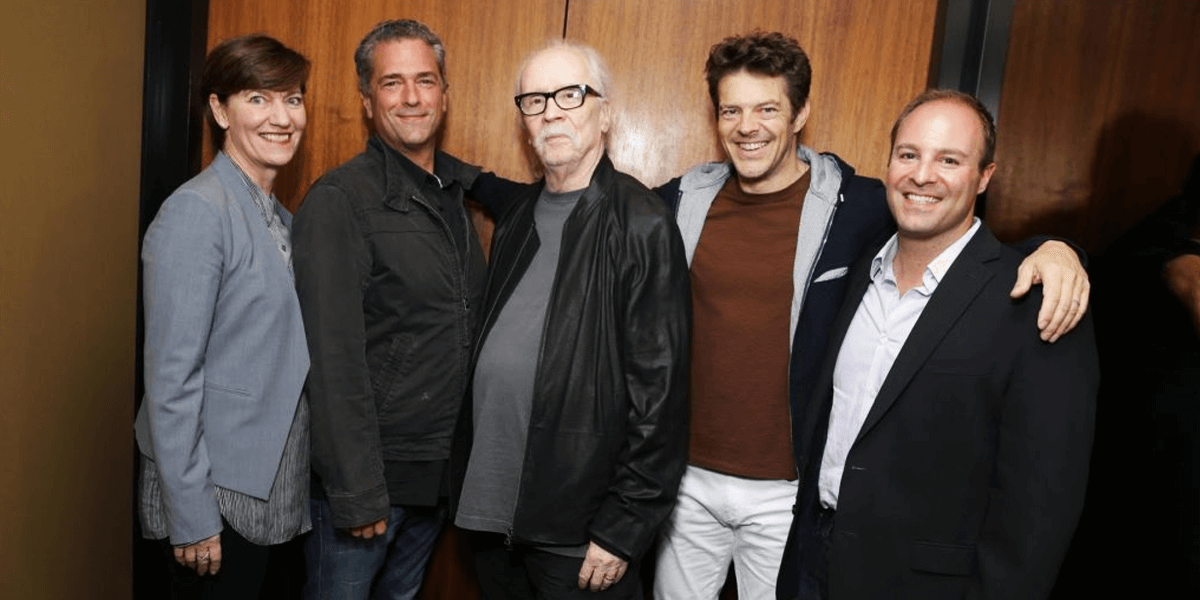 This is a busy year for Blumhouse Productions with the recent release of The First Purge and the new Halloween movie coming this October. There is also a Purge TV series set to premiere in September on USA, which will consist of 10 episodes. Needless to say, Blumhouse has been hard at work pushing premium horror titles and doing great work for a genre that hadn't received much love for a while there.

At San Diego Comic-Con this past weekend, Blumhouse had a "Purge City" pop-up event and io9 had the opportunity to talk to Jason Blum and James DeMonaco about The Purge and Halloween franchises, starting with some discussion on what to expect from The Purge TV series.

The pair first tackled the subject of having 10 episodes to work with, which is a lot more storytelling time. "I think we really dive into character, why someone would go out on Purge Night," DeMonaco explained. "You know, why someone would ever pick up a gun or a knife to solve the problems we have. Now, we have all this real estate to really explore why someone would do something so heinous—or, or just the complexity of how do you get stuck outside on Purge Night?"

"it's hard to do a lot of character stuff in a 90-minute movie," Blum added. "It's really got to be a bunch of action and plot. And so, the idea that you can really delve into character, to have all this time—just to see how the Purge affects people's actions all the way through the evening, not just when something violent is happening—is really interesting."

The TV show should provide a solid opportunity to do more world-building and really dive deeper into the issues that keep the Purge going as a tradition over the years. Furthermore, this is going to provide the opportunity to explore the world outside of that annual night and how the society operates in between these events. DeMonaco went into more detail on why this is great for the series.

[blockquote-0]

There's no doubt that the television format could add a lot of depth to that world while also tackling bigger and more interesting real-life and social issues, which is something that The Purge has always done since the franchise began. Since then, Blumhouse has continuously found itself doing so in other films as well. What makes the horror genre so effective for this?

"I think it's because it's metaphor," explained DeMonaco. "People don't want to be preached to, I think. Horror, sci-fi give us a good metaphorical mirror that we can put up to our society, without hitting people on the head or preaching to them." The issues are certainly in play in these films but more subtle and organic, which makes them an arguably more effective way to spread a message and make people think.

The series has already covered race, sex, and class, but DeMonaco revealed that the TV series is also going to cover a bit of the "#MeToo" movement along the way. The fact that Purge night is where all of these social tensions come to a head makes it the perfect place to provide a commentary on them, since these issues help frame the motivations of the character and why they act as they do when anything goes one night a year. Social commentary goes hand in hand with the franchise.

During the interview, Blum had a bit more to add about the Halloween franchise and the upcoming reinvention of the series as well. His comments provide a fairly good representation of the approach that Blumhouse has taken with the film and where their thinking is as we get closer to its release.

[blockquote-1]

On whether or not we might get a sequel after the next film, here's what Blum had to add. "I don't know—I hope we get to do that, but I don't know where we're focused," he said. "Hopefully, this movie will work and then we'll figure out what the next one is. We haven't gotten that far—we actually haven't even finished the movie. We're still working on the movie right now."

Finally, when asked what other franchises he would like to see come under the Blumhouse banner, Blum named a few of his top picks. Is this possibly a sign of things to come in the future? We hope so!

[blockquote-2]

A Blumhouse-produced Friday the 13th might garner enough fan attention to happen somewhere down the road, but that's wishful thinking for all of us, including Jason Blum himself, apparently. Either way, it looks like he has a full enough plate in the coming months with The Purge TV series and Halloween on the way. What are you most looking forward to? Sound off in the comments or on social media.